Best Mini Box Mod Kits: The #1 Stealth Vape Mods RIGHT NOW…
By Rob • Updated: 05/21/19 • 5 min read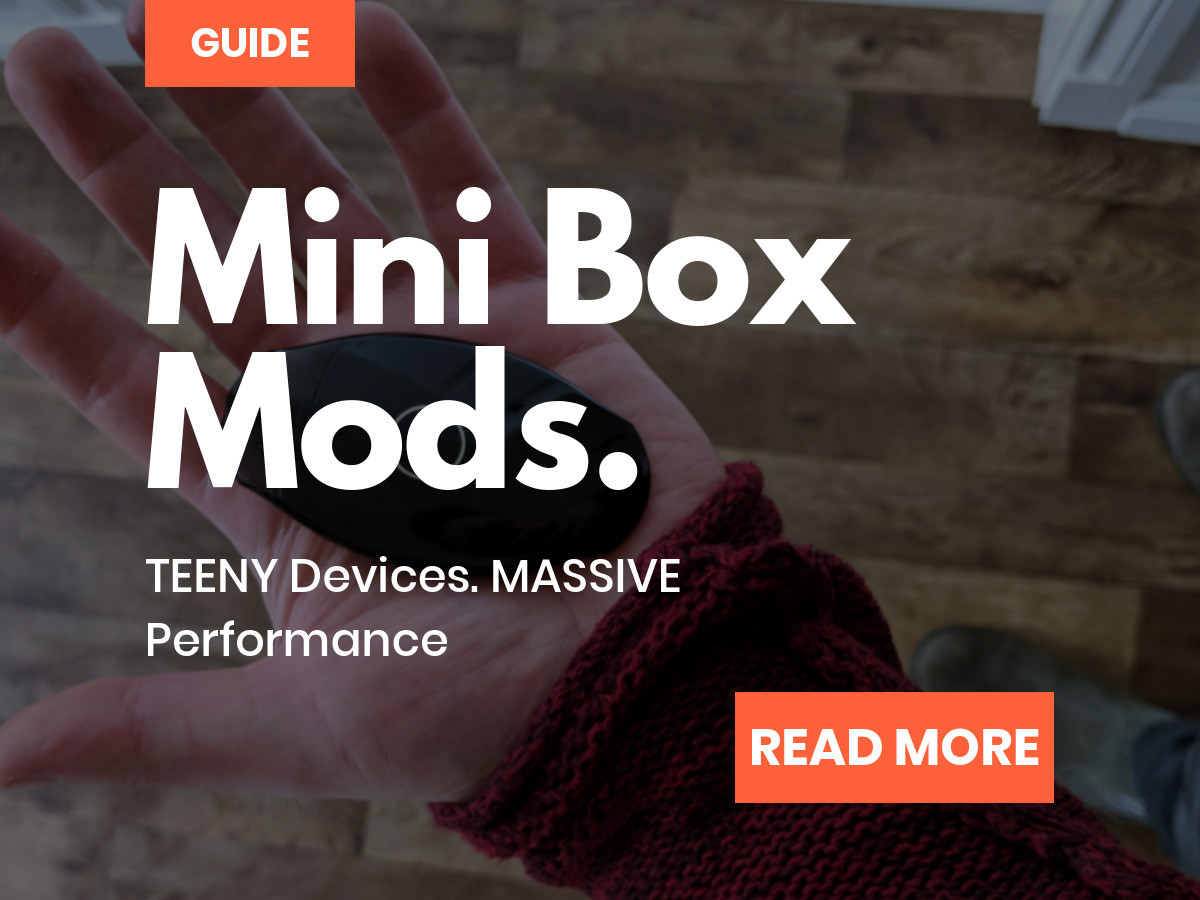 Looking for something stealthy – like a tiny vape mod? You're in the right place: here are my picks for the best mini box mod kits for right now… 
---
Top Mini Box Mods (Kits & Standalone Vape Mods)
[ninja_tables id="9786″]
---
Why Tiny Vape Mods Rock!
If you're after something small, potent, and good looking you're in the right place. I'm a huge fan of stealth vaping. Mostly because I don't like rubbing my vaping habit in people's faces.
But also because mini box mod devices can be very convenient, especially if you travel a lot. Vape mods – especially popular box mods like the ones included in our Best Vape Mods Guide – tend to be large, which means you REALLY know you're carrying one.
Small vape mods, however, are designed with portability in mind, so you can take them everywhere with minimal fuss (and pocket bulges).
The Best Tiny Box Mod Kits (My Personal Favorite)
Which would I go for?
Simple: the Demon Killer Tiny Kit.
Why? Again simple: it's TINY (the size of a Zippo lighter) and it comes with a wicked-good RDA.
---
This makes it ideal for on-the-go-stealth vaping. And the RDA it comes with kicks out some seriously excellent flavor too.
It is SO much smaller than a standard vape mod like the SX MINI G-Class.
The deck is TINY, granted, and this makes it a little fiddly. But once you're up and running it's a right 'lil banger!
The Next Best Small Vape?
Probably the Snowwolf MFENG Mini. It looks badass, has a decent-sized battery, and it comes with a great mesh coil vape tank in the form of the Snowwolf Mini Tank.
If you like your vape kits nice and simple, but with plenty of power under the hood, the Snowwolf MFENG Mini is very hard to fault in this context.
If you want power AND battery life, however, you're best off with the Wismec RX Mini, as it packs in a truly MASSIVE 2100mAh internal cell, which is perfect for all-day vaping.
Right now, these three kits are what I'd go for.
>>>Click Here To See The Best Mini Box Mod Table Again…
But before you go, we also need to talk about pod mods because they're designed to be ultra-stealthy…
Mini Vapes – AKA "Pod Systems" – That Are Better Than JUUL
[ninja_tables id="9221″]
These are good options too if you're after a small vape kit for when you're on the move.
I have a few pod mod vapes in circulation right now, and I never leave the house without at least one of them.
Why You'd Use An AIO Vape Kit?
The main reason is convenience – they're just so simple.
The second is portability: they're tiny, and pack in plenty of flavor and performance.
On a night out, when you're in a busy bar or venue, they're brilliant, as you can stealth vape on them and no one in your immediate vicinity will have any idea about it.
I do REALLY love the Lost Vape Orion, it's one hell of a pod mod kit. But it is a little expensive. If you're after something cheaper, the SMOK Nord comes HIGHLY recommended; it costs less than $25, has excellent battery life, and it kicks out great clouds and flavor.
Mi-Pod vs JUUL – Best Vape Pen Device? 
When most people think of AIO, pod vapes they think of JUUL. But this is wrong. Why? Simple: there are plenty of better alternatives.
JUUL is also VERY user-friendly, setting it up for the first time is a breeze.
We even have a guide on how to set up JUUL for the first time.
The ONLY issue with JUUL, besides battery life, is that its JUUL pods are kinda expensive ($15.99 per pack).
For this reason, I am also a massive fan of the Mi-Pod and the Lost Vape Orion too, as they feature refillable pods (meaning you can use your own E Juice in them).
For me, this is sometimes more practical than JUUL's system, whereby you can ONLY run JUULpods them (and they're PROPER expensive).
I'll be adding more units to this list as I test them.
If you liked this article, or you think it could help someone you know, please take 2 seconds of your time to share this post!
>>>Click Here To See The Best Mini Box Mod Table Again…
Rob