A quick and simple guide to the best temperature to vape weed at. Make no mistake: these settings DO make a difference to what you're vaping, especially if you're after more THC or more CBD.
---
If you're using a portable weed vaporizer – or a desktop vaporizer – you need to know about the correct temperature to vaporize your cannabis. If you have too high, you'll ruin it; too low, and you won't get any sort of hit.
For this reason, it pays to have a basic understanding of what the best temperature is to vape your weed. And it will depend on what type of vaporizer you're using. In this guide, we'll use the PAX 3 and the Davinci IQ 2 as examples, so if you have either of these you can easily follow along.
But all of the instructions will work for any type of portable weed vaporizer.
What's The Best Temperature To Vape Weed?
This is where things get a little more complicated. You see, when you smoke cannabis, you just burn it all up at once – in this respect, it's a lot simpler.
When you're talking about vaporizers, you're "heating" up the material – not burning it.
And the type of temperature CAN and WILL have an effect on the flavor, potency, and overall experience of your medical marijuana. Don't worry though, there's no math required.
Temperature Setting Guide For Vaporizers (A General Rule of Thumb)
If you want more CBD, CBN, and CBC, you'll want to set the temperature nice and high – anywhere above 200ºC.
If you want to get HIGH and activate the THC compounds in a more meaningful manner, you'll want to keep the vaporizer's temperature lower – usually below 200ºC (180ºC is a good place to work towards).
Obviously, most of how the cannabis effects you will be down to the strain you're using.
Different strains of weed have different properties and act differently.
The above is just a rule of thumb to use when you're using good quality, legally-obtained medical marijuana.
---
Vaporizer Temperature Settings (And What They Mean)
Up To 180ºC: Great for flavor and maximizing the THC aspect of cannabis (THC is the active compound that affects your consciousness).
180ºC to 200ºC: Still good for flavor, but the higher temperatures bring in more CBD compounds and this increases bodily effects.
200ºC and Up: Strong level of medication, heavier bodily effects – ideal for those using medical marijuana for pain management.
Best Vaporizer For Medical Marijuana
If you're interested in finding out what some of the best vaporizers for medical marijuana are right now, you should 100% check out our best vaporizer guide.
IMAGE
Brand Name
Price
Rating
Why You'd Buy It...

100%

Best-In-Class Cloud Production
Insane Flavor 
Excellent Design 
Simple To Use 
As Good As A Desktop Vaporizer
Unrivaled Performance

(Best For Battery Life)

100%

Outstanding Design

Removable Battery

Great Vapor Production

Intense Flavor

Simple To Use

Fast Heat-Up Time (30-40 seconds)

(Best For Heat-Up Time)

98%

Ultra-Portable Design
RAPID Heat-Up (20 Seconds)
Great Phone App For Control
Wireless Charging
Excellent, Smooth Vapor
Great Flavor Production

(Best Value For Money)

98%

Sleek, Unique Design
30 Second Heat-Up
Excellent Battery Life
Simple To Use LED Display

(Best Instant Hits)

90%

Beautiful Design
Runs Dry Herbs & Concentrates
Excellent Vapor Production
Simple To Setup
Fast-Charging Battery
Phone App Support
If you want my 2¢ on what to get right now, I can tell you what I use.
It's the Davinci IQ and the PAX 3.
Yes, I have two because I'm lucky enough to test these things out for a living.
Why do I like these vaporizers so much? Simple: they're brilliant and absolutely jam-packed full of features.
You can actually control the temperature settings of both of these vapes from an app on your phone, so you can get SUPER precise.
Neither are cheap, however, but they're both thoroughly excellent devices, so if you're after something reliable with excellent features and accuracy, you're best off with either one of these, in my humble opinion.
However, if you're after something cheaper, but equally good the PAX 2 is now A LOT cheaper since the arrival of the PAX 3.
What About Desktop Vaporizers?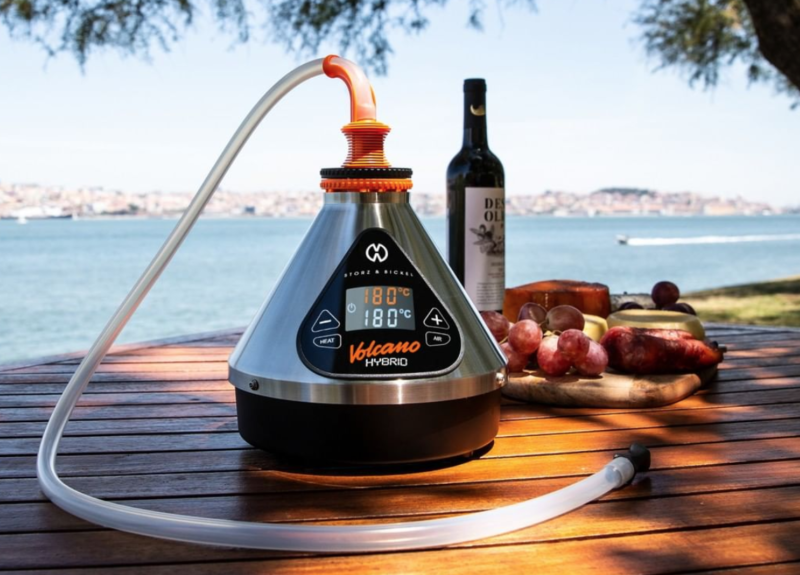 A desktop vaporizer is a larger, more powerful version of a hand-held, portable weed vaporizer. Desktop vaporizers are mains-connected, so never need to worry about battery life but they're not exactly portable. The ideal setting for a desktop vaporizer is your kitchen table or a coffee table, which makes them ideal for social sessions with friends.
Prices vary, but generally speaking, desktop vaporizers are more expensive than their portable vaporizer counterparts. The best of the best is the Volcano Hybrid Desktop Vaporizer; it retails for $799 and is an utter monster with respect to performance and flavor. Nothing else comes even remotely close to this setup, which is why it is currently ranked #1 inside our best desktop vaporizer guide.
A cheaper, but still awesome alternative, would be the Arizer Extreme Q which retails for less than $200. The Arizer Extreme Q is a whip/balloon-style vaporizer that has tons of settings, a remote control for hands-free control, and amazing performance. It's not as good as the Volcano Hybrid, but then again it is around 75% cheaper, so that's to be expected.
Right now, these are the #1 desktop vaporizers money can buy:
NAME
IMAGE
PROS
RATING
PRICE

Easy To Use 
Immense Flavor & Vapor Production
Heats-up In Seconds
Easy To Clean
All Parts Can Be Swapped/Repaired
Mains-Powered
The #1 For Overall Performance & Vapor Quality

100%

It's A LOT Cheaper Than The Volcano
You Want Forced Air & Whip Capabilities
It Delivers Superb Quality Vapor
Great Overall Design, Very Modern

100%

It's Smaller Than Volcano & Arizer Extreme Q
It Produces INSANE Amounts of Vapor
It's Super-Simple To Use
You Get A Three-Year Warranty

100%
Desktop Vaporizer Pros:
Mains-Connected; You Never Have To Worry About Battery
More Powerful – They Produce A LOT of Vapor
Faster Heat-Up Times
More Control Over Your Settings
Most Will Vaporize Both Weed & Concentrates
Less Prone To Breaking Than Portable Vaporizers
Vaping vs Smoking Cannabis
The rise and adoption of medical marijuana by millions of people in the US has seen a HUGE spike in interest around vaporizers.
Smoking anything – be it tobacco or cannabis – is always best avoided; you're exposing yourself to a myriad of hazardous chemicals that are linked with hundreds of diseases and illnesses.
If you're a medical cannabis user, and you don't want to smoke it, the next best thing is vaporizing it – this way you're only getting the good stuff, and none of the toxic elements associated with combustion and/or burning.
When you smoke weed, you're basically strapping in and taking everything – including any tobacco you might have added.
When you vaporize medical marijuana, you're getting around 95% of the cannabinoids (the stuff you want, THC and CBD) versus smoking, where over 88% of the smoke contains toxic elements and nasty byproducts.
Smoking vs Vaping
This means you inhale WAY less stuff, but you actually get what you're paying for – and nothing nasty on top of it.
And this isn't just me pimping vaporizers, either!
Nope, science, as always, has vaping's back.
In a study conducted in 2015, 20 frequent cannabis users with at least two respiratory symptoms/issues, switched from smoking to vaping for 30 days.
The result? A reduction in all symptoms.
"These preliminary data reveal meaningful improvements in respiratory function," the report concluded, "suggesting that a randomized clinical trial of the cannabis vaporizer is warranted. The vaporizer has the potential for the administration of medical cannabis and as a harm reduction technique."
Sold? Me too.
And these are the best ultra-portable weed vaporizers the VapeBeat team tested during the past 18 months.
The Best Ultra-Portable Weed Vaporizers 
If you're after a small, portable weed vaporizer but don't know where to begin, relax…
We have a dedicated guide to the Best Ultra-Portable Weed Vaporizers On The Market.
In this guide, you'll find the four best portable weed vapes money can buy right now.
We've included a range of options from ultra-premium to more affordable options.
Basically, there is something for everyone – regardless of budgets!
Drake Equation
Co-founder and Editor of VapeBeat. I make the words.