The Dr. Dabber Switch vaporizer ain't cheap but it is one hell of a setup. But is the Dr. Dabber Switch worth it? Let's find out…
---
If you vaporize weed, or you're interested in doing it, but you're not convinced by portable vaporizers like the PAX 3 of the DaVinci IQ2, the next best thing – for improved performance, more vapor, and bigger hits – is a desktop-style vaporizer.
You can pay A LOT of money for a desktop vaporizer. The best in the business, the Volcano Hybrid, will set you back the best part of $1000. The Volcano, in one form or another, has been a market leader for over two decades now. But it ain't the only game in town.
In many parts of the US and all of Canada, it is now legal to buy and use weed. This is great. But what's even better is that it has driven massive innovation in the vaporizer market. A few years ago, desktop vaporizers were few and far between. Nowadays, you're spoilt for choice.
And one of the best is the Dr. Dabber Switch. The Dr. Dabber Switch costs $399.99, so it is markedly cheaper than the Volcano Hybrid. But is it worth getting one?
As someone that has owned and abused one for the best part of 18 months, I feel I am in a unique position to answer this question. I also happen to own a Volcano too, so I will draw comparisons between the two throughout this post.
By the end, you'll know exactly whether or not the Dr. Dabber Switch is the right vaporizer for you and how to get the best possible deal on one. But first, let's find out what makes the Dr. Dabber Switch tick.
Dr. Dabber Switch: Design & How It Works
Like all good vaporizers, the Dr. Dabber Switch will do both concentrates and standard, dried weed. Running either in the Dr. Dabber Switch is much the same. You fill up the cup, place it into the vaporizer, adjust the settings, and you're away at the races. I have only used concentrates once in mine, as it is next to impossible to get them where I live. But it worked great the one time I used them, so no complaints here.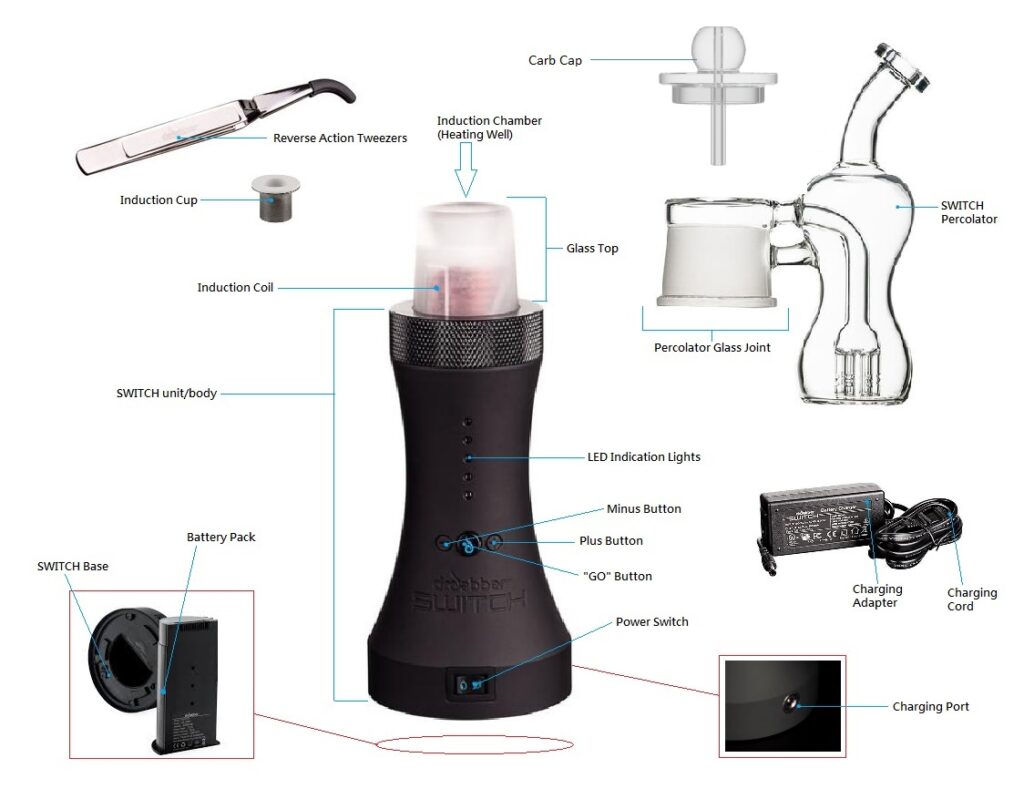 With bud – or green, or whatever you call it – you'll want to grind it down nice and fine. I use a coffee bean grinder for this. Once you have your weed ground down, you simply add it into the cup and pack it down. I like to grind mine in bulk and then store it in an air-tight container.
From here, all you need to do is turn on the device and set the temperature. And that's literally it; the Dr. Dabber Switch is designed to be super easy to use. When I first set mine up, I didn't even need to consult the instructions – it's that intuitive. I'd also watched a few YouTube videos on how to use it, so that helped too.
The device itself looks great, well worthy of the asking price. You have glass elements, LED lights for notifications about heating temperatures, and everything is machined together to a very high standard. And it is this, along with its incredible vapor production, why the Dr. Dabber Switch is listed in the number one spot inside our Best Desktop Vaporizer Guide.
As for design, the Dr. Dabber Switch kind of looks like a smart speaker to my eyes. It is fairly large, so not ideal for use on the go. But it will fit snugly in your backpack, so it is fine for traveling with (unlike the Volcano Hybrid which is just massive). The Dr. Dabber Switch also runs off an internal battery, unlike the Volcano.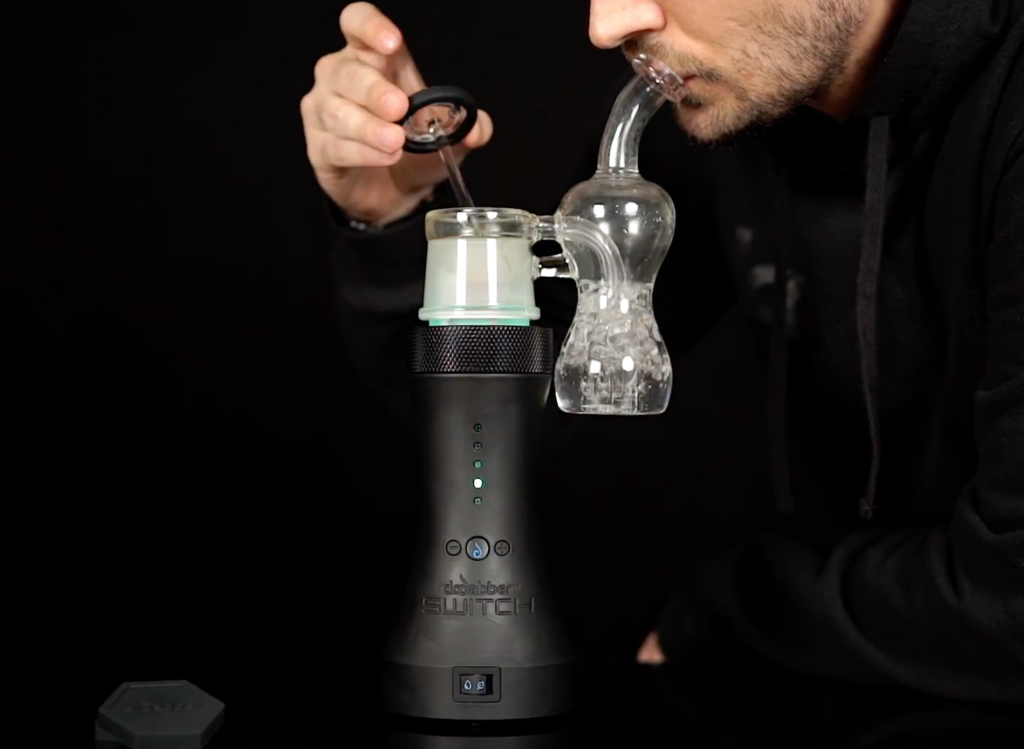 And when it comes to cleaning, you don't have to worry about it – the Dr. Dabber Switch has an auto-cleaning mode. This is a great addition to an already killer product, as it means once you've finished a session, you just place it into auto-cleaning mode and it'll be as good as new when you next sit down to use it.
Technically speaking, it isn't a true desktop vaporizer – those usually connect to your mains via a plug – but it will do pass-through charging which means you can use it and take hits while it is charging. When it isn't connected to a mains outlet, you'll get around 150-170 puffs before a recharge is required. In group settings, I tend to just leave mine charging – or charge it intermittently throughout the night.
Dr. Dabber Switch Heat Up Times
The Dr. Dabber Switch comes with a massive array of 25 preset heating options, ranging from the low-end (300°F/149°C) all the way up to 800°F/427°C. Basically, whatever you want to do, the Dr. Dabber Switch can handle it. Because of all the preset modes, you can customize every bowl, making it completely different from the last – the sky really is the limit here.
With heat-up times, the Dr. Dabber Switch is fairly rapid. If you're using a lower temperature, it'll take less than 30 seconds. If you're going for a higher temperature – upwards of 350 degrees – it can take around a minute but never usually any longer. Compared to other desktop vaporizers, the Dr. Dabber Switch fairs extremely well with respect to heat-up times. I have no complaints in this regard.
Dr. Dabber Switch Vapor Quality
The first thing that I noticed about the Dr. Dabber Switch when I first started using it was just how good the vapor quality was. Compared to my cheaper Arizer Extreme Q, it was a revelation. The bud tasted sweeter, more detailed, and the vapor was more voluminous – like 2X the amount from the same temperature.
I've tried all kinds of strains in my Dr. Dabber Switch over the last 12 months and you always get the full gamut of flavors and notes. In fact, I'd go as far as saying it is as good as my Volcano Hybrid in this regard. Since I've had the Dr. Dabber Switch, my Volcano Hybrid has been out of action. And that should tell you everything you need to know about just how good this vaporizer is in practice.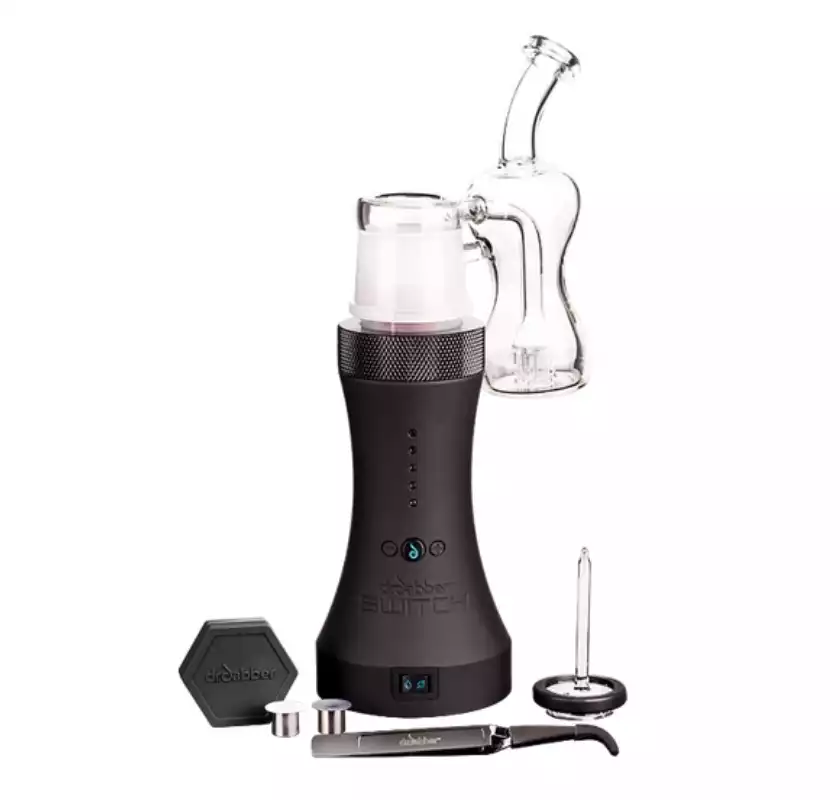 Dr. Dabber Switch Battery Life – Is It Any Good?
As noted earlier, the Dr. Dabber Switch does not run off the mains; instead, it uses an internal battery. When this battery is fully charged, you'll get 150-200 puffs. But the Dr. Dabber Switch's ace in the hole is that it can do pass-through charging which basically means you can plug it in to charge and still use it.
The Dr. Dabber Switch battery is also 100% replaceable too, which is amazing, because once the internal cell reaches its end of life, something that happens to ALL batteries, even the ones used inside your phone, you can just order a new one and replace it. This means you could technically run the Dr. Dabber Switch for the rest of your life, so long as you look after it.
This effectively turns the Dr. Dabber Switch from a portable vaporizer into a desktop vaporizer. The battery life is incredibly good for a vaporizer with an internal battery. During solo sessions, it has more charge than you'll ever need. In group settings, you'll just want to connect to its charger after a few cycles. This will ensure it never runs out of battery.
Is The Dr. Dabber Switch Worth It?
The Dr. Dabber Switch is one of the most advanced and best value for money desktop vaporizers on the market right now. It produces excellent vapor, heats up rapidly, has a massive temperature range, plus 25 preset heating modes, and it will even clean itself. What more could you want from a performance vaporizer?
For the asking price, $399.99, I think the Dr. Dabber Switch is 100% worth the money. It has pass-through charging, so you never need to worry about battery life, it produces outstanding amounts of vapor, it is simple to use, and it'll run both dry herbs and concentrates. I own the much more expensive Volcano Hybrid and since I got the Dr. Dabber Switch, I've barely used it.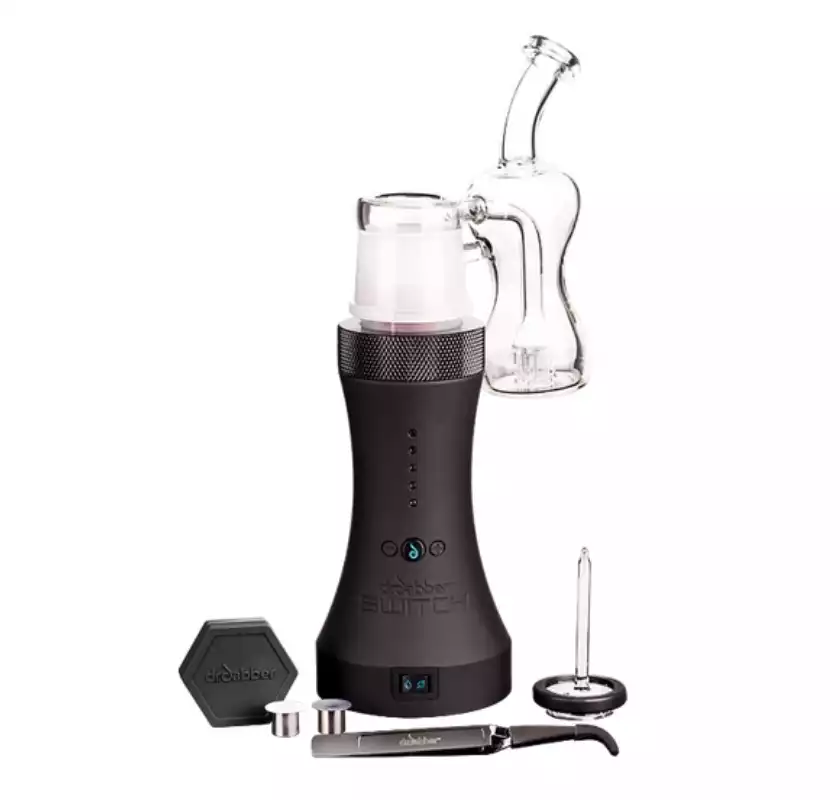 That should tell you everything you need to know about this amazing vaporizer. It costs less than half the price of the Volcano Hybrid and it works just as well. My advice? Save yourself $400 and get the Switch instead. You will not regret it – this thing is incredible.
Drake Equation
Co-founder and Editor of VapeBeat. I make the words.