Storz and Bickel's Volcano Vaporizer is immensely popular and exceptionally good. But it is very expensive, so what is the best Volcano Vaporizer Alternative right now?
---
Best Weed Vaporizer Like The Volcano
If you're in the market for a desktop vaporizer and you can't stretch to Volcano-levels of money, then the next best option, in my opinion, is the Arizer Extreme Q Vaporizer.
---
---
Or, if you can stretch the extra cash, Storz & Bickel's Plenty Vaporizer. This one is made by the same company that makes the Volcano, but it is cheaper ($250) – the design is also completely different (as you can see here). 
For a weed vaporizer that functions like the Volcano, however, the best option right now – from a value for money perspective – is definitely the Arizer Extreme Q desktop vaporizer. It has both balloon and whip-style functionality and it even comes with a remote control.
Meet The Arizer Extreme Q Desktop Vaporizer
The Plenty is a desktop vaporizer, and it is monstrously good, although it is more portable than both the Volcano and the Arizer Extreme Q.
The Volcano Vaporizer, the industry standard, will cost you almost $700. That's a large chunk of change. If you cannot afford that (like most people), then the Arizer Extreme Q, for me, is just about the finest cheap desktop vaporizer on the planet right now.
OK, why's that? Simple:
It's A LOT Cheaper (Like $300 Less)
It Does Whip & Balloon
Simple To Use
It Comes With A Remote Control
It Delivers Amazing Performance
And You Get A Life-Time Warranty
Arizer Extreme Q Vaporizer vs Volcano Vaporizer
The Arizer Extreme Q might be hundreds of dollars cheaper than the Volcano Vaporizer, but do not let that put you off. This thing is a brilliant performer. And in some ways, it's better than the Volcano.
Take the fact that it can do both balloons and whip-style hits; the Volcano can only do balloons. The Arizer Extreme Q is also very quiet and it comes with a remote control too, so it's super simple to augment the settings.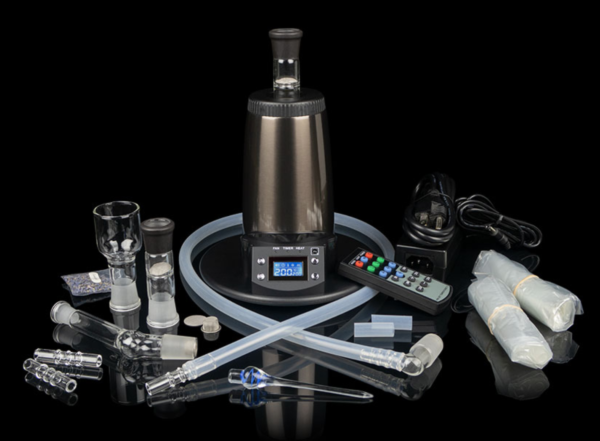 The Volcano is built from more premium-grade materials, that's partly why it is so expensive. There's also the Storz and Bickel brand to consider as well; like Apple, access to its products comes at a premium.
---
---
Still, the Extreme Q is a thoroughly well put together desktop vaporizer that is constructed from premium-grade materials. In this respect, no expense has been spared, so if you're after killer performance and vapor production from a great-looking vaporizer, the Arizer Extreme Q certainly fits the bill.
It's great for whip-style vaping or balloons. It also comes with a boat-load of accessories as well, as you can see below:
What You Get In The Kit:
2 x Glass Cyclone Bowls
1 x Glass Aromatherapy Dish
1 x Aromatic Botanicals Sample
1 x Screen Pack (1 flat / 1 dome)
1 x Remote Control
2 x Interchangeable/Replaceable Glass Whip Mouthpieces
1 x Glass Stirring Tool
1 x 3 Foot Whip (tubing)
1 x Elbow Adapter
1 x All-Glass Mini Whip (for balloons)
2 x Balloons/Bags with Glass Balloon Mouthpieces & O-Rings
1 x Owners Manual
Extreme Value For Money – The Arizer Extreme Q's Main Party Trick
The big thing about the Arizer Extreme Q is the price: it is insanely cheap for what you're actually getting. This is why it is so popular and, I imagine, why it also steals a lot of sales from Storz and Bickel.
I mean, you could buy three Arizer Extreme Q units for the price of one Volcano Vaporizer. THREE! Or, if you went the Arizer Extreme Q route, you'd have enough left over to buy a massive bag of Kush or a half-way decent portable vaporizer for on the move.
Whichever way you slice it, the Arizer Extreme Q is a brilliant alternative to the ultra-pricey Volcano Vaporizer.
Precision Temperature Control For Vaporizing Weed
You have a ceramic heating element that delivers thick, luxurious vapor. On top of this, you also have multiple fan speeds for changing the airflow of the vapor.
Why is this cool? Simple: you can alter how the vapor is delivered.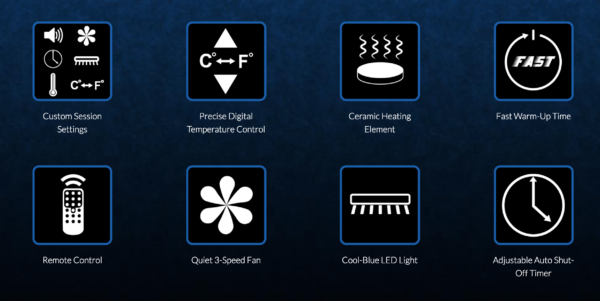 This means you can set it for low-resistance draws, down to super intense hits and everything else in between.
Or, say you wanted some proper thick vapor, you'd do this: set the fan speed nice and low and whack the temperature up. Doing this will create massively dense clouds.
Arizer Extreme Q Remote Control
One of the things I really like about the Extreme Q vaporizer is its control. At first, I didn't think I'd use it all that much. But after a few sessions, I found myself using it all the time – it's so convenient.
You can alter all the settings on the vaporizer from the remote, from fan speed to temperature.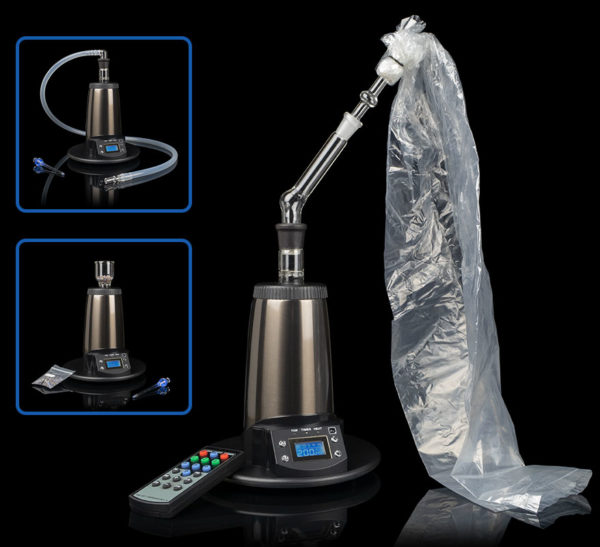 It's a hugely beneficial addition to an already stellar desktop vaporizer (that's why it's listed high inside our Top Desktop Vaporizer Guide).
It's good from distance too, so you don't even need to get off the sofa to change things: just a few clicks and everything's taken care of, leaving you to focus on more important things like eating chips and watching re-runs of Rick and Morty.
Why The Arizer Extreme Q is The #1 Best Volcano Vaporizer Alternative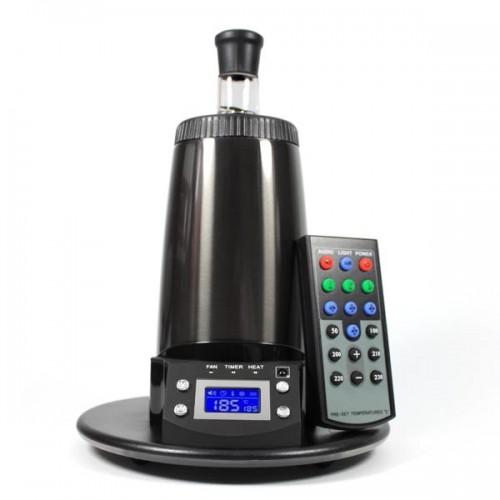 If you're after a solid, high-performance desktop vaporizer and you can't really stretch to the Volcano Vaporizer, the Arizer Extreme Q is easily the best Volcano vaporizer alternative available right now.
For the price, nothing else comes even remotely close. Hell, my PAX 3 and DaVinci IQ portable weed vapes are more expensive than it! And if that doesn't tell you everything you need to know about how much value for money this device delivers, nothing will!
For the ultimate home-vaporizer experience on a budget, nothing comes close to what Arizer has created here. The Extreme Q is an utter monster when it comes to performance and functionality, delivering stunning flavor and a variety of vaping modes.
The Volcano is great, but it is stupidly expensive. And it has less functionality than the Arizer Extreme Q, which can do both balloon and whip-style vaping. It even comes with a remote control, so there's no messing around with the dials on the device, a feature sorely missing from the $600 Volcano.
This thing is damn near perfect. Stop procrastinating and go grab yourself one. You will definitely not regret it 🙂