The Volcano HYBRID by Storz and Bickel is officially here and it FINALLY brings whip-style vaping to the Volcano series, as well as 10X faster heat-up speeds…
---
The Volcano HYBRID vaporizer is the third-generation version of Storz & Bickel's seminal desktop vaporizer. But unlike its predecessors, the Volcano HYBRID vaporizer supports both whip-style vaping AND balloons, offering users the best of both worlds.
MORE: Your Definitive Guide To The Best Desktop Vaporizers
The Volcano HYBRID vaporizer replaces the Volcano Digit, meaning you know only have two options when it comes to Volcano desktop vaporizers – the Volcano Classic and the Volcano HYBRID. The newer model, with its added features and increased performance, is the more expensive of the two – it retails for $699.
Volcano HYBRID Specs & Features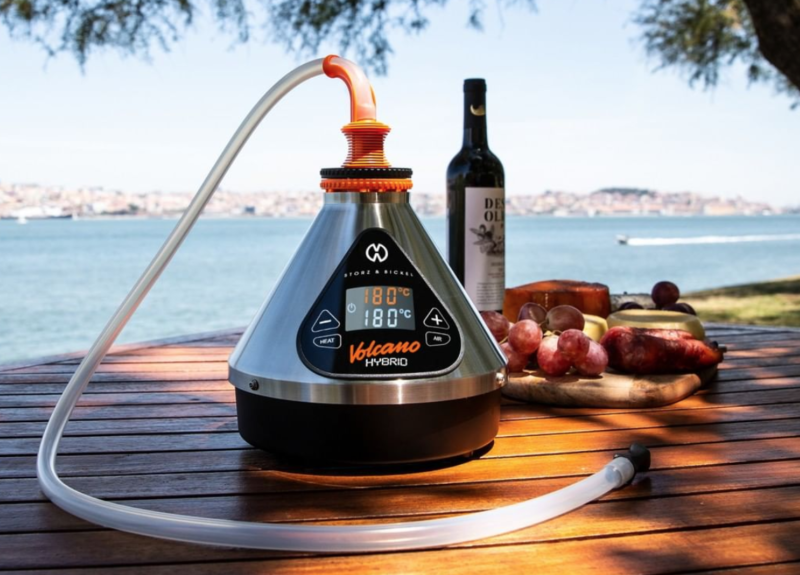 [maxbutton id="4″ url="https://vapebeat.com/recommends/volcano-hybrid" ]
Hybrid Inhalation System – Supports Both Whip-Style & Balloon Vaping
Digital Display – Makes It Easier To See What's Going On
App Compatibility – You Can Use Your Phone To Control Temperature Settings & Power Settings
Pure Convection Heating – Air is propelled through the vapor path by a 100-watt heater that extracts the essential flavors of your dry herb without combustion
100-Watt Heater – Insanely Powerful Heater For Precise, Fast Heating
Dual-Use Vaporizer – You Can Use it as a Whip-Style Device or Go The Traditional Route and use a Balloon.
10x Faster Heat-Up Time – Thanks to Improvements to the Specs, The Volcano Hybrid Heats Up Materials 10X Faster Than Before
As you can see, this isn't a minor update; the Volcano HYBRID vaporizer is a complete overhaul of Storz & Bickel's existing device – it is faster, more powerful, and it features much-needed, new features like the ability to do whip-style vaping and control the device remotely via a smartphone app.
What You Get In The Box
1x Storz & Bickel Volcano Hybrid Hot Air Generator
1x Power Cord
1x Easy Valve Balloon w/Adapter
1x Tube Kit
1x Filling Chamber
1x Air Filter Set
1x Herb Mill
1x User Instructions
3x Easy Valve Balloon w/Mouthpiece
Volcano HYBRID Performance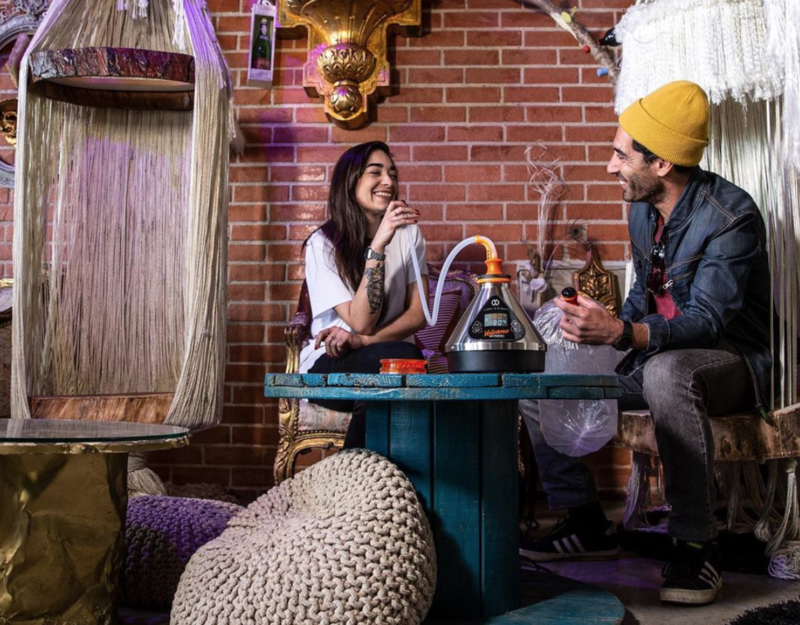 Both the now-replaced Volcano Digit and the Volcano Classic were solid performers, delivering rapid heat-up times, excellent vapor, and some of the purest vaping experiences around. Topping what these two could do has been the business of many brands during the past few years. But none have really managed to do it…
This is why Storz & Bickel's Volcano vaporizers are found in the best head shops in Amsterdam and in other places like Colorado. They are the best. And not just by a bit, by a Texas mile. And the advent of the Volcano HYBRID has just propelled the brand even further into the lead…
The Volcano HYBRID is 10X faster at heating up cannabis than before, it features whip-style vaping, a much-needed feature, and it now supports wireless control via a phone application. Simply adding the latter two features alone would have been enough to propel the Volcano HYBRID way ahead of everything else in the vaporizer market, but Storz & Bickel THEN went and made it 10X faster at heating up weed just for the hell of it!
Vapor Quality
Vaporizers live and die by the quality of vapor they produce. This is why there is such a large discrepancy in price between a cheap portable vaporizer and something like the PAX 3, which retails for $279. And it's the same with desktop vaporizers too; only with these types of vaporizers, you get A LOT more vapor and more control over how it is generated. For the pure volume of vapor and flavor, the Volcano Hybrid, like its predecessor, is almost impossible to beat. It generates large amounts of cool, dense vapor that is packed with flavor.
You can control just how much vapor it makes by using the HYBRID's fan; if you want more, whack the fan on. Want less? Turn it off or switch it down. Either way, you're in control. You also have the ability to use the fan to drive the device when it's in whip mode, which gives it an added punch that is great for when you're sat around it with a bunch of buddies.
Like its predecessor, the Volcano Digit, the Hybrid is an utter monster when it comes to vapor production. Nothing else in the niche can hold a candle to this vaporizer in this context. This is why you'll pay top dollar for one. Like a performance German sports car, when you're using it nothing else compares, and for those that value reliability, usability, and performance, the asking price for the Volcano HYBRID, while steep, is not going to put any of the purists off getting this device.
Volcano HYBRID Whip Mode – Is It Legit?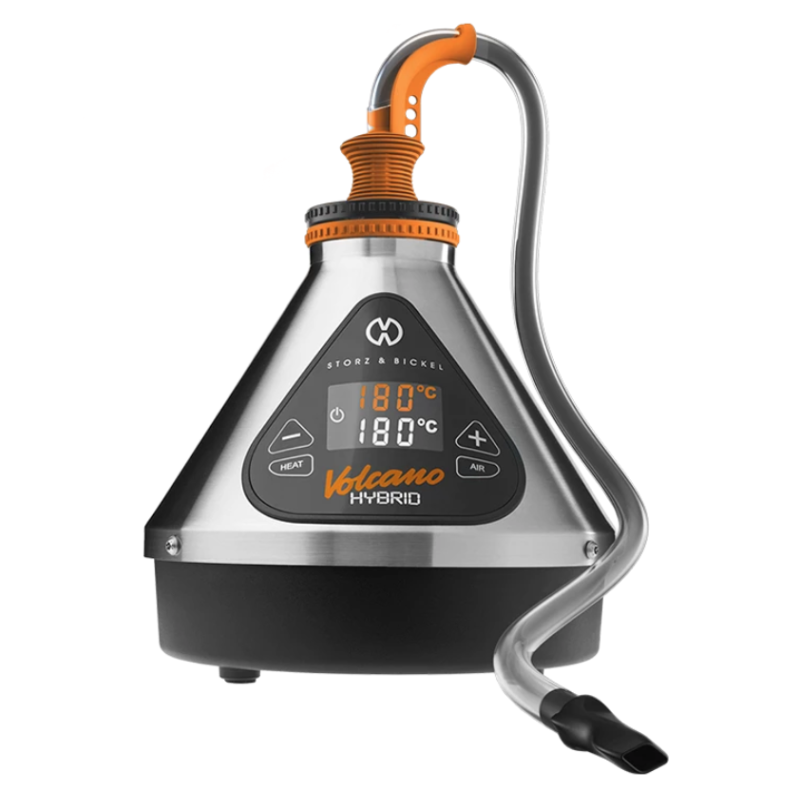 [maxbutton id="4″ url="https://vapebeat.com/recommends/volcano-hybrid" ]
Yes. It is 100% legit. And its addition makes the Volcano HYBRID our new #1 recommendation for the best desktop vaporizer on the planet right now. The vapor is smooth and full of flavor, it's also dense and the volume you get off a single draw is utterly NUTS.
Add in the fact that you still have support for the Volcano's traditional way of vaporizing, its balloon system, and you're effectively getting the best of both worlds, something Volcano vaporizers, up to now, have been missing. Whip-style vaping is simpler and quicker; it's also less fuss, especially if you're vaping with a few buddies.
The airflow on the Volcano HYBRID's whip system is brilliant too, it's nice and open, making it great for casual vaping. As noted above, you get plenty of vapor. But should you require a bigger hit, all you have to do is ramp the fan speed up and, BOOM, you're getting A LOT more vapor. Instantly. For me, this is what separates the Volcano HYBRID from the rest of the pack – performance, and speed.
RAPID Heat-Up Times…
The older Volcano vaporizer models took around 2-3 minutes to heat-up properly. That's not too bad, but it is kind of slow. The Volcano HYBRID will do it in 70 seconds flat, or thereabouts, depending on the size of the bowl you're using. This is a huge improvement over the previous model. And it makes the Volcano even more compelling, even when compared to cheaper alternatives. 
For a vaporizer of this size and power, 70-80 seconds for heat-up times is mightily impressive. But it's not just the time that is impressive; the volume of vapor produced by the Volcano HYBRID's 100W heating fan is utterly mind-blowing (in both a figurative and literal sense). Nothing else I have ever used has come even remotely close to matching the Volcano in this context – this is why it is so expensive. Like a top of the line German car, it delivers performance in spades, leaving everything else in the dust.
The Volcano iPhone/Android App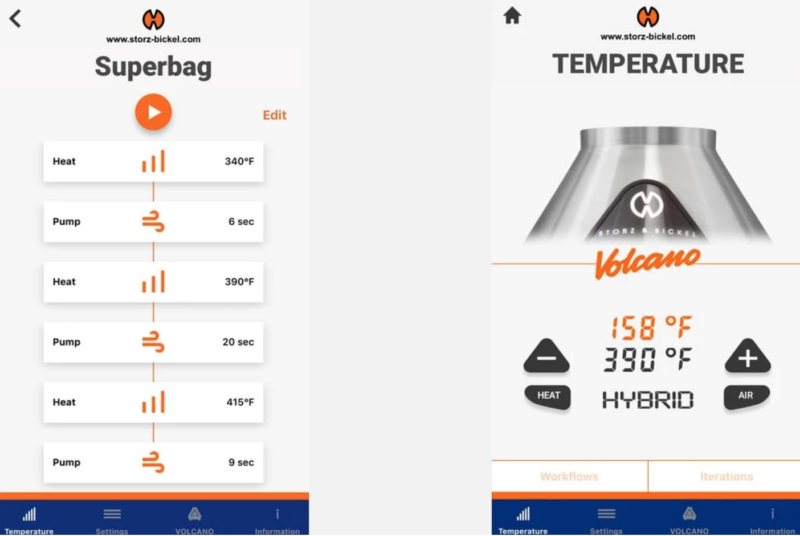 Volcano has also released an iPhone and Android app, which can be downloaded via the App Store and Google Play for free.
Added bonus? If you're using the Crafty vaporizer, a portable vaporizer from Storz & Bickel, you can use the app to control that too!
The application has four main settings:
Main Controls – This gives you quick access to the Volcano HYBRID's main settings; things like power and temperature control. Here, you can adjust things on the Hybrid wirelessly, so you don't even have to touch the device itself when using it.
Settings – Inside Settings, you can control the deeper settings of the Volcano HYBRID like fan speeds, shut-off times, and set-up programmable features like Workflows, which let you customize heating temperatures across, say, a 20-minute window of time.
Status – Status basically tells you what the Volcano HYBRID is doing at any given time; things like the fan speed, the temperature. Stuff like that.
Information – Inside the information tab, you can find user-guides and helpful tips for getting the most performance out of your Volcano HYBRID system. Here, you can learn more about setting up Workflows on the Volcano HYBRID.
What Are Workflows & Iterations?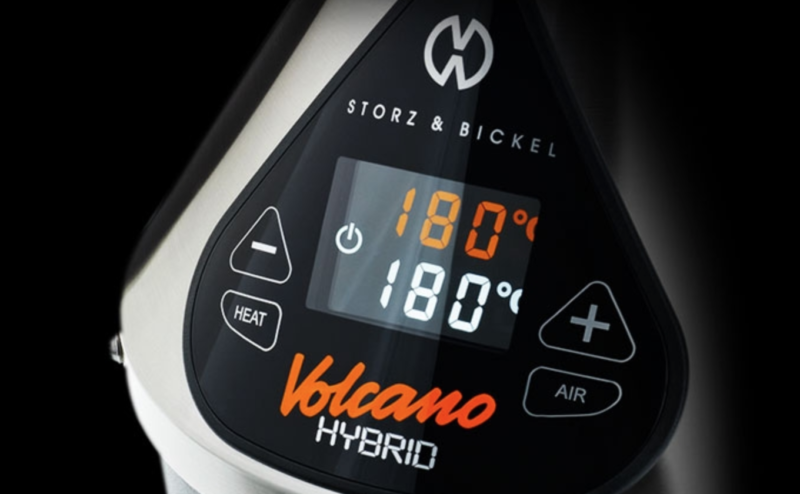 The Volcano HYBRID is completely programmable, meaning you can set up user profiles or performance profiles for your exact needs and requirements. A workflow is based around the idea of programming in different heat, blow, and hold patterns. Example: Say you're with some friends, and you're passing around the whip, you could set the heat, blow, hold, to every five seconds.
With iterations, you can setup timings for your sessions over, say, 30 minutes. One example of this might be as follows: you start your session at 300ºF, but over the course of 20 minutes you tell the Volcano HYBRID to up the temperature 10ºF every 60 seconds until the bowl is finished. This, again, is ideal for personal and group sessions.
Both of these new features add a completely new dynamic to the Volcano vaporizer. It was always an impressive desktop vaporizer, but now it feels like a truly exceptional device that is built for the ultimate personal and group vaping sessions. The accuracy and ease of use of Workflows and Iterations is a testament to just how good Storz & Bickel are at its craft.
Volcano HYBRID Supports Dry Herbs & Concentrates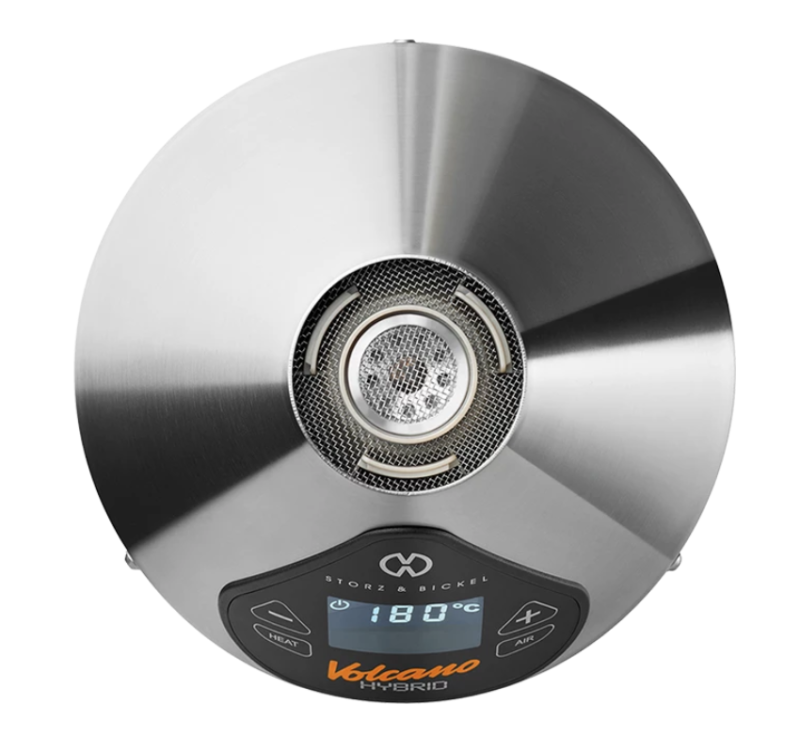 The Volcano HYBRID supports both dry herbs and concentrates, which is great if you live in a cannabis-friendly state in the US or Canada. In order to use concentrates in the Volcano HYBRID, simply install the stainless steel mesh pad, add your concentrate, as much as you like, and switch on the vaporizer.
Again, heat-up times here are RAPID. The vapor is smooth and plentiful. If you're coming from a portable vaporizer, the sheer volume of vapor produced by desktop vaporizers like the Volcano HYBRID will definitely blow your mind – it's like the difference between light drizzle and a full-on hurricane.
The Volcano HYBRID is Easy To Maintain and Clean As Well
The design of the Volcano HYBRID, like its predecessor, is all about simplicity. You can buy spare parts for it if it breaks, and cleaning the device is as simple as brushing off materials from the screen and the vaporizing platform. The upshot of this is that, if you're lazy, you could get away with not doing a deep-clean of the Volcano HYBRID for months at a time.
On top of this, you get a three-year warranty from Storz & Bickel for the device too, so if anything goes wrong – anything at all – it will fix and/or replace the unit for you in a timely fashion.
Who's The Volcano HYBRID For?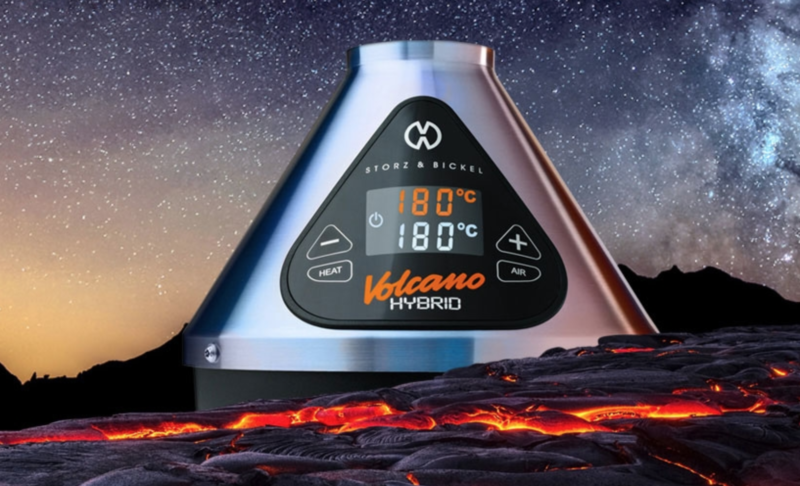 [maxbutton id="4″ url="https://vapebeat.com/recommends/volcano-hybrid" ]
Well, it's hella expensive at $699, so that means the Volcano HYBRID is designed for only the most serious of cannabis users. You'll also need to have fairly deep pockets too; $700 is A LOT of money for anything, let alone a desktop vaporizer.
However, if you're serious about this kind of thing, the Volcano HYBRID is easily the #1 desktop vaporizer on the planet right now. It packs a mighty punch, has masses of power, and is packed with loads of innovative features and control options.
Chuck in the fact that it now supports whip-style vaping, as well as balloons, and can be fully controlled wirelessly via a phone app for Android and iPhone and you're looking at one of the most feature-rich, innovate tabletop vaporizers on the planet.
And because it's German-built, it'll probably last you for the rest of your life. On top of this, you'll likely never smoke pot ever again. Or use a portable vaporizer. Why? Simple: the Volcano HYBRID is that good. You won't want to go back to other, lesser methods of consuming cannabis.
Best Price | $699 | Vapor
Drake Equation
Co-founder and Editor of VapeBeat. I make the words.