Drake's VooPoo Drag mod review – long-term review of the original, Drag mod. Is this vape mod legit? Let's find out…
---
UPDATE: 12 Months On… And The VooPoo Drag is STILL Kicking ASS!
Well, it's been a good long while since I first published my review of the VooPoo DRAG – around 12 months (give or take).
That is plenty of time for the proverbial s**t to hit the fan, for things to break, and things to fall off.
Has any of this happened?
Nope – nothing.
This mod is still kicking ass and taking names, 12 months later.
There have been some new additions, however. Most notably the Voopoo Drag mod resin edition, which looks stunning.
Under the hood, though, both Drag vape devices are the same.
That means MASSES of power and solid build quality.
I use my Drag box vape most days too, it's basically my daily driver, and it has seen A LOT of action during the past 12 months.
I've been to a few continents with it, dropped it hundreds of times, lost it a couple of times, and it is still going gang-busters.
I honestly have never used a mod quite like the VooPoo Drag; it is just such a solid, reliable, heavy-hitting mod that even when I have something new in for testing, I still end up going back to it.
The only thing I dislike about it is that I didn't get one of the Resin VooPoo Drag mods; they look SICK (check them out here).
Other than that, yeah… zero complaints about this one. And that's 12 months on.
I have had mods in the past that I have loved but, for one reason or another, usually because they break, I have parted ways with them.
I keep waiting for this day to come with the VooPoo Drag, but here we are… 12 months later and it's still rockin'.
And If that ain't enough reason to get this mod, I don't know what is!
---
UPDATE #2 –The VooPoo DRAG 2 Has Now Launched.
You can find out more about it by visiting our VooPoo DRAG 2 Preview.
And you also have the VooPoo DRAG 3 to think about now as well.
It is more expensive than the VooPoo DRAG, but it does come with a sub ohm tank (unlike the original VooPoo Drag).
If you're interested in value for money, read on – the original VooPoo DRAG is still one of the best in the business.
You can read my original FULL review after the break… 
---
The VooPoo DRAG box mod is here to make box mods, umm, stylish again. And it also features a rather smart chipset that goes by the name of GENE.
But is this stylish, well-priced box mod all its cracked up to be?
I'll level with you: prior to the VooPoo DRAG arriving on my doorstep, I'd never heard of the company, VooPoo, that makes it.
I mean, they're called VooPoo – you'd remember a name like that.
Never one to judge, I unboxed the mod from its adequately premium packaging and, low behold, what awaited me inside was quite the surprise – a sturdy, premium-feel mod with tons of character. I forgot about its silly name in an instant.
That was two months ago, and since then Mr. DRAG and I have been inseparable. I've run tons of tanks on it, dropped it, had a bath with it, been on holiday with it, and just about everything else in between.
What follows is my honest opinion of the VooPoo DRAG, which I believe is one of the best value mods on the planet right now.
Packaging & Unboxing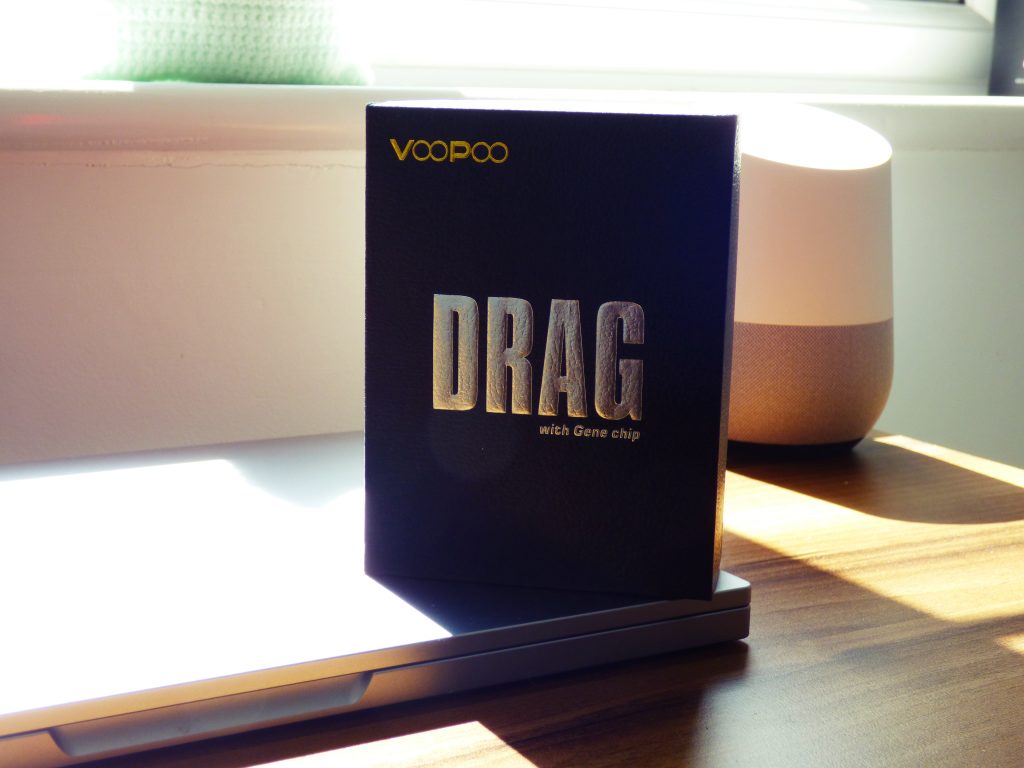 As I said above: the VooPoo DRAG ships in a very fetching box; it's faux leather and red and black, with DRAG adorned on its front. The inside box is red and this provides some nice contrast.
The contents of the box are as follows:
Voopoo Draw 157W TC Mod
USB Charge Cable
Warranty Card
User Manual
And that's it – nice, simple and to the point. Everything is well presented and well thought out. The VooPoo DRAG arrived with me in pristine condition which is no mean feat after traveling all the way from China.
Design
I'm just gonna come right out and say it: I love the way the VooPoo DRAG looks.
It's chunky and metallic – zinc alloy, in case you were wondering – and it features a beautiful mesh pattern on its side that really shimmers when it catches the light.
I've used A LOT of mods in the past 12 months, more than I care to remember, but the VooPoo DRAG is easily one of the best looking.
It just looks awesome – its proper eye-catching from all angles.
I was at a party and even a couple of non-vapers commented on how cool it looked.
I explained what it was and they were rather taken aback, as they didn't know just how nice vaping devices could actually look.
The industrial design of this thing is EPIC.
It's slab-like proportions, gravity in the hand, and focussed detailing beats pretty much every other mod in the space right now (at least, in my opinion).
I'm not 100% sold on the DRAG logo that is laser-etched onto the other side, as it just makes me think of… well, Ru Paul and that's not something I want to think about while I'm vaping.
No offense, Ru.
Having said that, it's just a name – so who cares.
What counts is how everything fits together and works.
Also, the laser-etching is a really nice touch; I just wish it said something nicer/cooler/better.
The shape of the mod itself, while chunky, is easy to accommodate in your day to day, the buttons are well made and sized, as well as clicky, and the display is easy to see in all types of lighting.
The back panel, which is held in place by magnets that could lift a car, is secure, yet easy to remove thanks to the catch that VooPoo has implemented into the DRAG's chassis.
The VooPoo DRAG runs on two 18650 cells and, providing you're using decent batteries and running at reasonable wattages (around 100W), you're looking at plenty of vaping time, easily a full day.
All told, this bizarrely named mod is one of the better setups I've tested in the last 12 months.
I like its size, its durability, and I like how everything that has been included in the industrial design is logical and services a purpose.
Top marks.
Specs & Features
Rather than discuss each and every spec and feature of the VooPoo DRAG, which would take ages, I'm simply going to lay out the specs and features below, then cherry-pick the stand-out features that I think are worthy of note.
Power: 5-157W
Battery: 2 x 18650 (balance charging)
Size: 90 x 54 x 24mm
Colour: Black with white / Black with red
Lowest Resistance in Power mode: 0.05Ω
Lowest Resistance in TC mode: 0.05Ω
New function: Super Mode and Power
compensation mode.
TC MODE: SS, NI, TI, NC, TCR, CCR
Firmware Upgradable
Temp Range 100-315 C
As you can see, the VooPoo DRAG packs in a ton of specs and features.
All the right settings and stats are there. But where the VooPoo DRAG really comes into its own is with respect to performance.
It is off the freakin' charts.
Think about hitting the firing key and you're vaping; it's insanely fast and super accurate.
Like, super-duper accurate. And this goes for wattage mode and TC mode.
There is something called "Super Mode", which kicks in after 130W, though, honestly, I have no idea what this actually does.
Nothing appears to change with regards to the overall vaping experience.
I think it's just a gimmick, personally.
But when you're as good as the VooPoo DRAG, you can have all the pointless gimmicks you like.
This mod is like an F1 car; it's all power and focussed-accuracy.
Blink and you will, quite literally, miss a mouthful of vape.
VooPoo DRAG Performance (GENE Chip Overview)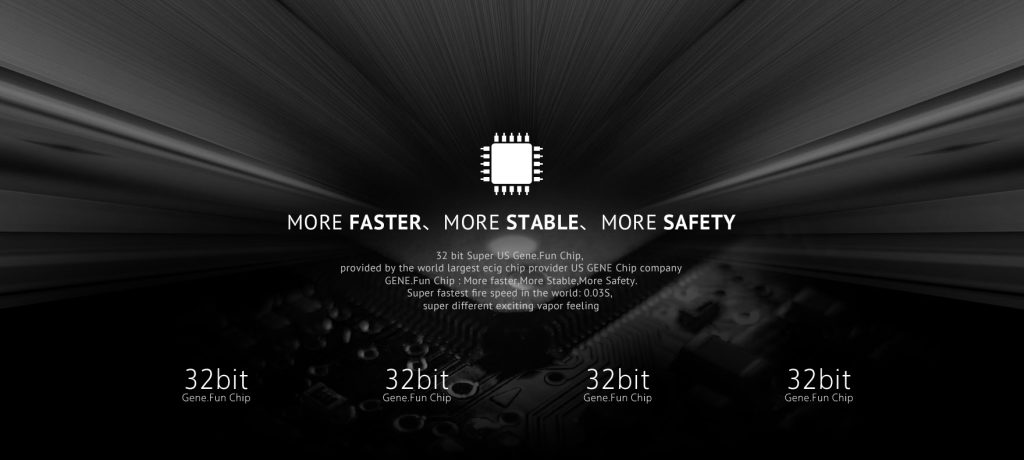 And who do we have to thank for all this insane performance?
Simple: the GENE chip that powers the VooPoo DRAG.
Often compared to EVOLV's super-pricey DNA 200 chipset, the GENE chip comes in guns blazing at a very impressive price point.
Defect rate for the GENE chip is only about 0.6‰ during assembling and complaint rates from VooPoo's partners are non-existent.
This chipset is a big deal and you can expect to be hearing and seeing a lot more of it in 2017/18.
This for me, aside from the look and feel of the mod, is its biggest selling point – insane performance for a very respectable price tag.
That doesn't happen very often, so it is easy to see why a lot of people – myself included – are raving about this mod.
TC mode isn't quite as good as it should be; things kind of top out around 80W.
Most of the time this isn't a problem – especially for me, as I never use TC – but it is something to be aware of if you're a fan of TC vaping.
Ramp-up times are, well… there's no other word for it: lightning quick.
You hit the fire key, it clicks, and you're vaping. Hard.
Treat this mod with respect, too, as it's more accurate and, generally, more potent than a lot of my other mods.
80W on the VooPoo DRAG feels like 100W on my Reuleaux RX200S, for instance, so always ensure you build up slowly.
Don't just set it to 100W and go – you'll just burn your coil and wick out.
Verdict (Would I Actually Buy One?)
Short answer: F**K YES! The VooPoo DRAG has to be one of the best value mods on the planet right now.
Long answer: premium mods often have premium price tags.
You pay extra for functionality, accuracy, and power. This is just the way of things in the vape space.
A DNA 250 mod (like these ones) will cost you hundreds of dollars.
If you're a serious vaper, this will be money well spent.
But $200 on a mod isn't always possible for a lot of people, so what do you do then?
Simple: you buy the VooPoo DRAG – it offers next-level performance and looks stunning.
The name is weird, granted, but the performance and reliability of this mod are pretty much unrivaled at this price point.
I mean, think about: can you name a mod that is made from zinc alloy, features laser-etching, a super accurate chipset, upgradable firmware, and a stunning overall design and finish for less than 50 bucks!!?
Nope, neither can I…
🔥The VooPoo DRAG is Available Right Now For Just $47.99 (Down From $59.99) Via VaporDNA🔥
Drake Equation
Co-founder and Editor of VapeBeat. I make the words.