The Voopoo Vinci X 2 brings the original Vinci series, which was easily the best AIO of its time, in line with Voopoos' current design philosophy. While technically there's not much new here, the update makes the Vinci feel even more relevant than it already was.
---
Voopoo Vinci X 2 Verdict – 82%
Voopoo Vinci X 2 Pros: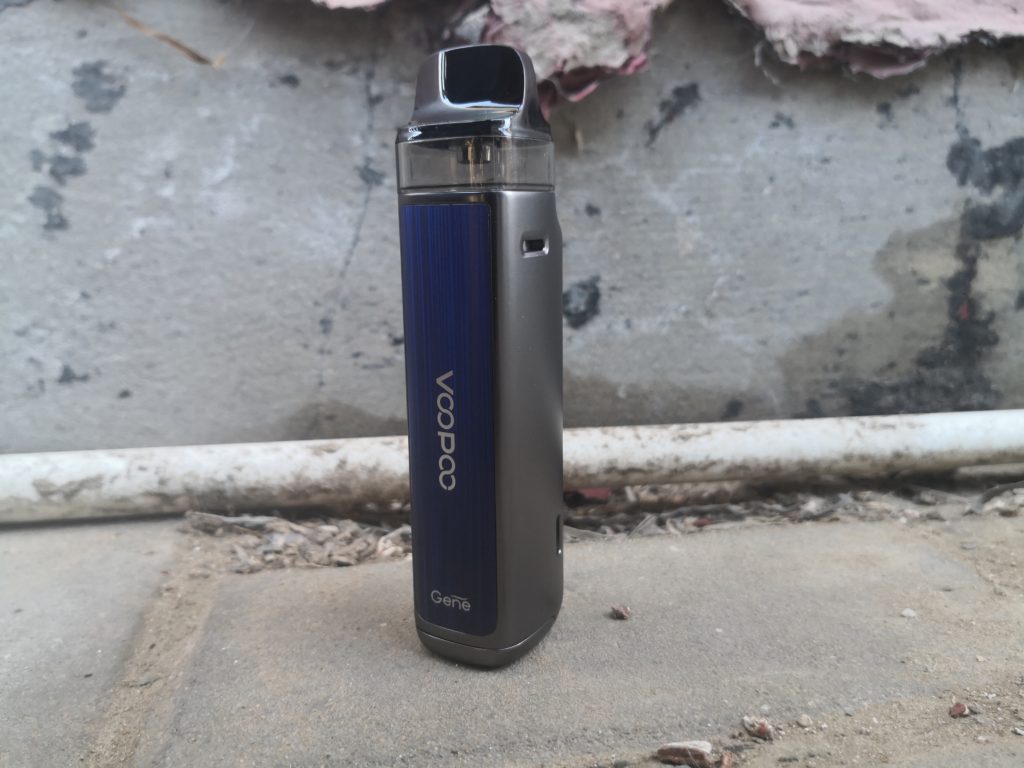 PNP ecosystem is still a thing
Great hand feel and solid build quality
Accommodates external 18650
Fantastic screen
Infinite airflow is a welcome addition
10w Max increase over original
Voopoo Vinci X 2 Cons:
Difficult to recommend to current Drag X users
Quite heavy for a POD Mod
Best Deal? DirectVapor – $27.95
---
Cast your mind far back, as back as late 2019, an eternity in the world of e-cigarettes. Back then, on a cold December morning, Voopoo launched a product that would shape the road for all-in-one devices of the future.
The original Vinci series saw the introduction of the PNP coil system for Voopoo, something not even available in top-tier sub-ohm tanks back then. Simply put, the PNP system allowed users to use any Voopoo (and in some cases, from other manufacturers) coil in any PNP compatible device across their range.
This gave users free-range over how they wanted to run their devices. MTL coil in a dual battery Argus GT? Sure! 0.15ohm coil in a pocketable internal battery device? By all means. It sounds so simple in theory, but this opened up the way for some of the best all-in-one devices throughout history, most of those from Voopoo themselves.
The Vinci X 2 is no different and while it may have lost some of its magic uniqueness, it's still a device worthy of a look, if only for the improvements to the original.
Design
The Voopoo Vinci X 2 retains the same classic design of the original Vinci, but a good mix of design elements thrown in make it sit perfectly alongside the Drag X.
Build quality is solid as can be expected from Voopoo devices. It's hefty too and I'd be hesitant to use the Vinci X 2 as a pocket carry device.
The layout remains unchanged from the original version with a big fire button above the screen and your two adjustment buttons below it. The USB-C charge port sits to the left.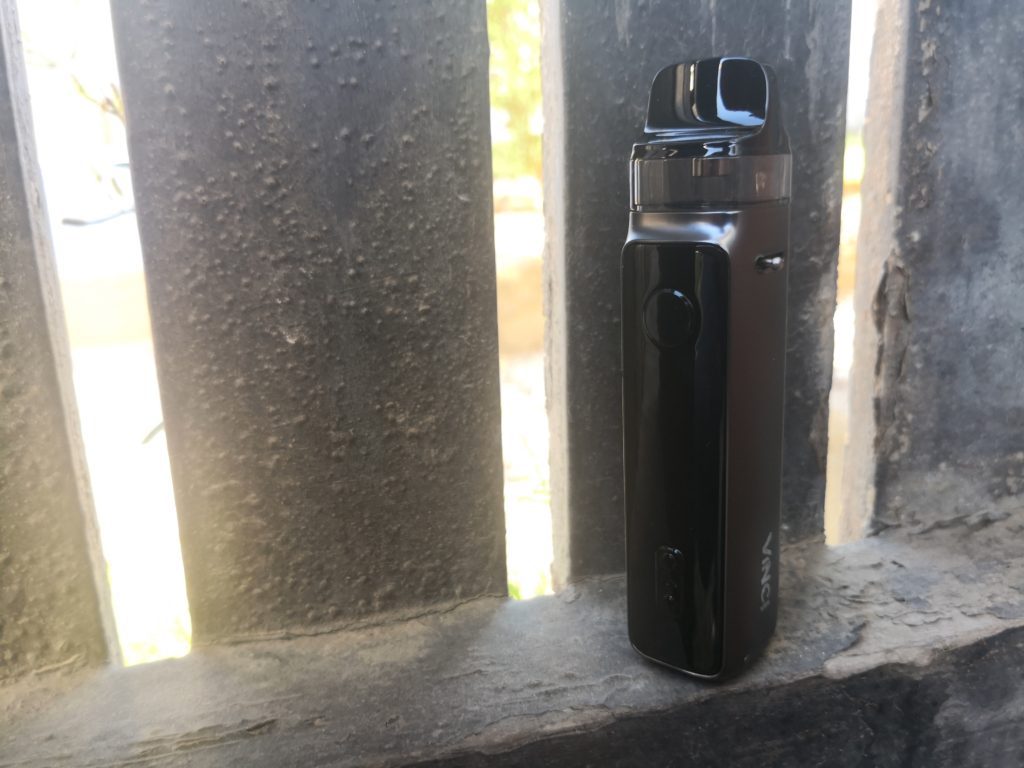 The screen has been updated to a similar unit as found on the Voopoo Argus Pro series. A little bigger, a little clearer and contains a whole heap of extra data. The screen now has a cool-looking puff graph along with all the data you would like. A puff counter, wattage display, coil resistance and so much more is all displayed neatly.
The biggest addition to the Vinci X 2 is adjustable airflow. The original Vinci airflow could only be adjusted by turning the pod around, where this time around the lever-styled adjustment from the Drag was added. This allows you to take the Vinci X 2 from wide-open DTL airflow to a stiff MTL style vape. Sadly the included POD is not conducive to MTL vaping, but the option is there should you choose to use it.
The PODs are absolutely massive with a 6.5ml filling capacity, it seems Voopoo has realized how thirsty their 0.15ohm coil is, so the extra capacity aint goin to waste.
Filling the POD happens via a large hole on the side of the pod, covered with a rubber bung that's sure to break off in 2 months, covering you in juice on your way to the office. If only there was an easier way to fill these things *cough* Caliburn
The Vinci X 2 takes an external 18650 which turns the device into a behemoth, a trade-off you'll probably be comfortable with if you're looking at external battery devices. if you're like me and size matters, the regular Vinci 2 is much smaller, lighter, and offers an internal 1500mAh battery.
Performance
Realistically, there's no difference in the way the Vinci X 2 performs compared to its older brother. The same coils, the same battery and the 10w maximum power increase isn't going to be noticed by most vapers in this segment.
Where it does outperform though, is the airflow. Where the previous version had only 2 airflow options, the X2 sees the addition of Voopoos' "Infinite Airflow" control. The slider allows you to take the X2 from wide open, more than you need airflow, to a draw so tight it's akin to sucking concrete through a straw. Sadly, I would not recommend using the included pod as an MTL device, but hoping that Voopoo creates a dedicated MTL style POD to run with their 1.2ohm MTL coils.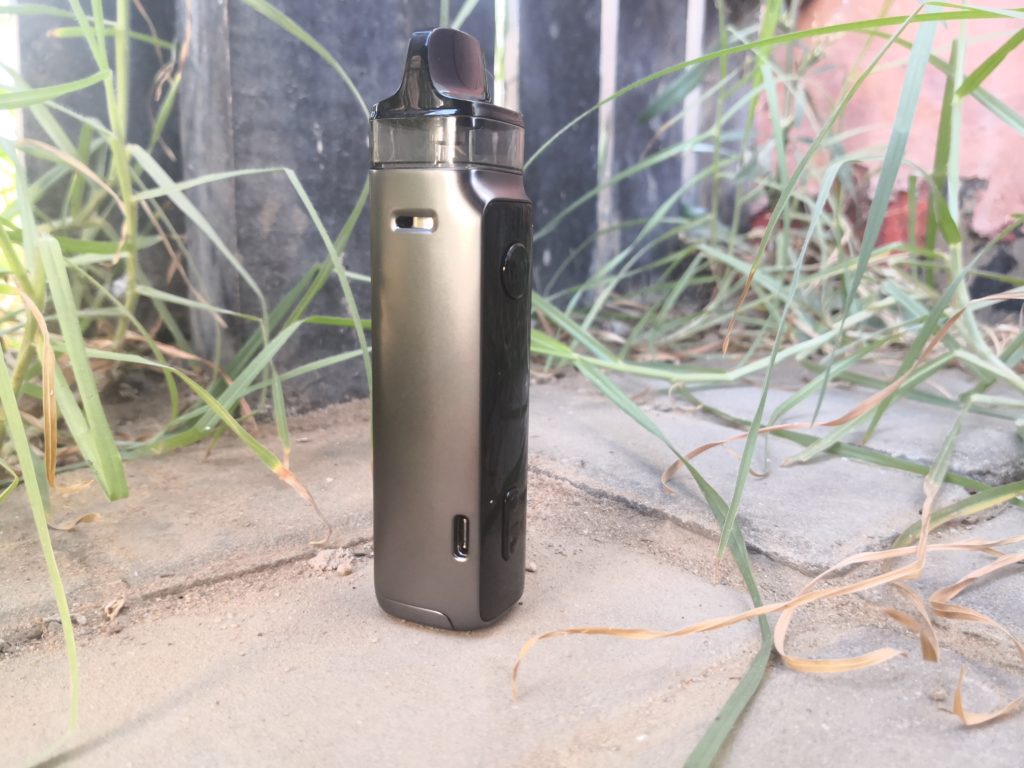 Battery life is as good as your battery of choice and heavily dependent on the quality of it. Expecting days worth of power from a single 18650 at high wattage is unrealistic though, so keep that in mind.
Specs:
Size: 117mm x 30mm x 25mm
Weight: 128g
Materials: Zinc Alloy + PCTG
Battery: External 18650
POD Capacity: 6.5ml
Charging: USB Type C
Voopoo Vinci X 2 Conclusion
The Voopoo Vinci X 2 proves that small design decisions can make or break a device in a flooded market. The original Vinci X was a fantastic device but would fail horribly today thanks to its lack of airflow control. The Vinci X 2 remedies this issue by simply copying the AFC from previous devices and as a result, revives the entire Vinci line (with small insignificant tweaks in between)
If you're already invested into the current Voopoo lineup, rocking a Drag X or similar, there's little reason to get the Vinci X 2. If not, it's a great entry into the PNP ecosystem.
Best Deal? DirectVapor – $27.95