The UWELL Caliburn was touted as the #1 pod vape system of 2019 — and even now, in 2021, it still has plenty of fans. But is the hype legit? I bought one to find out…
---
UWELL Caliburn Quick Verdict (96%)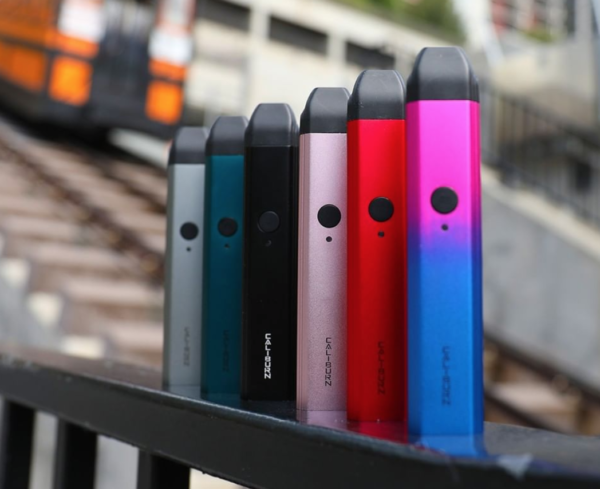 Best Place To Buy | UK ECIG STORE | £24.99
UWELL Caliburn Pros
Solid Design & Great Coil Heads
Plenty of Flavor, Nice MTL Draw
Simple To Use
Coil Heads Last Weeks At A Time
Battery Life is Pretty Good
I've used plenty of pod mods in the last 12 months. More than I can remember. But only a select few stand out from the crowd: the SMOK Nord, the Lost Vape Orion, and the VooPoo VINCI POD. But I keep coming back to the UWELL Caliburn…
Why? Because it is so simple to use, the pods last weeks at a time, and it produces the best, the most consistent flavor of any pod vape that I've ever owned – and I have over 60! I've had mine for well over 18 months now and it is still my go-to pod system vape. Nothing else can replace it, seemingly. And to me, that is what makes the Caliburn the #1 pod vape right now (and probably for the rest of 2020 as well).
The only issue with the UWELL Caliburn is that it is now banned from sale in the USA, thanks to the FDA. UWELL's newer Zumwalt pod vape, in my opinion, is just as good (and it has a bigger battery), so you do have options now that the Caliburn is no longer available to buy.
UWELL has now released a successor model to the Caliburn; it's called the UWELL Caliburn G and it is freakin' awesome – read my full UWELL Caliburn G review for all the details.
If you're in the UK or Europe, though, you're all good – the UWELL Caliburn is still available to buy online.
It's simple, that's a big bonus. It kicks out great flavor, especially when you use great Nic Salts juice in it, and the battery life is respectable for a device of this size. I have fancier, more expensive pod vapes but I keep coming back to the UWELL Caliburn for the same reasons: the flavor, the pod's longevity, the ease of use, and the way it looks.
And this makes it an ideal choice for inexperienced vapers.
The flavor, the MTL draw, the ease with which it can be refilled are all massive pros for this pod vape. Mostly though it is the flavor and the longevity of the coil heads that really set this pod apart from the crowd, placing it in league with The BIG Three pod systems of 2019.
Inexpensive and a solid performer, the UWELL Caliburn is definitely one of the top pod mods on the planet right now. For less than £30, you'd be hard-pressed to find a better vape in this niche when it comes to overall performance and usability.
---
Full UWELL Caliburn Review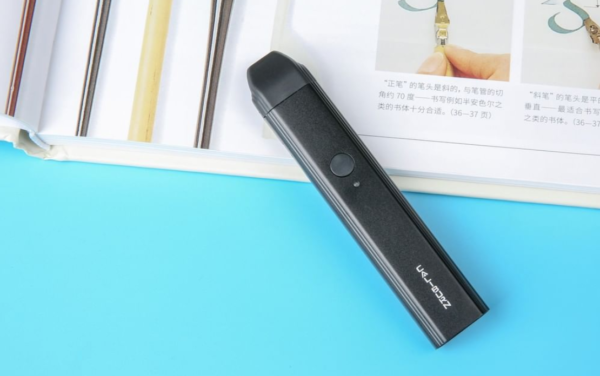 Design
The UWELL Caliburn is a pen vape. It's designed to be slim and easy to use; for me, this is part of its attraction. It fits easily pretty much anywhere and using the device is really very simple – even for someone that has never vaped before.
The top piece where the mouthpiece is located (AKA the pod) comes off. Once you have it removed, you then slide off the mouthpiece (the black plastic bit) to reveal the filling ports. Next, add your E Juice (I use Nic Salts E Juice in mine) and put it back together, wait five minutes, and you're good to go.
The coil head inside the pod wicks quickly. I always wait five minutes so that the cotton saturates with liquid which ensures a nice flavor-packed vape. You have a small round button on the front to fire the mod or, alternatively, you can simply breathe in and it will fire via its built-in breath-sensing technology.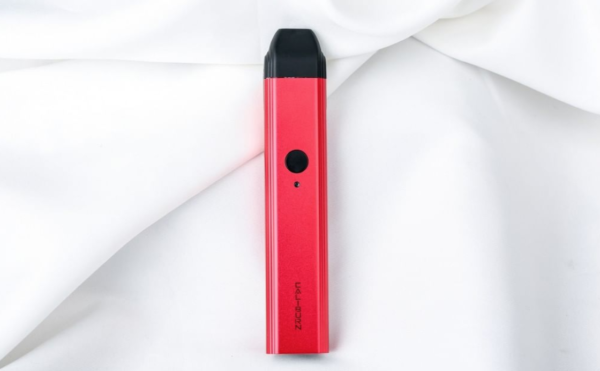 I tend to favor using the button, as the breath-sensing can be a little, well… glitchy – sometimes it fires, other times it doesn't. For this reason, I pretty much always use the fire button. There's a USB port on the bottom for charging and a little light below the fire button for battery life updates (green is good; red is bad).
The overall design language of the UWELL Caliburn is ALL about simplicity; it's made to be super-easy to use, even for newbie vapers. There is literally no learning curve with this pod. Just add your juice and vape. It's really that simple.
The UWELL Caliburn is available in several colors; mine's red. All are priced the same (under $30 with free shipping) and offer excellent value for money. It's a smart-looking vape that will suit either male or female vapers. It fits anywhere and barely weighs anything at all. Just as a pod vape should.
Specifications & Features
Dimensions: 110mm x 21.2mm x 11.6mm
Wattage Output: 11w
Rechargeable 520 mAh Internal Battery
Voltage Output Range: 3.2v-4.0v
Resistance Range: 1.2-1.5 ohm
Aluminum Alloy Construction
Built-in Protections: Short Circuit Protection; 10 Second Cut Off Protection; Low Power Alert
As you can see, you have plenty of built-in safety features that are there to protect you from any dangers. This is a good thing. Beyond this the only really party-piece, however, is the draw-to-fire feature, but as noted earlier this feature isn't all that good.
Not that any of this matters; the Caliburn is still a brilliant performer. It delivers the goods where it counts most, and that is what's important. You get intense, brilliant flavor. Coil heads that last EONS. And it is simple and intuitive to use. And that's what everybody wants, right?
UWELL Caliburn Performance
When it comes to pod vapes, you're always going to be lacking some performance when compared to a vape tank and mod combo. It's a completely different style of vaping, one more closely tied to smoking.
Out of the 30 or so pod mods I've tested, the UWELL Caliburn is easily in the top 1% of pod vapes. For flavor and coil performance, it's top-shelf for sure, surpassing the SMOK Nord and the coming very close to the almighty Lost Vape Orion DNA Go.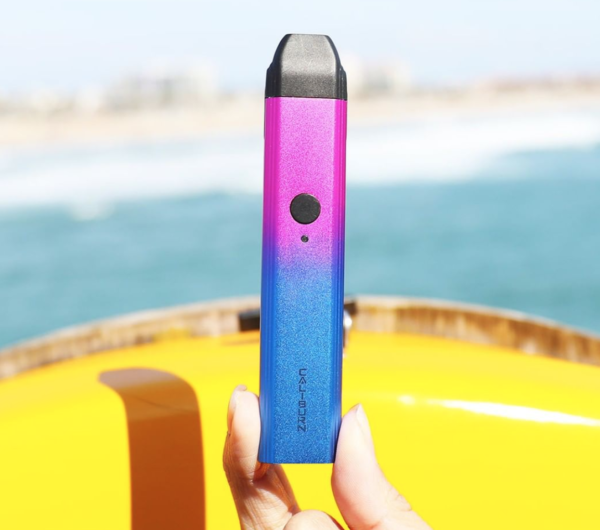 This should really tell you everything you need to know about the UWELL Caliburn. It is as good as people have been saying, though it still isn't perfect. For one, it occasionally doesn't fire (or, worse, cuts out) when you hit the fire key. This happens often is kind of annoying, though I wouldn't consider it a deal-breaker. Not when everything else is as good as it is here.
For a pod mod, it is currently my favorite setup right now. It is the one I always take with me whenever I go anywhere, and it has yet to let me down. As long as you top up its charge every several hours or so, it's usually good to go for the long haul – even with chain vaping.
And these are the current best vape juices you can run in the Caliburn.
Which brings me to my next point…
Coil Performance
This, for me, is what really sets the UWELL Caliburn apart from the crowd. Its coils are utterly badass. I'm talking weeks and weeks of flavor between changes. In this respect, it is vastly superior to the SMOK Nord which still suffers from the occasional pack of dud coils.
I'm still running my first pod inside the UWELL Caliburn. How long has that been, you ask? Almost four weeks! I've been to a wedding with it, driven about 15 hours on freeways, and been on nights out with it. And it's still going strong.
Bottomline: if coil head performance is important to you, the UWELL Caliburn really takes some beating in this context. It has some of the best coil heads (pods) in the business right now. Bar none.
UWELL Caliburn Battery Life
The only thing I'm not overly impressed with here is the battery life. It's OK, but it's nothing special – several hours of chain vaping and you'll need to top it up. The SMOK Nord has better battery life, for instance, thanks to its larger battery; the Caliburn runs a 580mAh internal cell.
I just wish UWELL had stuck in an 800mAh cell in this thing. Had it done that this device would be perfect in every way. It's still very, very good and the battery life is OK, providing you top it up regularly. But I just can't help thinking about how good this pod would be with a larger cell.
I always stick mine on charge when I'm not using it; the UWELL Caliburn runs on microUSB, so it's fairly easy to charge anywhere. Ideally, if you're at work and you top it up for an hour mid-way through the day, you'll be fine to take it out with you after work and not have to worry about the battery dying.
Should You Buy This Pod Vape?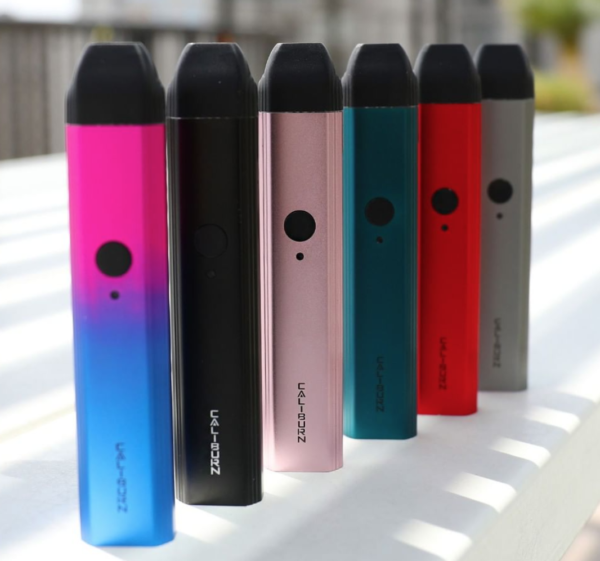 If you like pod mods and you're after one with EPIC coil heads and monumental flavor, then the UWELL Caliburn comes highly recommended. I really, really like this pod system. Mostly for the coil heads and flavor. But I also really dig the design too.
Had the SMOK Nord not been affected by a batch of dud coils I bought recently, I'd say it was the superior device. But, as usual, SMOK can't help itself when it comes to making poor coil heads. For this reason, I'd always go with the UWELL Caliburn over that system.
It performs very consistently, the coil heads are utterly superb, and it looks and feels great in the hand. For me, it is the benchmark for pod mods under $40 right now. My only wish is that UWELL makes a newer model with a bigger battery. Do that UWELL, and you'd have the pod market sewn up!
Best Place To Buy | UK ECIG STORE | £24.99
Drake Equation
Co-founder and Editor of VapeBeat. I make the words.