The Lost Vape Orion Plus is the latest DNA-powered pod vape from Lost Vape. It's replacing the Lost Vape Orion. But is it any good? Let's review…
---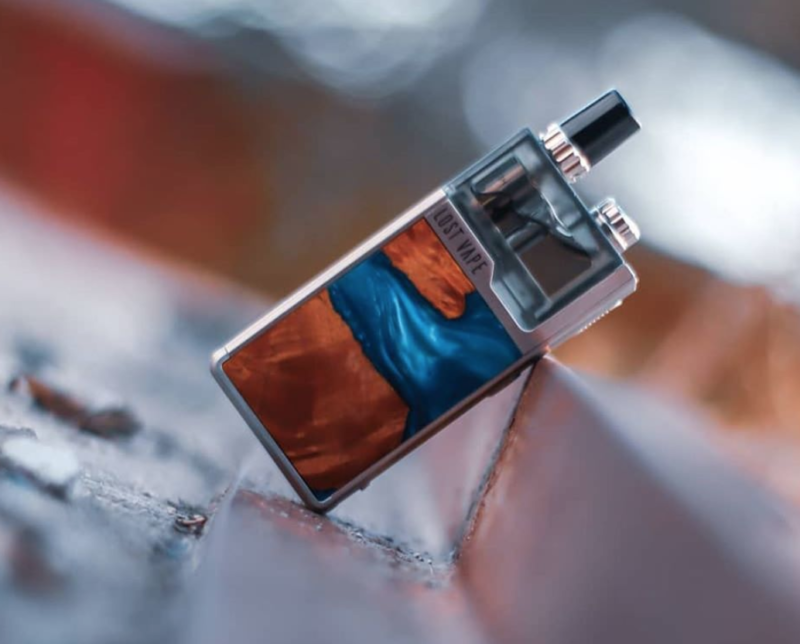 Lost Vape Orion Plus Pros:
Amazing Design

Great Flavor

MTL & DTL Vaping Modes

Simple To Use

Outstanding Battery Life

Beautiful, Premium Design
TL;DR Verdict – The Lost Vape Orion Plus is the successor model to the insanely popular Lost Vape Orion. Like its predecessor, the Lost Vape Orion Plus is impeccably styled and a very impressive performer. Battery life is excellent and the flavor is killer. As far as pod vapes go, I think it's safe to say Lost Vape's still very much #1.
You now have 5 power modes (the Lost Vape Orion had three), a larger battery (950mAh) for all-day vaping, and two replaceable coils options: 0.25ohm mesh and 0.5ohm regular. Both kick out immense flavor, but the mesh option – as you'd expect – is better for getting the maximum out of your juice.
The Lost Vape Orion Plus is designed for both freebase vape juice and Nic Salts. I switched between the two easily enough. Flavor from both types of juice is great, though I think for maximum results with devices of this kind you're 100% better off using Nic Salts. They're lower-powered, so you don't get quite as much cloud output from it. 
MORE: The #1 Pod Vapes Money Can Buy Right Now
I found the Lost Vape Orion Plus worked best when I closed off the airflow to make it an MTL device. Fully open is great for freebase vape juice that is more VG heavy, as it delivers a nice DTL hit that is full of flavor. My personal preference with pod vapes, however, is MTL, so I ran the Lost Vape Orion Plus in MTL for 90% of the time.
The Lost Vape Orion Plus features an updated DNA Go chipset as well that can detect the perfect power setting for whatever coil you're using. You can still change it yourself, but it's a handy feature to have nevertheless, especially for newbie vapers that might not know what they're doing.
Overall, the Lost Vape Orion Plus is a vastly superior device to its predecessor. It produces better flavor, has more vaping modes, and it has better battery life. That's basically all the most important things you need in a sequel nailed. For this reason, I highly recommend this pod vape to anyone that is looking for a premium, high-end pod mod.
Best Price? VaporDNA – $65.95
---
Full Lost Vape Orion Plus Review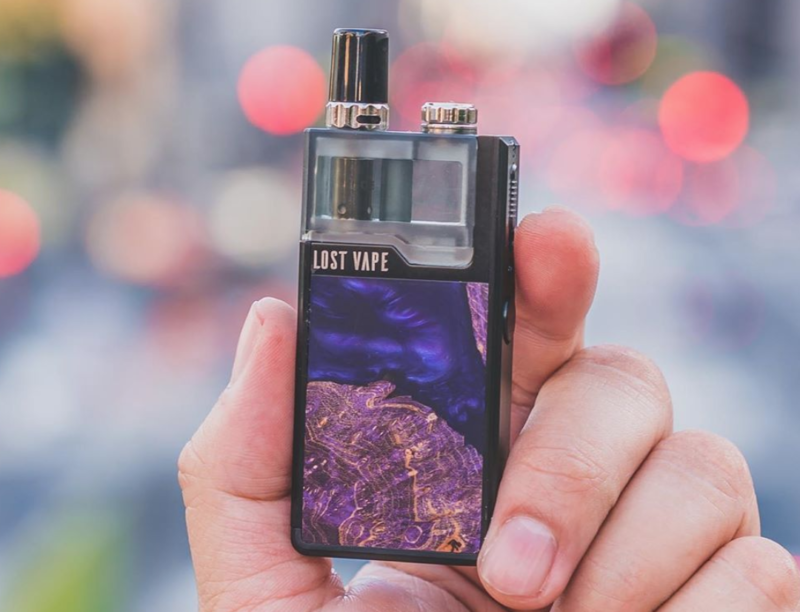 Design
Design is one area where Lost Vape has always excelled. It's DNA vape mods are some of the best in the business. The original Lost Vape Orion was a stunning piece of kit and the Lost Vape Orion Plus is more of the same. The resin front and back panels look great and the machining and finish are all top-notch across the board.
If you've never used a Lost Vape product before, prepare to be impressed. They look expensive. They feel expensive. And they perform like expensive, premium products. And they are kinda pricey compared to similar offerings from SMOK and GeekVape. But that's OK; there is a very good reason for this – overall quality.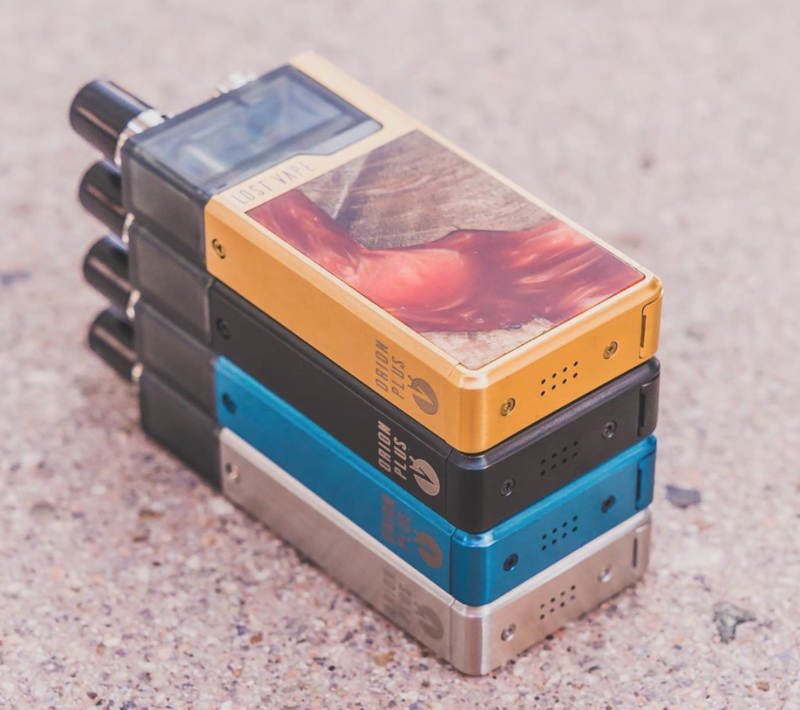 The Lost Vape Orion Plus is a fairly small device; it measures in at just 93x37x13.5mm, making it ideal for single-hand use. It's chunkier than some pod mods, but that's to be expected given its advanced vaping chipset and high-performance 950mAh battery.
You have a fire button on the side, situated just below the mechanism that pops out the pod. At the bottom of the device, below the fire button, is the power mode switching button. To click through power modes, just click it until you get the color you want. Here's how the colors correspond to power on the Lost Vape Orion Plus:
White – 13/10W

Blue – 15/11W

Red – 18/14W

Yellow – 20/16W

Purple – 22/18W
As noted earlier, the DNA Go chipset will automatically set the optimal power output for the coil you're using. However, if you want to change it and you find a mode you like better, just hold down the button for three seconds to lock it in place. This is called Replay Mode and it'll keep the Lost Vape Orion Plus in that power setting until you change it again.
Changing the coils and refilling the pods is very straight-forward too. The pod pops out simply enough; just click the mechanism on the side (it's just above the fire button). Once you have the pod out you can change the coil, refill the device, or tinker around with the coil placement. There's a dedicated refill port on the top of the device; it's got a silver, screw top. You can't miss it. The pods hold 2ml of E Juice.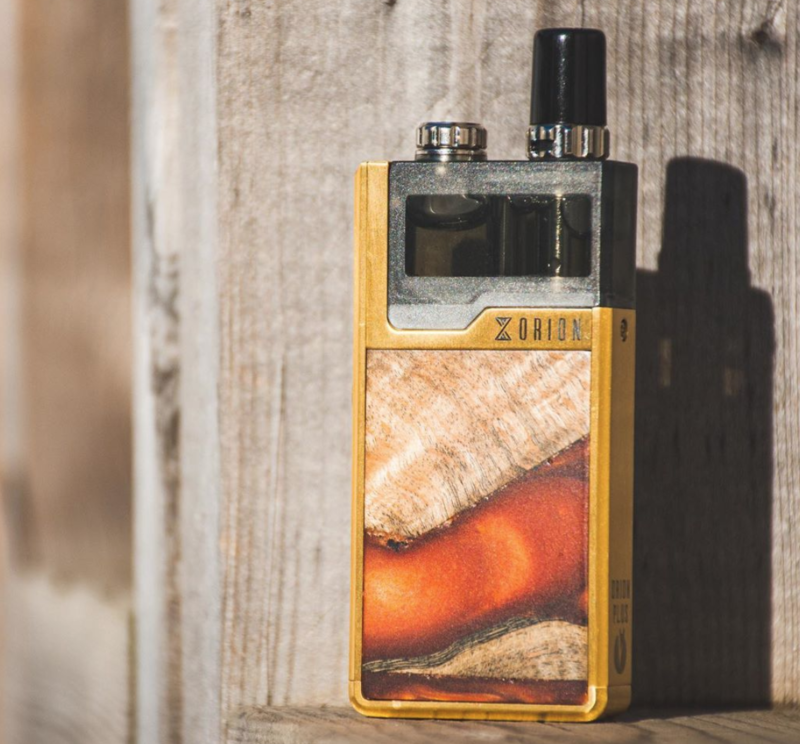 The drip tip is removable, but you can't really run anything else on the Lost Vape Orion Plus, so I didn't mess around with it too much. You do have to unscrew it when you change the coil. The drip tip is well-sized too, making it ideally suited to both MTL and DTL vaping. To be honest, the Lost Vape Orion Plus performs great in both modes. For my tastes, though, I think I prefer using it as an MTL device.
The Lost Vape Orion Plus doesn't feature Type C USB, sadly. Instead, you have a microUSB charging port secreted away inside the bottom right-hand corner. To access it, simply pull the cover off with your nail and attach the USV charging cable. Generally, the Lost Vape Orion Plus charges pretty fast – 0% to 100% in around 40 minutes.
The Lost Vape Orion Plus is available in 15 different color options. The color options are all resin. And they all look totally badass. I honestly don't know which one I like the best. But, again, it's nice to have so much choice when it comes to color options for the Lost Vape Orion Plus. Lost Vape has ensured that there is a model for everybody.
Specs & Features
Upgraded DNA Go Chip

950mAh Battery

2ml Refillable Pod Cartridge

10W-22W Power

93x37x13.5mm

0.25Ω Mesh Coil – 0.5Ω Regular Coil

Replay and Boost function

5 Adjustable Power Levels

Patent Pending Temperature Limiting Technology

Top Adjustable Airflow Design

Top Refilling Design

MTL & DTL Vaping

x15 Colour Options
Performance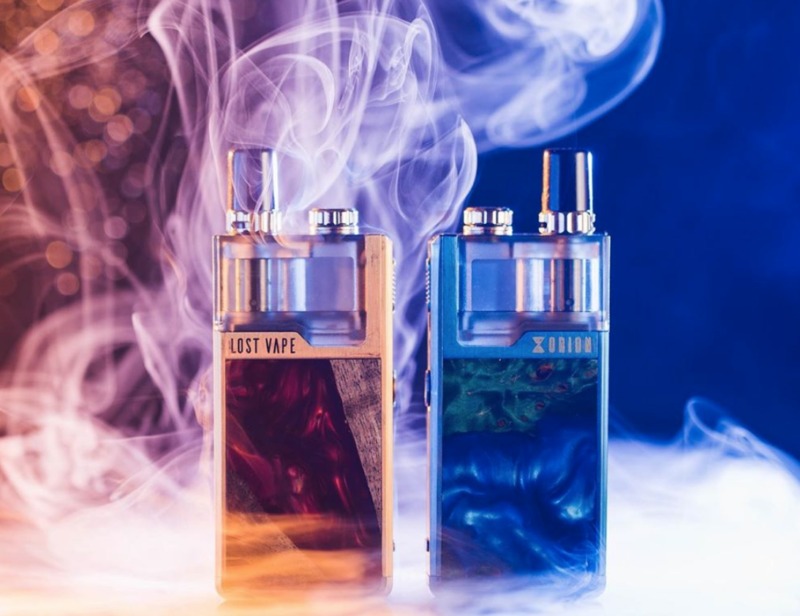 How's the performance? Very good. I used the original Lost Vape Orion quite a bit. I always liked that device, but the newer Lost Vape Orion Plus is palpably better in a few important ways. The first is the overall performance, it's more powerful and gives a better vape. The second is the battery life, it's about 35% better than its predecessor. And finally, you have that updated DNA Go chipset, which is smarter and features even more vaping modes.
Combined, these changes make the Lost Vape Orion Plus one of the most compelling pods vapes on the planet right now. For overall performance, it is more or less unbeatable with its advanced vaping chipset, massive flavor, and huge battery life. And that's what everybody wants from a pod vape, right? Solid flavor and epic battery life?
The Lost Vape Orion Plus nails both in the most epic of fashions. I get that this pod vape might be too expensive for some users, but I really think when it comes to devices like this you get what you pay for. The Lost Vape Orion Plus is a stunningly engineered piece of technology. It picks up where its predecessor left off and adds in a raft of new, super-useful features that, when combined, add up to one hell of an update.
I've been using the Lost Vape Orion Plus more or less exclusively for a solid month or two now. In that time, I've run all kinds of vape juice from the VapeBeat Store through it. Everything tasted great, even the High VG stuff. My obvious go-to choice, as always, is Top Brass, a beautiful tobacco/peanut butterscotch Nic Salts blend. In the Lost Vape Orion Plus, it tastes otherworldly.
Battery Life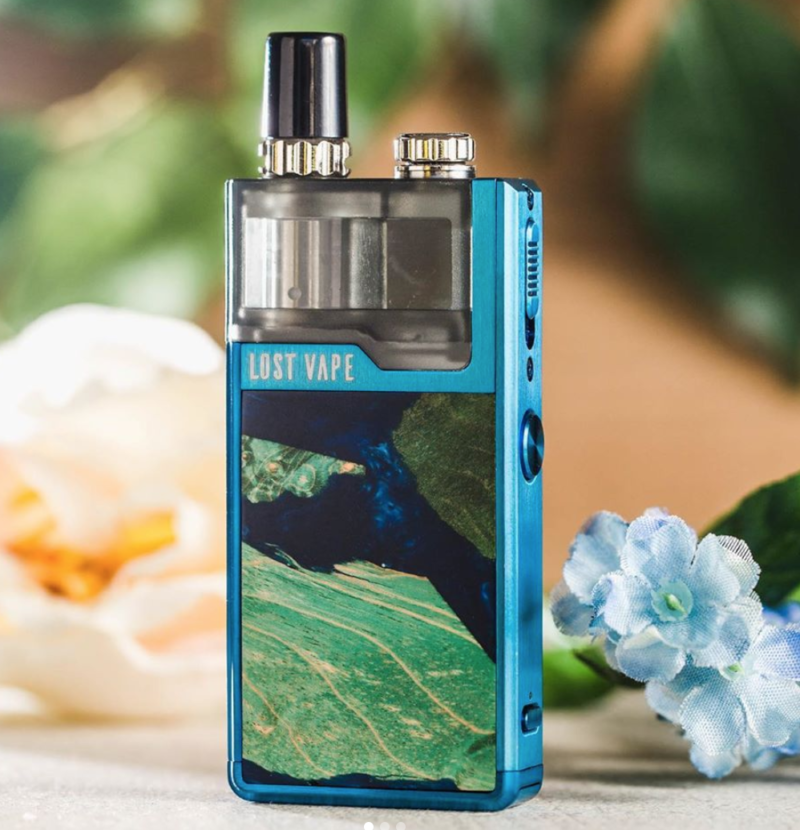 With a 950mAh battery under the hood, you're basically all set for all-day vaping. Even when using the Lost Vape Orion Plus' higher-powered vaping modes, the battery performance is still incredible. I honestly couldn't run this thing down in a day. Even with hardcore, chain vaping. This is likely down to the DNA Go chip; it's super-efficient and manages the power on the device like a pro.
If battery life – as well as flavor, style, and overall performance – are important to you, the Lost Vape Orion Plus is just about as good as it gets right now in the pod vape space. I haven't used a pod vape that is anywhere near as good as the Lost Vape Orion Plus with respect to battery performance. In this context, the Lost Vape Orion Plus is in a league of its own.
Should You Buy The Lost Vape Orion Plus?
If you want my advice, then, yes, you'd pick up the Lost Vape Orion Plus. And the reason is simple: as pod vapes go, it is just about the most advanced option on the market right now. It has MEGA battery life and the performance and flavor you get from the coils are a solid 9/10 across the board.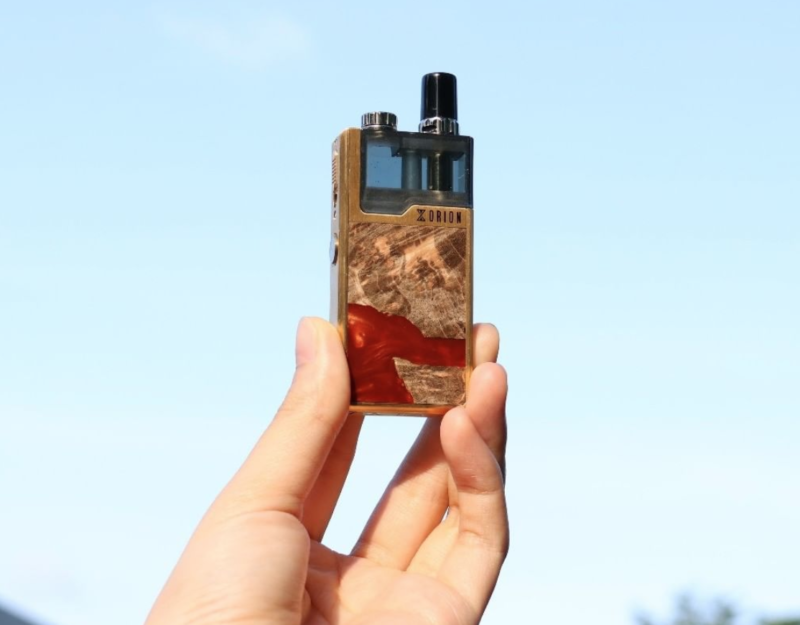 On the subject of the coils, if you prime them correctly, they will last weeks at a time. After a month and a bit of usage, I'm still on my second coil and the flavor is still bangin' as ever. Chuck in outstanding flavor for Nic Salts and freebase vape juice, great battery life, and some of the best designs you'll ever see on a pod vape device and it's kind of hard not to go and buy the Lost Vape Orion Plus…
I'll certainly be using mine for a long time to come 🙂
Best Price | VaporDNA – $65.95
Drake Equation
Co-founder and Editor of VapeBeat. I make the words.