A little over a year ago, Uwell launched it's first real pod device with The Caliburn. How do you follow up such a successful and popular product? Today we take a look at their newest device, The Zumwalt.
---
Named By Aliens?
Let's address the elephant in the room before we get started here. What is a Zumwalt? When I took my device out of the box, I studied the shape and design. I immediately conjured at least 50 better names than "Zumwalt" based on a quick look at the device. I will spare you by not listing them.
Considering it's shaped like a spaceship and is very sleek, maybe it IS alien technology from a faraway galaxy.
After a bit of research, I found that a "Zumwalt" is a United States Navy ship. It is a destroyer class stealth vessel that can launch missiles and helicopters. While I think that is a badass idea for a name, I also think the reference may be a bit too obscure for the general public. But I digress…
Features And Design
The Uwell Zumwalt shares quite a few features with its little brother, the famous Caliburn. But there are a few differences.
Uwell 13 Watt BIEN chipset
520 MAH Battery
Draw Activated
1.6 ml liquid capacity
Easy top-fill system
1.2 ohm dual coil pod system
LED battery indicator
Zinc alloy construction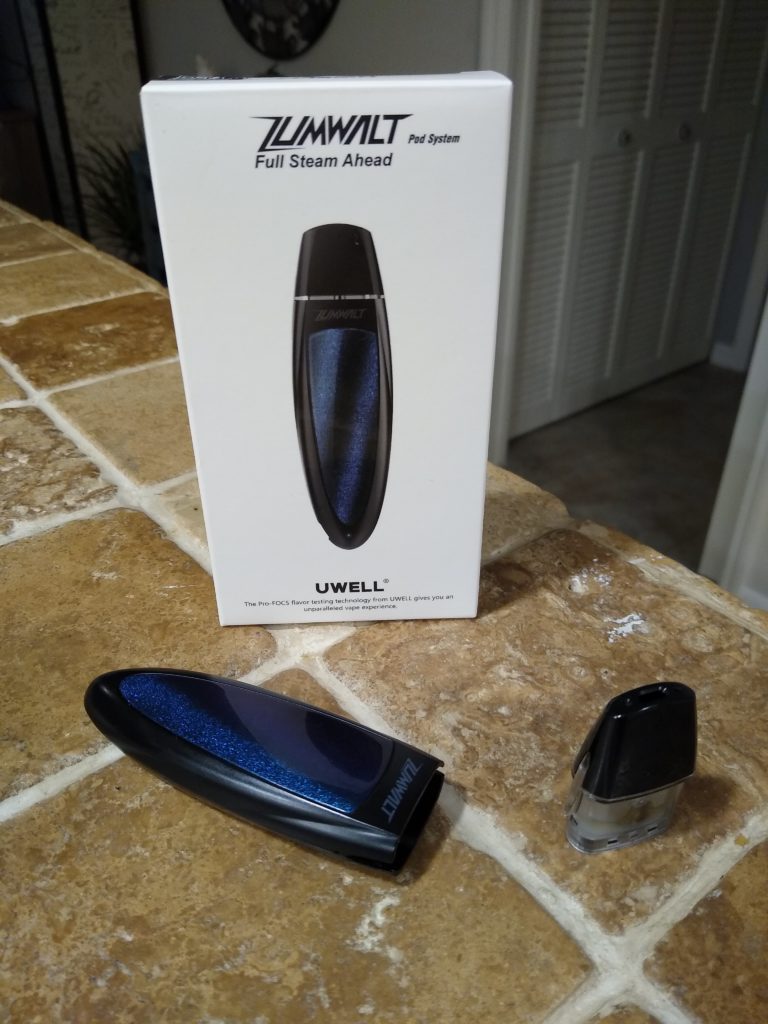 Best Place To Buy: DirectVapor (Inc. FREE Shipping)
The first thing I noticed when I took it out of the box, is this thing is hefty. It has a weight to it. Like most of Uwell's products, it feels like a high-quality device.
Inside the box, you will find a micro USB cord, the device, and one pod. My sample for review is blue, but the Zumwalt comes in quite a few attractive colors. The pamphlet has clear directions on how to fill the device and charge it.
If you compare the Zumwalt to the Caliburn, you'll find that the specs are almost identical. The battery life and pod design are pretty much the same. The difference is in the coil design.
Instead of the single-coil design that you find in the Caliburn, here we get a dual coil design. The actual coil is smaller inside the pod and this leaves a ton of space for the liquid inside the pod. The coil also seems to heat up a little faster and smoother.
Performance
I have been using the Zumwalt on and off for about a week now. It's easy to compare it to the Caliburn, but there are some standout differences that make the Zumwalt simultaneously better And worse.
I cannot get this thing to die. I was initially let down by the battery being only 520 mah. However, after I charged the device for the first time, I used it for almost three days before I had to charge it again. This includes a 7 hour road trip!
The pod that it came with is also still going strong. I have used maybe 10ml of juice with the first pod, and I have yet to experience any burning. I will say that just today the flavor is starting to disappear. Still, that is some impressive longevity considering how much it has been used!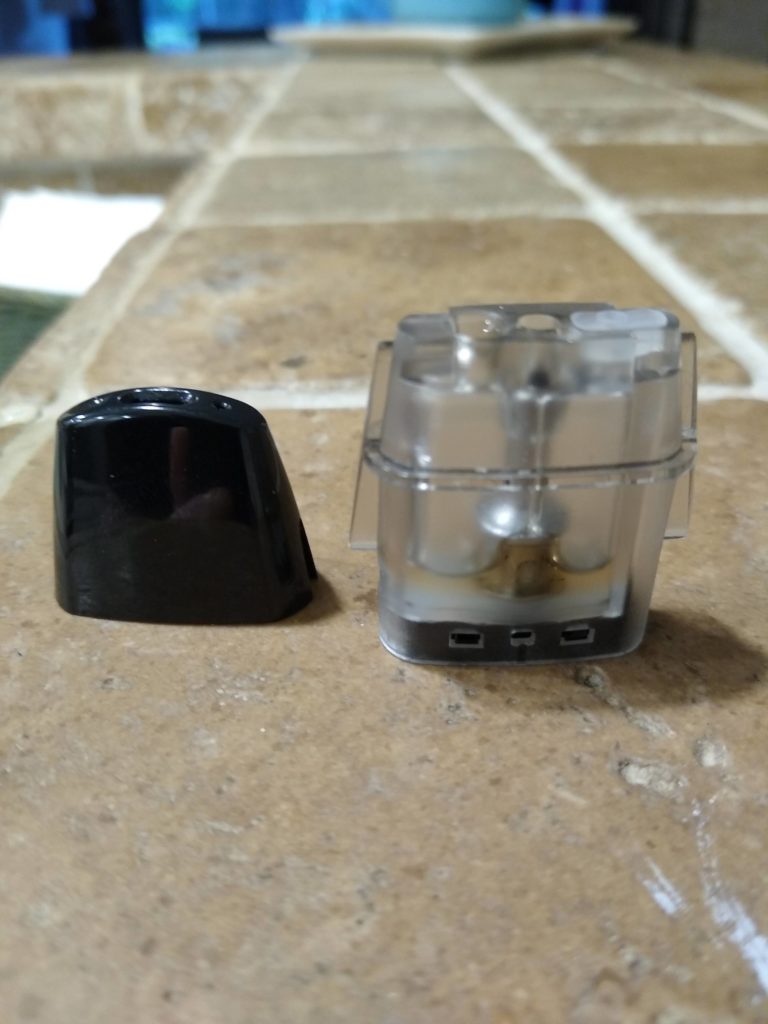 Unlike the Caliburn, the Zumwalt is draw activated only. There are no buttons or controls. This adds to the sleek design, and I found that i did not miss having a button. The LED light at the bottom of the device indicates the battery life with green being fully charged, blue is 30-70%, and red is below 30% battery life.
Charging time takes about an hour to get to a full battery using the supplied USB cable.
I found the draw to be very loose, as the Zumwalt has more airflow than the Caliburn. The airflow is not adjustable. I would say this is designed to be a loose mouth-to-lung draw.
Once again, this device has some weight to it. I definitely knew it was in my pocket, but the weight isn't off-putting. I actually like it. It feels like it can take a beating and keep going.
Pros and Cons
As always, let's start with the cons first. Fortunately, there are not very many. I have always held Uwell to a higher standard than most other vape manufacturers. Their products have a reputation to uphold and the Zumwalt is no exception.
The first con is that the device only comes with one pod. The Caliburn came with two pods to get you started. If for some reason your pod is defective, you're simply out of luck.
The only other con I have is something I will continue to preach about…micro USB. I cannot understand why a product manufactured this year would choose micro USB over USB-C. It seems like everything in my house is powered by USB-C now, except a few of my vape products.
The pros far outweigh the cons! I am blown away with the longevity of this device. Both in coil/pod life and battery life. If you put the Zumwalt toe-to-toe with a peer like Suorin, then the Zumwalt definitely comes out on top.
As great as the Zumwalt is, I don't see it replacing the Caliburn or the Koko any time soon. But what it does work well as, is a companion piece to your Caliburn.
Who Is This For?
I think this a great starter kit for anyone. The device is so user friendly and easy to use, I can see a new vaper enjoying the Zumwalt immensely.
It also works as a great companion piece for the more experienced vaper. I know Uwell has had their troubles lately, but that doesn't seem to be stopping them from continuing to be the leader in quality products.
Best Place To Buy: DirectVapor (Inc. FREE Shipping)
Christopher Horton