Smok/OFRF and Nexmesh have teamed up to make the ultimate regulated pod system. These two popular companies have brought their A-game to a new concept. We take a look at why this device is different from your run of the mill pod mod…
---
A Collaborative Design Between Smok and OFRF
Smok is probably the most recognized brand in vaping. Whether you are just getting started or you are a seasoned vaper, chances are you have owned something that Smok designed.
On the other hand, OFRF is a newer company that specializes in making mesh coils. Their first foray into the mesh world was making coils for the infamous Profile RDA. Since then, they have made several successful products and continue to make mesh coils for many popular brands.
So what do you get when you put the two companies together? You get an interesting take on the pod mod craze that has been sweeping the vape world for the past year. Let's take a look at what makes this new device stand out from the usual suspects.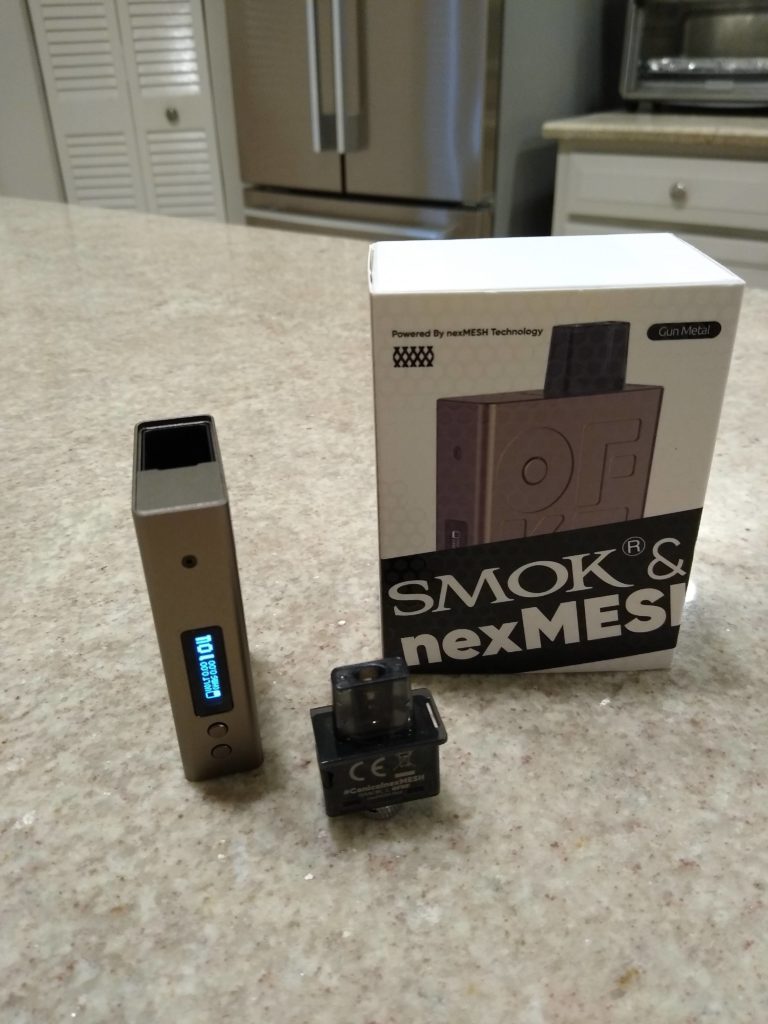 Best Place To Buy? DirectVapor (Inc. FREE Shipping)
Features and Design
Just when I thought that everything has been done with "pod mod" all-in-one systems, Smok has managed to surprise me! There are a ton of thoughtful features that you will not find on any other system.
6 bright color options
1200 mah battery capacity
Lightweight aluminum alloy exterior
Leakproof pod design
Adjustable airflow
30-watt adjustable power
Two coil options
Pixel-Grip back panel
LED display screen
Inside the box, you will find your device, an empty pod, and two different coils. Both coils are .4 ohms although one is obviously made for mouth-to-lung, while the other is definitely a direct-lung coil. Both coils have adjustable airflow on the bottom.
Both coils use nexMESH as a heating element. The direct-lung coil is a traditional type of mesh, while the mouth-to-lung coil uses a twisted mesh.
My sample version is silver. The finish is a matte anodized on one side, while the other side is covered in a mesh-like material that provides a grip. The fire button is on the anodized side, hidden in the logo.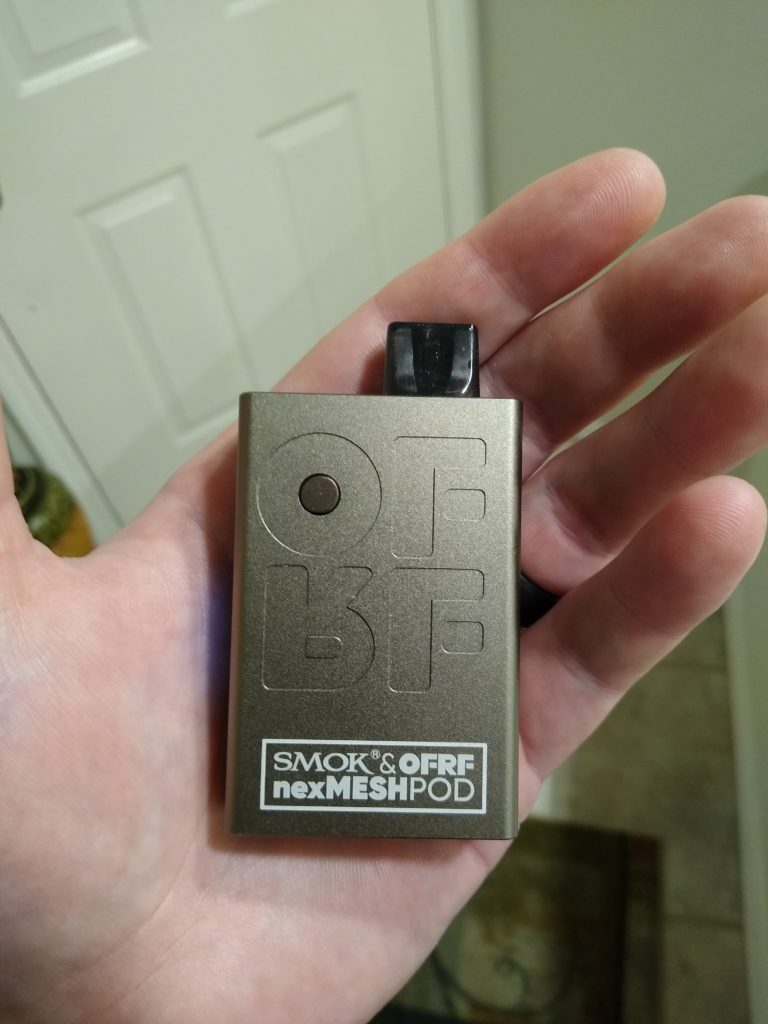 The 2ml pod connects magnetically and sports an easy side-fill system. Like most of these pod mod devices, it uses a rubber grommet. The fill port is large enough to fit most bottles.
The device fires between 5 watts, all the way up to 30 watts. Your display screen shows the battery life, ohms, voltage, and wattage settings. 5 clicks of the fire button turns the device on and off.
Testing And Performance
I have used the Smok/OFRF pod system for the past week and I have really put it through the paces. Spoiler alert: I think it's really cool.
I tried the .4 mouth-to-lung coil first. With the adjustable airflow, I found you could definitely get a "true" MTL experience at about 12 watts. I was surprised by how long the coil lasted but I suppose that is due to the nexMESH design. Even after several days with an overly sweet e-juice, I never got a dry-hit or burned taste.
I'm currently using the .4 direct-lung coil and the flavor is much better than I am used to when it comes to these styles of devices. Running at about 25 watts, this coil produces fantastic flavor and a good amount of vapor.
Probably the most interesting feature is the leak-proof pod design. After using the device for several days, I was surprised to see absolutely zero condensation under the pod! The pod casing has remained bone dry the entire time with both coils, through multiple refills. Taking a quick look at their website I noticed that this feature is mentioned briefly. This should be better advertised, Smok!
The screen and controls are very basic. You have an up and down button and a fire button. It's nothing fancy, but it doesn't need to be.
Charging the device from 3% to full battery power takes about an hour and a half. The 1200 mah battery lasted me almost 3 days of moderate usage. Overall, that's pretty impressive to me. Obviously, using a higher wattage will drain the battery faster, but even at 25 watts, I found you get over a day of usage.
Pros and Cons
As usual, I will start with the cons first. This should be easy since I honestly only have one. That's right, only one con!
The con is the coils. While they are of high quality and perform very well, they are not compatible with any other Smok device. So far, Smok has been doing a great job with their RPM series by keeping the coils compatible across all of the different devices. I tried an RPM coil and a Nord coil in this device and neither will work.
So you're limited to the two coils that nexMesh currently makes. That's fine, but cross-compatibility would have made this pod system absolutely perfect.
If I really want to nit-pick, this device should use a USB–C also. It seems like most products that have been released this year have had a USB-C connection. Honestly, it is long overdue.
The pros certainly outweigh the cons. Every other feature the nexMesh Pod System has is awfully unique compared to its peers. They seem to have perfected a leak-proof pod system, and that is a big deal! Usually, I take a paper towel and wipe away condensation/juice after every refill. It is a relief to just fill the pod and go.
Verdict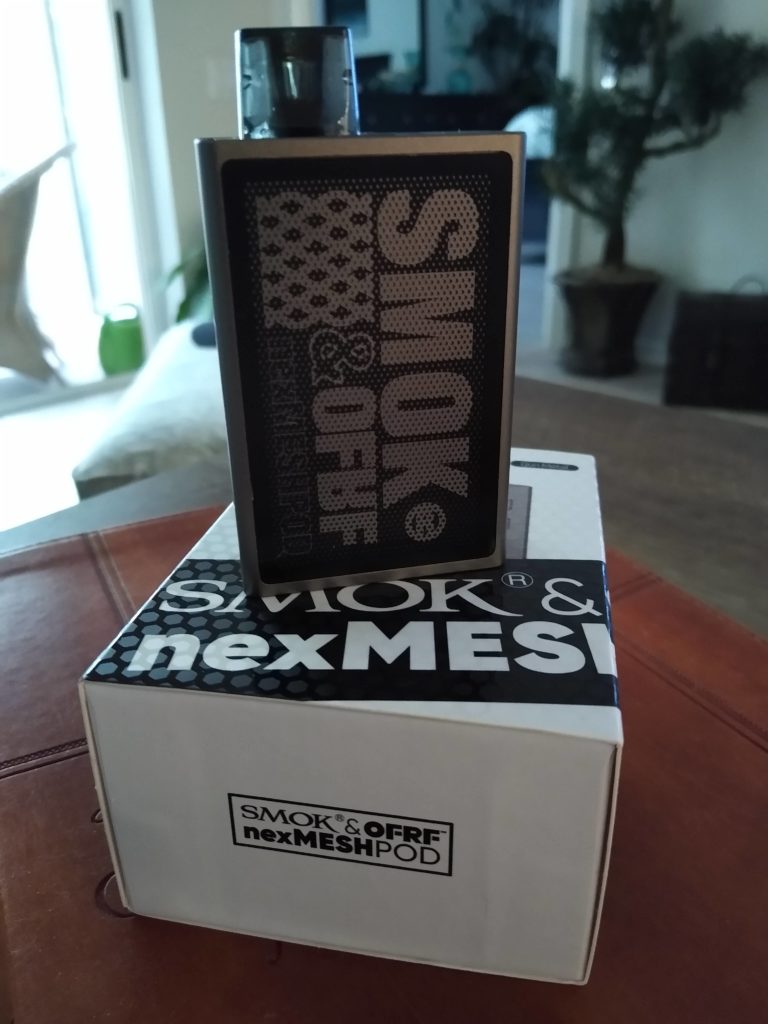 Pair the smart pod design with what I think is an overall user-friendly device, and I think we have a winner with the nexMesh Pod System. Both newcomers and experienced vapers will appreciate the ease of use and the leak-proof pods.
I just hope that in the future, Smok continues to take into account coil compatibility.
Best Place To Buy? DirectVapor (Inc. FREE Shipping)
Christopher Horton