Red takes the SMOK RPM80 & RPM80 Pro out for a test drive in order to see how these AIO vapes compare and which, out of these two vapes, is the best overall vape device…
---
Love them or hate them, SMOK has been responsible for many users switching from combustible tobacco to electronic cigarettes. Sure, they have some quality control issues, but of late, SMOK has been on form and still potentially getting people out of the tobacco pit.
The SMOK RPM40, Nord 2, new Priv series, and Fetch have all been stellar devices. Needless to say, I was very keen to try an updated RPM40. The RPM80 and RPM80 Pro may not aim at the same market as the RPM 40, but they are every bit as good, if not better.
Smok RPM80/RPM80 Verdict – 72% (BEST DEAL)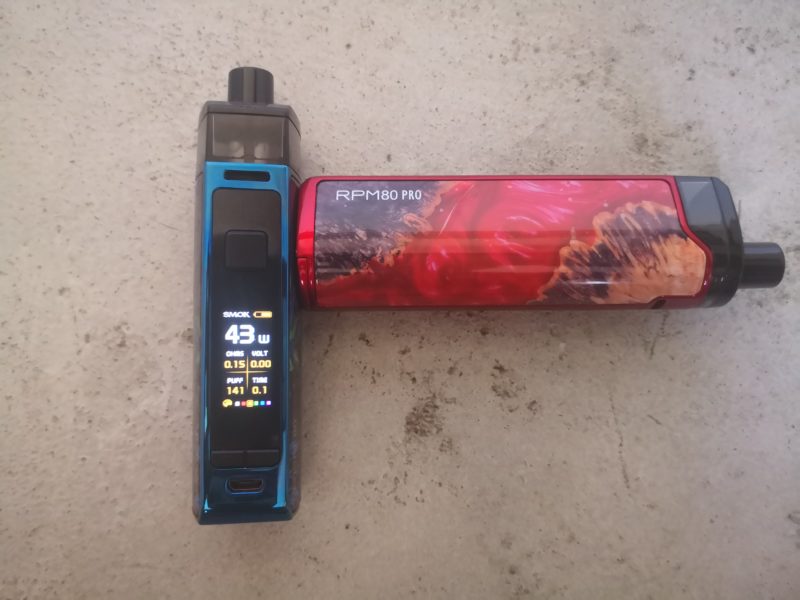 Smok RPM80 Pros:
An 80w AIO system
RPM80 Pro houses an external 18650 battery
Gorgeous display
Some really pimp designs, the faux stabwood especially
Flavour is better than expected, so is coil life
Build quality seems rather decent for a Smok product
Smok RPM80 Cons:
Strange/startling buzzing/whizzing noise when firing
Leaking issues persist
Micro USB, seriously?
Another proprietary coil
Best Place To Buy (DirectVapor Inc. FREE SHIPPING)
---
Smok RPM80 Review
The latest RPM series devices from Smok come in two variants, an internal 3000mAh battery unit, and a replaceable 18650 battery version. Yes, you read that correctly, 3000mAh and the RPM80 needs every bit of power from it.
The RPM80, as the name suggests, offers 80w of power. For an AIO, this is pure insanity. Other than the Limitless Mods Marquee I don't know of any other internal AIO that can output 80w and that only has a 2400mAh battery. The inclusion of a 18650 version is very welcome at 80w.
Packaging
Smok has a knack for nailing the packaging with their products, delivering a sleek and elegant unboxing experience. The RPM80 series is no different. Everything is well presented and easy to access. Included in the box is your device, 2 PODs with coils pre-installed, a charging cable and reading material.
Design
If you were expecting the RPM80 or RPM80 Pro to be similar to the look and feel of the RPM40, you'd be wrong. Both devices look vastly different, weigh more and are bulkier. The Pro version is the heaviest of the bunch, obviously.
The RPM80 series of POD mods from Smok is chunky boys, large in the hand and look like awkward penises in your pocket, ergonomics are spot on though with both the regular and pro versions sitting snuggly in your hand. Built quality seems okay too, but the addition of sticker labeled as resin and stabwood is tacky as all hell.
The new RPM series carries the same display as the RPM40 and Fetch series and I have no complaints. It's a clear, bright and easy to understand screen. Everything you could possibly want to monitor can be found on the layout including resistance, puff count, power level, and battery level. It's also color customizable.
Controls on the RPM80 are as you would expect from an AIO, a large rectangular fire button and two adjustment buttons. All in all, the controls seem fine, but I just can't get past the micro-USB port. Every review I blow my top over this, yet here we are, 2020 and still charging AIO like barbarians.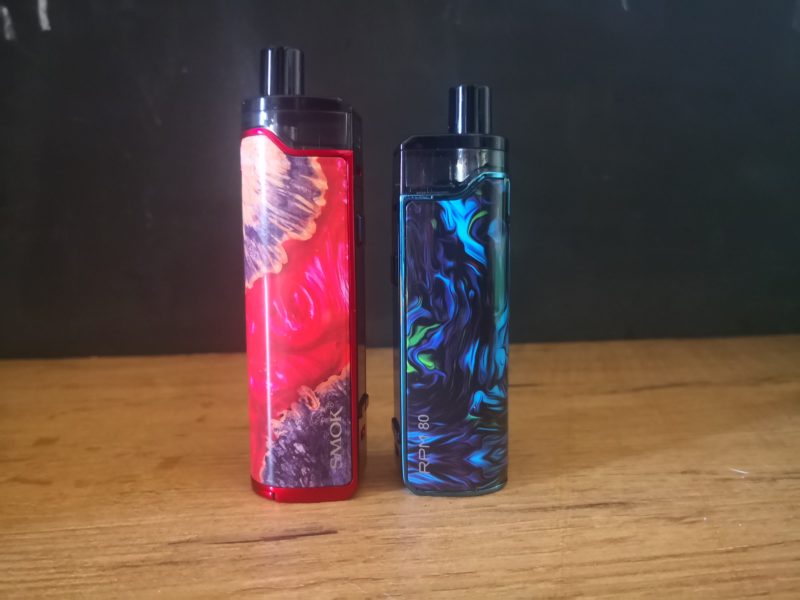 Performance
Typical of Smok, a new set of coils were introduced, namely RGC. It's annoying that got another new coil to keep track of, but the RGC coils now come with adjustable airflow, something sorely lacking from the RPM40. Obviously, the original RPM coils sill work.
I've got a love-hate relationship with the RPM coils. While they produce great flavor and last an eternity, they leak like a sieve. So much so, I cannot recommend leaving any RPM coil fitted device on its side. Apart from that and the lack of airflow adjustment, I cannot fault the RPM coils. They wick great up to70/30 and keep up well up to 40w. Over 40w, it's clear they won't last very long and the vapor too hot for my liking.
Unfortunately, I found the RGC coils to be equally as leaky as the RPM, a downright shame. They do handle +40 watts better and I'd say the flavor is about the same. What they do offer is adjustable airflow and is very welcome. You don't have to look hard to find and RGC RBA that offers adjustable as well, if that's your bag.
As for the device itself, I do believe that both output close to the claimed wattage, perhaps a tiny bit less. Keep in mind though, the RPM80 Pro will handle higher wattages better thanks to the external 18650.
Depending on your desired output, the regular version will offer an extremely poor battery life. So does the Pro at 80w; single batteries are just not designed to handle that kind of draw continuously.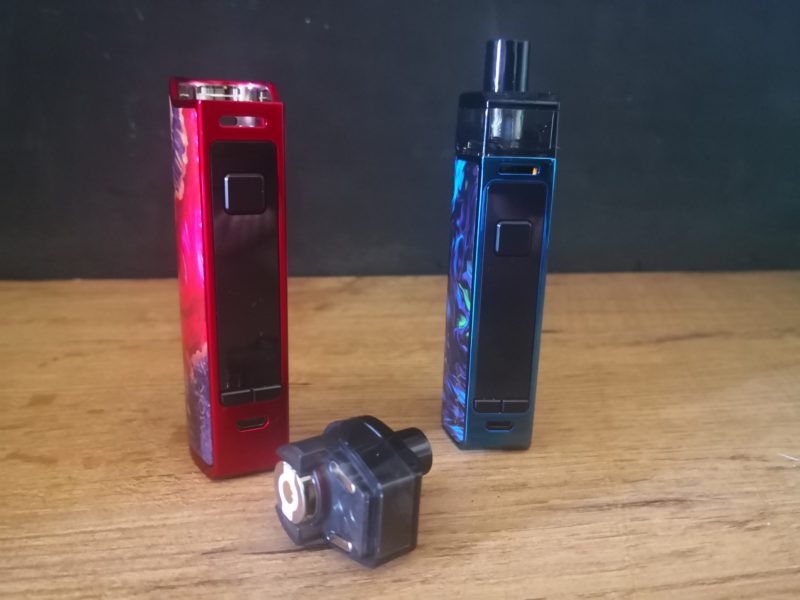 Specs:
Weight: 125g (without battery)
Battery: 3000mAh internal/removable 18650
Power output: 1/80w
POD Capacity: 5ml
Charging Port: Micro USB
Size: 109mmx26mmx31.5mm
Smok RPM80/RPM80 Pro Review Conclusion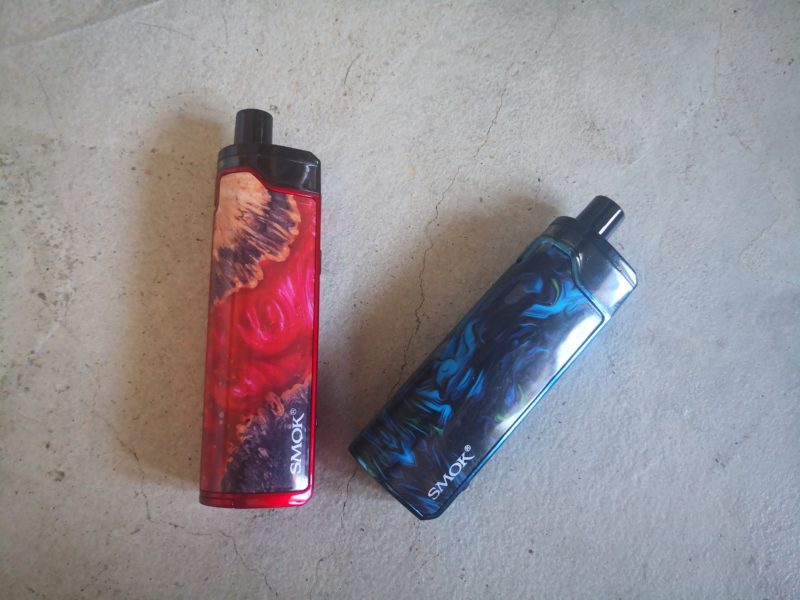 With Smok getting a bunch of flack, sometimes unfounded, I have to be careful not to let hivemind mentality cloud my judgment. The RPM80 series has a bunch of flaws; it leaks, it doesn't feel premium and makes the weirdest noises when firing, but even so, the RPM series is quite impressive for such an entry-level company.
Performance is good and flavor/cloud production some of the best in class. 5ml pod capacity is huge for an AIO and obviously massive battery capacity is a win.
I can easily recommend the RPM80 series mostly because of how easily obtainable Smok products are so there's never a worry about coil availability.
Not revolutionary by any means, but well worth a look if you're looking at dabbling with AIOs.
Best Place To Buy (DirectVapor Inc. FREE SHIPPING)
---
Competition: 
Red
Internationally published journalist and reviewer, unofficially certified vape connoisseur. MTL, DTL, RDTL, Red takes it any which way