The Hellvape Dead Rabbit R Tank does to mesh RTAs what the Dead Rabbit RDA did to RDAs. It's a unique approach to a tried and tested device and the result is something that is not quite perfect, but innovative enough to spark a host of new products.
---
Hellvape Dead Rabbit R Tank Verdict – 92%
Hellvape Dead Rabbit R Tank Pros:
It's a hell of a lot easier to build than offerings from Wotofo and Vapefly
All the benefits of sub-ohm tanks, without the cost
Great flavour, but only at higher wattages
Build quality feels fantastic
Hellvape Dead Rabbit R Tank Cons:
Still uses proprietary coils, even if they are rebuildable
Anything under 50w gives a sub-par vape
510 drip tip only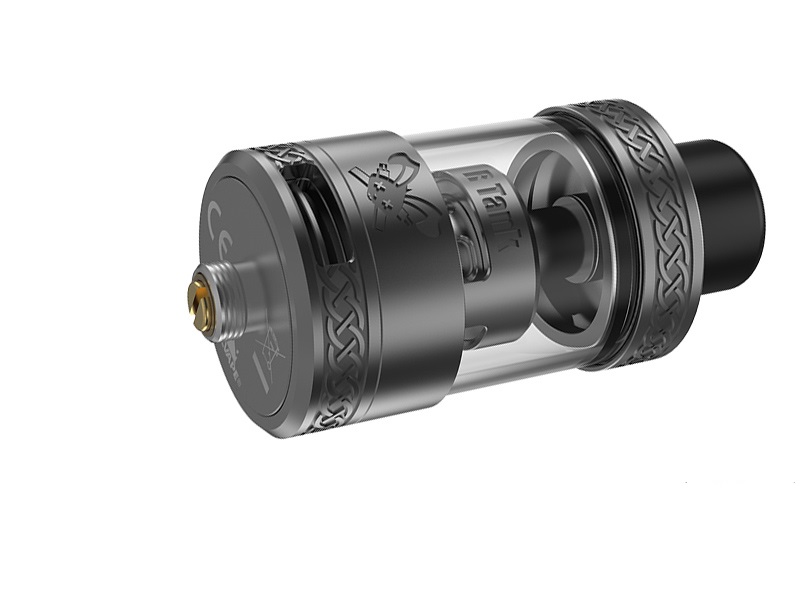 Remember when the Dead rabbit was just released? Yeah? Good times right? An RDA developed by Heathen, one of the biggest reviewers of his time; it was, and still is, a magnificent piece of equipment. The deck was like nothing we've seen (apart from The Drop that released around the same time) and it was by far the best vape you could get for very little money. As time passed, RDAs got better and the Dead Rabbit was soon forgotten. Okay, perhaps not, because Hellvape insisted on reviving its legacy with the Dead Rabbit RTA, which was, well, not great, the Fat Rabbit, a sub-ohm tank that was pretty average and finally the Dead Rabbit 2; a cash grab if I've ever seen one.
Thankfully, Hellvape has put some effort into the Dead Rabbit series and the R Tank brings the innovation we come to expect from them.
Design
The Hellvape Dead Rabbit R Tank is pretty inconspicuous at first glance, but it hides a very unique build deck under it's fairly plain coat; more on that later.
The exterior looks no different to that of any of the thousands of tanks currently available. A 510 connection, deck section, straight or bubble glass, top cap and a 510 drip tip. The top cap features the traditional Dead Rabbit Celtic engraving on a removable ring, but the Dead Rabbit logo has been moved from the chimney to the outer chamber wall. Below the deck section is you'll find two beefy airflow intakes. The tank holds a fairly average 5ml with the straight glass, upped to 6.5ml with the bubble glass.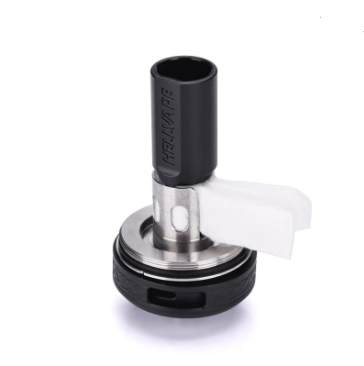 The top cap is a quarter turn affair to remove to reveal a large singular fill port. Unscrewing the fill port cap gives you access to the tank glass and chamber and gives you access to the build deck, this is where it gets really interesting.
When I pulled off the chamber, I was totally and utterly confused. I thought this was a rebuildable tank? Where does the mesh go? Well, the R Tank combines all the benefits of both a sub-ohm tank with all the benefits of a rebuildable.
Much like the Wotofo Smart coils, the "coil" assembly is fully rebuildable, sort of. The deck has a strange centre post and at first, may confuse you. The more you stare at it, the more you realise that it's pretty much a sub-ohm style setup that allows for easy rebuildability. A volleyball net styled mesh strip is bent around the included rod, drape your cotton trip around it and pop it into the centre. Truthfully, I struggled with my first attempt, but soon got it down and the process went much quicker. Rebuilding the R Tank coil is way easier than similar tanks like the Smart coil from Wotofo.
While Hellvape specifically state that only their (for obvious reasons) mesh strips (5 of which are included) can be used to rebuild the coil, I had a decent amount of success using my own mesh strips.
Performance
Rebuidling the R Tank would be pointless if it didn't offer a vaping experience that warrants the extra effort over a regular rebuildable mesh RTA. Thankfully, the Hellvape Dead Rabbit R Tank delivers and I peg this down to the vertical orientation of the coil. I've long found that vertical coils offer better flavour and saturation as there's more contact with your heating element as the air moves up to the drip tip, something that is often only found in sub-ohm tanks (there has been a handfull, but they were mostly rubbish)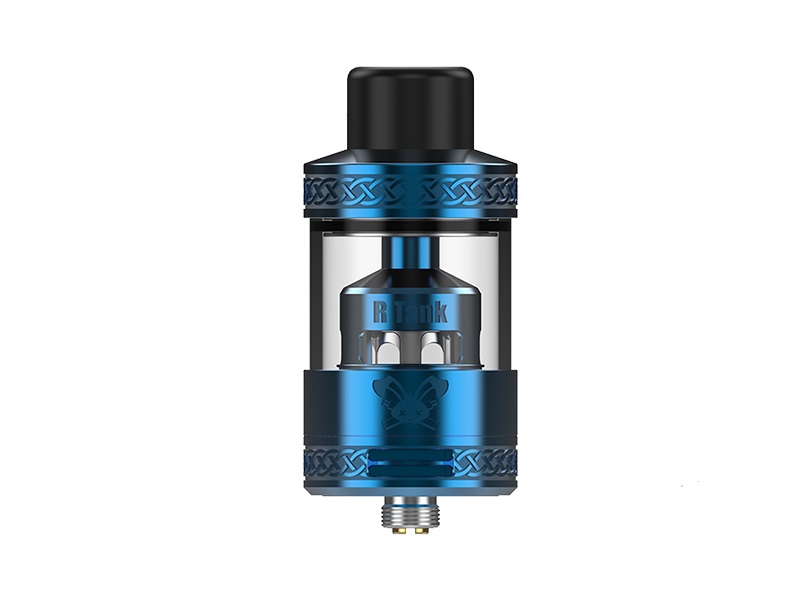 Flavour is rich and deeply saturated, falvour nuances come through like only a well sorted sub-ohm tank can deliver, however, only above 50w. While mesh usually likes around 30-40w, the Hellvape Dead Rabbit R Tank prefers the upper range of power to really shine. Anything below 50w and you're left with a bland flavour profile as the mesh struggles to vaporize your e-liquid. This has an adverse effect on your battery life, so a dual 18650 or even 21700 is where this tank should live.
Airflow is decent, not great, not horrible. Sometimes it's nice a swooshy, then out of nowhere, it'll whistle and wheeze and you have to open and close the AFC to get it clear again. This likely down to juice leaking down the airflow holes, but in 2021, we shouldn't be struggling with this anymore.
Specs:
Dimensions: 25x51mm
Weight: 64g
Material: SS304
Tank Capacity: 5/6.5ml
Hellvape Dead Rabbit R Tank Conclusion
Say what you want about Hellvape and the blatant cash grabbing attempts, but the R Tank is so wild, that I'll forgive them for persistently trying to bring the DR name back to life (spoiler alert: Dead Rabbit RDA V3 review coming right up). It's by a long shot not the best tank on the market, that spot is still firmly taken by the Taifun GT3, but it is crazy innovative and performance is above average. Where it suffers is airflow and can be a killer for single battery mods, but pump that wattage to 55w and the R Tank vapes a treat with rich a deeply satisfying plume of vapor.
You can easily look past it's miniscule flaws, but the R Tank will more than likely become a daily driver for any who at least give it a spin.
---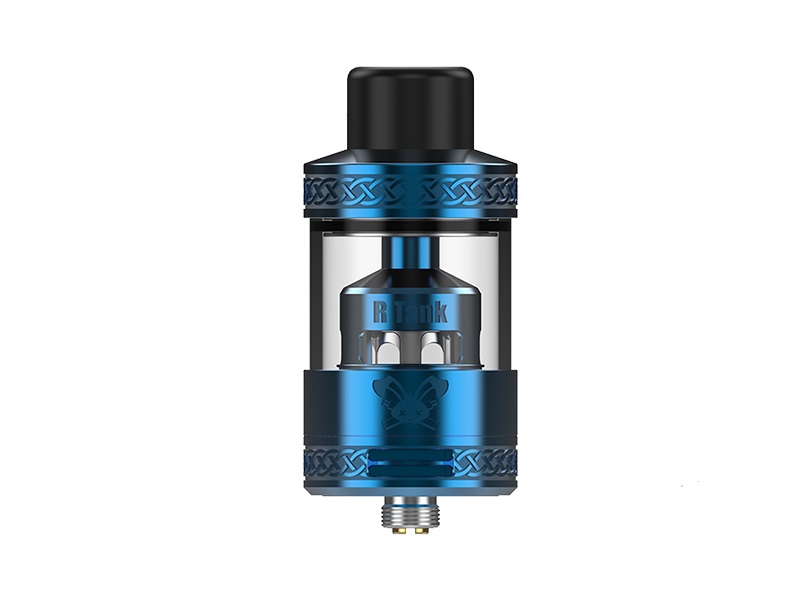 Hellvape Dead Rabbit R Tank
The Hellvape Dead Rabbit R Tank does to mesh RTAs what the Dead Rabbit RDA did to RDAs. It's a unique approach to a tried and tested device and the result is something that is not quite perfect, but innovative enough to spark a host of new products.
Red
Internationally published journalist and reviewer, unofficially certified vape connoisseur. MTL, DTL, RDTL, Red takes it any which way