What we have here is something extremely special. It may look like just another RTA, but everything about this – yet to be released – tank is something that the market has been after for a very long time. Meet the Geekvape Zeus X Mesh RTA, a thing of beauty.
Disclaimer: the sample sent to us is a pre-production prototype. The final product may differ.
Geekvape Zeus X Mesh RTA Verdict – 91%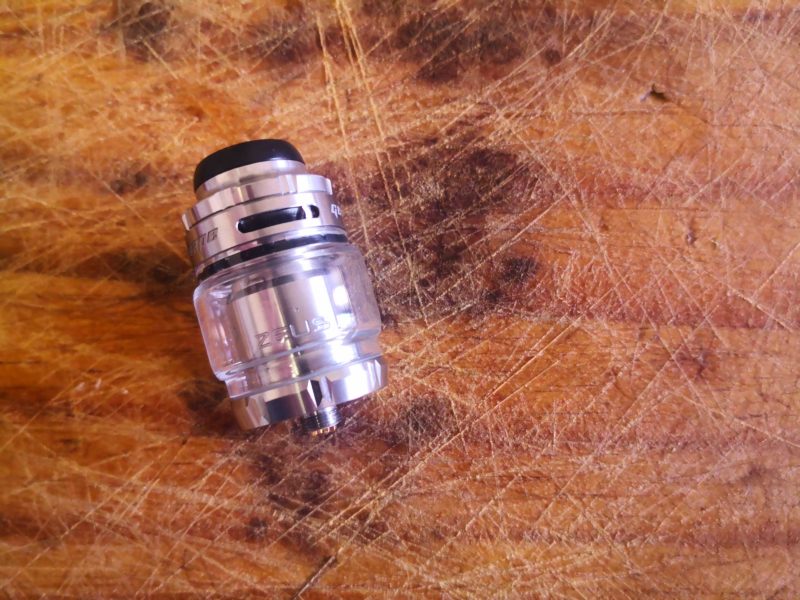 Geekvape Zeus X Mesh RTA Pros:
Top airflow reduces leakage to a non-factor
Build quality, for a Chinese product, is phenomenal
Geekvape have somehow gotten rid of wicking issues other mesh RTAs experience
Typical fantastic mesh flavor
The Mesh deck is interchangeable with the regular Zeus X deck and may be available separately. Read that again
Geekvape Cons:
Uses more cotton than a plantation can provide in an hour
Airflow is noisy
Full Geekvape Zeus X Mesh RTA Review
Geekvape makes some great products, just look at the Aegis Legend, Boost, and the AEGIS X mod. Sure, they've had some stinkers, but the majority of their products have been well thought out built solid.
The Zeus X RTA is a great example of this; a top airflow dual coil RTA that just works. It was easy to build on, never leaked and offered a satisfying vape no matter how badly you built on it.
Instead of rehashing the same thing over and over (hey Vandy Vape) GV has focused on reinventing the Zeus X to fill a gaping hole in the market.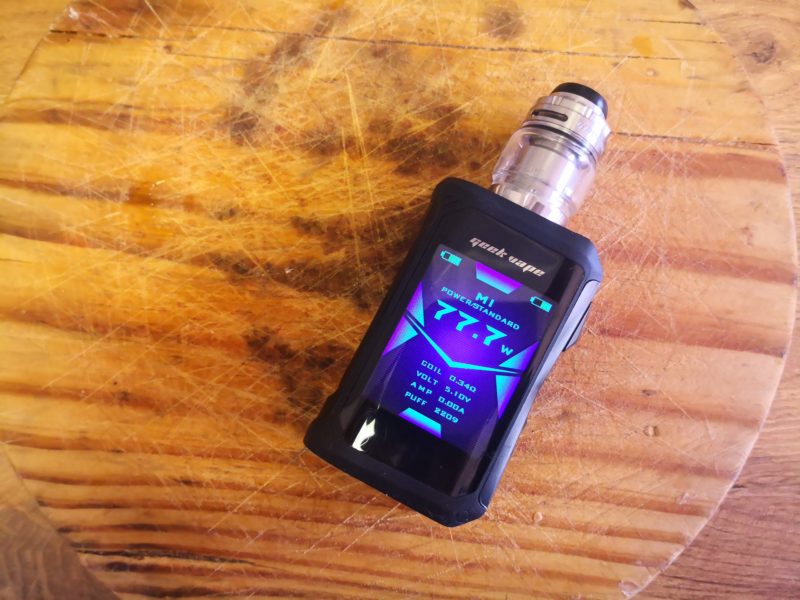 Design
The Zeus X Mesh RTA looks identical to the OG Zeus X, it's only when you unscrew the top to reveal the deck that you realize the Zeus Mesh is a completely different tank.
There's a good reason for this too: the Zeus X and Zeus X Mesh are completely interchangeable. Steam Crave has recently done something similar by introducing a mesh deck to their Aroramizer series, but I believe the Zeus X series is the first fully interchangeable parts RTA with both mesh and coil capabilities.
"What about the Kylin M, or the Profile Unity?" I hear you ask. Well, no, while both these tanks are quite decent, they are indeed different from the Zeus Mesh; let's not forget how difficult the Unity is to wick properly.
The Zeus Mesh differentiates itself by offering top airflow to virtually eliminate leaking leading to a lighter wick and in turn minimizing dry hits.
It's such a simple concept, but it works so damn well. Less cotton, better wicking, juices mesh…mindblown.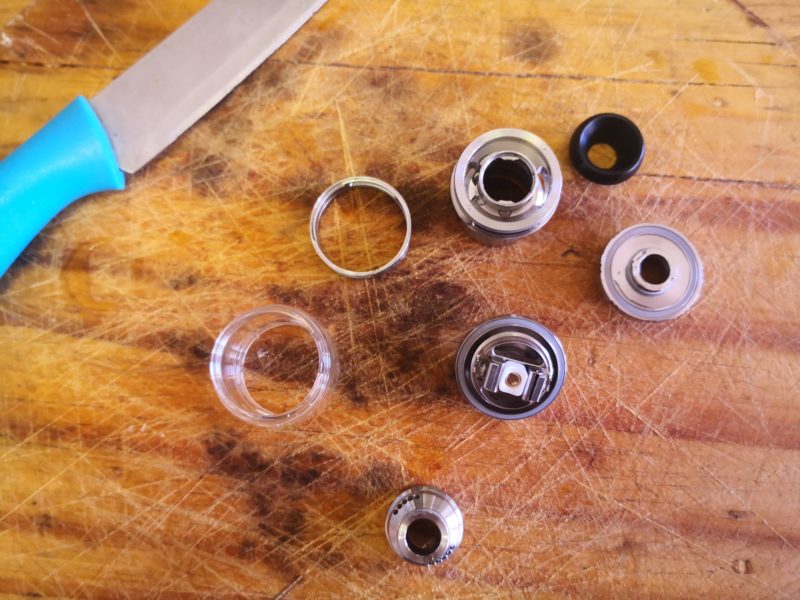 The build deck is nothing special and can easily be confused for a Unity deck. Two vertical clamps, positive and negative straddle a ceramic spring-loaded block with two large wicking ports on either side. Air travels down the 2 airflow slots between the 2 chimney sections, across the mesh strip and back up the inner chimney. The inner chimney is completely loose and may take some wiggling to fit correctly.
Looks-wise, the Zeus X series is great looking. Chunky, sharp and one of the few tanks (excluding the Advken Manta) that looks good with bubble glass.
I'm not a massive fan of the low profile 810 drip tips though but can appreciate how they add to the overall look of the RTA. The drip tip can be swapped out for something more to your liking as the included ones are non-proprietary.
Performance
It's a good idea and it's innovative, but does it work? It still needs literal crap-ton of cotton to fit underneath the mesh as with the Kylin M and Profile Unity but changing over to top airflow allows you to wick slightly lighter to avoid dry hits.
Those that know the Profile Unity well know that there are only 2 methods that allow it to wick properly without leaking. The most common method is known as the damm method and requires 3, yes 3 strips of cotton stacked in a triangular shape, cut to a specific angle and prayers to your preferred deity to wick good, not leak and produce flavor.
When it works, it works well, but it's…just…so…much…effort. The Kylin M is somewhat more forgiving with wicking, but leaking is still an issue. Geekvape compromises a little flavor by going top airflow, but the benefits of this design outweigh the slight knock.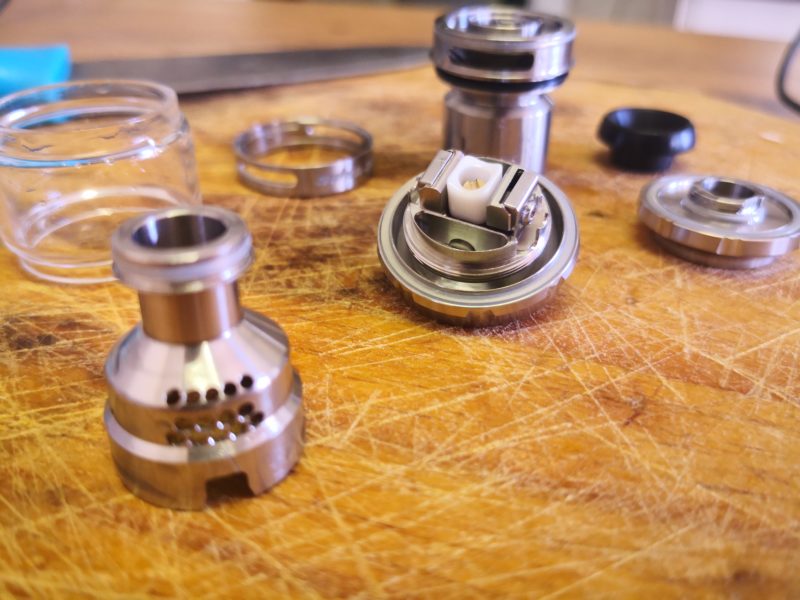 It can't always be good news though and the same airflow I praised above is the target of my biggest criticism. The airflow is noisy, just as it was on the original Zeus X. Wide open, it's turbulent, closed down it whistles, anything smaller and it becomes too restrictive for me.
Other than that, the Zeus X Mesh provides a dense, flavor-rich vapor that has that typical "wet" quality you would expect from a mesh. A solid performer all in
Specs:
25mm
4.5ml juice capacity
Modular build deck
810 and 510 drip tip compatible
Top Airflow
Charging Port: Micro USB
Geekvape Zeus X Mesh RTA Conclusion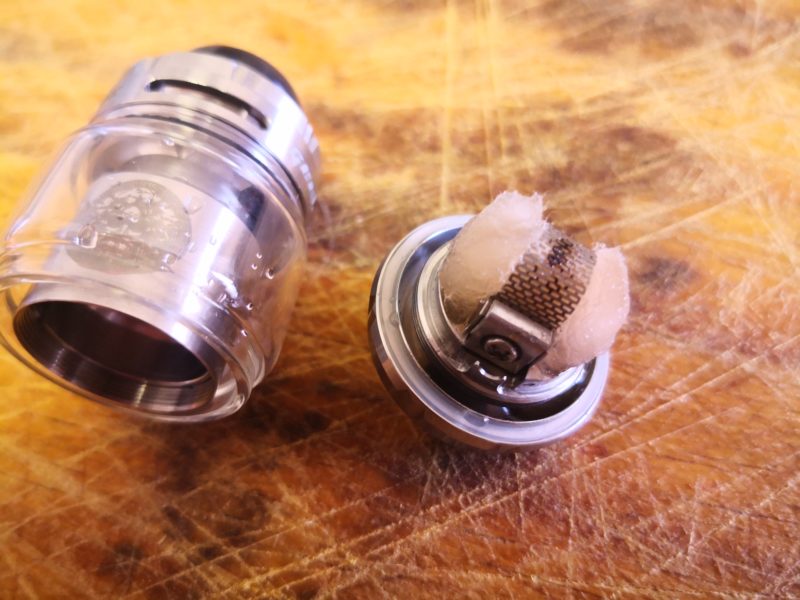 I sound like a shill, but I am seriously impressed by Geekvape's latest device. I've wanted a proper mesh RTA since the Vandy Vape Mesh 24.
While the VV Mesh was also top airflow, the mesh was fairly new back in 2017 and the execution was just so-so. Forward 2 and a bit years and Geekvape have perfected the mesh tank in my opinion.
They need to fix the noisy airflow, but all said and done, the Zeus mesh is the most significant tank of 2020 so far. It's easy to build on, produces dense, rich vapor and looks great on just about any device.
If you're in the market for a mesh tank, this is your boy.
---
DEAL OF THE DAY
Buy One Get One FREE CBD – Use Code: BOGO
Red
Internationally published journalist and reviewer, unofficially certified vape connoisseur. MTL, DTL, RDTL, Red takes it any which way