The Vandy Vape Kylin M RTA is a unique twist on an already much-loved RTA, only this time it's packing mesh coils – so how does it perform?
---
Vandy Vape Kylin M RTA Quick Verdict (70%)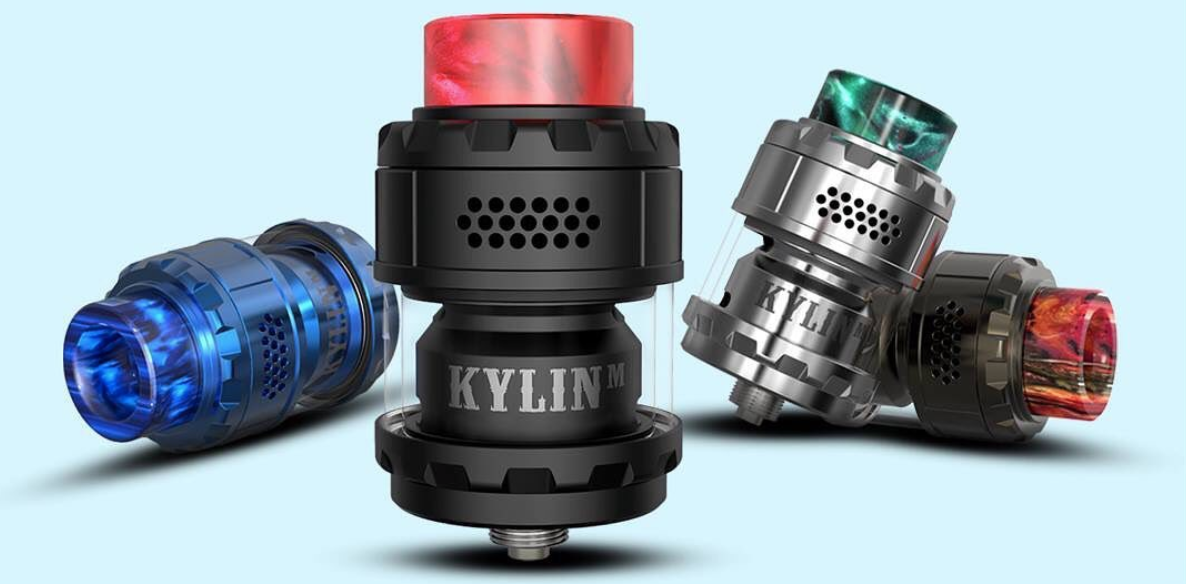 [maxbutton id="4″ url="https://vapebeat.com/recommends/vandy-vape-kylin-m" ]
Vandy Vape Kylin M RTA Pros:
Super Simple To Wick, Thanks To Mesh Coils
Superb Clouds
Gorgeous Design
Comes With 4x Mesh Coils & Cotton Laces
Mega Flavor
Quick Verdict (TL;DR) – The Vandy Vape Kylin M RTA is VERY similar to the Wotofo Profile Unity RTA in how it works, a point that many vapers aren't too happy about. But this isn't something to concern yourself with; all you should care about is whether the Vandy Vape Kylin M RTA is actually any good…
And the Vandy Vape Kylin M RTA is decent, but it is NOT a simple RTA to live with. You have to get your wicking spot on. And I really do mean SPOT ON, or else you're going to experience a dry hit. For me, this is a big negative – I like my RTAs to work simply.
When it's playing ball and your wicking is on point, the clouds and flavor are brilliant. Get it wrong, though, and you're in a world of pain. For this reason, I would probably still go with the normal Kylin Mini RTA over the Vandy Vape Kylin M RTA, as it's easier to wick and it doesn't dry-hit anyway near as much.
Bottom line: if you're going to run the Vandy Vape Kylin M RTA you definitely have to know what you're doing when it comes to wicking. This tank DOES NOT take any prisoners; you're either vaping perfectly with epic flavor or coughing your guts up following a massive dry hit. There is nothing else in-between…
Full Vandy Vape Kylin M RTA Review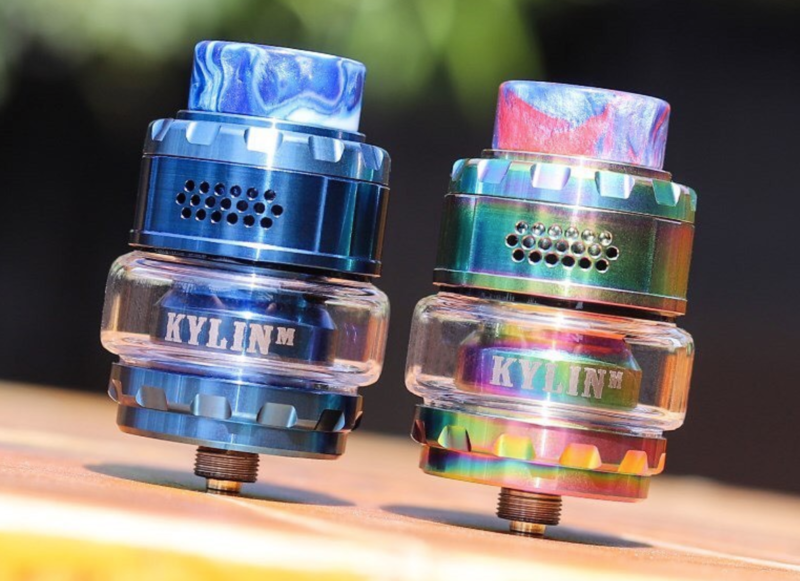 Design
The Kylin M is a very good-looking tank. But that's kind of a given; Vandy Vape makes great looking tanks. And the Kylin stable of RTAs has always been fairly beautiful. The Kylin M carries all the usual design language from its stablemates, and it looks great. Nice and premium.
The machining, knurling, and overall finish of the tank's exterior and its deck are superb. It all fits together nicely and the box contains plenty of goodies to get your up and running properly. For instance, it includes four mesh coils in the box – 2x 0.2ohm strips and 2x 0.15ohm strips, as well as cotton laces for wicking.
If it wasn't immediately apparent, the "M" stands for mesh, which is the "coil" material for which the Kylin M was specifically designed to take maximum advantage of. So why mesh? Why now? Is mesh better than wire for RTAs?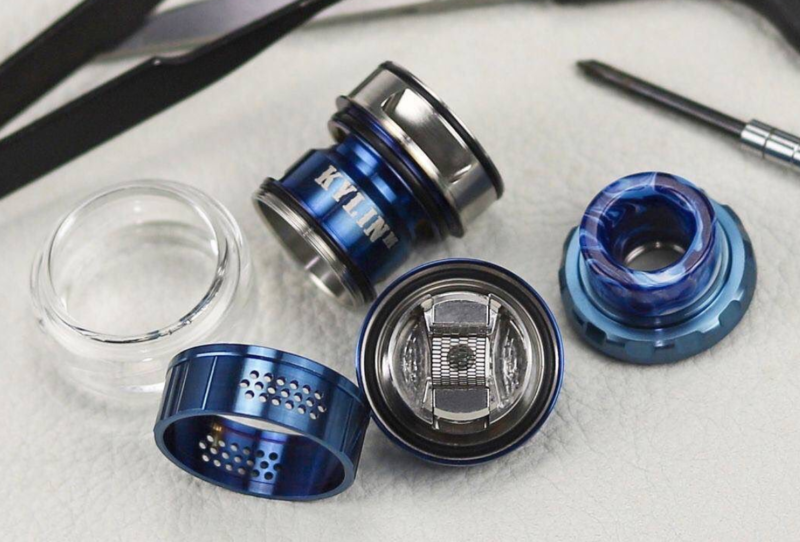 Mesh coils offer the potential for even better flavor and greater performance than traditional home-built coils, they're also much simpler to work with and this makes it much easier to obtain the desired (and delicious) fruits of your labor. This is why mesh is popular. But it's not all as black and white as it may seem.
Theoretically, mesh actually makes creating a custom build more straightforward than ever before. I say, theoretically, because the install is very simple, but getting the wicking right is no cakewalk. You have to be SUPER precise, otherwise, you're going to be getting a lot of dry hits. And if you don't know what you're doing, the Kylin M is one hell of a cruel mistress. You HAVE to wick it just right in order to get the best performance; there is no room for error.
The Kylin M has some other features beyond the main mesh showpiece. Harnessing the power of geometry with a series of air holes in a roughly hexagonal (or honeycomb) arrangement feeding air into the trapezoidal air intake channel.
Combine the previously discussed points with a generous 4.5 ml liquid capacity, 24 karat gold-plated contacts, and top-quality construction from 304 series stainless steel, and top-mounted airflow for fewer leaks and, on paper, at least, the Kylin M looks like something of a monster.
Specs & Features
Length: 34mm
Diameter: 24mm
Capacity: 2ml (TPD) – 3ml and 4.5ml bubble glass
Thread: 510
Colour: SS, Blue, Gunmetal, Gold, Frosted Grey, Rainbow, Matte Black
Inside the Kylin M box, you also get the following accessories:
1 x Kylin M RTA
2 x Mesh Coil(0.2ohm)
2 x Mesh Coil(0.15ohm)
2 x Coton Laces
1 x Extra Glass
1 x Resin Drip Tip
1 x User Manual
1 x Accessory Bag
This is a pretty good haul of gear; Vandy Vape includes everything you need to set up and run the tank for a solid month or two. You have plenty of cotton, plenty of mesh coils, and Vandy Vape even includes a handy mesh coil shaper which you 100% have to use when installing the mesh coil.
The Deck & Mesh Coils
The deck itself on the Vandy Vape Kylin M RTA is very simple to work with; it uses a spring-loaded platform that pushes up the cotton into the mesh coil. Again, this is pretty much exactly how the Wotofo Profile Unity RTA works – and that RTA is tricky to wick as well…
Installing a mesh coil in the Vandy Vape Kylin M RTA is simple; you bend the mesh and secure it in place. Once you've done this, and the coil is properly shaped, you then proceed to wick it, using the provided cotton laces. And it is here where all the fun starts…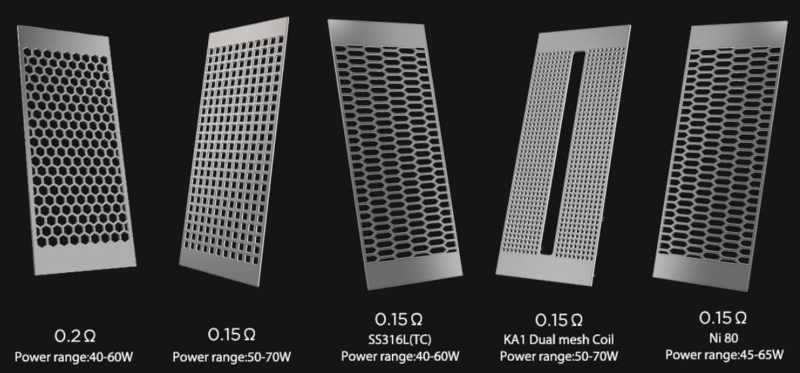 In order to avoid dry hits on the Vandy Vape Kylin M RTA, you have to trim and thin your wicks just so; if the wick is too thick, too thin, or too long, it simply will not vape properly. I tried and failed about eight times to get it right. In the end, you need a fairly thick wick that is thinned out and placed just above the juice ports. You don't want thick wads stuffed in the juice ports.
You want to make sure the wick under the mesh is nice and packed, then thin it out on the legs (where it connects to the juice ports). This is the #1 method for avoiding dry hits on the Vandy Vape Kylin M RTA, but it isn't 100% fail-safe – you have to be ultra-precise and you have to trim the cotton a lot. And for me, this is simply too much work.
Overall Performance
When you get the Vandy Vape Kylin M RTA working optimally, it is a fantastic RTA. The flavor is great and the clouds are dense. The airflow, while a tad noisy for my tastes, delivers a stuffing vape and is fully adjustable. I like it half-way open.
As always, I've been running TrailBlazer from the VapeBeat E Juice Store in the Kylin M and it's never tasted better. The Kylin M does not have any issues with flavor, but it does require a lot of precision from you to activate it – there is a sweet spot for the wicking and it is very difficult to find, meaning this RTA is NOT ideal for beginners.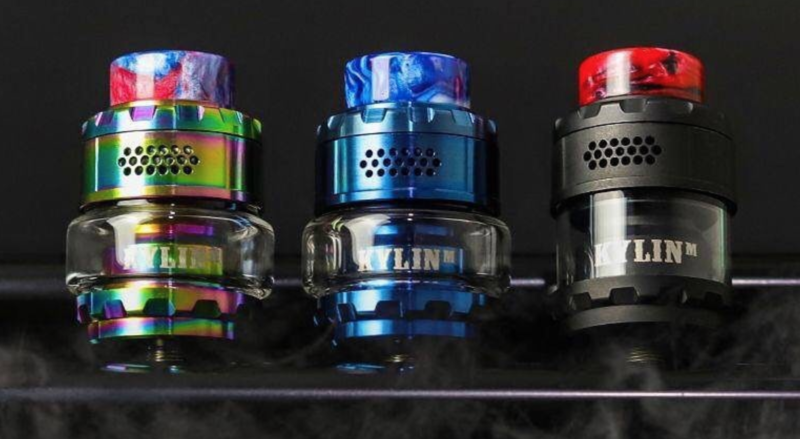 I like the way it looks, I like the way it vapes when it's wicked correctly, and I like the airflow. But you have to do A LOT of stuff to get the Kylin M working correctly and, for me, that's not ideal. I freakin' hate high maintenance RTAs, especially when there is so many GOOD, simple to use RTAs out there. Don't believe me? Check out our Guide To The Best RTAs Right Now.
All of the RTAs in that list post are simple to wick, simple to set-up, seldom leak, and kick out immense flavor. I'd take any one of the RTAs on that list over the Kylin M. I've also included the table from our Best RTAs post below, so you can quickly see the options.
Name
Pictures
Rating
Best Place To Buy?
Why You'd Buy This RTA?

(Best All-Round RTA)

100%

Outstanding Flavor 
5ML Juice Capacity 
It Never Leaks 
Powerful, Dual-Coil Design 
Great For Clouds
Insanely Cheap

(Best Dual Coil Option)

100%

Solid Design + Beautiful Deck
Vapor Production is NUTS
Great Flavor (Especially At Medium Power)
100% Leak Proof

(INSANE Flavor)

91%

Brilliant Design
Big Deck; Easy To Build On 
Smooth Air Flow 
Brilliant Flavor + Cloud Production 
A Classic Mid-Ranger, Ideal For Newbies

(100% LEAK-PROOF)

94%

100% LEAK-Proof
Once Wicked, Works Like A Sub-Ohm Tank 
Awesome Deck 
Super-Easy To Build & Set Up
Great AFC

(Best For Flavor & Clouds)

97%

Single Coil RTA – Great For Battery Life 
Excellent Design (Both Tank & Deck) 
Simple To Use & Setup
Great, Thick Flavor 
Doesn't Leak
Should You Buy The Vandy Vape Kylin M RTA?
If you like a challenge, then, yes, you should 100% buy the Vandy Vape Kylin M RTA. If you know what you're doing with your wicking and are confident you can wick anything, then, yes, the Vandy Vape Kylin M RTA might be a good option for you…
But if you're anything like me, and you cannot stand hard-to-wick RTAs, then you will avoid this tank and go with something that is simple to wick, easy to use, and a solid all-round performer. And if you want my ¢2, that tank, if you want an RTA, is easily the GeekVape ZEUS X because it is easy to wick, it doesn't leak, and it delivers totally amazing flavor – it's also cheaper than the Kylin M too.
Best Price | $37.95 | DirectVapor (FREE SHIPPING)
Drake Equation
Co-founder and Editor of VapeBeat. I make the words.