During 2017 and 2018, we tested a lot of RTA tanks, and the best of the best get a place inside our Best RTA Tanks A-List Table below. As of right now, these are our current #1 picks for the best RTA tanks money can buy. The picks we have chosen are based on performance, design, ease of use, and value for money.
---
Best RTAs
Name
Rating
Pictures
Why You'd Buy This RTA?
Best Place To Buy?

Kayfun V5

100%

100% Leak-Proof 
Best In Class MTL Vape 
Best In Class Flavor 
Runs At Low Wattage (Less Than 20W) 
Great For Single Coil Mods 
Awesome For Battery Life; 3-4 Days on Dual-18650 Mod

Wotofo Serpent RTA

97%

Single Coil RTA – Great For Battery Life 
Excellent Design (Both Tank & Deck) 
Simple To Use & Setup
Great, Thick Flavor 
Doesn't Leak

GeekVape Blitzen RTA

96%

Outstanding Flavor 
5ML Juice Capacity 
It Never Leaks 
Powerful, Dual-Coil Design 
Great For Clouds
Insanely Cheap

Augvape Intake 24mm RTA

94%

100% LEAK-Proof
Once Wicked, Works Like A Sub-Ohm Tank 
Awesome Deck 
Super-Easy To Build & Set Up
Great AFC

GeekVape Creed 25mm RTA

93%

Massive Juice Capacity
Hardly Ever Leaks (Very Forgiving RTA) 
Excellent Flavor Production
Huge Clouds 
Simple Install & Wicking 
Well Priced

Vandy Vape Kylin

91%

Brilliant Design
Big Deck; Easy To Build On 
Smooth Air Flow 
Brilliant Flavor + Cloud Production 
A Classic Mid-Ranger, Ideal For Newbies

CoilART Azeroth RTA

83%

Interchangeable Decks – Dual & Triple Coil
Great Flavor
Easy To Build On
Precise Flavor
---
What is An RTA Tank? 
An RTA tank is essentially THE goldilocks setup of the vaping world, bringing together RDA-grade flavor and sub-ohm tank-style juice capacity.
And, please, DO NOT be put off by the idea of building your own coils.
It's super simple. Plus…
You will save a FORTUNE by not having to buy pre-built coils alone.
Beyond this, however, the benefits are myriad: bigger clouds, better flavor, heightened control over your vape.
But what are the best RTA tanks?
I've tested a bunch in the last 12 months.
My picks for the best RTA tanks for overall performance, flavor, and design are listed below.
Best RTAs Reviewed To Date (VapeBeat & Critics Ratings) 
1) GeekVape Blitzen RTA – A Proper STUNNER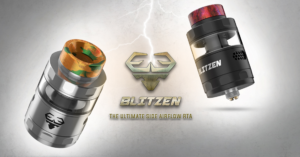 If you're after an RTA that looks amazing and vapers better than 90% of the RTA tanks around right now, well… you need to be looking at the GeekVape Blitzen RTA.
Not only is this RTA stunning to behold, but it also vapes better than 95% of the RTA tanks in existence right now.
Reviews of this tank have been very positive and this, combined with its styling and price, make me think this could well be a classic in the making.
It reminds me, rather a lot, of the SMOK TFV12 Prince.
But looks are where it ends; the GeekVape Blitzen RTA is a high-roller when it comes to power, performance, reliability, and overall vaping prowess.
Basically, it wipes the floor with most other RTA tanks around right now and this makes it one of the best RTA tanks around right now.
And given just how good the RTA space is at the moment, that's REALLY saying something.
Check out the reviews for this tank from some of our peers below.
GeekVape Blitzen RTA – What The Critics Said
---
2) CoilART Azeroth RTA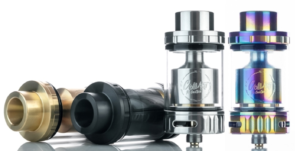 CoilART's Azeroth RTA is one of the most well-respected RTA tanks around; those that use it swear by it, and those that don't are often recommended to check it out.
The Azeroth RTA features a pretty unique design, in that, you can use interchangeable decks – one is a triple coil, the other a velocity-style deck for dual-coil builds. It also looks freakin' awesome too.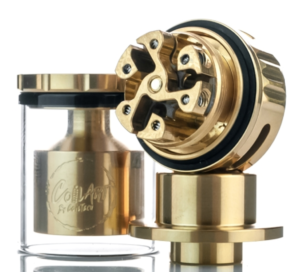 The Azeroth RTA is not a cloud machine, per se, most tend to run it around 35-40W, depending on the build, but this is a great spot to be as it doesn't rape your E Juice and battery.
As with any rebuildable, you're in charge of the builds and can, therefore, dictate how it works and what power you run it at. For my money, though, the Azeroth RTA is best at the above-mentioned point; this seems to be its sweet spot.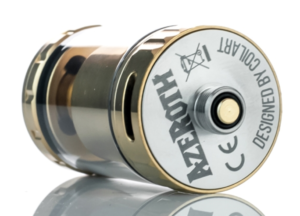 The Azeroth RTA is solid, well put together, features a fairly unique deck setup, and, in the right hands, won't leak too much.
And best of all is the price – for $30, you're getting A LOT of RTA.
CoilART Azeroth RTA – What The Critics Said
You Can Pick Up The AZEROTH RTA via Element Vape For $33.95 – Down From $43.95
---
3) Vandy Vape Kylin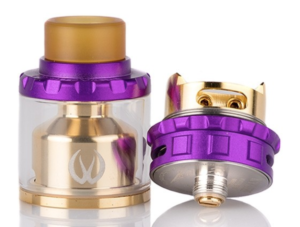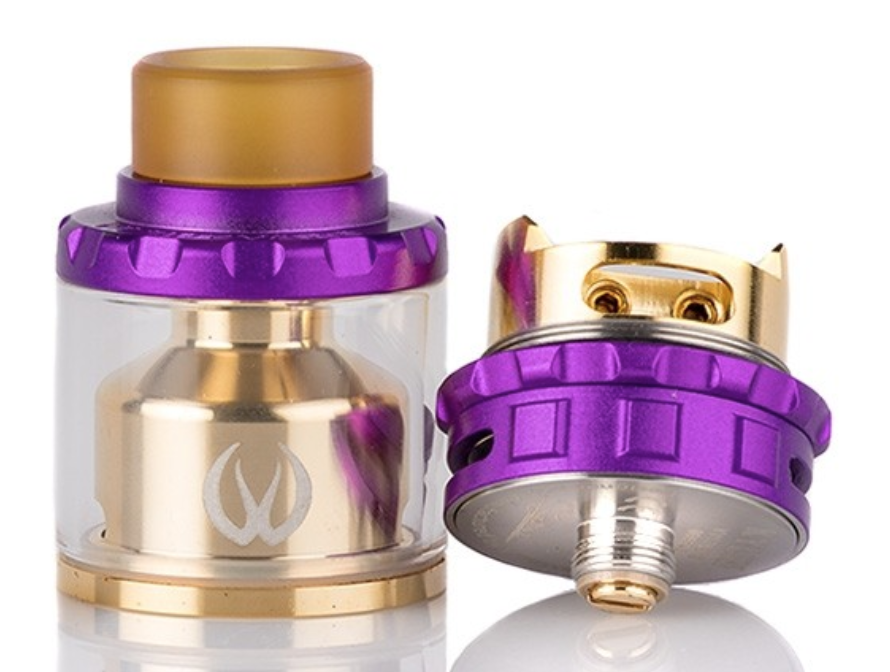 I came across the Vandy Vape Kylin almost by accident.
I went to my local vape shop and asked the dude there for a recommendation for a decent RTA that didn't leak and delivered plenty of performance.
He smiled and suggested the Vandy Vape Kylin. I bought it, took it home, unboxed it, and set it up. 10 minutes later I was sat in a room full of vapor with a stupid grin on my face.
Why? Simple: this is one of the easiest RTA tanks to set up I have ever come across.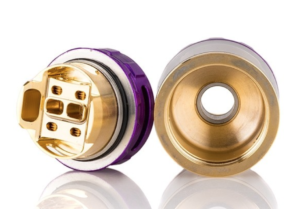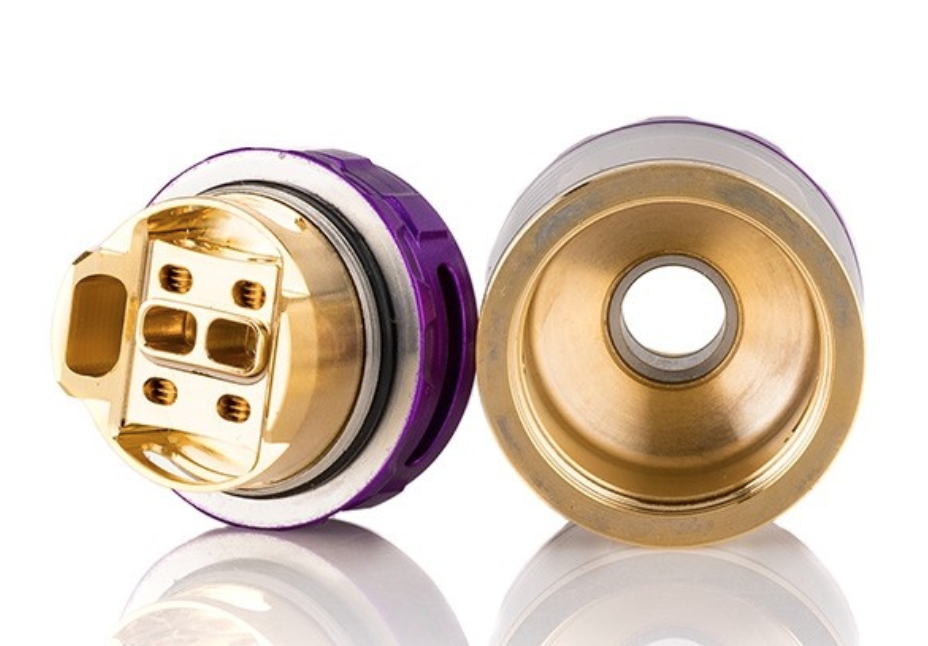 The postless design of the deck is super simple to set up and wick on; you can run all kinds of builds on it. The original deck that shipped with the Vandy Vape Kylin leaked. A LOT. But this was quickly replaced and the new one is superb (I used the new one).
The Vandy Vape Kylin is a great looking RTA, perhaps one of the best looking on this list. I love the selection of colors it comes in but most of all I like just how easy this RTA is to live with – you just wick it and go. It almost feels as easy as an RDTA, in this respect.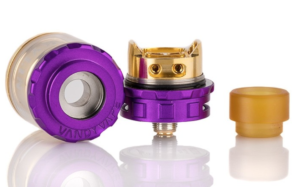 It also kicks out massive clouds and huge flavor, so if you're after a power RTA, the Vandy Vape Kylin is 100% what you've been searching for. This is probably my new favorite RTA on this list, so make sure you check it out.
Vandy Vape Kylin – What The Critics Said
You Can Pick Up The KYLIN RTA via DirectVapor For $36.95 (FREE SHIPPING)
---
4) GeekVape AMMIT Dual RTA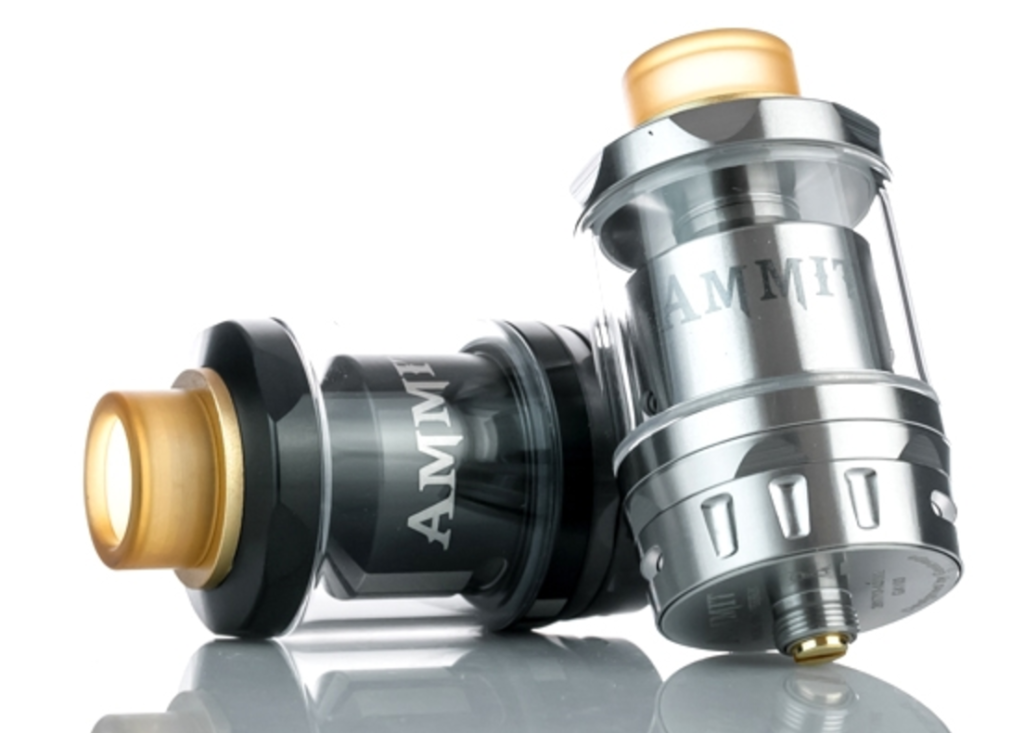 I'm not a big fan of the GeekVape Griffin RTA – I actually threw mine in the bin. But I'm not one to hold a grudge, plus I'd been hearing good things about the GeekVape AMMIT Dual RTA, so I decided to give it a whirl.
The original GeekVape AMMIT 22mm RTA, like the Griffin, had a few issues. It was still popular, but it wasn't without its detractors. The GeekVape AMMIT Dual RTA, however, aimed to put this issues to bed once and for all.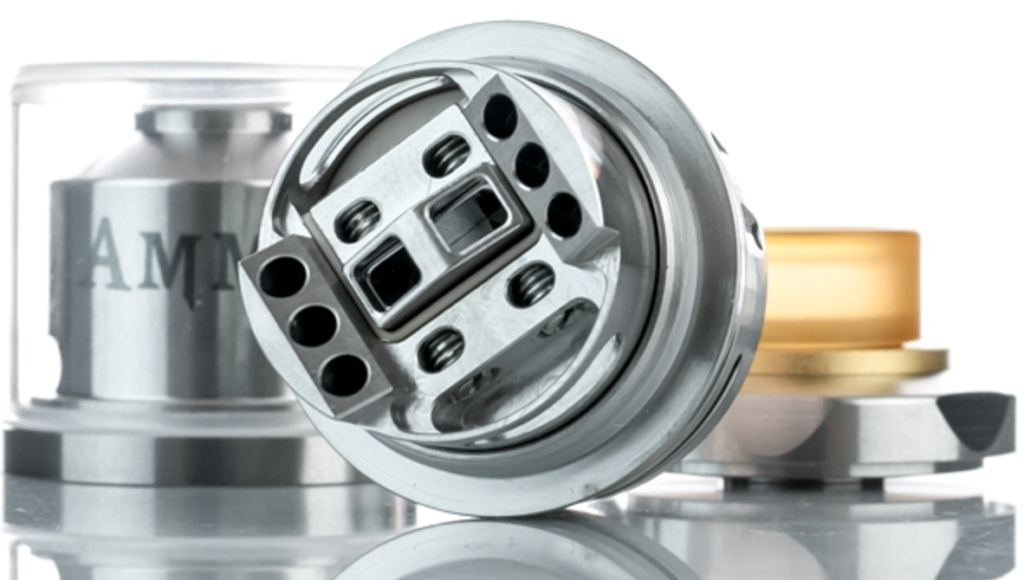 The GeekVape AMMIT Dual RTA is bigger (25mm vs 22mm) and comes with a 5ml juice capacity (though 2ml is also available), as well as an 810 adapter for Goon-style drip tips. Nice touch there, GeekVape.
Here are the GeekVape AMMIT Dual RTA key specs: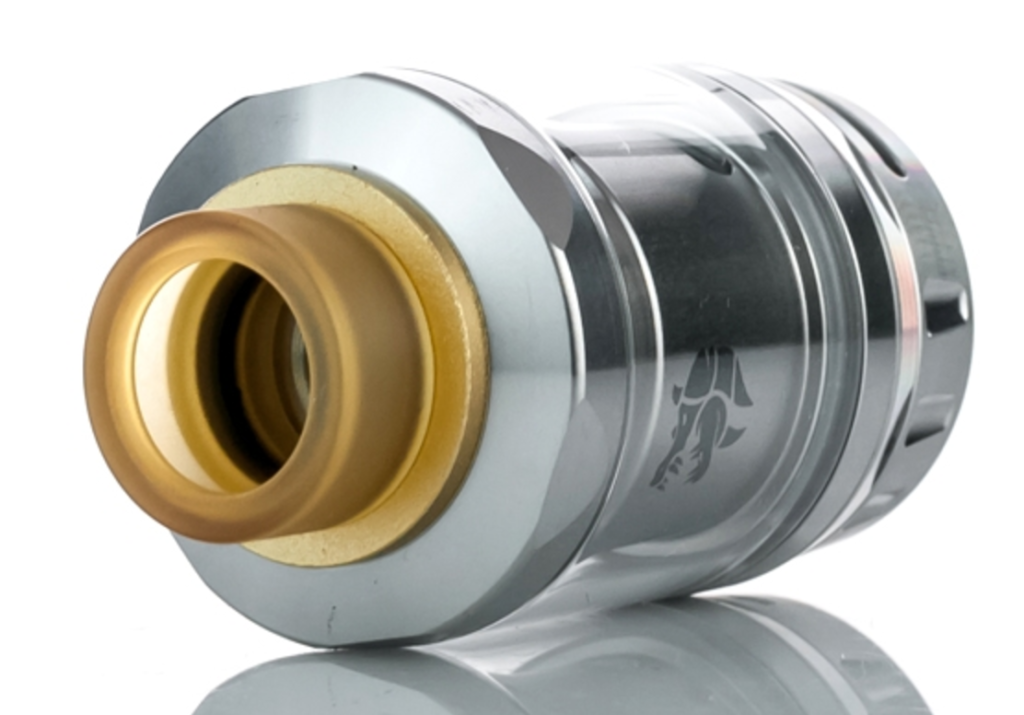 Drip tip height: 10mm
Drip tip diameter: 15mm
Height: 38mm
Base diameter: 25mm
Capacity: 2ml/5ml
Coil type: DIY
The tank itself is beautifully designed and, once it's set-up correctly, vapes like an absolute champ. It will leak at first, that I can promise you, but once you get your eye in it's a solid, all round performer with excellent flavor and great clouds.
GeekVape AMMIT Dual RTA - What The Critics Said
You Can Pick Up The GeekVape AMMIT Dual RTA From VaporDNA For $34.99 – Down From $39.99
---
5) WOTOFO TROLL RTA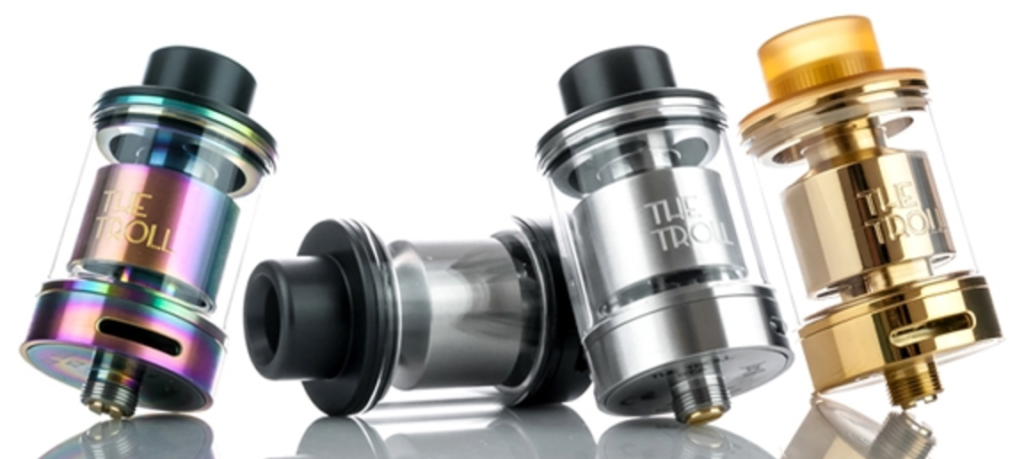 If you're looking for a powerful, easy-to-work-with RTA that vapes like a monster, with excellent flavor and huge clouds, you need to be looking at the WOTOFO TROLL RTA.
It is easily one of the best RTA tanks I have ever owned.
Freakin' love Wotofo!
The look and feel of the WOTOFO TROLL RTA is simple and stripped back. But that's kind of the point; the less moving parts you have, the better something (usually) works in practice.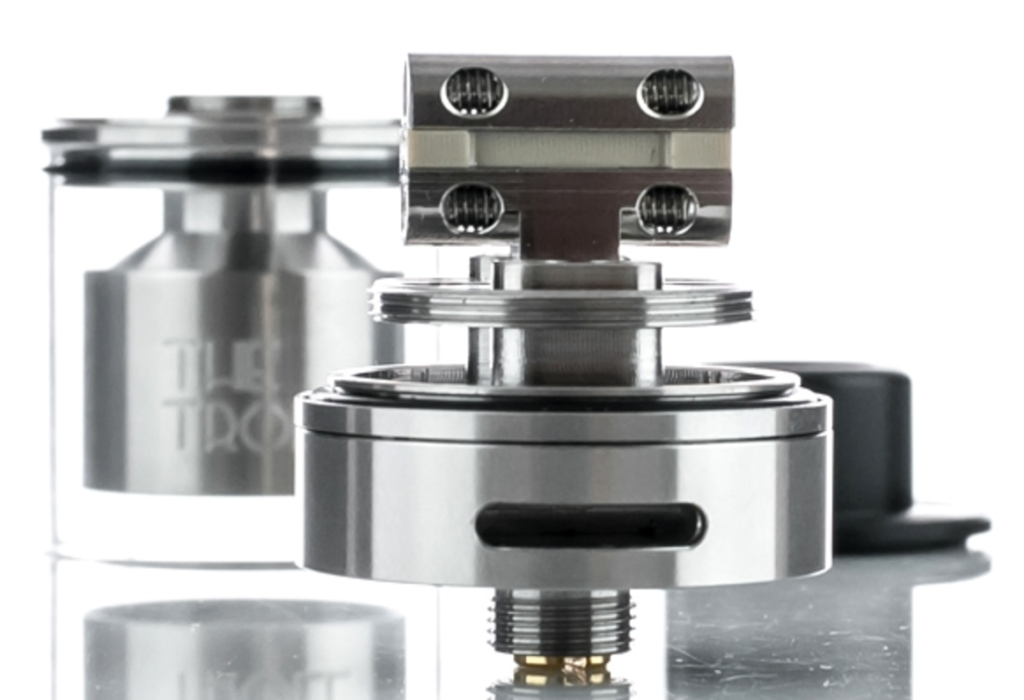 WOTOFO TROLL RTA Key Specs
24mm Diameter
5ml E-Liquid Capacity
Unique one post design
Pyrex Glass & 304 SS Construction
Gold Plated 510 Pin
H:41mm W:24mm
The WOTOFO TROLL RTA comes apart easily, is super easy to wick properly, and, once everything is in place, vapes almost as good as its RDA counterparts, which is high praise indeed.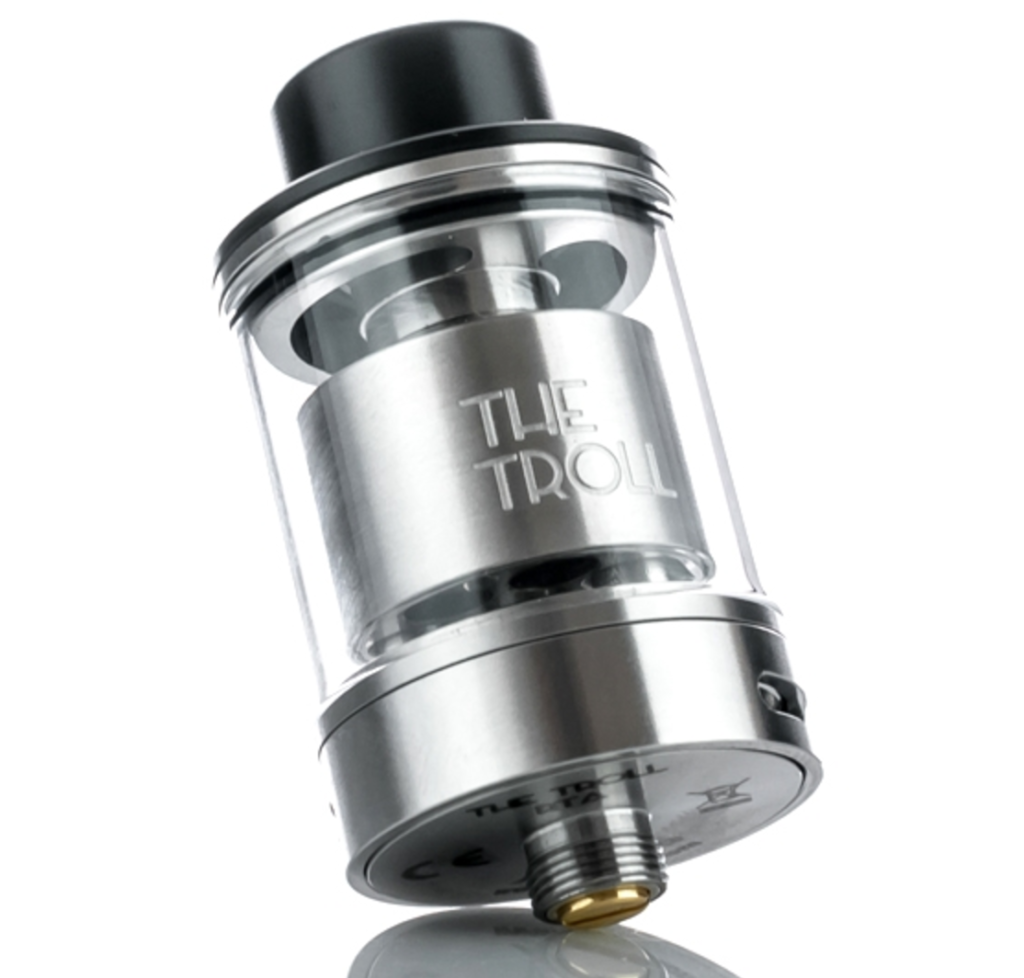 You can't replace the drip-tip on the WOTOFO TROLL RTA, and some might see that as a negative, however, the drip tip it ships with is great, so I wouldn't let that little thing put you off this exceptional RTA tank.
WOTOFO TROLL RTA - What The Critics Said
You Can Pick Up The WOTOFO TROLL RTA From VaporDNA For $34.99 – Down From $39.99
---
Related Content (You Should Bookmark For Later…)
Best RDA Tanks (Updated For 2018)
The Best Box Mods: 2018's Definitive List
VapeBeat's "Highest Rated" E Juice Guide
---
My Favorite RTA Tank Right Now (June, 2018)
This is was tricky. But after much deliberation, I think I have a winner – I always go back to it.
And that RTA? It's the Wotofo Serpent RTA, which was designed by Suck My Mod (make sure you follow him below).
---
This RTA is freakin' BAD ASS. It never leaks. And the flavor it kicks out is incredible.
I LOVE this RTA and will likely use it for years to come, simply because it is just so easy to set up and live with.
For me, the Serpent RTA 100% hits the nail on the head.
And at just $36, it's pretty well priced too.
It's powerful, easy to set up and live with, and it produces awesome flavor.
---
MTL RTA Tanks
If you're after the ULTIMATE MTL vape experience, there really is only one game in town: Kayfun.
Kayfun tanks are pricey, but once you've experienced one, well… there's kinda no going back.
I know spending $119 on a vape tank might not be for you, but my Kayfun V5 is one of the best investments I ever made (in terms of my vape gear).
---
It never leaks, it's simple to wick, the flavor is out of this WORLD, and you can run the tank at 10W and still get TONS of performance.
This means the battery on a single cell mod, which usually craps out after a few hours with normal RTA tanks, lasts for DAYS.
Yep: DAYS – Kayfun's run on such low power that your mod will last upwards of two-three days, depending on how many cells it has.
And that, my friends, is what you call one hell of a divined on your investment!
---
How To Wick An RTA Tank Perfectly Every Time
If you're worried about wicking and building on an RTA deck, check out the following videos below.
They will tell you EVERYTHING you need to know about wicking and building on RTA decks (regardless of make and model)!
---