The new Wotofo Troll X is giving me a serious case of nostalgia. The original Troll was what put Wotofo on the map, way back in 2015! So how does it's new legacy hold up? Today we take a look at all of the new features.
---
The Troll X RTA: Rebuilding a Legacy
I remember the exact day that I got ahold of an original Troll RDA. It was the summer of 2015, and it was the beginning of high wattage dual-coil RDAs. The original Goon RDA had just came out, and it set the bar for what a dual coil RDA should be.
At the same time, Kennedy had also just started the journey to making the best dual coil RDA of all time (In my opinion!). All of these new dual RDAs had something in common: tons of airflow. These were built for high wattage vaping!
High wattage was also a very new concept. Regulated mods had just started to creep over 100 watts. The Sigelei 150 was new, and probably the most powerful mod on the market at the time. SMOK and a few other companies also started producing high powered mods.
This was the beginning of what we like to call "The Golden Age Of Vaping".
Wotofo was a relatively new-ish company at the time. Now they are owned by SMOK, and have tons of products to choose from. But back then, the output from Wotofo was pretty limited, and the company had yet to have a "hit". The original Troll changed all of that!
The original Troll RDA was a two post, dual coil RDA that had gigantic airflow ports on both sides. At first glance, it looks like the Kennedy, or The Goon. But The Troll had a trick up it's sleeve. The juice well for the Troll RDA was MASSIVE. It was about 6 mm deep! You could fill it up with cotton, and never worry about getting the dreaded dry hit.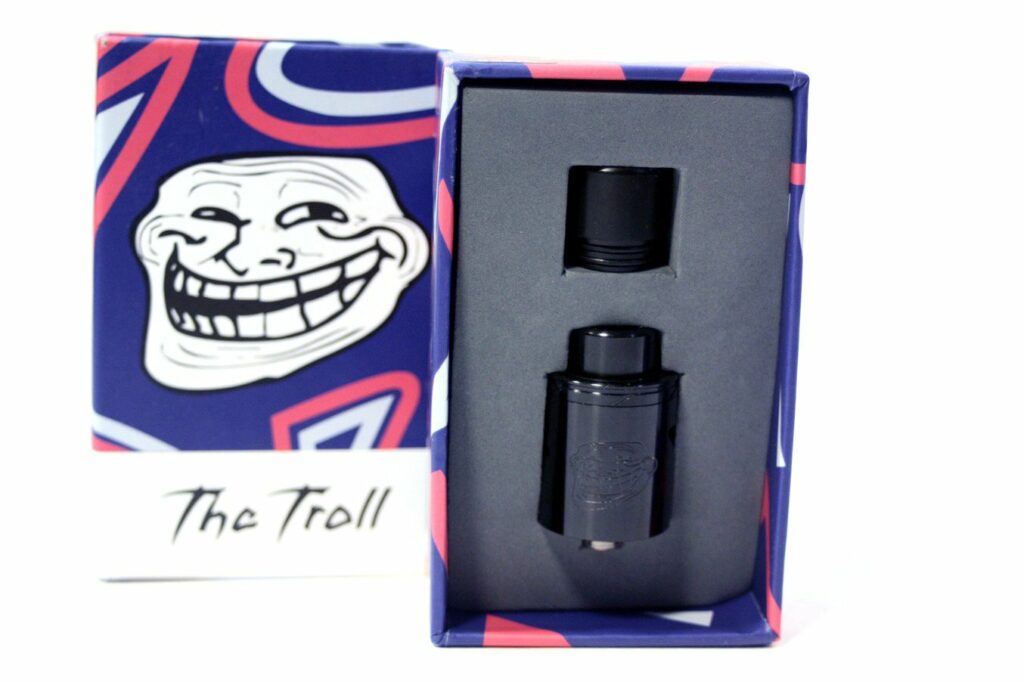 Word got around about the Troll RDA, and every vape shop started carrying them. I had two of them, because I wore out the screws for one of them. I had used it that much! I liked the idea that the bottom was essentially a huge juice well, and you could be reckless with the amount of liquid you dripped into the RDA.
Wotofo then took a shot at a Troll RTA. Unfortunately, it was a disaster. The build deck was pretty much identical to the RDA counterpart, and that was it's downfall. The center posts blocked the airflow on the tank. Even worse, the center post also was prone to cracking the insulator. This left you with a useless RTA tank. Mine broke after about a month of use, and I never replaced it.
But that was six whole years ago. The new Troll X RTA has a lot to live up to, but more importantly…it needs to redeem itself. But things have changed since 2015 when it comes to vaping, and Wotofo learned the lesson the hard way. How does the Troll X stand up to it's modern day competitors? Today we will take a look, and compare.
The Troll X RTA: Features, Specs, and Design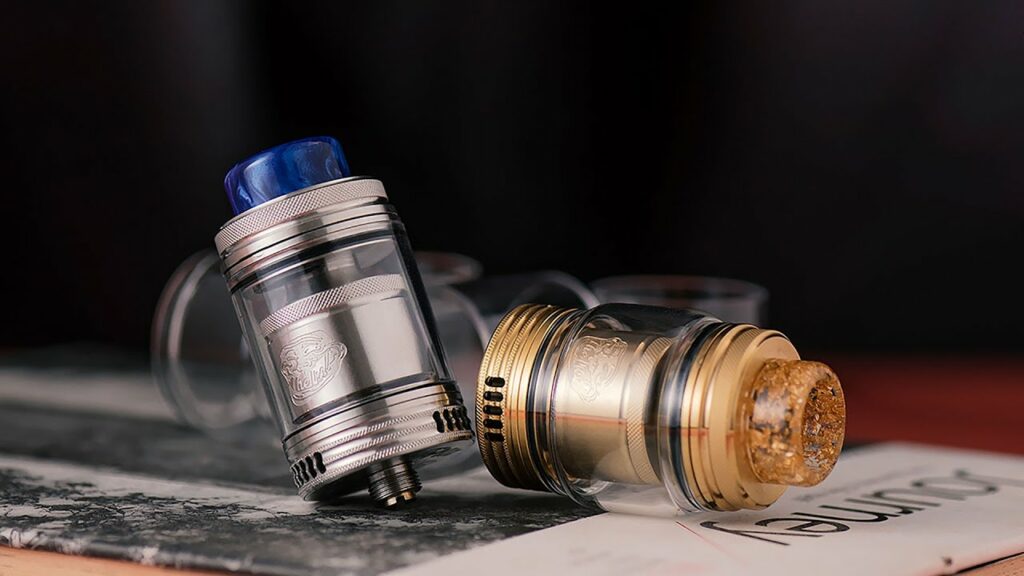 What's In The Box?
1 x The Troll X RTA
2 x 0.33ohm Ni80 Framed Staple Clapton
2 x 3mm Thick Cotton Strip
2 x Airflow Inserts
1 x 4.4ml Bubble Glass Tube
1 x Coil Trimming Tool
1 x Cross Head Screwdriver
1 x Accessory Bag
1 x User Manual
Troll X RTA Features:
Height: 36mm (without drip tip & 510 pin)
Deck Diameter: 24mm
Drip Tip: 810 resin drip tip
E-liquid Capacity: 3.0ml straight PCTG tube for Standard Edition
4.4ml bubble glass tube included
Filling Method: Top filling
Airflow Type: Bottom airflow
Coil Type: Wire Coil
Coil Type: Single/Dual Coil
Insulator Material: German PEEK
Threading: 510 thread
Two Airflow Choices
Let's start at the top, and work our way down! The Troll X RTA is you standard 24mm RTA, which means it will fit on just about any mod, without a problem. It has your standard 810 wide-bore drip tip, and can be converted to 510 with an adaptor. These are the same drip tips you get with The Profile Series. They are colorful, and very comfortable.
The top cap is a sliding mechanism that we have seen on tons of Wotofo and Vandy Vape products (And definitely the parent company, SMOK). I have a love/hate relationship with these kinds of top caps. Most of them slide far enough back to fit the tip of the juice bottle in the rubber filling grommet. The Troll X RTA slides far enough back to allow most sizes of bottles to fit. The top cap slides into place pretty securely, also.
The Troll X RTA comes in all the usual colors that Wotofo produces, so there is a color out there for everyone. I am a big fan of the blue color. The Gunmetal is also pretty cool looking!
The tank section has your standard straight glass pre-installed, with this configuration it holds about 3ml. The bubble section it comes with expands the capacity to 4.5ml. Sometimes, bubble glass sticks too far out for me, and i think it looks silly on top of a smaller mod. This bubble glass is much more subtle, I'm happy to report.
The chimney section has the now-famous "Troll" logo etched on the side. The chimney port is tapered going up to the mouthpiece, and this should direct the vapor straight to mouthpiece. It's only a slight taper though. I have not have any problems with condensation in the barrel.
The deck of the Troll X RTA is the star of the show. This is a "postless" design that we have seen on tons of RDA/RTA products that we have seen from Wotofo, Vandy Vape, and Hellvape. It's funny that we rarely see the "postless" design anymore these days, as it has been done to death.
So this design for inserting the coils isn't new at all. But like the original Troll RDA, the new RTA has a trick up it's sleeve. The Troll X RTA comes with two different, unique airflow inserts, seen below.
Get The New Troll X RTA From VaporDNA Today For Only $32.95!
Both of these airflow inserts easily sit in the middle of the deck. They are easy to swap out, and just click into place. It is important to note, that you can change them out when you have a build already in the deck. You see, the inserts slide into place, underneath the coil(s). So if you want to try out both inserts with the same build, you do not have to remove the coils. That's pretty cool!
On the left, we have the "Slim Groove" insert. This insert is wide open to me, and provides a huge amount of airflow. It allows you to take some pretty big hits with the bottom airflow control wide open. It feels almost like there is nothing covering the middle at all! This is perfect for a dual coil build.
The "Honeycomb Dot" insert is a little more reserved. It doesn't give you that big, whooshy, wide open airflow at all. This is more smooth, and a little more restrictive. I feel like this was designed for a single coil build. You can dial down the exterior airflow ring, and get a very restrictive vape out of this insert.
I think it's safe to say that the Troll X RTA was designed this way. The inserts are for single and dual coil builds specifically. Sure, they would work in any configuration. But I don't think that was the intent behind the design. You could theoretically use it without any inserts at all, but I think that would cause the tank to leak.
The bottom of the Troll X RTA has a spinning, adjustable airflow ring. The ring has four vertical ports that I think are a throwback to the original Troll RDA. The original used slanted vertical ports that look awfully similar. There is a bit of knurling on the airflow ring and it spins nice and smooth.
Building On The Deck
This is a pretty easy build in my opinion. It reminds me of quite a few products, and for a good comparison of how to build it, I would look at the Dead Rabbit. You have plenty of room on either side for your juice wells. This is easy to navigate as well. Just fluff out the cotton, and set it in the wells.
There is one caveat to all of this, unfortunately. If you are going to do a dual coil build, you need to definitely pay attention to the size of your coils. This is only a 24mm RTA, and the way the deck is built, you don't have tons of real estate for dual coil.
I tried it out with 3mm dual coil, using my own quad-core clapton wire. This was tight. Very tight. From the pictures I saw online, I did not think this would be the case.
I had about a millimeter of space in between the two coils in the center of the deck. That can be dangerous, as it could easily short out if the coils were touch each other. Especially on a mechanical Mod. But to be fair, my wire is pretty thick stuff!
So I tried out the two coils that came with the Troll X RTA. These were definitely not the same girth as my wire. After installing them, I found it was still a pretty tight fit. There was about 2mm between the coils.
At any rate, you should be mindful when installing coils. I would recommend making some 2.5mm coils in you plan on running dual. 3mm inner diameter is just cutting it close, in my opinion.
In single coil mode, this RTA really shines! I used the same quad-core clapton build with my wire, at 3mm. I installed the Honeycomb airflow insert for this build. I may just be biased, since I like single coil atomizers better than I like dual. But the airflow and flavor is definitely on point in single coil mode.

The Troll X RTA: Final Thoughts
Well, it looks like Wotofo have definitely redeemed themselves with the Troll X RTA. The original RDA was a classic, and this RTA had a lot of hype to live up to for older vapers like myself. But that's kind of the deal, isn't it?
The new Troll X is playing on our nostalgia, as a selling point. SMOK/Wotofo know exactly what they are doing.
If you put this new RTA next to any of the other Wotofo Troll products, they don't really have a lot in common except the logo. There is nothing in the Troll X RTA design, that reminds me of the original. This is a complete overhaul, not a redux of the original.
Does this make the Troll X RTA a bad tank? No, not at all!
In both modes, this RTA has great flavor and is easy to build. In single coil mode, it is absolutely fantastic. I feel like the Honeycomb Dot Airflow Insert is very smooth, and it's the one I have ended up using all of the time. This is a great RTA! I just don't think it belongs in the "Troll Family" of atomizers. It is a "Troll" in name alone.
I still recommend it to intermediate builders that want to try out something new. And if single coil RTAs are your thing, I would definitely check this one out. I am thoroughly enjoying it as I write.
Get The New Troll X RTA From VaporDNA Today For Only $32.95!
Christopher Horton