The Freemax GEMM 80W kit is a disposable mesh tank and tube mod combo that is designed to powerful and flavorful. But is it better than the Freemax Twister?
---
Freemax GEMM 80W – Quick Verdict (75%)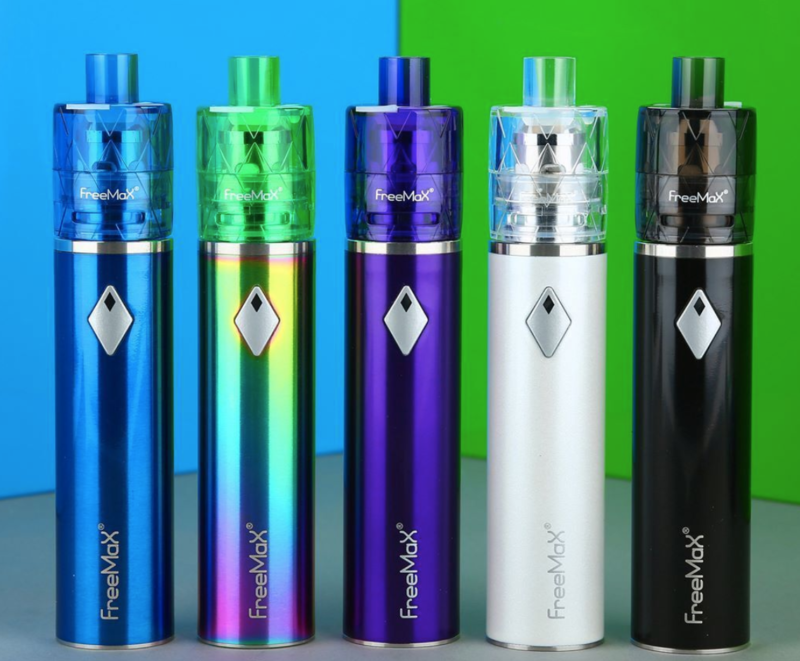 TL;DR Verdict – The Freemax GEMM 80W kit is a pretty basic tube mod and disposable tank combo. As readers of VapeBeat will know, I'm not a big fan of disposable anything – we got enough plastic as it is! But as Freemax's first bash at this novel style of tank, how does it stack up? Is it legit? Or are you better off with Freemax Mesh Pro and a standard box mod?
The big thing about the Freemax GEMM 80W kit is that it packs in a big-ass battery (2900mAh). That's bigger than the Freemax Twister and it'll get you through an entire day of vaping. You can switch the tube mode between three modes (soft, medium, and hard) with three quick-clicks of the fire button, though there is no variable wattage/voltage.
The disposable tanks (you get two in the pack) rock mesh coils, as you'd expect, and performance is OK. Compared to the Freemax Mesh Pro, it's not even close, however, that tank has these disposable ones beat in every regard. But that's kind of given; they're bigger and feature more complex coils.
As disposable mesh tanks and tube mods go, the Freemax GEMM 80W kit is one of the better options. It has a large battery life, the mesh coil tanks kick out decent flavors, and you have up to 80W to play with. I just don't really get who this type of device is targeted at; I mean, why would you get this over a box mod and mesh coil tank?
I also don't like the wasteful nature of disposable tanks. This is kind of why I gravitate towards rebuildable tanks. They're more economical, they produce better flavor, and the cause less pollution. Having said that, if you want the convenience of NOT having to think about coils or wicking and priming, then I guess a setup like the Freemax GEMM 80W kit makes a lot of sense. It's certainly very easy to use, having literally no learning curve.
Battery life is good. The flavor is good. It looks decent enough as well. I just don't think I'd ever use something like this over a traditional box mod and vape tank combination. Nevertheless, I know a lot of vapers like this kind of thing, so if you're one of those guys, the Freemax GEMM 80W kit is definitely in the top 1% of disposable mesh tank kits that I have tested.
You Can Pick One Up Via HeavenGifts For $24.18
---
Full Freemax GEMM 80W Kit Review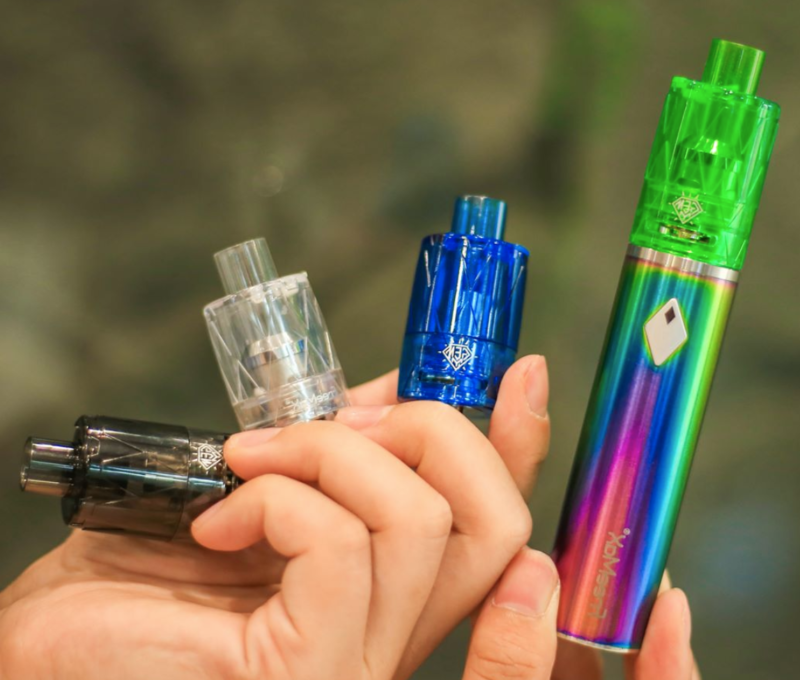 Design
Whenever I review a tube mod, I always kind of dread this bit of the review. What can you really say about a tube with a tank stuck on the end of it? It's not that they all look the same, it's just that it is hard to really do anything truly unique and/or interesting with this kind of design format. Sort of like certain pod vape systems – they all kind of start to look the same after a while.
The Freemax GEMM 80W kit is a solid, well put together piece of kit, however, that is available in a range of colors – rainbow, blue, purple, white, and black. The tank is made from plastic, as you'd expect, and features a non-removable mesh coil (the G1, single mesh, and the G2, dual mesh). On the side of the tank, you have an AFC system, for fine-tuning your vape.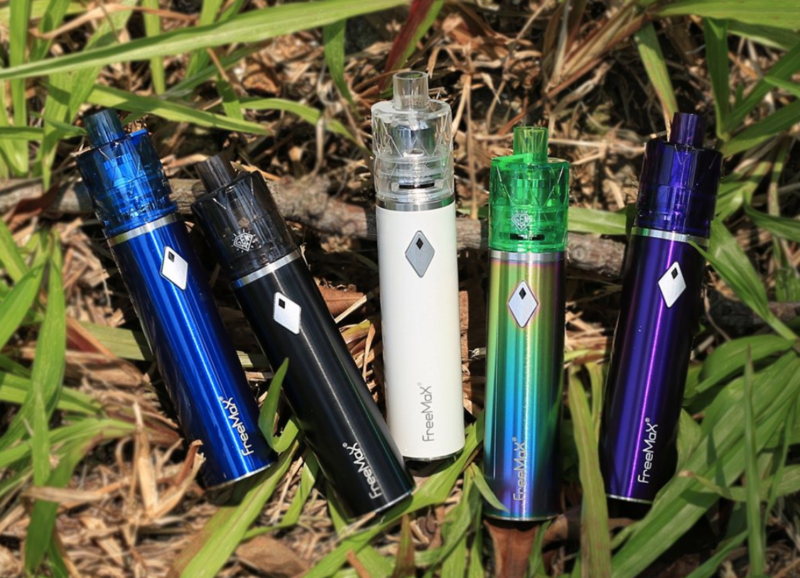 There's a microUSB port towards the top of the tube mod for recharging its 2900mAh battery. No USB Type C, though, so no fast-charging, sadly. Beyond this port and the fire key, that's the only break in the mod's design – everything else is cylindrical and flush. Overall, it's a good-looking mod that places simplicity and performance over marketable gimmicks and cheap design tricks.
Exact dimensions for the kit, fully assembled, are L85mm x D25mm and, as noted earlier, it does have quite a heft to it when held in the hand. It's not a small device by any means, but it is also not something I would consider unwieldy; it's kind of somewhere in the middle ground, being smaller than a box mod but bigger than a pod system like the Lost Vape Orion Plus.
Specs
Size: L85mm x D25mm
Built-in Battery: 2900mAh
Output Wattage Level: 40W/60W/80W (0.15ohm), 40W/60W/80W (0.2ohm), 20W/25W/30W (0.5ohm)
Output Voltage Range: 0-4.2V
Output Current Range: 0-42A
Resistance Range: 0.1ohm-3.0ohm
Power Efficiency: 95%
Performance
With a max of 80W under the hood, the Freemax GEMM kit is one of the more potent tube mod/sub-ohm tank kits available right now. Do you need 80W for this tank, though? Not in my experience, and not if you want the coils to last longer than a week. I found the mesh coils inside the tank performed optimally on the middle setting.
Rock the tank on full power and it simply fries the mesh coil in no time at all. For this reason, if you're sensible, you'll start the tank off on the lowest setting and then, once the flavor comes in, bump it to the middle setting and leave it there.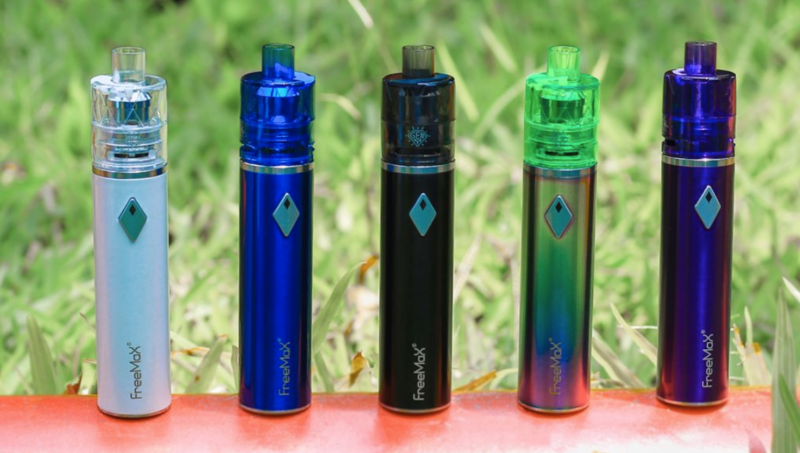 Out of curiosity, I tried the tube mod with a couple of my RDAs. It worked OK, actually – though I wasn't keen on not knowing exactly what it was out-putting. Either way, whatever it was sending, my RDAs seemed to like it. They all kicked out plenty of vapor when strapped to the Freemax GEMM tube mod. Would I use it like this often? No. And the reason for this is simple: you never really know what the mod is outputting. And that's a bit risky.
As with most vape kits of this style, you're always best off using it with the tank it came with. Freemax developed this mod for use with THIS tank, not your RDA, so it's always best to err on the side of caution in this respect. It will work, I just don't trust it because I have NO IDEA what's going on inside it!
Battery Life
Battery life is OK, I managed to get through about 2.5 tank's worth of vape juice before the battery crapped out. The 2900mAh is a respectable size, though at higher wattages, the drain is noticeable. Ideally, you'll keep it on the lower settings and eke out more from the device's internal power train. This is what I did, anyway.
With moderate to average vaping, you can stretch it through a full day but if, like me, you work at home and vape whenever the hell you want, it's not gonna last much past 3PM, providing you're up and vaping by 7:30am. As always, high power devices use more battery and the GEMM tube will output 80W. That's high, so keep it at a lower setting if you want to extend the battery.
How about recharging? Well, there's no way of getting around this – the Freemax GEMM 80W kit is terrible at charging. You're looking at 3+ hours for a full recharge from dead. This is why you need USB Type C; it enables fast-charging and makes devices like this way more useful. Without it, well… you're going to be constantly getting annoyed by how long it takes to charge up, especially if this is your only vape.
The Disposable GEMM Tanks (Flavor & Coil Lifespan)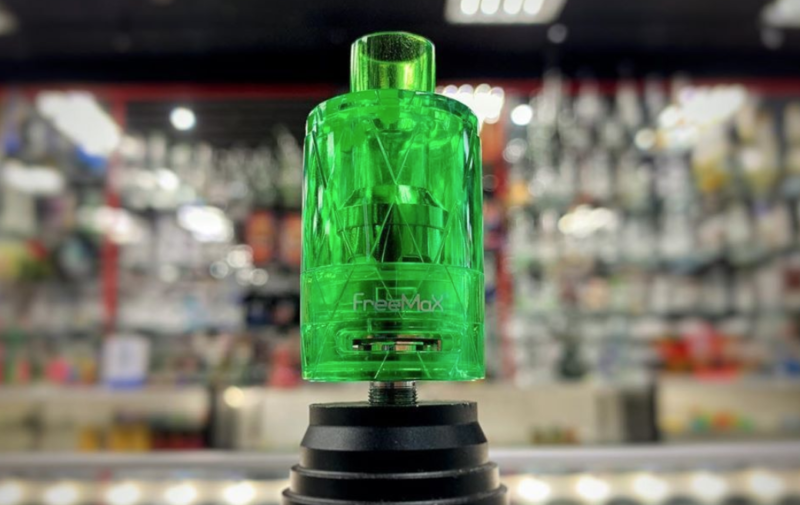 The GEMM Tanks are disposable, which I don't like, but I'm not going to dwell on this. All I'm concerned about here is how they vape. And in this context, they're pretty good. Not brilliant. But good enough for this style of vape product.
Personally, I'd take a proper mesh coil vape tank and box mod over this kind of thing any day of the week, but for fans of disposable mesh coil tanks, I guess I'd have to say the GEMM tanks are pretty good.
You get two in a pack and there are two coil options: G1 (single mesh) and G2 (dual mesh). As you'd expect, the G2's provide better flavor and denser clouds. Neither disappoint in the flavor and cloud department, however, but if I could only use one, it'd be the G2.
As for the coil lifespan, I've been getting a respectable week-and-bit from each tank. Not great, but, again, perfectly acceptable for this kind of thing. Filling up the GEMM tank is nice and easy too, thanks to its easy-to-open kidney-shaped ports that are located on the top of the tank.
I ran all my favorites from the VapeBeat Store through the GEMM Tanks and it all tasted great as usual. The GEMM tanks won't cause the Falcon King or UWELL Valyrian 2 any trouble, but for what they are the overall flavor is very good, indeed. It just depends if you're the kind of guy or gal that'd be a disposable tank. If you are, the GEMM Tank is probably one of the best options out there right now.
Should You Buy The Freemax GEMM 80W Kit?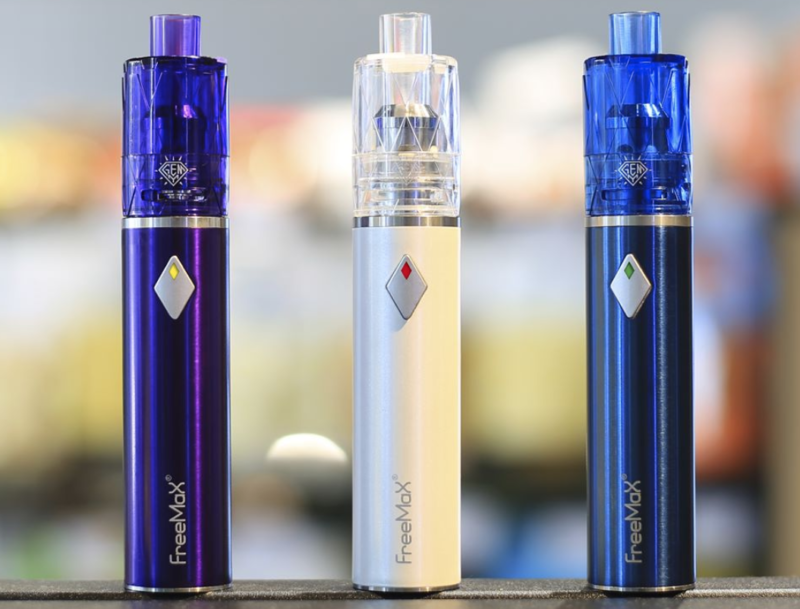 Arghhh… this is a hard one to call. Personally, I would never use something like the Freemax GEMM 80W Kit. And the reason for this is simple: I don't like disposable tanks and I like to know what's going on with my mods. Given a choice between this and pod mod, I'd take a pod system like the Lost Vape Orion Plus any day of the week.
But there's no getting around the fact that the Freemax GEMM 80W Kit does provide some pretty good vaping experiences. You have plenty of power, an OK(ish) battery life, and the GEMM tanks – in both contexts – produce very good flavor, airflow, and clouds. I just can't really think of a user-case where a disposable tank would be a better option than any one of the top-rated vape tanks on offer right now?
Maybe I'm wrong, here, but this is just my honest opinion. I love Freemax, but this one's a swing and miss for me. And if you want my advice, just get yourself the Vaporesso Gen and the Freemax Mesh Pro vape tank instead. Yes, it'll cost more. But you'll get SO MUCH more out of them in the short, medium, and long term.
You Can Pick One Up Via HeavenGifts For $24.18
Drake Equation
Co-founder and Editor of VapeBeat. I make the words.