HorizonTech's Falcon tank has been getting A LOT of praise of late. But is the hype legit? Nick took one for a spin to find out…
---
The Falcon Tank is still one of the best sub-ohm tanks money can buy, despite it now being a couple of years old. If you're looking for brilliant flavor, great coil performance, and a stunningly designed vape tank, look no further – the Falcon Tank still has what it takes to be considered one of 2021's top-tier tanks.
And because it is now getting on a bit, you can pick up for next to nothing – just $23.95 over at DirectVapor. That's a steal for a tank this good. And this tank is designed for long haul usage too. I've had mine since 2018 and I still use it today – almost three years later!
And, trust me, with vape tanks and vape gear in general that kind of longevity is exceedingly rare…
Quick Verdict – One of 2021's Top Mesh Sub Ohm Tanks (98%)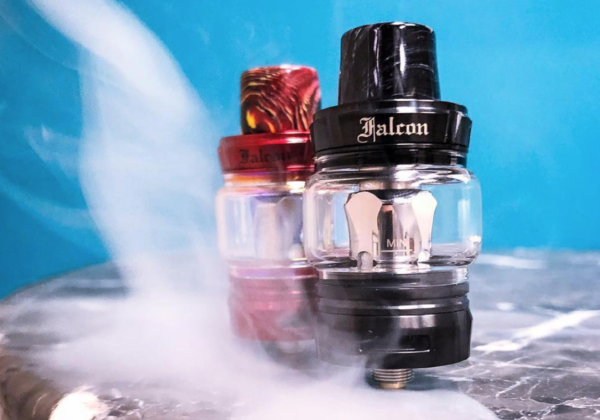 Best Place To Buy Online | DirectVapor | $23.95 
Falcon Tank Pros 
Exceptional Coil Heads 
RDA-Grade Flavor 
Gorgeous Design 
Simple To Use
Best Flavor of Any Tank In 2018
For me, the Falcon Tank is easily the best vape tanks around. It packs in stunning RDA-grade flavor and runs some of the best mesh coil heads in the business.
It is built flawlessly and it vapes unlike anything else! The clouds are mega and the airflow is wonderfully smooth. But what really sets this tank apart from the crowd is its flavor performance…
No other sub-ohm tank can claim to almost match an RDA for flavor, but that is what HorizenTech have pulled off with the Falcon tank. The flavor you get from your E Juice on this thing is unbelievable.
And for just $25.95 (with FREE SHIPPING), it also serves up some of the best value for money in the sub ohm tank market right now.
This is why it has consistently topped our Best Vape Tank Guide for almost 12 straight months. The only reason it is no longer #1 is that the new Falcon King tank is even better!
---
Full Review of The HorizenTech Falcon Tank
HorizonTech started a long time ago and their first sub-ohm tank was something to be had, to say the least. I am referring to the Arctic tank by HorizonTech.
The Arctic was one of the very first high wattage tanks of those days and it did a fantastic job, for its time.
Other notable HorizonTech tanks include the Arctic V2 and the Arctic Turbo.
But then HorizonTech seemed to disappear from the limelight for it…
And then, earlier this year… the KING returned!
Falcon Tank Review – Design & Pitch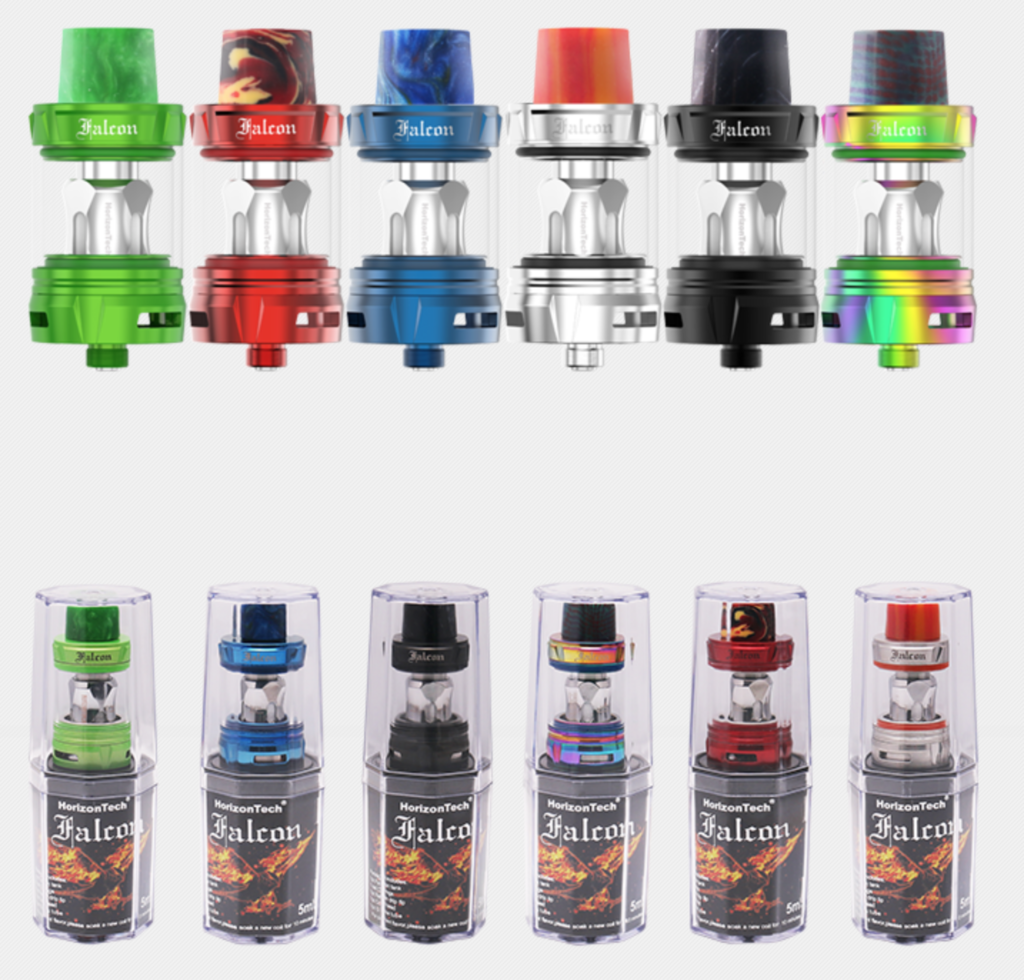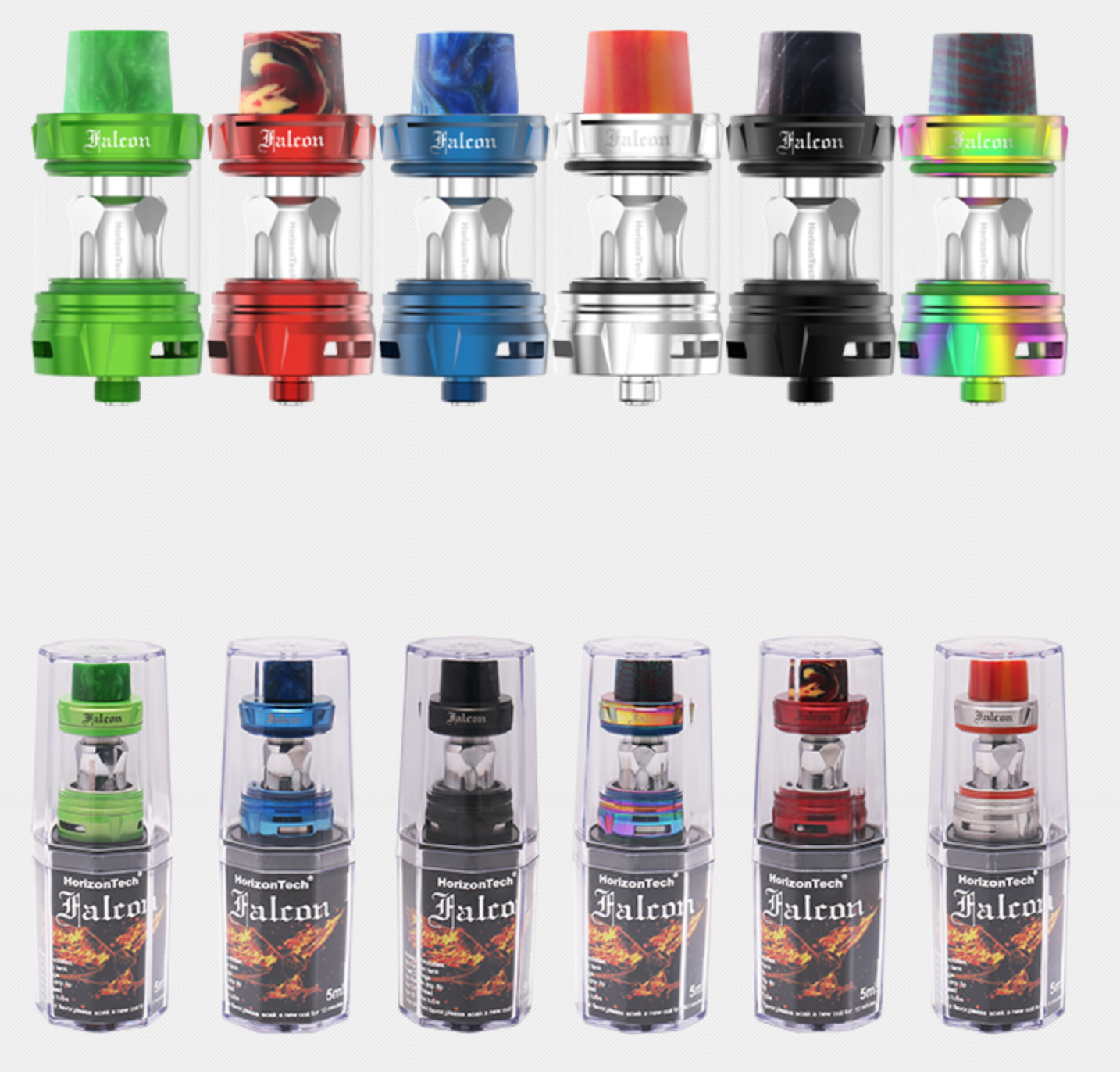 Have you ever wondered what it would be like to have that perfect tank?
That amazing flavor and billowing clouds? More often than not, its hard to find a tank that can give you both.
I mean, sure I enjoy my Prince with mesh coil, my Arc, even my newly acquired Aero by GeekVape.
All these are good tanks, so don't get me wrong here.
But, I was looking for that one tank, that perfect tank that could give me BOTH amazing flavor and those massive clouds that you get from RDAs.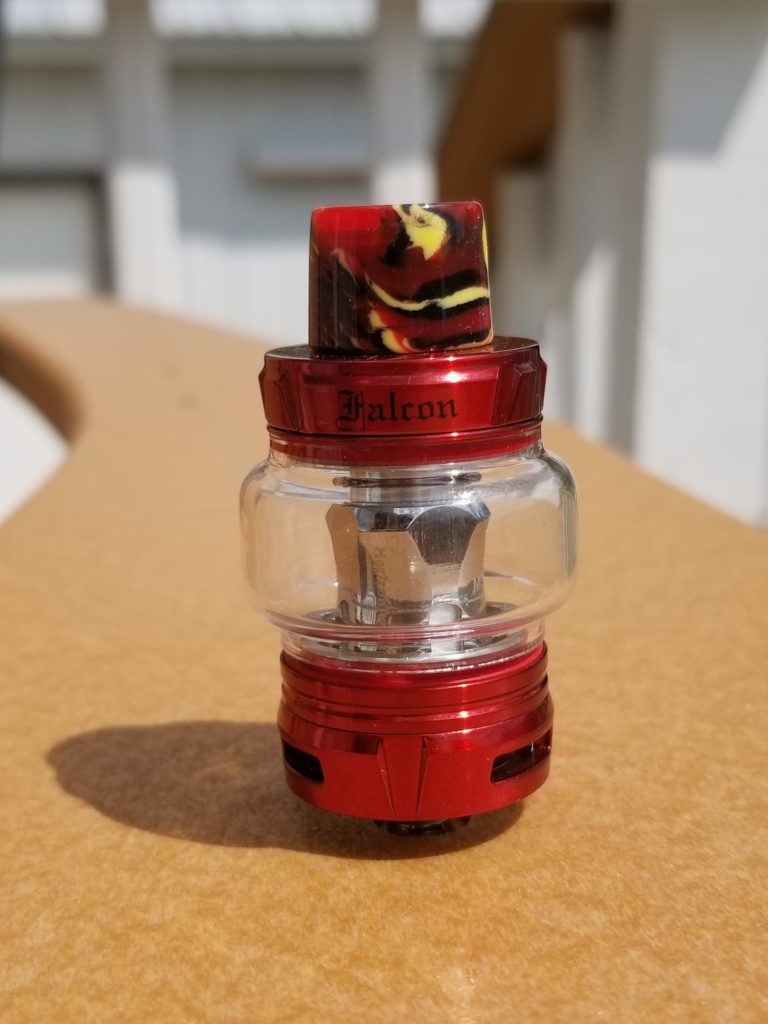 So, imagine my surprise when I stumbled into my favorite local vape shop and find the new HorizonTech Falcon!
I have to admit something here, I love eagles and Falcons so with that said, I was already looking at buying the Falcon.
My guy at the shop raved on about the Falcon and from previous experiences, I learned to trust him.
But, one thing was gnawing at me…could this really be true?
I bought the Falcon and never looked back.
Below is an overview of my testing of the Falcon by HorizonTech.
I hope you enjoy reading but furthermore, I hope you buy one for yourself.
Falcon Tank Packaging and First Impressions
The package containing the HorizonTech Falcon is similar to the Valyrian by UWELL.
A tall, yet slimmer profile with the Falcon displayed in the top half while the bottom half includes some extras, which include:
1 x Set of O-Rings
1 x M1 Falcon Coil (0.15ohm)
1 x F1 Falcon Coil (0.2ohm)
1 x 11mm Bore 510 Drip Tip
1 x 8mm Bore Resin Drip Tip (Resin Color Random
1 x Spare Glass Tube
A really good haul considering the average price of around $30.
The lower half has the word Falcon printed in stunning chrome while a cool flaming Falcon is right below it.
A simple yet elegant design that's sure to catch the eye.
Now, let's get right to the star of the show, the HorizonTech Falcon.

What a glory to behold, simply stunning.
The design is unlike any I have seen before. The quality and detail are absolutely superb!
The top twists off in two short turns for that easy to fill quick access.
The Falcon comes apart very easily and goes together buttery smooth.
No flaws here, or there.
The matching drip tip is a huge plus and accents the color of the tank you choose very nicely.
The coils have a unique look as well, reminds me of polygonal shape.
Falcon Tank Specs
E-liquid Capacity: 7ml
Glass Tube Diameter: 24mm
Excircle Diameter: 25.2mm
Tank Length: 55mm
Liquid guiding element: 70% cotton + 30% wood pulp
Natural flax fiber
Flax fiber & flax paper 30% wood pulp + 70% cotton
Both standard coil and mesh coil
Falcon Tank Performance: It's OTHER-WORLDLY!
While both included coils performed flawlessly I must emphasize the superior mesh coil.
The mesh coil lasted me almost 3 weeks of solid vaping at 75W.
For this reason, and a bunch more, it is currently topping our Best Vape Tank Guide.
I ran three different eLiquids through the mesh coil and the flavor came through without any issues.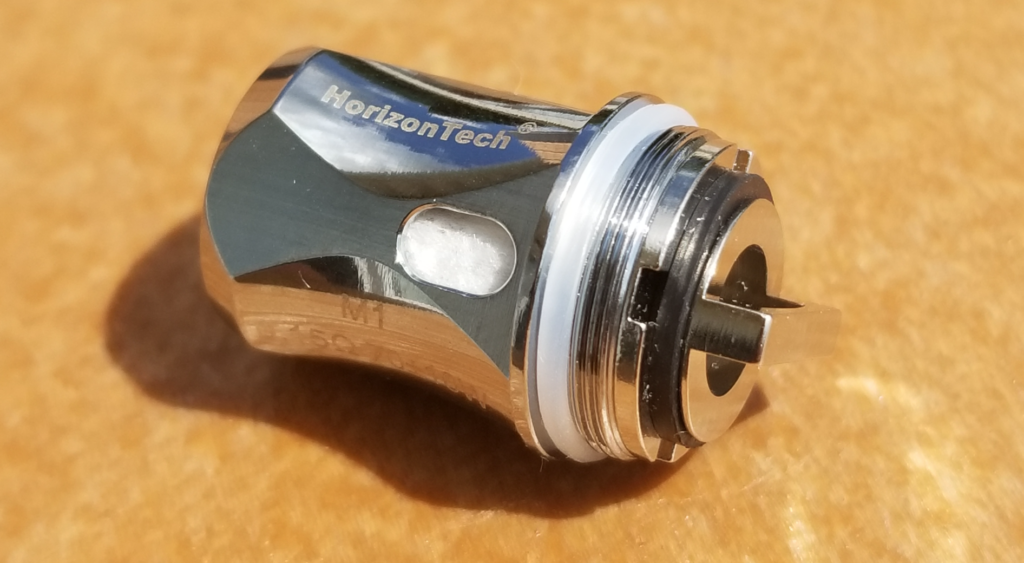 The clouds were thick and in great abundance. If you chain vape, the Falcon will get a bit warm to the touch.
Thankfully the drip tip saves you from the extra warm metal. I did chain vape the mesh coil to try to get a dry hit and I failed to do so.
The Falcons mesh coil soaks fast so you can rest assured that each hit will be as savory as the last.
The standard coil is no slouch but I would only use one eLiquid and not do a heavy chain vape session.
You will get good flavor and good clouds from the standard coil but the mesh coil is the clear winner here.
Falcon Tank Review – Verdict?
With a plethora of options from sub ohm tanks to RDAs, it's hard to get that "perfect balanced vape".
With the HorizonTech Falcon, you'll get just that: the "perfect balanced vape" – and maybe even more.
I used to think the UWELL Valyrian was the best sub ohm tank of 2018, but after using the Falcon tank I am now 100% converted.
This sub-ohm vape tank is going to take some beating!
---
Falcon Tank Rating
Cloud Production – 10/10
Flavor – 10/10
Build Quality – 10/10
Coils – 9.5/10
Overall – 9.8/10
---
Best Place To Buy Online | DirectVapor | $23.95 
Nick Jennings
Reviews & Tutorials Guy. If You Can Build It & Vape It, I'm Your Man!