Interested in a VooPoo Mod? Lynda takes a look at the major differences in this VooPoo DRAG vs VooPoo Too comparison article, so you can decide which VooPoo mod is the right fit for you
In my opinion, one of the best chips on the market today is the Gene chip by Voopoo.
Normally, high-performance vape chips cost A LOT of money – see YiHi and DNA mods – but VooPoo does things slightly differently.
It competes not only on performance and features but also on price which is why the VooPoo DRAG and VooPoo Too are two of the most sought after mods in existence right now.
Also! The VooPoo Drag is STILL ranked #1 inside our Best Vape Mod Guide – yep, it really is that good.
The VooPoo DRAG and VooPoo Too are almost identical in performance, but quite different cosmetically.
The point of this VooPoo DRAG vs VooPoo Too article is to detail the differences between the two devices, so you can decide at the end which is the best option for you.
VooPoo DRAG vs VooPoo Too – Performance Overview (VooPoo's GENE Chip)
In my opinion what makes these mods so great is the Gene chip.
It's 95% efficient, so you'll find yourself using fewer batteries to get through the day than with most other mods.
And in this VooPoo DRAG vs VooPoo Too comparison, this is the KEY thing you have to remember; the heart of these devices is the same.
The time between hitting the fire button and firing is also almost instantaneous.
VooPoo mods are also A LOT easier to use than SMOK Mods (and they're better too).
This chip also auto-detects the resistance of the coil that you put on and automatically sets it at the lowest recommended wattage.
This prevents you from smoking a coil when you go from a high-wattage tank to a lower-wattage tank and forget to adjust your wattage.
You can adjust the wattage once it sets the initial wattage. It's also equipped with a power curve and bypass mode if you're into those things.
It also does temp-control. It has the standard 5-clicks on, 5-clicks off type of chip.
Another neat little feature is that the display is the brightest right after fired and slowly dims until it shuts off.
The 510 connection is also screwed in with two screws rather than press-fit. It goes up to 157 watts, but 157 with the Gene chip is more powerful than much higher settings on, say, a SMOK Alien.
The other MAJOR difference, though it won't make much difference to most people, is that the VooPoo TOO has a higher max output; the DRAG tops out at 157W, while the VooPoo TOO can do 180W. As I said, for most users, this will not be a big deal. I seldom go other 100W, and I always use RDAs, but it is definitely something to keep in mind if you worship at the alter of POWER.
VooPoo DRAG vs VooPoo Too – The Physical Differences (AKA Design)
Now, for the external differences. The original DRAG is a metal box with a removable plate on the battery side. It comes in a metal box (black or silver) with a resin plate on one side and DRAG painted on the other side, or a totally metal version with DRAG embossed on both sides in either silver or gun metal.
It uses two 18650s that go in side-by-side like your traditional dual battery mods. The display shows your wattage, coil resistance, voltage (when firing) and a single battery indicator with 5 bars.
When you plug it in to charge (obviously an external charger is best, but I haven't had any issues the few times I have used the on-board charging), it does display the individual batteries as they charge.
In comparison, the VooPoo Too has the same display as the original DRAG with the addition of a fire-button counter (tells you how long you held down the fire button) and it does show both batteries as they discharge.
One other small change they made that is kind of annoying to me is that they changed the font of the display and the 'W' on the VooPoo Too looks like an upside down M, whereas the original DRAG looks like an actual 'W'. As far as performance goes, however, there is nothing to separate the two mods – both are behemoths!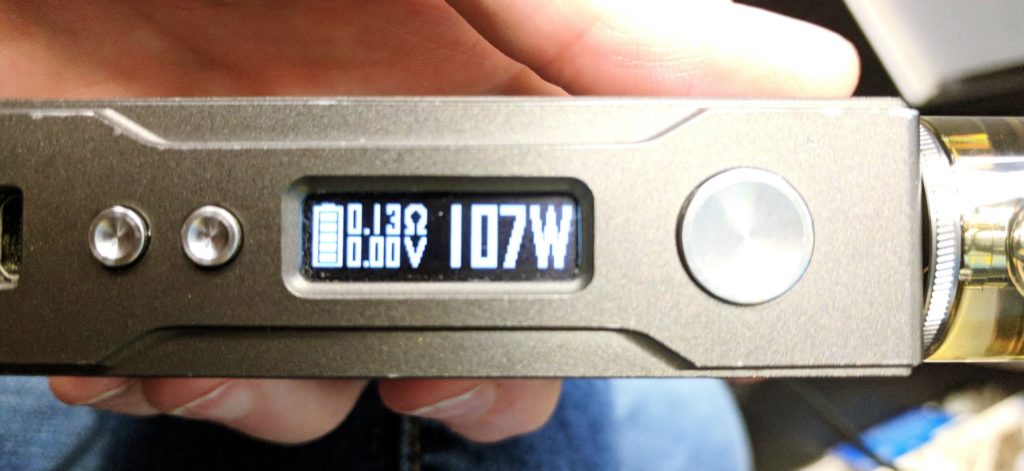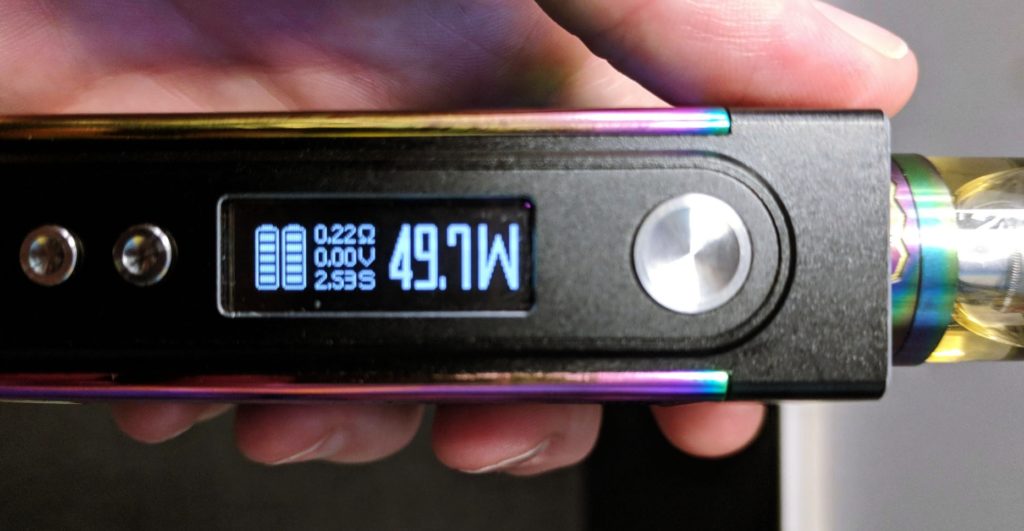 Probably the biggest difference between the two models is the battery doors. The DRAG, as I mentioned uses a conventional magnetic door that covers both batteries. The VooPoo Too has battery doors that slide to the side to open, and you insert a battery on each side.
So far, they have 4 color styles on the door (white and turquoise snakeskin, a greenish-blue fine-grain reptile pattern that I call 'lizard', black carbon fiber, and another snake with a different pattern that they call 'raisin' and both come on either a silver or black box.)
All doors have a thin neochrome frame. The VooPoo Too is also capable of running on one battery or two, but since this doesn't change the form factor any, this feature seems more gimmicky than anything. I do like the sliding doors (which can be removed and swapped out with different doors and also have a pattern on the inside of the door as well), but sometimes if you hold it a certain way, you can put pressure on the doors and make them slide out the tiniest bit.
A simple adjustment to the way you hold the mod fixes this, but I thought it worth mentioning. Customisation apparently comes with a small price!
The original DRAG is also uniform in width with the 510 connection on the side with the fire button. In contrast, the VooPoo Too has angled sides with the widest part in the middle, and the 510 is centered. This allows you to use larger atomizers without any overhang.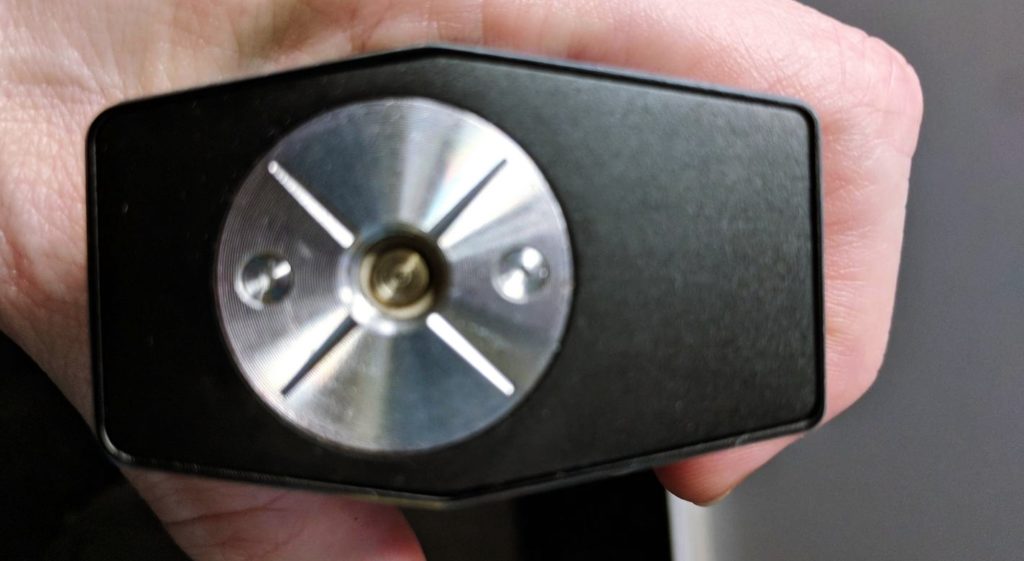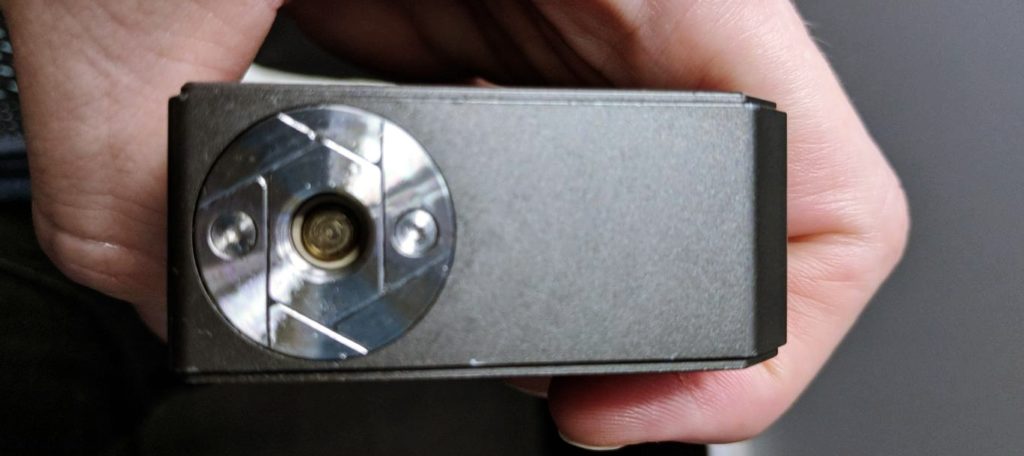 The DRAG also has somewhat sharp edges to it that some people find uncomfortable (I don't mind it much), while the VooPoo Too is more rounded and comfortable in the hand.
I really don't think you can go wrong with either of these mods since the Gene chip only has a failure rate of only 6 in 10,000 and the website describes it as 'military grade', whatever that means.
I own both and have sold probably hundreds of both styles and haven't had a single one come back. With both styles coming in at under $100, these are great mods at a great price. Plus there's a wide variety of color/material combinations, so there's sure to be one that appeals to you.
VooPoo DRAG vs VooPoo Too – Bottomline?
As I noted above, there's not much to separate the two mods, really. The main thing you need to remember is that both run the Gene chip and this is what makes them special, so in a VooPoo DRAG vs VooPoo Too comparison it is really hard to say which mod is ACTUALLY better, as they're so similar where it counts.
Beyond this, the main difference (save for the Too being able to run on one 18650 cell) is cosmetic – i.e. how they look. VooPoo is easily one of the best mod-makers in existence right now. It creates bold, solid, and, most importantly, super-reliable mods that kick a lot of ass for not much money.
If you're in the market for a high-power, premium mod that won't let you down, you definitely need to check out these bad boys – not much else comes even remotely close to either right now.
Or, If You're Feeling Flush… 
Lynda Abshear