Love tobacco? Want Nic Salts E Juice? No Problem – We Have Just The Thing…
---
One of the trickiest things people first encounter when switching from smoking to vaping is choosing a flavor. There's so much to choose from and tobacco is never high on any retailers' agenda which sucks if you're a fan of tobacco-flavored vape juice.
When we built our E Juice Store, we knew a couple of things: 1) people want good quality vape juice at great prices, and 2) A LOT of people want access to premium, great-tasting tobacco vape juice. Specifically, tobacco Nic Salts Juice.
For this reason, as well as the fact that I love RY4 flavor juices, we built in a brilliant Nic Salts Bundle that is 100% focused on tobacco. But it's not just boring old tobacco; no, it features blends of tobacco with things like menthol, peanut butter, butterscotch, and caramel, so you have sweet and delicate options designed specifically for MTL vaping in tanks and pods.
Our Best Nic Salts Bundle Deal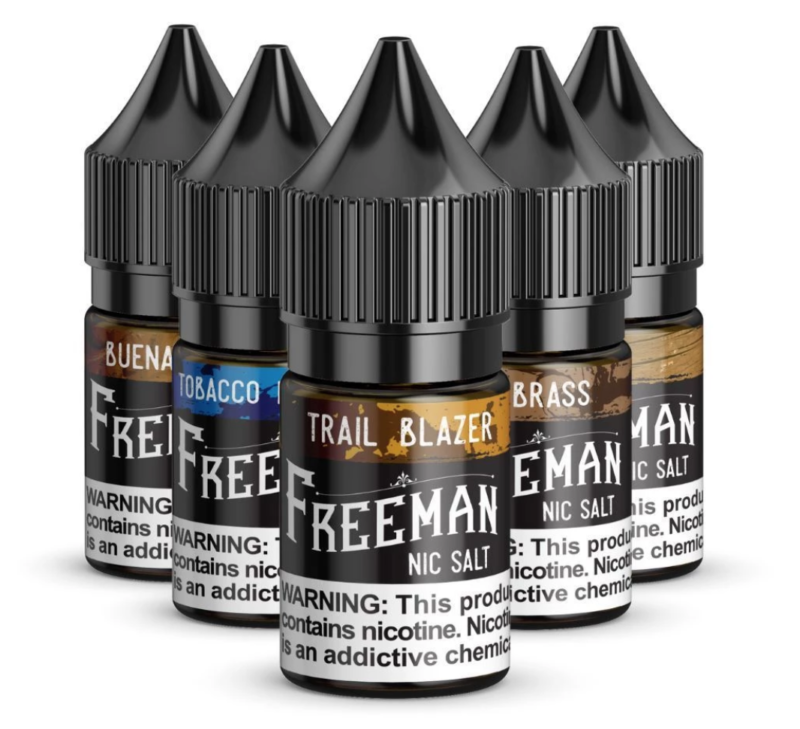 Deal Price: $69.99 (Normally $99.99) – Inc. 5x30ML Nic Salt Vape Juices
What You Get:
TOP BRASS: Creamy sweet, peanut butter with a hint of tobacco.
VANILLA CREAM: Sweet vanilla filling with a crusty dough hint, adding just a pinch of sugar on top. Made from authentic vanilla beans, this is the perfect flavor for people who are into sweet-smelling clouds.
TOBACCO MENTHOL: For the ones who know a great Tobacco Menthol salt this is the one for you.A full-bodied flavor that perfectly balances the warmth of tobacco with the chill of menthol.
RY4: The tobacco flavor that you will always come back to. Never getting old, our blend for RY4 brings new notes of warm chocolatey caramel complementing the full-flavored tobacco.
BUENA VISTA: Perfectly blended, Buena Vista has vanilla and caramel mixed together and touched lightly with classic tobacco hints. The clouds will definitely take you to sunny places.
All our Nic Salts E Juices come in 30ml bottles and are 35mg in strength. They're designed for vapers that want the most from their vapes. And while 35mg is strong, it delivers a similar hit to a cigarette, so you'll vape less as you'll be more satisfied off a couple of hits than taking 10 or more on a lower, 3/6mg high VG juice.
Best Vape Device To Use Nic Salts Vape Juice In?
Nic Salts E Juice is NOT the same as standard, high VG vape juice. For this reason, you need to make sure you use the right devices. Ideally, you want a pod vape device or an MTL tank. I use the Augvape Merlin Nano MTL RTA tank; it is fantastic and has been my daily driver for almost 6 months now.
You can use pod mods like the JUUL vape to run Nic Salts in too; they're lower power devices that are usually MTL, so they're perfect for Nic Salts E Juice in. We have collected all of our favorite pod systems from the last 12 months inside our Guide To The Best Pod Vapes – they're all brilliant, so if you're in the market for one, make sure you check that article out!
My Personal Favorite?
I'm a big RY4 man, so I adore Top Brass. For me, it is the best RY4 Nic Salts E Juice on the planet – this is why we curated it inside our ever-expanding juice store. It's sweet, delicate, and the perfect all-day, MTL vape for those that love sweet tobacco blends.
I can – and regularly do – vape Top Brass for months on end, never using anything else. It tastes great in pods and MTL tanks. And I never get sick of the flavor; for me, and quite a few of my close friends, Top Brass is our go-to, vape juice.
Coming in second would have to be BUENA VISTA, a sweet mix of vanilla and caramel. It's ideal for fans of deep, sweet vape juices. If you like your flavors thick and heavy, then BUENA VISTA is a definite must-have. It tastes awesome in pods and tanks and, next to Top Brass, is easily one of my all-time favorite Nic Salts vape juices.
Wanna try it yourself? Pick up the VapeBeat Store Nic Salts Sample Pack right now and see how good it is for yourself!
Drake Equation
Co-founder and Editor of VapeBeat. I make the words.