Do You Need A 400W Vape Mod? Steam Crave Thinks So…
By Drake Equation • Updated: 09/17/21 • 4 min read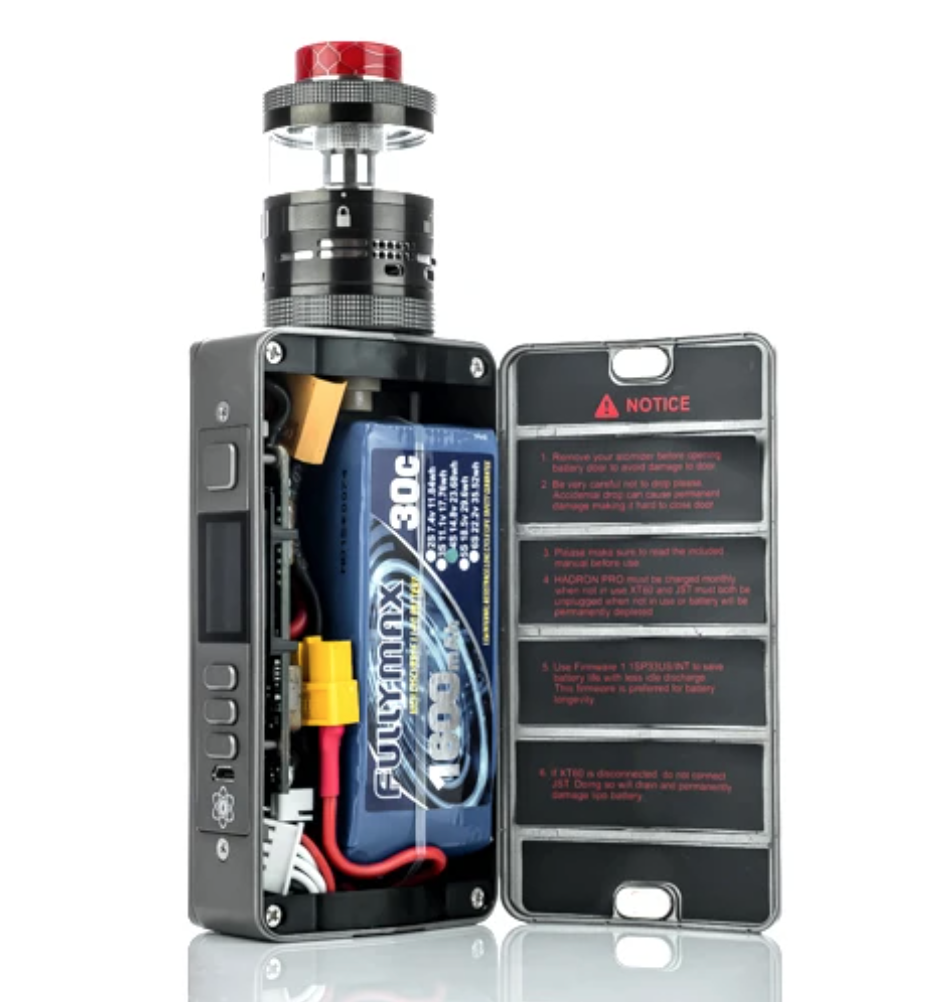 To call the Steam Crave Hadron Pro DNA250C box mod insane would do it an incredible disservice; this vape mod is way more than that – it is ludicrous!
---
Does anybody need 400W of power inside their vape mod? Do you need a vape tank that can hold 32ml of vape juice? Maybe. If you're a giant that has enormous clothes and lives at the top of a beanstalk.
Either way, Steam Crave clearly thinks differently which is why it developed and released what can only be described as the most powerful, humongous vape mod ever created. It runs on EVOLV's DNA250c platform, so it will be a brilliant performer too.
But I just don't see why anyone would use it!? I mean, it's cool, sure, but the damn thing is enormous. Here's the size and weight for the Steam Crave Hadron Pro DNA250C: 59×36.6×116.1mm and 419.9 grams.
And that's before you start messing around with the tank extension kit which can take it from 18ml to 32ml capacity. Again, that's freakin' bonkers. I tested this mod out a while back and included it inside our Best Vape Mod Guide just because it is just such an insane vape mod.
As vape kits go, the Steam Crave Hadron Pro DNA250C Box Mod is fairly bonkers. Not only does it look like something from a sci-fi movie, but it also runs EVOLV's insanely good DNA 250c vaping chip. This means incredible accuracy and market-leading TC vaping.

The kit comes with Steam Crave's Aromamizer Titan V2 41MM RDTA, a monster of a vape tank that can hold up to 32ml of vape juice. That's right: 32ml! You'll need some big ass coils to build it though. But when you do, and you hit that fire button, the Hardron Pro DNA250C Box Mod will blow your head off – it hits like a freight train (in a good way).

Obviously, if you go with the Hadron Pro DNA250C Box Mod, you'll need to be au fait with building and installing your own coils. If you're cool with that, this is perhaps the most interesting vape mod and tank kit ever released. There is nothing else quite like it on the market.

VapeBeat's Best Vape Mod Guide
Steam Crave Hadron Pro DNA250C Specs
Size: 59×36.6×116.1mm.
Output: 1-400W / 0.2-16.8V.
User modes: VW, Replay, Boost, TC (Ni, Ti, SS460, SS316)
Battery: 1600mAh 4S Fullymax LiPO battery pack.
Display: Full colour TFT screen.
Resistance range: 0.1-3ohm.
Maximum 3A charge rate (2A recommended)
What is The Highest Wattage Vape Mod?
Most vape mods – like 99.9% of them – top out at 200W. And that's fine; 200W is more than enough for most users. But with 400W of power under the hood, the Hadron Pro DNA250C Box Mod is easily the most powerful vape mod on the planet right now. Nothing else comes close.
SMOK does a 400W vape mod too, and there are plenty of 300w vape mods too. But the Hadron Pro DNA250C Box Mod's USP is that runs a specialized battery that is designed to handle all of this additional power. Steam Crave even customized the DNA chip to handle more power.
It's all pretty bonkers, in my opinion, and it costs a pretty penny too – around $169 for the kit. But if you like your vape kits insanely powerful and unlike anything else, I guess the Hadron Pro DNA250C Box Mod is probably just what you've been dreaming out.
I'll stick to my MTL tanks and 13W vaping, thanks very much…
---
A Quick Overview of 2021's Best Vape Mods
– The More $ Symbols, The Higher The Price
Drake Equation
Co-founder and Editor of VapeBeat. I make the words.