Got yourself a Pulse 80W squonk mod? Unsure how it all works? No worries, we're here to help. In this guide, you'll find out everything about you Pulse 80W mod, including ALL of its settings and features…
---
Vandy Vape's Pulse 80W mod is the successor to the massively popular Pulse mod. Both are squonk mods but the 80W mod, the one we're talking about today, is 100% regulated.
This means it features things like temp control and it won't blow your face off should you get your ohms wrong. So while they might look similar, they're two very different squonkers.
In this article, we'll detail the following (please note: this post is aimed at new users, not experienced veterans):
The Box Mod Itself – Hardware Breakdown & How It Works
The Squonk Bottle – How To Take It Out & How To Refill It
The Settings – Temp Control & Power Mode
It's all very simple and straight-forward, so don't worry. By the end of this article, you'll be fully versed in the all the ins and outs of your sexy, new Vandy Vape Pulse 80W Squonk Mod.
The Pulse 80W Squonk Mod – In-Depth Look At Design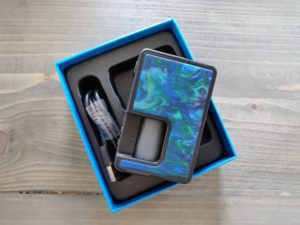 The mod itself is super simple to use and operate: you have a fire button on the side, above the display, and two power rockers directly below the display at the bottom.
The entire back panel comes off to reveal the internals; this is where your battery and squonk bottle go.
Notice the markings on the right-hand side inside the mod? The battery needs to be oriented with the + pointing in the right direction, it's downwards FYI, otherwise, the mod will not turn on.
If you're setting it up for the first time, you'll want to take care of the squonk bottle first, as it's less fiddly getting the battery in second.
Filling and Installing Pulse 80W Squonk Bottle
Filling up and installing the Vandy Vape Pulse 80W's squonk bottle is really simple. Just follow these steps:
Grab the squonk bottle and unscrew the top off; the top has a mesh pattern on it.
Once you've done this, put it to one side. Now, grab your E Juice and fill the bottle up. Don't do it all the way to the top; leave a couple of millimeters room – this way, you won't have any seepage.
Now that the bottle's filled, you need to screw the top back on. Place the long bit of tube into the bottle, and then, once it's secured, place the bottle back into the mod.
The top should connect to a pin that is located just under the "Pulse Vandy Chip" logo inside (it's gold).
How To Access Vandy Vape Pulse 80W Squonk Mod Settings
Again, this is is pretty simple. You have a few modes to play with:
Power – Standard wattage mode
BYPASS – This will kick out the battery's maximum output
Volts – Here you can adjust the volts and calibrated them to your liking.
Temp Control – This allows you to select different types of wires (for your coils) and then set maximum temperature output.
How you switch through the settings on the Pulse 80W is simple: just click the fire button three times, and then use the power rocker to flick through the options.
For example, if you wanted BYPASS: Click Fire Button X3 > Click Down on Power Rocker > Click Fire Once To Confirm Setting. 
Simple.
Things To Keep In Mind
BYPASS mode basically turns the Vandy Vape Pulse 80W Squonk Mod into a mech mod, though there is a layer of safety in place.
In BYPASS mode you're outputting using the maximum power the battery can manage (based on its amps and power level).
This method gives you a big hit, but it isn't something I tend to mess around with.
In temp control mode, you'll need to make sure you're using the correct wire in your coils otherwise things can go wrong.
Only certain types of coil wire are used for temp control vaping, and they are as follows:
Kanthal Wire
Nichrome Wire
Stainless Steel Wire
Nickel Wire
Titanium Wire
Do not do TC vaping unless you have one of these types of wire installed in your tank!
Anything Else I Need To Know?
Nope, that's about it. As I said, the Pulse 80W is as about as user-friendly as a mod could be – it comes apart easily and its menu is super simple to work with.
As for performance, it's a right little fire-cracker. My only issue with it is that it runs on a single cell, and this isn't great for battery life.
I much prefer my squonk mods with dual-18650s inside them.
This way you can run dual-coil RDAs and not have to worry about battery life.
Right now, my #1 dual-18650 squonk mod has to be Ohm Boy's RAGE squonk mod.
Damn thing's a BEAST. Easily my favorite squonk mod to date.
[smartslider3 slider=9]
Drake Equation
Co-founder and Editor of VapeBeat. I make the words.