Can the Wismec Reuleaux RX200S carry on the AWESOME legacy of the original Reuleaux RX200? Nick endeavours to find out…
You probably already know ALL about the Wismec Reuleaux RX200 because it was one of the most popular mods of 2015/16. And if you know about the Reuleaux RX200, chances are you're aware of its successor, the Reuleaux RX200S.
Wismec has had a phenomenal 12 months; the company's profile has risen dramatically and it is now one of the most trusted and visible brands in the vapesphere.
I've always been a HUGE fan of Wismec; they make great tanks and excellent mods and, most importantly, they price everything uber competitively. Case in point: the Reuleaux RX200, the Reuleaux RX75 and now the Reuleaux RX200S, which retails for under $60.
This is how you make inroads into the hearts and minds of the buying public; you offer amazing value for money and brilliant products. Do this and, like Wismec, you will win a lot of fans and make plenty of friends along the way.
This is what makes Wismec such a popular brand with vapers all over the world. They make excellent, engaging hardware that not only looks and performs brilliantly but, importantly, is priced very aggressively.
Anyone can afford this mod. And even if you're on a budget, you could save up for it in a matter of weeks. Once you have it you don't need to worry about mods for a very long time.
Wismec is constantly updating the firmware and improving the functionality of the Reuleaux RX200S, adding in more power, more features and better accuracy.
I love Wismec. But most of all I love their attitude and the way the make, support and retail their products. No one else in the space is making mods at this price point with so many cool features.14
So… how does the Reuleaux RX200S stack up? It is every bit as good as its predecessor? Is it capable of carrying the Reuleaux RX200 series legacy forwards into 2016/17?
Let's find out shall we?
Reuleaux RX200S Review: What's In The Box?
Like most excellent mods these days, the Reuleaux RX200S supports removable batteries (3x 18650). Sadly, these batteries are not included in the box, so you'll have to source your own if you don't already own some.
Check out our Guide To The Best Vape Batteries for more information on the brands to go for and the brands to avoid.
Overall, you don't get much in the box — just the basics.
Reuleaux RX200S Box Contents Include:
1 x Reuleaux RX200S (no cells)
1 x USB Cable (for upgrading firmware only)
1 x User Manual
1 x Warning Card
When we open the box up we are presented with the Reuleaux RX200S. Underneath the RX200S is where the USB cable, manual and warning card are found.
Reuleaux RX200S Review: Design
The Reuleaux RX200S looks almost identical to the Reuleaux RX200m save for the Reuleaux RX200S' new and bloody enormous 0.96in display!
The display here is a key, new update. It's an OLED panel that works brilliantly in both direct sunlight and lowlight conditions. The size of it also means everything is legible, even at a distance.
The aesthetic effect of this new, larger display is very impressive too. It elevates the look of the mod; it is now more eye-catching than before, for instance, and the increased size means you run more information on it.
On the back of the mod you'll fine the Reuleaux RX200S' battery sled, though this sled appears to be the one Wismec used on the more expensive Reuleaux DNA200 — so that's a bonus!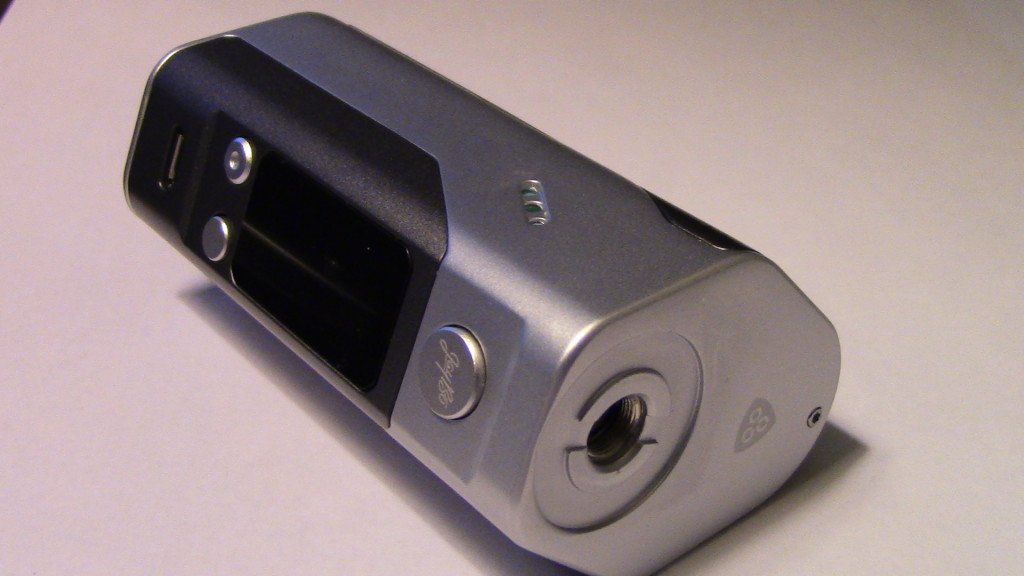 The firing key, embossed with the Jay-Bo signature, is also the same as the one of the DNA200 version as well. All the buttons retain their tactility and are lovely and clicky to the touch.
What's immediately clear is that Wismec have upped the ante somewhat with respect to build materials. That, of they're just repurposing un-used parts from its DNA 200 model. Either way, the Reuleaux RX200S looks and feels a lot more premium as a result.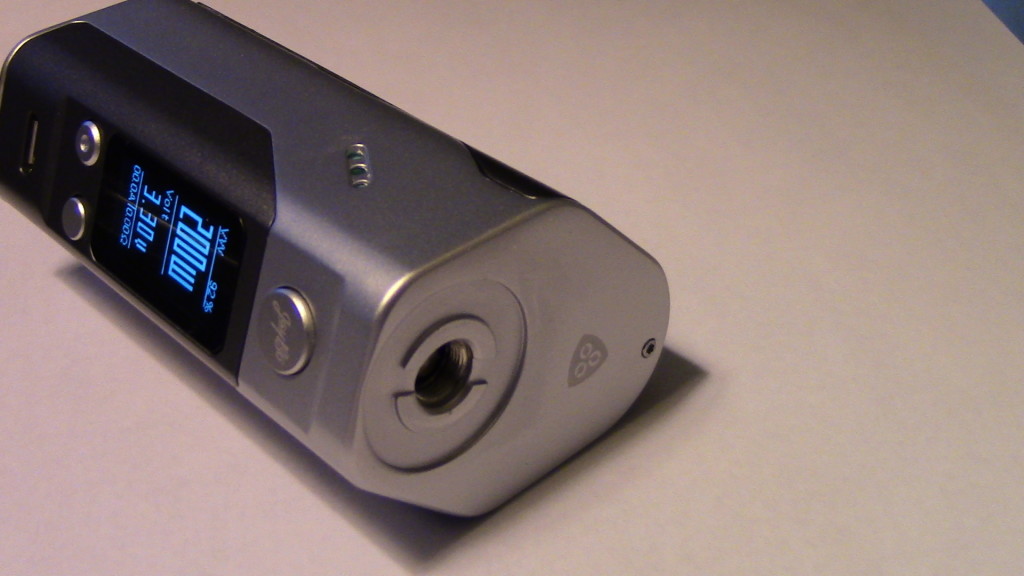 The battery cover holds strong but it does come away easily enough when you need to remove it. On the bottom of the Reuleaux RX200S we have our battery venting holes and some wording "Reuleaux RX200S Designed by JayBo, Manufactured by Wismec".
On the sides of the Reuleaux RX200S towards the top we have 3 holes for battery venting. One thing I did notice when using my Samsung 25R5 cells is that the battery cover didn't sit 100% flush to the chassis.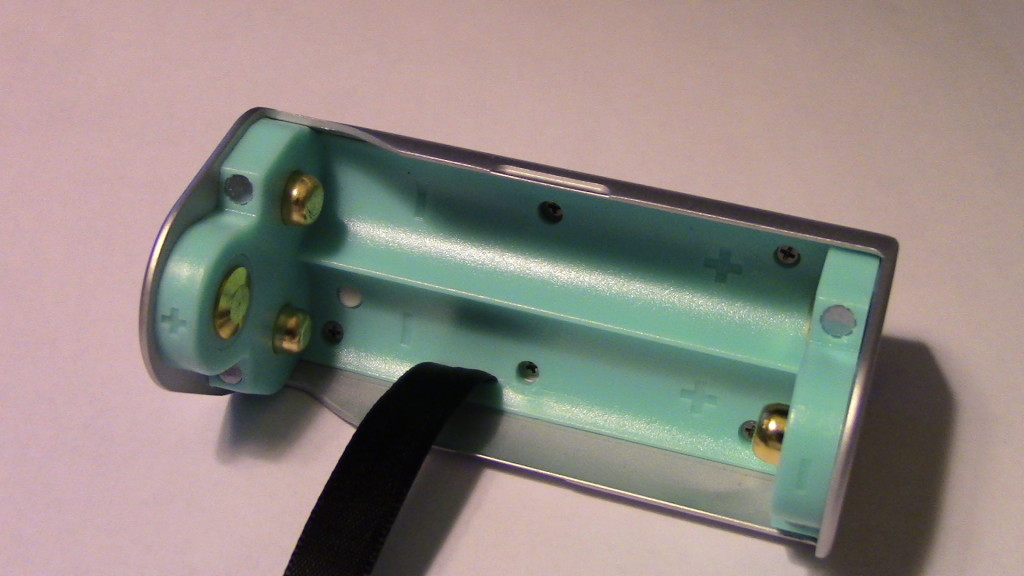 This was odd, so I tired my LG HE4 cells and everything was flush. The problem? I think Samsung's cells use slightly thicker coating and this throws off the Reuleaux RX200S somewhat. Either way, hardly a deal breaker — everything still functions as it should.
The 0.96 inch OLED is very nice with crisp and clear numbers and letters. My eye sight isn't the greatest so this screen really is a shining point for me. Inside the options menu, you can change the battery meter between two different types of reading — an actual battery meter and a percentage meter.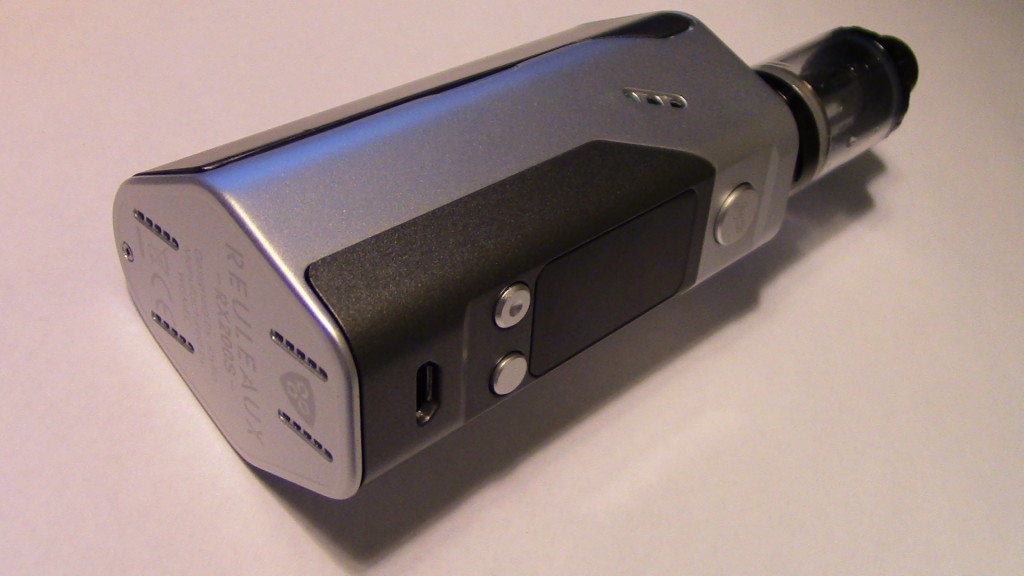 You can also change the amps to a puff counter or puff timer. Small changes, yes, but very welcome additions to the Reuleaux experience.
After I updated the firmware to version v4.12 I noticed a couple of nifty new features. The first is the ability to crack the Reuleaux RX200S up to 250W and the second lets you create a custom logo for the display, which makes customizing your mod to your exact style really easy.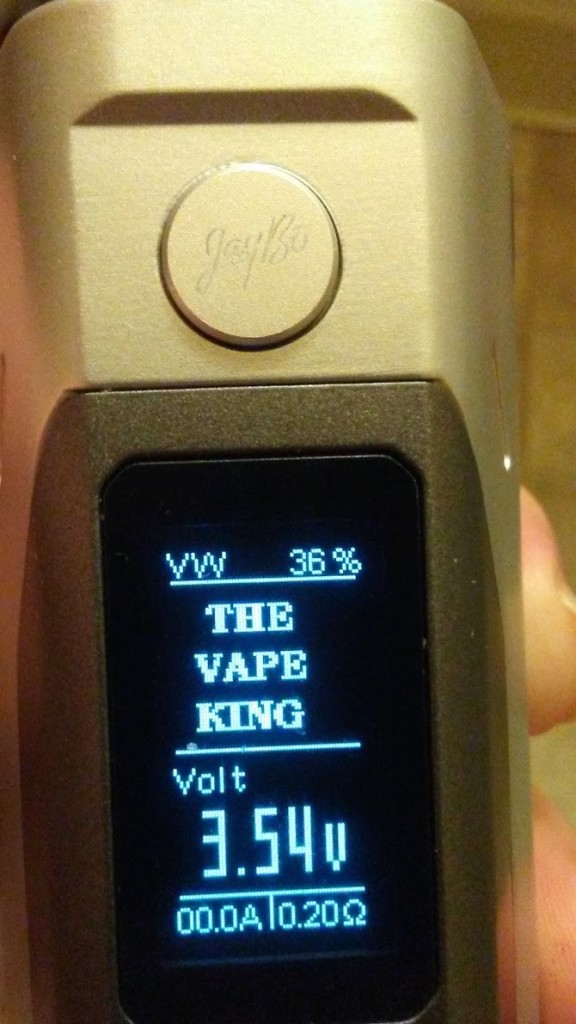 If you invest in this mod, you'll no doubt want to keep in it good knick. Mods, like phones, tend to take a battering in our pockets and when we're out and about. This is why cases for mods were invented.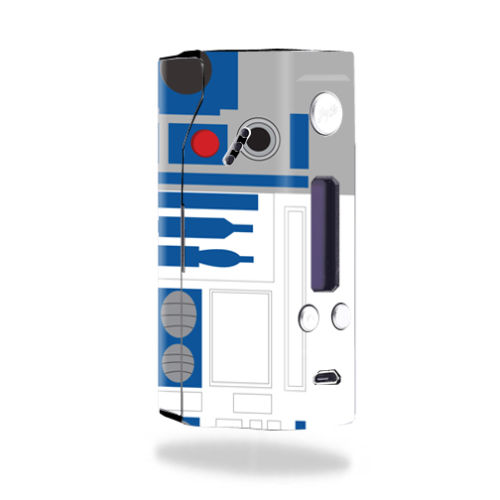 Also known as wraps, these covers protect the chassis on your mod. They're also dirt cheap from eBay as well, where you'll find literally hundreds of different designs.
Reuleaux RX200S Review: Specs & Features
Size: 50mmX40mmX84mm
Output Modes: VW/TC-Ni/TC-Ti/TC-SS/TCR Mode
Output Wattage: 1-200W/250W (with firmware update)
Resistance Range: TC- 0.05-1.5ohm VW- 0.1-3.5ohm
Temperature Range: 100-315*C/200-600*F
Screen Size: 0.96" OLED
Stealth Function
Key Lock Function
Flip Display
New Atomizer Installation
No Atomizer Alert
Atomizer Low Alert
Atomizer Short-Circuit Protection
Temperature Alert
Over 10 second Protection
Imbalanced Alert
Weak Battery Alert
Temperature Protection
Charge Error Alert
Check Battery Alert
Reuleaux RX200S Review: Performance and Battery
Let's start off with the performance of the Reuleaux RX200S shall. Operation of the Reuleaux RX200S is the same as with the original RX200 but much more akin to the Reuleaux RX75 and Joyetech eVic devices.
If you're unfamiliar with operating a Reuleaux series device make sure you check out our Reuleaux RX200 User Guide: Everything You Need To Know feature — it has everything you need to know re: settings and features.
With this review I chose to use my Aspire Cleito with a .2ohm coil and my Avocado 24 with dual twisted 24g 7wrap coming out to .19ohms.
I started with the Cleito and right away the RX200S fired the coil with zero delay — the vape was almost instant. At 62.5W, everything tasted great and the clouds were growing. Post 70W things started to warm up, but nothing to write home about.
Next came the Avocado 24, which I started at 100W right off the bat. After 10 puffs the RX200S started to heat up, but again nothing too serious. At 160W (the my max for the Avocado 24), I started a chain vape session and the RX200S started to get hot but, again, this is perfectly normal at this high wattages.
Pound for pound, the Reuleaux RX200S handled everything I threw at it. Most will be vaping with this mod at around 50-60W, so my pushing it south of 100W demonstrates that this mod can handle the higher-powered stuff when called upon.
What wattage you rock on the mod will of course depend on the type of tank and coil you are using.
Now we will discuss the battery performance of the Reuleaux RX200S.
With a fresh set of cells for each tank tested I wanted to drain the cells to the point that they would not deliver what I was asking. The Cleito at 62.5W allowed me a solid 2 days of moderate to heavy vaping, while the Avocado 24 running at 100W gave me a good day and a half of moderate to heavy vaping.
Reuleaux RX200S Review: Verdict?
The original Wismec Reuleaux RX200 was an exceptional device in almost every regard. It looked stunning, performed brilliant, was packed with features and was more reliable than a German-made diesel car. But best of all was how much it cost — the damn thing was just so accessible.
Well, I'm pleased to report the Reuleaux RX200S takes everything that made the original Reuleaux RX200 a classic, adds in a few additional features and tweaks, and created something that is even better.
I loved the Wismec Reuleaux RX200. It lasted me over 12 months and is still going strong now. But the Reuleaux RX200S is a better mod in almost every conceivable way — it looks better, feels better, performs better and the display is MILES better.
Based on my overall experience with the Wismec Reuleaux RX200S I am giving it a 9.5/10, which is to say this is about as good as it gets when it comes to a mod.

Nick Jennings
Reviews & Tutorials Guy. If You Can Build It & Vape It, I'm Your Man!