Vapefly Jester Review: Is This True RDA POD System Any Good?
By Red • Updated: 01/26/20 • 6 min read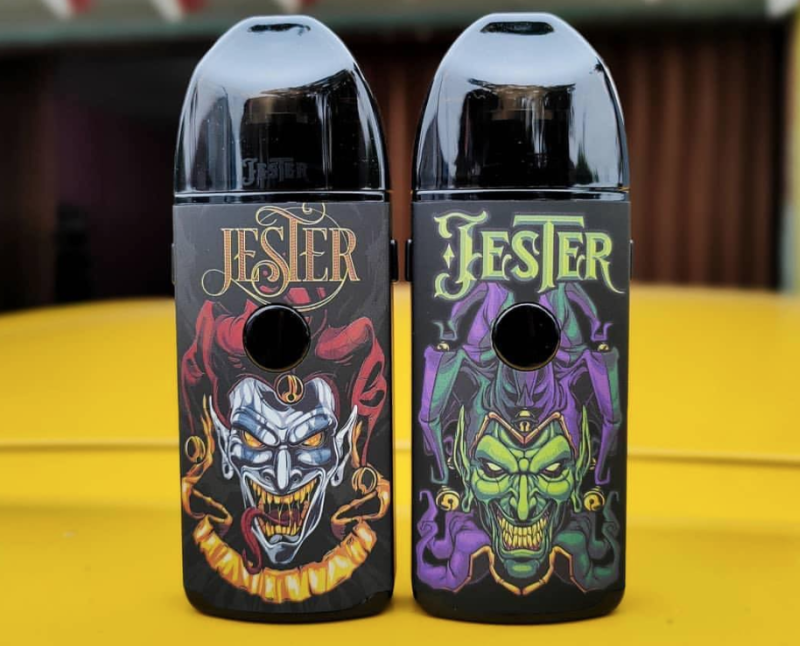 The Jester is the latest device from Vapefly and is touted as the world's first rebuildable dripper pod vape. Does it live up to the hype though? Let's review…
---
Vapefly Jester Review – Verdict – 60%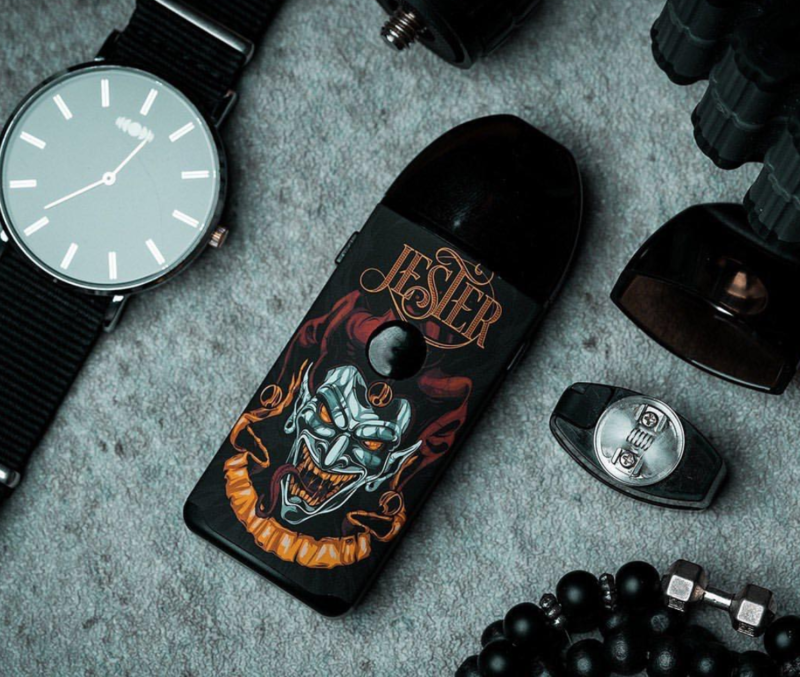 Pin
You Can Pick Up The Vapefly Jester For $31.95 via Element Vape
Vapefly Jester Pros:
Unique rebuildable "dripper" deck
Decent build quality
Relatively affordable for what it is
Great flavor from prebuilt coils, even better with the RBA
Good battery life
Vapefly Jester Cons:
It leaks, A LOT!
Prebuilt coil POD hinges can break if not careful
Seriously, it's like an open tap, just a leaky mess
Juice level is difficult to see
The graphics may be questionable to some
TL;DR – Vapefly has been around the block a couple of times and is a highly respected vendor in the community. Think Brunhilde, Galaxies, Holic and a host of other fantastic products, it's no wonder why the Jester was so highly anticipated.
The first of its kind, rebuildable pod system (like an RDA tank, just inside a pod mod). Unfortunately, Vapefly was beaten to the market by the likes of Smoant and their well-received Pasito, a stellar rebuildable all in one device.
MORE: The #1 Best Pod Vapes You Can Buy Right Now
Vapefly should have used this as an opportunity to refine the Jester ever so slightly as its issues are, specifically related to the RBA pod, what grinds it to a halt.
The rebuildable pod leaks quite severely, even if left standing upright on your desk and don't even think of pocketing the thing. It's a shame because both the stock coils and rebuildable pod produces stellar flavor and the build quality is decent.
Perhaps an updated version is coming, but for now, it is difficult to recommend the Jester running with the RDTA deck even though it is well priced at just $31.95.
Full Vapefly Jester Review
 
Vapefly Jester Design
The Jester comes in various colors, or graphics (Ghost, jester, Joker, Skull, Black, Silver and Matte Black), some really in your face and some a little more basic thankfully.
The graphics style devices will not be to everyone's tastes and I must admit that I am quite thankful I received a matte black version as I prefer an understated device.
The paint has a rubber-like texture that feels nice to the touch, but not overly durable; underneath is a Zinc-alloy chassis that should be fairly durable. The Jester houses a 1000mah battery, but a micro USB port sadly. I would have really liked to see a USB type C port. Build quality is perfectly fine, it's not mind-blowing, but it'll serve its purpose.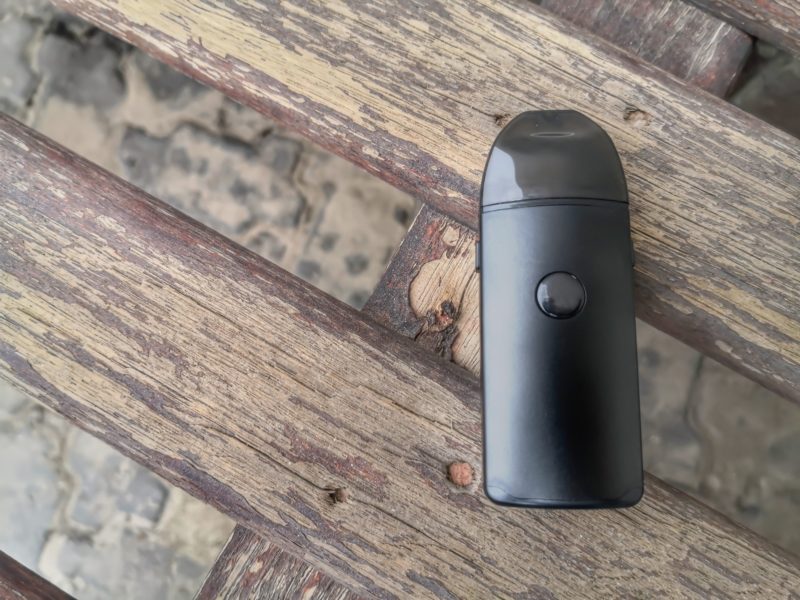 Pin
3 Power modes, changed with 3 clicks of the fire button. 3.3v(purple), 3.8v(blue) and 4.8v(green), are available. Be warned though, 4.8v with 50mg will hit you in the face like a ton of angry teenagers.
Two clicks of the fire button show you the battery level using the same set of color LEDs, green, blue and purple.
I do wish the battery indicator was easier to see when firing for example as I often forget to charge my devices and left stranded far away from a USB power source. A simple reminder, like on the Pasito or Zero would have been great.
Vapefly Jester RBA Pods
Vapefly has provided two different styles of PODs for the Jester, a regular, replaceable coil piece and one with the RBA deck. Both the prebuilt and RDTA PODs have a weird, fairly large mouthpiece.
While it's not uncomfortable, it takes a bit of getting used to. Pods clip into the chassis quite firmly and are held in securely with latches on the side of the chassis.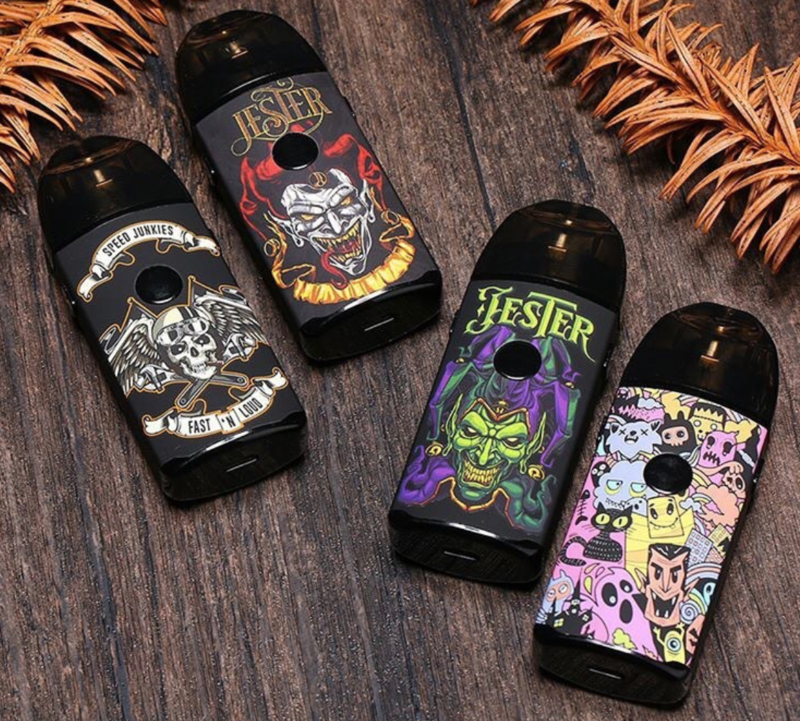 PinPin
You Can Pick Up The Vapefly Jester For $31.95 via Element Vape
The pods are released by squeezing two buttons on either side of the Jester.
Both provide a tight MTL draw, but the prebuilt pod offers airflow adjustability to get a restricted direct lung hit. The rebuildable offers no airflow adjustability, so you will have to play around with coil placement and size to get the airflow you like.
Vapefly Jester Build Deck – Better Than SMOANT Pasito?
The build deck on the RBA is miles ahead of the Pasito and getting a coil seated is super easy. Loosen the screws, drop your coil in, tighten up and snip.
Wicking though is a completely different story; here the SMOANT Pasito wins hands down. Getting the perfect mix of wicking well and having enough cotton to prevent leakage is cumbersome, as is the case with most RDTA styled tanks, which this is a tiny version of, imagine a Kayfun and Dejavu had a love child.
The top cap can be removed and you are able to drip your juice straight onto the coil, which is my preferred method of using the Jester as filling the pod will leave your desk flooded.
Vapefly Jester Performance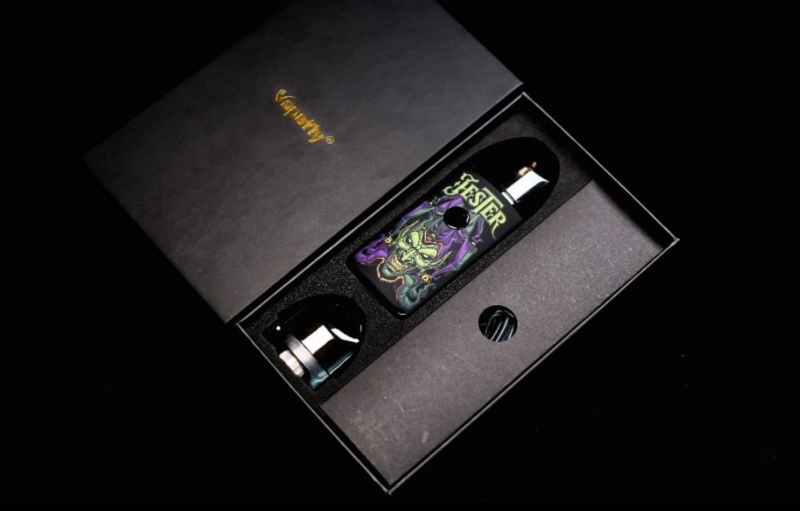 Pin
I'm not going to beat around the bush, the Jester leaks like a housewife when the pool boy is on duty, so much so that I would say the Jester is unusable in rebuildable form.
Now I'm not sure if my wicking skills are sub-par, but I've heard of other users having leaking issues too. At least Vapefly has included two pre-wrapped Ni80 coils and cotton.
The prebuilt pod works slightly differently than the RDTA pod where the cap flips open to fill, but the entire pod needs to be removed from the device to reach the button that unhooks the cap.
Seeing your juice level with everything assembled is also neigh on impossible without flipping open the cap.
Coil life is decent and I got around 4 fills out of mine with an overly sweet juice; flavor from both the included 0.5 ohm and 1.2ohm mesh coils is really good too.
Should You Buy The Vapefly Jester?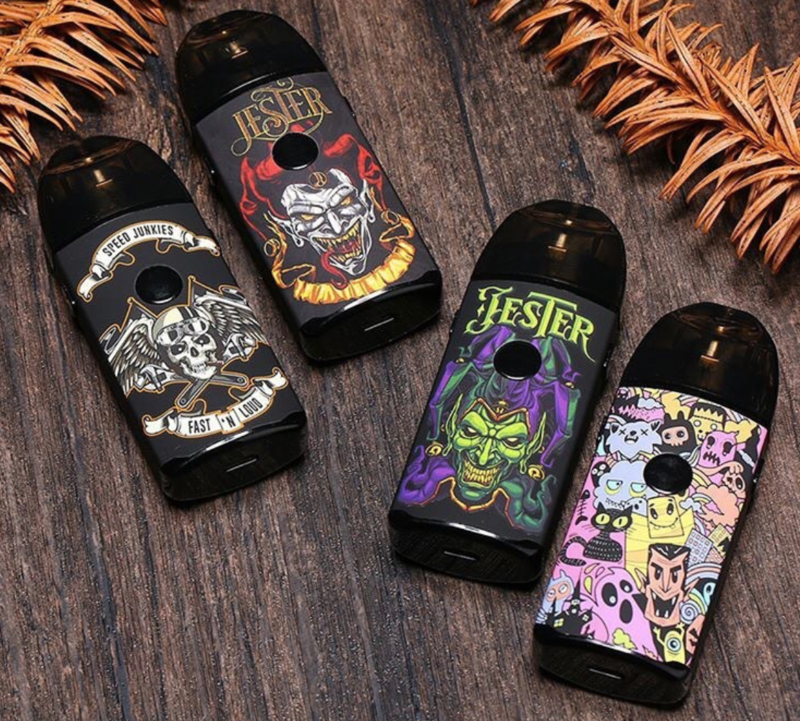 PinPin
I'm not sure how Vapefly will be able to resolve its leaking issues and I know, it sounds like I'm hammering on about the issue, but it absolutely kills the device for its intended use.
Having to carry a cloth with you because a pod doesn't seal correctly is not the way we should be going.
If you're planning on using the Jester with prebuilt coils only or perhaps strictly dripping, it performs just fine. It offers great flavor and decent build quality while remaining relatively affordable.
The battery life is also respectable.
If you're going to be rebuilding and filling a pod though, I sadly cannot recommend the Jester until Vapefly has fixed the leaking issues. My advice? Get something like the Lost Vape Orion Plus or UWELL Caliburn instead – both are superior pod vapes.
You Can Pick Up The Vapefly Jester For $31.95 via Element Vape
Red
Internationally published journalist and reviewer, unofficially certified vape connoisseur. MTL, DTL, RDTL, Red takes it any which way