Uwell Caliburn G3 Review: Now With Extra Screen!
By Red • Updated: 11/08/23 • 5 min read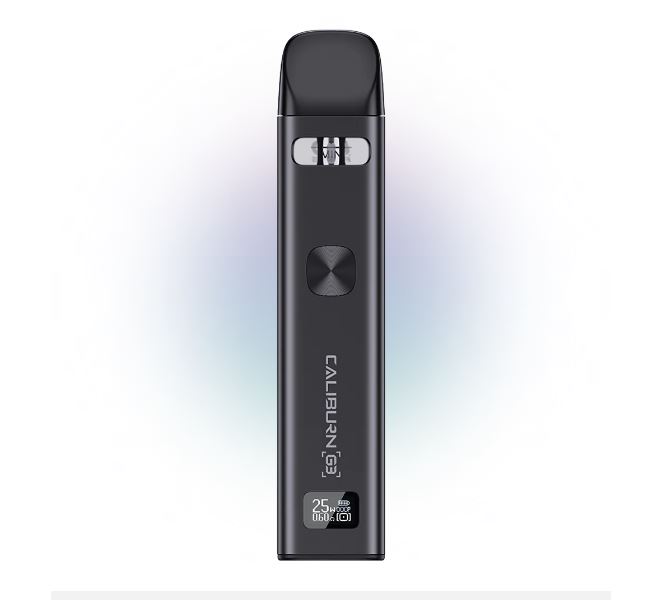 The Uwell Caliburn G3 is everything you would expect from a Uwell pod system. Great construction, flavour and longevity, but with a tiny OLED screen added that would be pretty much useless if it wasn't for the battery indicator. None of those features make the G3 any better than the G2, but the extra 150mAh of battery capacity should make you very, very excited.
---
Uwell Caliburn G3 Verdict – 96%
The Caliburn series revolutionized the pod market not by introducing new features, but by one-upping competition in terms of quality. So much so, that it made no sense to get anything but a Caliburn. It was, and still mostly is, perfect in every way. Nothing came close to it in flavour and pods outlasted the competition not by days, but by weeks. How do you improve on a product that is pretty much perfect? If you're Wismec, you slap a bluetooth speaker on that bad boy, but if you're Uwell, you slowly increase power, battery capacity and overall quality
Sadly, on their first attempt of the G series, increasing power reduced pod performance, completely taking the Caliburn out of the lead, but now Uwell has returned with a vengeance.
---
Design
Apart from the monochrome OLED, the Caliburn G3 looks pretty much identical to the G2 and even resembles the original G before that. It's a classic design and understandable that Uwell wouldn't want to change it, but I've grabbed the G2 instead of the G3 by mistake more often than I would like to admit.
Another addition from the original Caliburn is an airflow adjustment slider and honestly, the G3 has the smoothest airflow I've experienced in a pod system, most likely due to the extra airflow hole on the opposite side. This ensures that there's no turbulence at any airflow position and provides such a satisfying draw.
Speaking of draw, in typical Caliburn fashion, the G3 is both draw and button activated. The fire button flush and sits just near the middle of the device. Even sitting flush, it's easy to find and press thanks to the texture of the button compared to the smooth bod of the device.
Another feature that makes a return and one of my favourite things about the G series, is the massive juice window that allows you to see exactly how much liquid is left in your pod so you don't accidentally run it dry or, heaven forbid, leave the house with an empty pod. It
Probably my only complaint about the Caliburn G3 is the removable mouthpiece that reveals the fill port underneath it. Instead, Uwell made the mouthpiece non-removable and moved the fill port underneath a rubber bung. This is probably personal preference, but I've become so good at filling the Caliburn pods with one hand that this new filling system is an absolute pain for me. The new pods are 2.5ml by the way.
Inside the the aluminum chassis is a 900mAh batter, not massive by todays standards, but the 150mAh increase in capacity over the G2 allows for considerably longer runtime at 25 watts. The G3 can easily go a day and a half without needing a charge. Even when the battery runs out, the G3 charges absurdly fast via its USB-C port.
The main feature of the Caliburn G3 is undoubtedly the OLED screen, which is a bit pointless in a pod system in all honesty. I don't need to see current power output if I can't select my wattage. I don't need to see the resistance of my pod, I selected the 0.6 or 0.9 ohm pod. Sure, the battery indicator is nice, but so is an LED light system. If you like it, cool, it's there to use and works as intended.
Performance
The Uwell Caliburn series has always been the benchmark in pod systems. Even now, in 2023, you still see reviewers compare new devices to the 5 year old OG Caliburn. There were a few dips after that, but the G3 is simply astonishing, bringing back that Caliburn greatness we all remember.
It has more power and a few gimmicky tricks up its sleeve, but at its core, it's a solid performer, easily the best of 2023.
Flavour is absolutely spot on and doesn't introduce that sweetness that other higher power pod systems often do and even at 25 watts (which is absurd for a pod system if you ask me) last a proverbial yonk.
Airflow is smooth and the slider works great. Wide open is like taking a straight up breath, if you want to off-course. If you don't though, it closes down to sucking double-thick milkshake through a wet straw tightness.
I only wish power was adjustable though, but I can live with what Uwell has decided I want.
Specs:
Size: 13.9mm x 24mm x 115mm
Battery Capacity: 900mAh
Materials: Aluminum
Juice Capacity: 2.5ml
Weight: 47g
Maximum Power: 25 watts
Uwell Caliburn G3 Conclusion
Real talk, I love the Uwell Caliburn G3. Ignoring all the unnecessary faff, which doesn't distract from the experience, the Uwell Caliburn G3 is a great performing system at heart.
Enough battery life to easily last a day (and more) accurate flavour and great longevity put the G3 at the top of my favourite pod devices of the year.
Red
Internationally published journalist and reviewer, unofficially certified vape connoisseur. MTL, DTL, RDTL, Red takes it any which way