I don't recall ever wishing my mod would double as a Bluetooth speaker, but that's exactly what the Wismec Active is all about – it's just a shame that it completely sucks where it counts…
---
It's not very often I test a mod or vape kit that I intensely dislike, but the Wismec Active is definitely one of these devices.
Prior to even testing it, I wasn't sold on its gimmick; who the hell wants their mod to double as a Bluetooth speaker anyway?
And after using it for a couple of weeks, off and on, I'm now 100% not sold on anything about this vape kit, including the Bluetooth speaker!
Want my advice? Check out our Best Vape Mods Guide – in here you'll find the top-rated vape mods we tested from the past 12 months.
If you want to read a really negative review of this mod, please… read on!
Wismec Active Review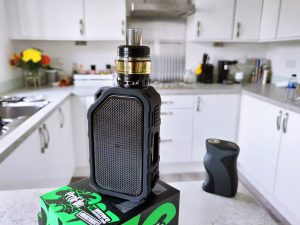 Design
The design of the mod and tank, arguably, are OK. The size and dimensions are decent enough, and it looks moderately cool in pictures and in real life.
It does have a slippery, rubber skin on it though which moves around and generally feels a little odd when you're handling it. It almost feels as if it were added as an afterthought.
You can remove this rubber skin, this reveals the mod proper beneath, and this is certainly a workaround but it was not something I was willing to do, as the mod is sold as is – and that's how I used it.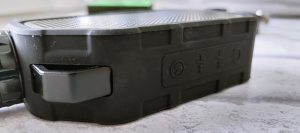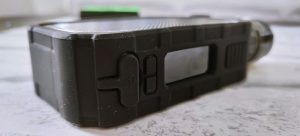 The Wismec Active is waterproof, however, so this is something of a USP, though given the choice between this and the GeekVape AEGIS, another water-proof mod, I'd take the AEGIS every day of the week and 10 times on a Sunday.
Design-wise, the Active is fairly simple. You have a notch at the top for attaching a lanyard, a 0.91 OLED display, a fire key directly above it, and a power rocker situated directly below the screen.
The sides of the device are where the speakers are housed; Wismec has used Bluetooth, so you can connect this mod to anything that Bluetooth – phones, PCs, Laptops, etc,.
The Wismec Active with three distinct speaker grill accents: black, orange, and silver – mine was the black model. I think I like the orange model best, as the grills really pop.
Wismec Active Kit Includes:
Wismec Active Mod
Wismec Amor NS Plus tank
1xWS04 MTL 1.3ohm coil
1XWS01 Triple 0.2ohm coil
Hook
QC USB cable
User guide
The key thing here is the coils; you get a sub-ohm coil and an MTL coil, which technically means you can run normal, high-VG juice through the tank as well as Nic Salts when you have the MTL coil installed.
I say, technically, because neither is very good. But more on that later.
Wismec Active Performance | Is It Any Good?
In a word: No.
The performance is very, very, very wonky. I'm talking weird firing, where you press the fire button to take a draw, and the mod just stops firing, so you have to press it again.
This happened from the moment I first fired up the mod to the minute I relegated it to my drawer of useless mods that will never see the light of day again.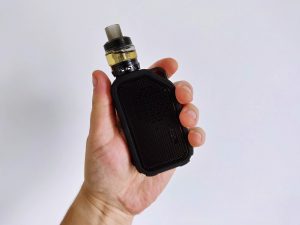 I don't know what caused it; perhaps my mod was faulty, I don't know. Either way, mis-firing this consistently is always going to be a death sentence for a vape mod – regardless of how it looks or whether it doubles as a Bluetooth speaker.
You have a maximum output of 80W and support for TCR and Bypass Mode. Again, these elements were plagued by wonky performance which seems to be endemic in the mod's internal setup.
Bottomline: for performance, this mod sucks. It couldn't even manage consistent firing, a thing 99.9% of mods in 2018 achieve without issue.
Wismec Active Kit Battery Life
The Wismec Active runs a rather paltry 2100mAh non-removable battery which, understandably, doesn't really hold up that well under heavy usage.
I found that running the tank in and around 60W, with normal to heavy use, could kill the battery within about 4 to 5 hours. You're basically talking pod mod battery life here, and for a mod that's not something you want to be dealing with.
Wismec Amor NS Plus Tank
Is the tank any good, at least? Again, it's nothing to write home about; the flavor, on both coils, is kind of flat and muted. Nothing special, barely even average for a low-end vape tank.
I do like the idea behind dual coils in the pack; one MTL, one DTL, as it means you can run Nic Salts, as well as augment the style of vaping you can do with the tank.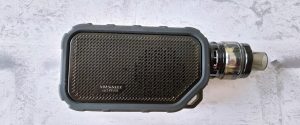 It's just unfortunate that the Wismec Amor NS Plus Tank isn't actually any good at either. Neither coil head impressed me, the flavor sucked and both burnt out within 4 days.
Wismec Active Verdict?
A swing and miss, this one. I can see what Wismec was trying to do here, but the company has missed the mark on almost every front.
Battery life is poor, the tank sucks, and the mod doesn't work reliably or coherently. And the Bluetooth speaker? It's only marginally better than the speakers on my OnePlus 6…
Nothing here works. Everything feels strangely implemented or, worse, rushed.
There is no finesse present, no USPs to get excited about. It's just a one trick pony that falls flat on its face as soon as you unbox it.
What I Liked 
Kudos To Wismec For Trying Something new
What I Disliked
The mod's performance is wonky as hell
The tank's flavor is flat and muted
Battery life sucks
Bluetooth speaker isn't great (no better than a decent phone)
Way too expensive ($76!!)
What To Get Instead? 
Drake Equation
Co-founder and Editor of VapeBeat. I make the words.