SMOK TFV8 Review | The Dodge Viper of Sub Ohm Tanks
By Drake Equation • Updated: 04/12/18 • 11 min read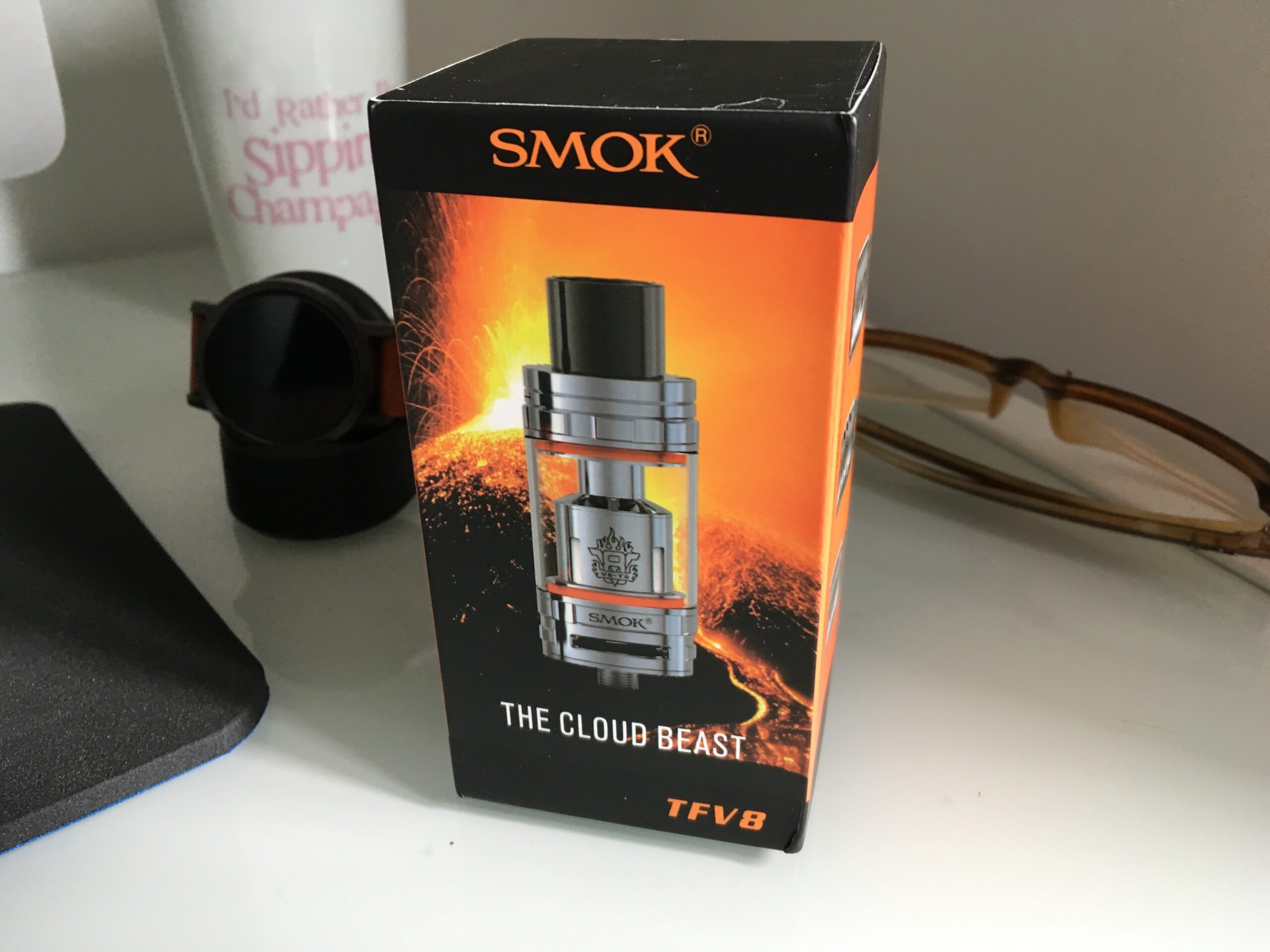 This is our SMOK TFV8 review (AKA The Cloud Beast). Is this the best vape tank around right now – or are you better off with something else? 
---
[letsreview]
---
UPDATE 2018: The SMOK TFV8 is kinda old now. Like two years old. If you want a look at the hottest new tanks available check out our Vape Tanks Guide For 2018 – in here you'll find all the top-rated tanks for right now.
✪✪✪✪
I've had a rough couple of months with my RTAs.
First came the LEMO 3, which turned out to be a useless piece of junk that leaked more frequently than Hilary Clinton's emails.
Next up came the Griffin 25 RTA.
Now, this one was a bit different because, once you have it set up and primed correctly, it is one of the best RTAs on the market.
But here's the rub: it is almost IMPOSSIBLE to set up correctly.
The margin of error when wicking is insane, meaning 8/10 builds go completely wrong.
And that's just not how I want to live my life.
So, today, I went out and bought the SMOK TVF8 — AKA the Cloud BEAST.
I've heard A LOT about this tank.
Everybody is raving about it, so I figured why the hell not!
I've already spent around $200 on RTAs in the past two months, so one more won't hurt my already reeling-finances too much.
I picked up the SMOK TVF8 from my local vape shop; it cost me $38. The box, contents, packaging and supporting documents are all topnotch. SMOK has not cut a single corner here. Everything feels exceedingly premium.
---
UPDATE: The SMOK TFV12 Prince is Now Official 
If you're interested in SMOK's flagship tanks, the TFV12 has now been officially usurped by the SMOK TFV12 Prince.
The new tank features a brand new design, new coil heads, and support for SMOK's new mesh coils which are vastly superior to what came before.
You can check out our full SMOK TFV 12 Prince Review for more details, or if you prefer just to use the handy box-out from it below.
Here's a handy breakout from our review:
[letsreview postid="3700″]
---
Smok has been in the vape industry for quite some time now and while they mostly made mods they have produced some tanks, most notably the TFV4, TFV4 mini, and the TFV4 micro, but up to now, they've been more of a mod-focussed company.
Well, all that changed in 2016 with the release of the Smok TFV8.
Interested in how the SMOK TFV8 compares to the SMOK TFV8 Baby Beast?
We were too so we did a SMOK TFV8 vs SMOK TFV 8 Baby Beast feature.
Arguably one of the hottest tanks to get a release in 2016, the Smok TFV8 is a powerful sub-ohm tank that can be run with pre-made coils and also an RDA for those that like to build their own.
In this respect, the Smok TFV8 is one hell of a versatile tank.
But does the Smok TFV8 Cloud Beast have what it takes to hold it's own against some of the top performing RDAs and RTAs on the market?
Take a look below as we get down and dirty with the Smok TFV8 Cloud Beast.
Smok TFV8 Review: Packaging
The sleeve over the box explodes with flare on the front as it showcases an amazing picture of the TFV8. The overall impression is BIG, BOLD and IN YOUR FACE and I like it a lot.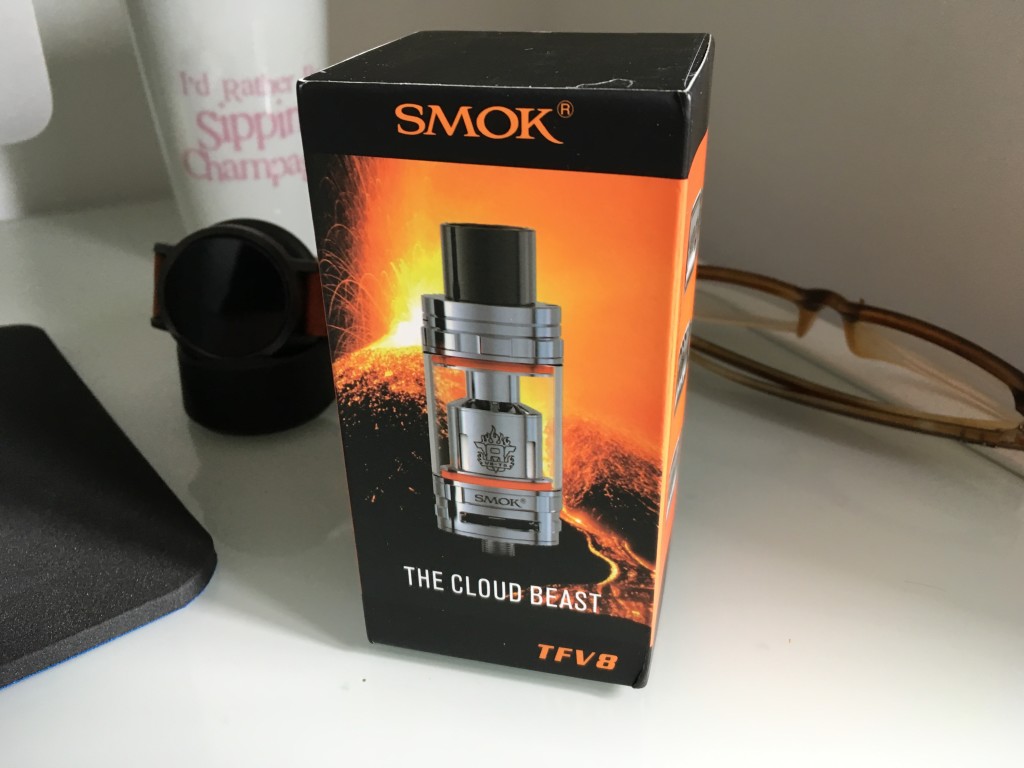 Pin
The outer sleeve slides off to reveal a far more subtle black box in which all the gear is encased.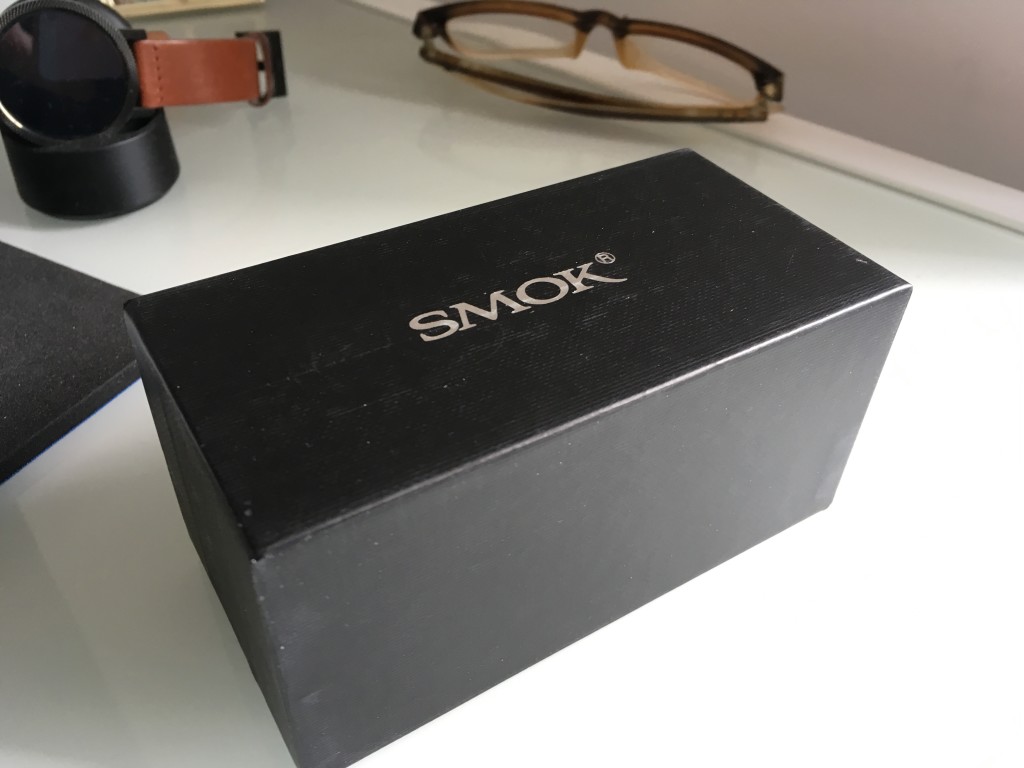 Pin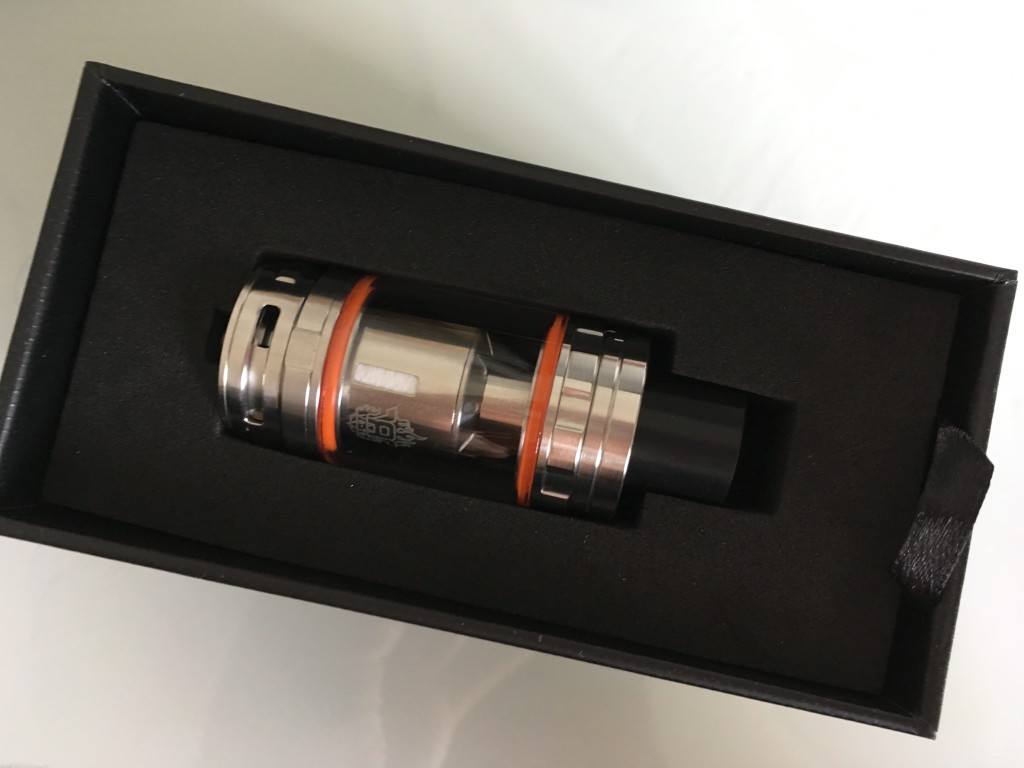 Pin
Pop the top and you're presented with the contents, which includes:
V8-T8 Octuple Coil
V8-Q4 Quadruple Coil
V8 Turbo RBA with .28ohm Dual Clapton Preinstalled
Replacement Glass Tube
Spare Parts
Instruction Manual
Smok TFV8 Specs:
Size: 25.5mmx50mm
Threaded 510 Connection
Cyclops Style Adjustable Airflow
Large Top Fill Slot
Smok V8-T8
Deep and rich cloud taste
0.15ohm (50w-260/Best 120-180w)
Smok V8-Q4
Smooth & Silky Taste
0.15ohm (50w-180/Best 90-150w)
Smok V8-RBA
18 MM Deck
Clapton Dual Coils .28 (50-140w)
6ml Tank Capacity (5.5ml with RBA)
Patented Turbo Coils
After opening the box you see the Smok TFV8 in all its glory, just begging to be held. Underneath is where we find all the extra goodies listed above.
Smok TFV8 Design
The look Smok TFV8's look and finish is very sleek with the black and stainless steel being offset with the orange O-rings, making this tank a really eye-catching set-up.
The tank itself is HUGE, so make sure you have a chunky-enough mod to pull it off. Pen-style mods will likely be dwarfed by the Smok TFV8's chunky chassis.
You can remove the drip tip as well and replace it with something else, always a nice touch for a tank. Like most decent tanks these days, the Smok TFV8 is a top-filler which makes adding E-Liquid very straightforward.
There is a little rubber seal that sits over the refill hole and I did run into a few issues with this; it basically became malformed after a week or so and wouldn't sit flush to the device and this, of course, made closing the top of the device difficult.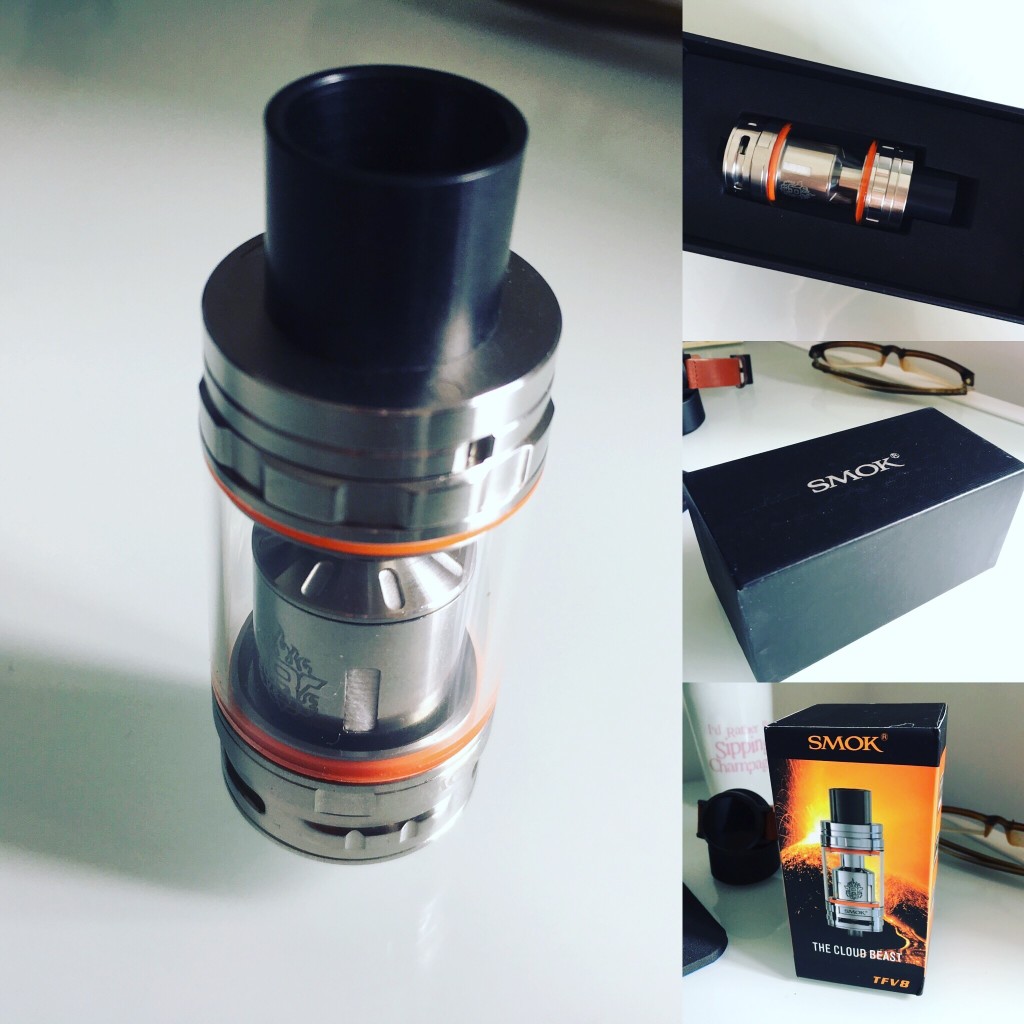 Pin
Thankfully, a replace rubber cap is included and since switching — a week or so ago — I haven't run into the same problems again. This is the only major con I have experienced in my time with the Smok TFV8.
As I mentioned above, the Smok TFV8 is bloody enormous; at full capacity, you're looking at a max of 6ml of E-Liquid. However, because this thing is like an AMG Edition Mercedes, it LOVES to run at higher wattages and this, in turn, burns through juice almost before your eyes.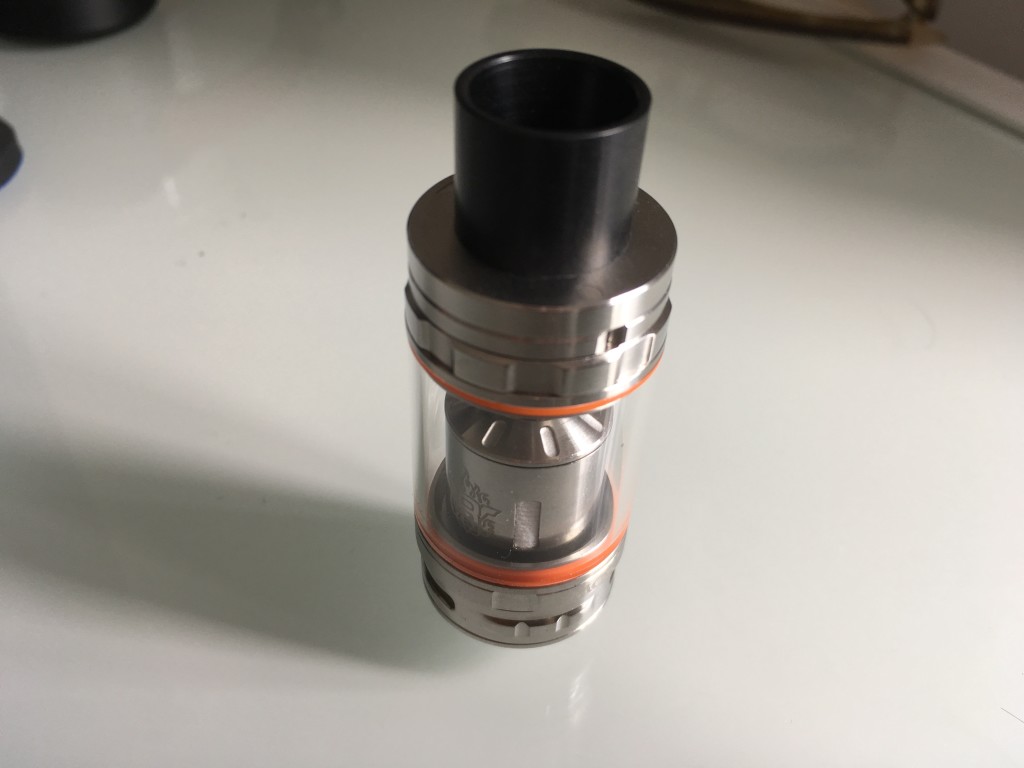 Pin
The airflow control is well implemented with easy to locate and operate notches on the side of the tank.
The Smok TFV8 is also very easy to disassemble and put back together again; I didn't have any issues with this aspect of the device, although the coil connector at the bottom can get a little tight if you're not careful.
For this reason: NEVER tighten it too much, as it will cause all kinds of headaches when trying to switch from sub-ohm to RDA modes.
All told, the Smok TFV8 is one of the most well-thought-out and considerate tanks I have ever used.
Smok has clearly designed the crap out of this tank in order to make it as simple and intuitive to use as possible.
Everything slots together easily, the pre-made coils it ships with are insane and, if building your own is your thing, you're also free to do that on an expansive 25mm deck.
Smok TFV8 Performance
I started with the V8-T8 Octuple coil .15ohm (50-260W) that were preinstalled. I juiced up the coil really good and filled up the TFV8. I then waited about 10mins to ensure that the coil would be saturated with ejuice.
With the Smok TFV8 sitting atop my RX200, I started off at 50W and really didn't get much more than my Herakles Plus. Bumping up to 60W presented me with the same results so I decided to go straight to 90W.
At 90W, I started getting decent clouds to form and the flavor started coming through but it was a cool vape compared to what the UWELL Crown delivers at 90W with a .25ohm coil.
Working my way up to 120W the vape started to get a bit warmer and the clouds started to grow dramatically.
I decided to jump to 190W and then vape got a lot warmer, providing me with good, thick clouds and intense flavor.
I did go to 200W and that was my max comfort level for my vaping style. At 200W the Smok TFV8 held its own, but it just wasn't my cup of tea.
My sweet spot on the Smok TFV8 is around the 100-120W range.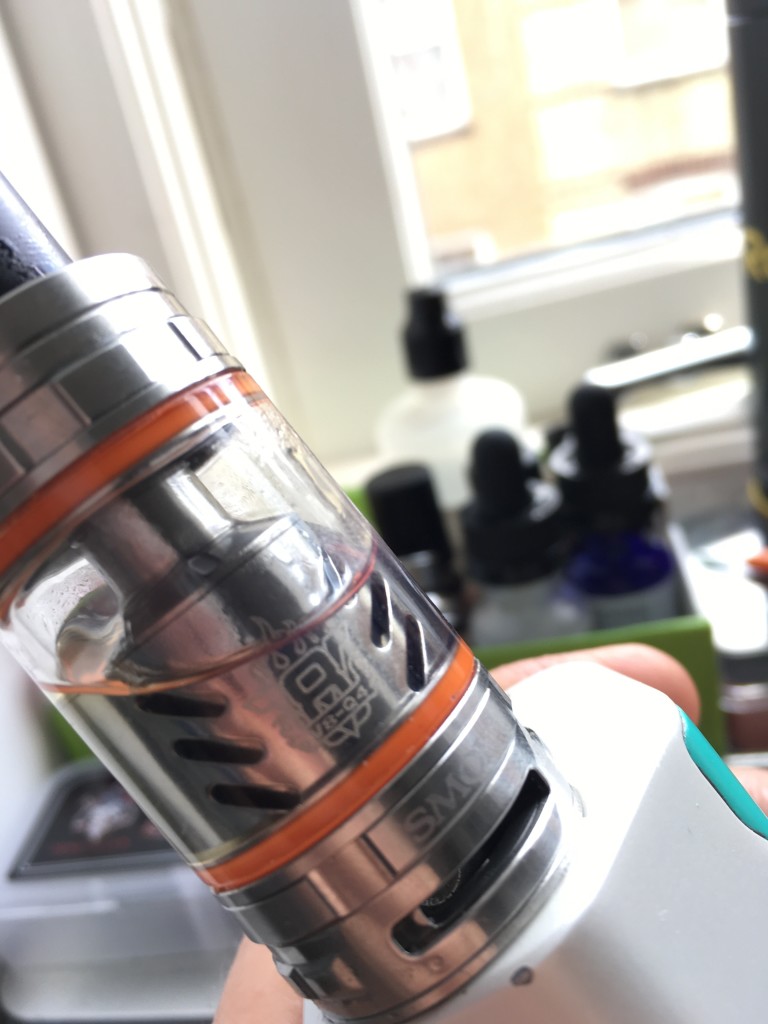 Pin
Thing is: at this wattage you're going to burn through juice at a rather alarming rate – like 30ml every couple of days.
For me, that's too much. For this reason, I capped my wattage at 80W. This isn't an ideal performance window for a tank of this nature but it still works great and gets the job done.
I like big clouds and that but I prefer having the money. I don't want to be spending hundreds of dollars a month on E Juice because my tank likes to run at insane wattage levels.
The great thing about the SMOK TFV8 is that it can perform great at the 80W mark.
Sure, the clouds aren't as big but if you're after conserving your E Juice you cannot push this thing to its full potential 24/7 as it will bankrupt you.
It's a bit like a BMW M3 in this respect: awesome fun, super powerful but it just LOVES to guzzle the juice.
Dial things back a bit, though, and you can get decent performance and better economy.
I really enjoyed the TFV8 at this wattage range and never once did I get any dry hit or dryness at all.
I did this test starting off with a full tank and after 40 puffs I still had half a tank.
I also experienced ZERO leaking with the Smok TFV8, which is amazing as the vast majority of tanks I have tested this year have been leakier than Hillary Clinton's emails.
SMOK TFV8 RBA Deck
Installation is simple, you just screw it in and wick it and you're away. The performance of this coil was off the charts — and a great argument for buying in pre-built Clapton coils over making your own.
I love that Smok included this alongside the two pre-built coils as it will encourage users to experiment with building their own coils, once they realize how easy and cost-effective it is.
All you need to do here is wick it — cotton is also included — prime it and start vaping.
Again, there was ZERO leaking in RBA mode and wicking is super simple; just tuck it into the juice well and you're done. No messing around with length or poking it through things.
Excellent stuff across the board.
The Smok TFV8 RBA deck will also support pretty much any coil setup you can think of, so if Clapton's aren't your thing, well, you have plenty of other options available to you. And if you don't like the whole DIY thing, simply buy a pack of pre-built Smok coils. Simples.
Are there any downsides? Not really.
The only thing that I could say about this tank that could be viewed as a negative is the rate at which it gets through E-Juice.
You can demolish 30ml in a couple of days with this thing. In this respect, it kind of reminds of a sports car from the 90's – fun, great looking but awful when it comes to economy.
This isn't a huge deal-breaker for me as we have a pretty constant supply of juice in the office, but if you're vaping on a budget it is certainly something you should consider.
I have never used a tank that burns through E-Juice quite like the SMOK TFV8 does.
Other than this slight downside, I can confidently say the SMOK TFV8 is one of the best tanks I have ever used.
Smok TFV8 Review | Final Thoughts
Beating the Smok TVF4 is no mean feat.
The Smok TVF4 was one of the best all-around tanks on the market, easily up there with the UWELL Crown and Herakles Plus.
The Smok TFV8 is an utterly brilliant tank that is packed with utility; you can run it how you like and experiment with different setups until you find the style you're most comfortable with.
In this respect, the Smok TFV8 is like three tanks in one: two awesome sub-ohm setups and one excellent RBA.
Smok clearly set out to create something that gives users the best of both worlds and I am pleased to report that Smok absolutely NAILED It!
The hype around this tank is fully deserved; it is unlike anything else we have tested before, combining good looks, excellent features, masses of power and plenty of utility thanks to its changeable coil system.
The pre-built SMOK coils, which can be picked up on Amazon, are also fairly decent – way more reliable than the company's newer ones.
They cost a fair bit but they are very, very impressive providing a thoroughly impressive vaping experience across the board.
[letsreview]
---
Drake Equation
Drake is the founder and editor of VapeBeat. He started the blog WAY back in 2015 when, upon quitting smoking, he struggled to find any useful information about vaping online. With a background in journalism and a newfound hobby on his hands, he set about creating VapeBeat – a blog all about making vaping simple to understand for new users.