I've just spent almost three weeks using the SMOK Nord pod system more or less exclusively, and it is a damn impressive vaping device…
---
SMOK Nord Review 2023
First off, the SMOK Nord is now pretty old – it has many successor models, including the much-improved SMOK Nord 2.
Most places no longer sell the OG Nord and, while it is a decent little pod system, it has been replaced by newer and significantly better pod vapes on SMOK's growing Nord series.
As of right now, so 2023, my advice would be to go with the SMOK Nord 4 – it is newer, better, and just an all around superior vaping device.
You can check out my review of the SMOK Nord 4 to find out more.
Or, if you're prefer my rundown on the best SMOK Nord vapes you can buy right now.
And if you're not married to SMOK, there's also our guide to the best pod systems money can buy right now too.
If you want to learn more about the OG SMOK Nord, continue reading as my full, unabridged review is below (back from 2018 when I first tested the SMOK Nord).
Latest SMOK Nord Vapes (2019 – 2023)
Full Review of The SMOK Nord (Design, Features, Performance, Coils)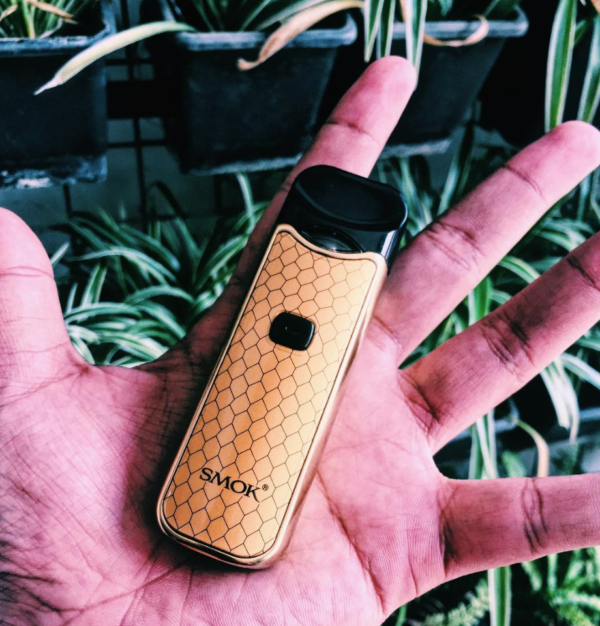 SMOK is no stranger to pod vapes. It has made a bunch during the past few years, and most of them weren't exactly great in my opinion. The SMOK Nord, however, represents a complete turnaround for the company – in more ways than one.
Read on for my full, detailed review of the SMOK Nord…
Design
Any good pod mod system needs to be portable. That's kind of the entire point. The SMOK Nord isn't the smallest pod mod on the planet, but it is perfectly proportioned and sits comfortably in the palm of your hand, making it ideal for stealth vaping.
Exact dimensions are as follows: 94x30x18.8mm and it is powered by a 1100mAh internal battery. The mouthpiece comes off entirely and, unlike most pod mods, it runs actual coils which you slot into the bottom of the mouth-piece.
The SMOK Nord charges via microUSB, and it charges pretty darn quickly too. I like to top mine off when I'm not using it. This way, it's always got plenty of battery for when I'm out of the house.
It's available in resin hues as well as standard color hues. For the latter you have the following options:
Black
Gold
Green
Red
Purple
Silver
The resin models look A LOT better, IMHO. If style is important to you, go with the resin options. If not, you're going to be 100% fine with the standard color models.
Firing the SMOK Nord is simple too: it has a button located on the front, which you can also use to check battery life (two clicks) – green is over 70%, orange is over 50%, and red is below 30%.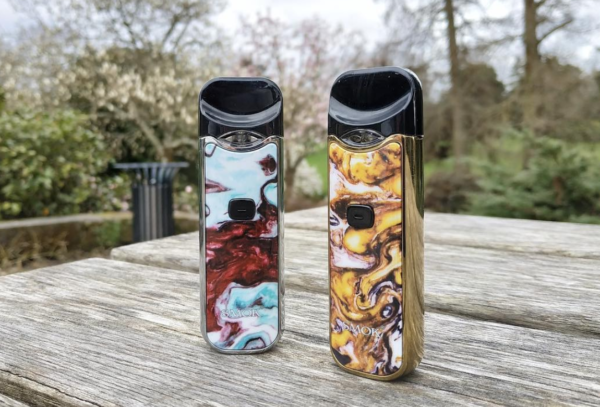 Installing coils in the Nord is simple as well: simply prime them with a couple of drops of E Juice, then slot them in and they lock in place – just make sure the indents on the coil heads are putting out east and west. Once you've done that you're good to start vaping.
Overall, the design of the SMOK Nord is super-simple and very classy. I really, really like it. The vape is simple to set up the first time and it vapes great from the get-go. Honestly, it couldn't be simpler and I love that it runs actual coil heads too.
SMOK Nord Features
The SMOK Nord's main party trick is that it can do both standard MTL vaping and sub-ohm vaping. It comes with two coil heads: 1x 1.4ohm and 1x 0.6ohm. You can also buy ceramic coil heads for it too, though these come separately.
Both coil heads are great, delivering excellent flavor and plenty of clouds. Even the MTL coil head kicks out a TON of vapor. Personally, I prefer the MTL coil heads. Why? Simple: you get better battery life and I like using Nic Salts E Juice in my pod mods.
SMOK Nord Coils
As noted earlier, you get two coils with the SMOK Nord. One for DTL vaping and one for MTL vaping. Both are excellent, delivering excellent flavor and clouds, but I do generally prefer the MTL coil heads as I like extended battery life and using Nic Salts E Juice in my pods.
I don't exactly have a good relationship with SMOK's coils in its sub-ohm tanks (spoiler: I loathe them). But in this instance, SMOK has freakin' nailed the coil heads – they last for an eternity before burning out.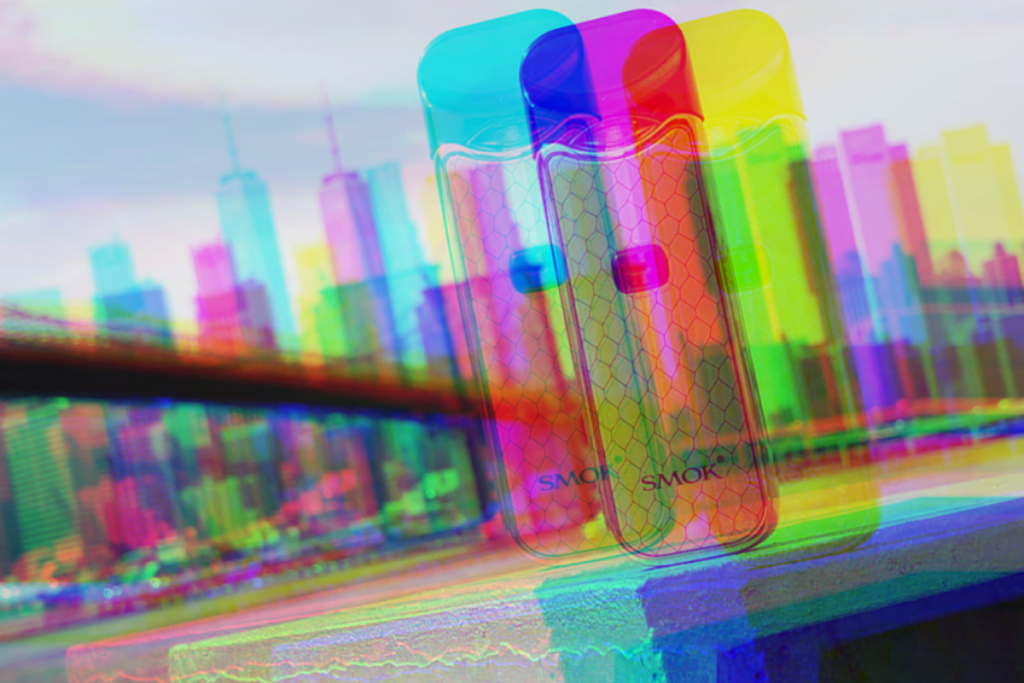 Case in point: the first MTL coil head I installed in the SMOK Nord lasted over two weeks before the flavor started to waiver. The DTL coil head did almost as well too – around 10 days. This is very impressive in both contexts. I have ZERO complaints in this regard.
Flavor with both coil heads is superb. I was actually kind of blown away by just how good the vape is on the SMOK Nord. I mean, I'm a massive RDA user but since owning the SMOK Nord, I haven't touched my normal setup in almost a month!
SMOK Nord Replacement Coils
When it comes time to change your coils, you have a bunch of options with respect to SMOK Nord replacement coils. You can choose from the 0.6ohm Mesh Coil (DTL), the 1.4ohm Coil (MTL), and the 1.4ohm Ceramic Coil (MTL).
My personal favorite would be the 1.4ohm Coil (MTL). In my experience, it produces the best flavor and it has the best draw – I prefer MTL on my pod vapes. And I couldn't ever get the ceramic coil to play ball. For this reason, I more or less run my SMOK Nord on SMOK's 1.4ohm Coil (MTL).
Battery Life
The SMOK Nord runs a 1100mAh internal battery, and this is a very good thing because it means you get very good battery life. We're talking all-day vaping with the MTL coil head and a solid 8/9 hours with the more power-intensive DTL coil heads.
I haven't been let down by the SMOK Nord's battery life once. Even while on holiday, as long as I remember to charge it overnight, the Nord lasted all day with moderate to normal usage.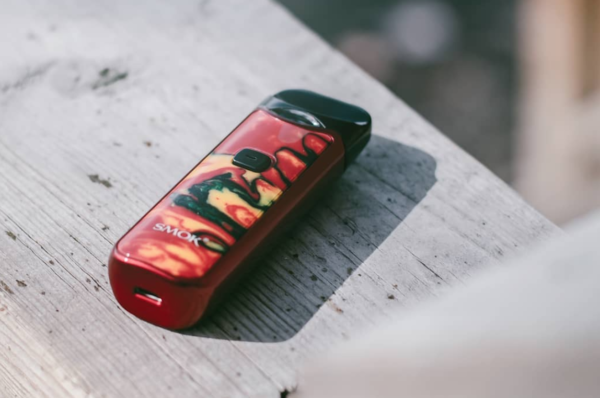 For ultra-optimal performance, you'll want to give the Nord a recharge for an hour or so halfway through the day, or just charge it whenever you're not using it for extended periods of time. Doing this will ensure the battery is always around 80-100% full.
Bottom line? The SMOK Nord's battery life is fantastic for a pod mod. Easily up there in the top 1%, so if battery life is important to you know that you're in very good hands with the Nord.
Overall Performance
Outstanding, basically. I don't recall ever using a pod mod that I have liked quite as much as the SMOK Nord, with the exception of the way-more-expensive Lost Vape Orion DNA pod.
It looks great, it's simple to use, it has a great battery, and it kicks out a ton of flavor (with both coil heads). I own a lot of pod mods, but I don't tend to continue using them after I finish testing. With the Nord, though, I'm still using it as my main vape, day in, day out, and will likely continue to do so for the foreseeable future. It really is that good!
And I'm an RDA user. That's how I like to vape, but the Nord has kept me interested and engaged for weeks now. I simply cannot remember the last time a pod mod system did this…
Should You Buy This Vape?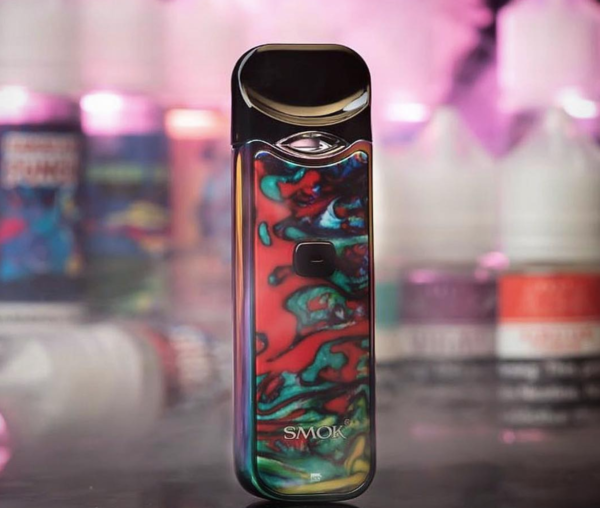 Yes, you should. If you're anything like me, and you tend to give pod mods a wide birth because of battery life issues and vapor quality, know this: the SMOK Nord is nothing like your run-of-the-mill pod systems.
The flavor and vapor quality is immense. The battery life is brilliant, lasting all day long, and the design and finish are near perfect.
I love the look and feel of the pod system itself. It's well built, super-robust, and it is very portable. But it doesn't feel cheap or plasticky either which is a common complaint of many pod systems. I also love that it can run two different styles of coil heads as well.
I have a bunch of pod vapes in my collection. But the SMOK Nord is definitely up there with the best of them. Is it better than the UWELL Caliburn? Hard to say – they're both very different. I do think the MTL draw on the Caliburn is better, but the Caliburn cannot do sub-ohm vaping like the Nord.
Either way, both are excellent pod systems. The SMOK Nord is an excellent addition to the market and one that will no doubt make A LOT of friends in the coming months through its awesome combination of epic design and great performance.
I love this pod mod vape and will be using it for a LONG time to come.
But the best part about the SMOK Nord has to be the price – it retails for just $23.95 (and that includes FREE shipping).
Drake Equation
Co-founder and Editor of VapeBeat. I make the words.