The GeekVape AEGIS Legend Kit does many, many things right. But it is not without its issues…
---
GeekVape AEGIS Legend – Quick Verdict (90%)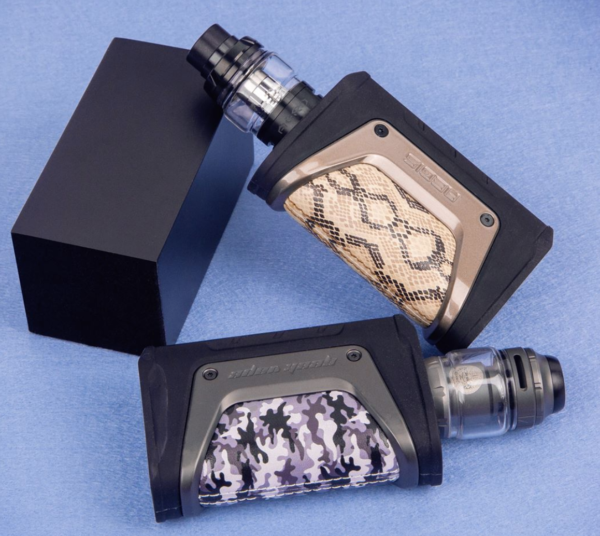 If you're looking for a well-built, solid, reliable vape mod that comes with an exceptional mesh coil vape tank, the GeekVape AEGIS Legend is 100% worth a look. Not only does it look and feel great, but it is plenty powerful too, making it ideal for RDAs and sub ohm tanks.
You have 200W of power to play with, decent temperature control vaping, and a settings menu that is single to work with. The GeekVape AEGIS Legend runs dual-18650 cells, so battery life isn't anything you'll have to worry about. I had a blast testing this mod out and ended up giving it to my brother, who has been using it ever since.
GeekVape makes exceptional vape mods and vape kits, and best of all it does it with value for money in mind. If you want quality at a decent price, with exceptional performance, the GeekVape AEGIS Legend is 100% worth a look…
GeekVape AEGIS Legend Pros: 
Read on for my FULL GeekVape AEGIS Legend Review…
This past month or so has been very GeekVape-oriented. I've used both the GeekVape AEGIS and GeekVape AEGIS Legend more or less exclusively. I've also had a blast testing both, though picking a clear winner out of the two is kind of impossible, as they're so different.
They look similar, but they function slightly differently; the AEGIS is a slightly different shape and rocks those chubby 26650 cells. The GeekVape AEGIS Legend is a more traditional dual-18650 cell mod.
Both are great, though, and today we're going to be taking a closer look at the AEGIS Legend (and the vape tank it comes with). Will it be good enough to make it onto VapeBeat's Best Vape Mod Guide?
Read on to find out…
Let's do this.
Full GeekVape AEGIS Legend Review
Design
Like the AEGIS, the AEGIS Legend mod is water and shock-resistant, meaning it can survive a pretty solid beating and a dip in the bath and/or pool.
Styling-wise, the two mods are also pretty similar; they feature a soft-touch, rubberized chassis, complete with zinc alloy and stainless steel.
The net effect of this is one hell of a robust mod. I also really dig the way it looks, feels in the hand, and the fact that if I drop it – which I do ALL the time – it doesn't shatter or scratch.
The leather accent on the side, which is styled in a variety of different guises, finishes off the look and feel of the mod perfectly.
What I like most about these mods, however, is the attention to detail that is present throughout their industrial design.
Nothing has been left to chance. Every element feels perfectly designed and integrated. Some reviewers find this device too bulky, but I actually don't mind it at all.
If you're used to bigger mods, it's really not that bad to handle.
Plus, I just really like the way it looks too.
From the carbon steel battery door to the leather accent on the side, the level of detail that has gone into this mod's design is mesmerizing.
And this is NOT a $150-$200 mod, either.
Nope: it's practically mid-range with its pricing (around $63).
And you also get a fairly impressive sub ohm tank too, in the form of the GeekVape AERO Mesh (more on that later though).
I don't have any dislikes about this mod, or the way it looks. The only possible niggle is that the LSR Silicone aspect of the chassis is a bit of a pocket-lint magnet.
But other than that, this thing is 100% legit in every physical regard.
GeekVape AEGIS Legend Kit Specs & Features
Rather than ramble on about ALL of this mod's specs and features, I'll just list the key points and then expand on them in the performance section, as some are more important than others.
Specs & Features:
Size: 90.5 x 58 x 30.6mm
MAX power output: 200W
Output mode: VW/VPC/TC/TCR/BYPASS/VPC
Resistance range: 0.05-3.0ohm
Material: Aluminum + Zinc alloy + silicone
Battery: 2x 18650 cells (not included)
Temperature Range: 100-315℃/200-600℉
Level: IP67 waterproof and dust-proof; MIL STD 810G-516.6 military grade shockproof
GeekVape AEGIS Legend Mod Performance
My vaping experience with the AEGIS Legend is now pretty extensive, so I have quite a lot to talk about. But the bottom line is simple: it's a beast.
Performance is excellent. The ramp up time, the consistency, the accuracy – all is very impressive.
This is the kind of vape mod that you use and simply forget about; it just diligently works away in the background without so much of a peep.
The updated AS Chipset provides support for a variety of vaping modes, including TC, Bypass Mode, and TCR.
Temperature Control vaping worked well in my tests, though I seldom use TC when vaping normally.
Bypass Mode, as always, is kinda insane – it's just so bloody powerful. If you're a newbie, I'd stay away from this setting.
It's like turning traction control off in a super-car. Fun in the right hands, but also potentially dangerous.
I ran RTAs, RDAs, and, of course, sub ohm tanks on the AEGIS Legend and they all worked great. The coil recognition is accurate and quick, so you're always up and running in the blink of an eye.
Solid, good-looking, reliable stuff, basically!
GeekVape AERO Mesh Sub Ohm Tank Review
I'm not the biggest fan of sub ohm tanks, if I'm 100% honest.
I prefer RDAs and RTAs. But when I'm testing kits, I'm always intrigued about the vape tank that comes with them.
In this context you have the AERO Mesh tank and, as the name suggests, it runs on the increasingly popular mesh-style of coils.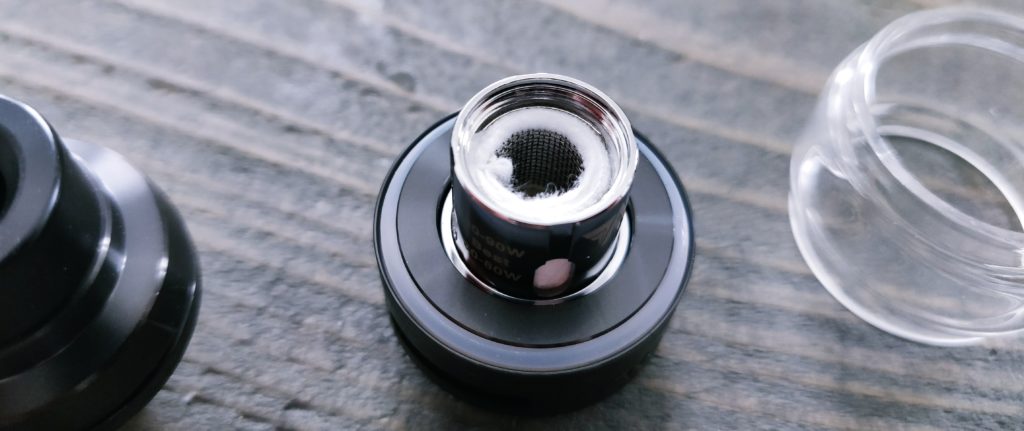 Flavor is decent. Very good, actually. I tested both coils that came with the pack and got a good 7-8 days out of both – not too bad for a sub-ohm coil.
It's no Falcon or FireLuke Mesh, but for a kit-tank, it's pretty damn good. I've had no real issues with it during my time, the flavor's decent, and the coils last a good long while.
And you can't really ask for much more from a kit-tank, in my opinion.
GeekVape AEGIS Legend Kit Battery Life
Battery life is OK, but only just. For some reason, this mod does seem to drain power faster than my Augvape V200.
I'm not sure why this is the case, it might be the display or poor power management. Either way, it's decent enough to get you through a day's worth of vaping.
But overall performance is pretty wonky. Fingers crossed GeekVape can fix this with a firmware update.
Based on my usage of other mods, I'd say the AEGIS Legend is about 20-30% off the mark with battery performance.
Other than that, the AEGIS Legend is a solid, all-round vape kit well worth the asking price, although I'd opt for the newer LS200 version.
Drake Equation
Co-founder and Editor of VapeBeat. I make the words.