DEAD Rabbit RDA Review: Is This The Perfect RDA?
By Drake Equation • Updated: 12/11/18 • 12 min read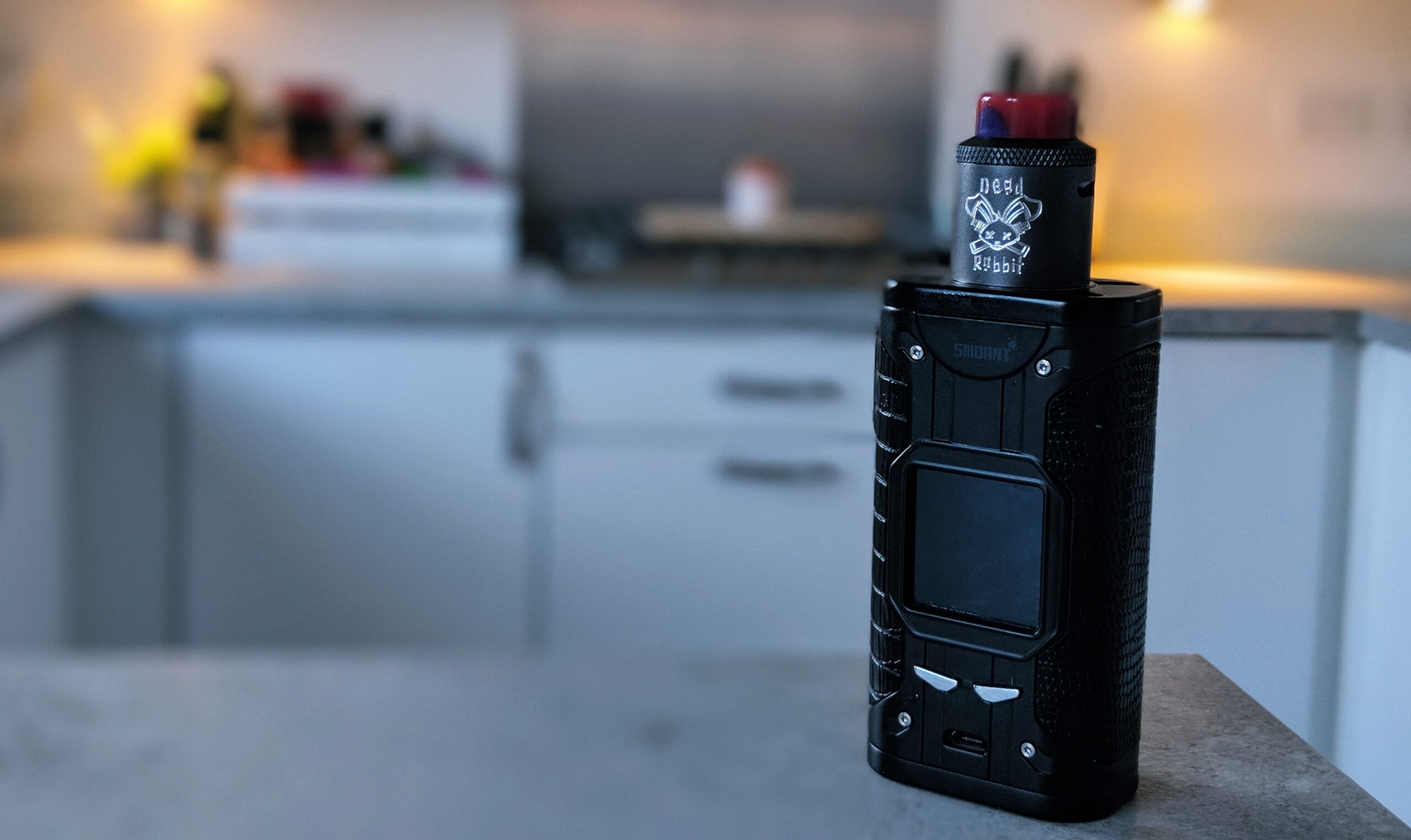 The DEAD Rabbit RDA is one of the most-hyped RDAs of the last 12 months. But is it any good? Drake snagged the DEAD Rabbit in gunmetal to find out!
---
Once you get into RDAs, things spiral out of control pretty fast.
I spend A LOT of money every month on RDAs, chasing more flavor, bigger clouds, and better performance.
And my latest purchase – the Dead Rabbit RDA – aims to do all three of these things and more.
The hype around this RDA has been HUGE, so I couldn't wait to get my hands on one.
But is the hype justified? Is this one of the best RDA tanks you can buy right now? Look anywhere online and you'll see people raving about this RDA. But are the claims legit?
Next to the DEAD Rabbit RDA, another RDA that is getting a lot of attention at the moment is the Vandy Vape Pulse 24 RDA.
I've put together some sorts on these two RDAs in my Dead Rabbit RDA vs Pulse 24 RDA piece, where I look at the pros and cons of both, as well as what other reviewers have said about both RDAs.
Bottomline? Both are very decent options.
And both made it into our Best RDA Tanks Guide – and that's no mean feat!
Though, me personally, I reckon the Dead Rabbit RDA is going to take some beating.
The DEAD Rabbit RDA was designed, from the ground up, by Heathen Vapes, a popular YouTuber, and built and manufactured by HellVape.
Normally, this type of cross-brand thing is a bit, umm… odd. But Heathen Vapes appears to have hit the nail very much on the head.
Let's get stuck into this review.
DEAD Rabbit RDA Review: Inside The Box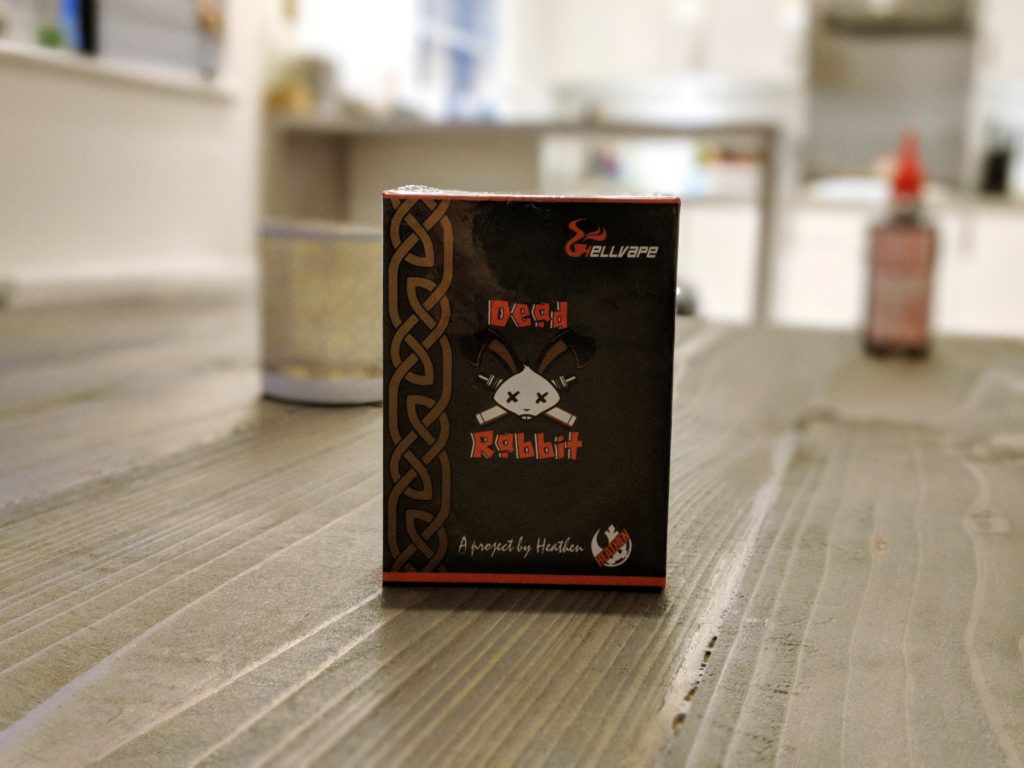 Pin
The packaging itself is pretty understated, as you can see below, but the contents of the box is decent enough. HellVapes has included plenty of spares, noted below, as well as a couple of additional drip tips and a screwdriver.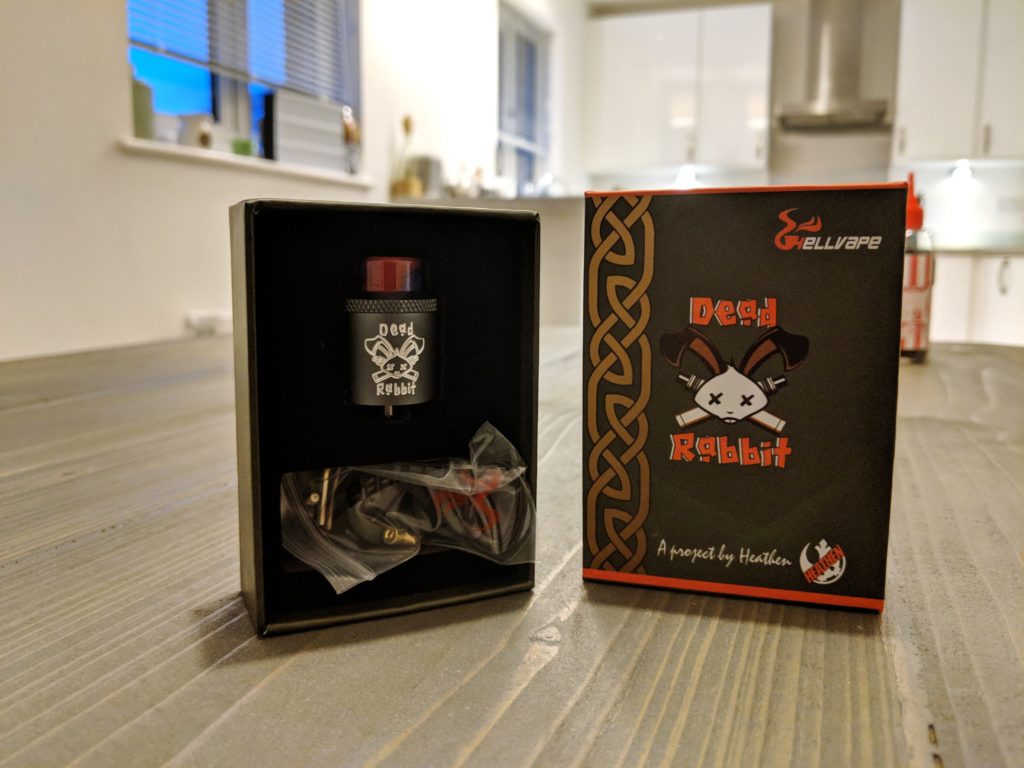 Pin
HellVape Dead Rabbit 24mm RDA
10mm Wide Bore 810 Resin Drip Tip
10mm Wide Bore 810 Delrin Drip Tip
510 Drip Tip Adapter
Gold Plated Bottom Feed Pin
Allen Key
The DEAD Rabbit RDA kit also includes a squonk pin for the tank for all you squonkers out there. Installing it is a cinch, simply pop the standard one out and slot the squonk pin in – it takes less than 10 seconds.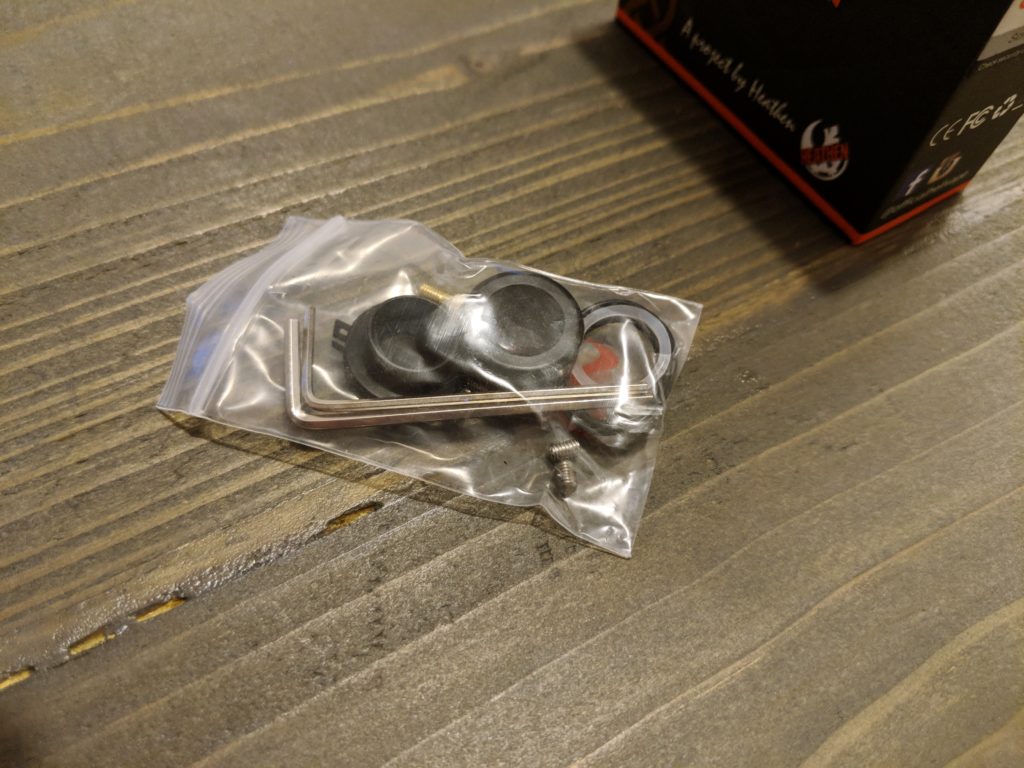 Pin
HellVapes does not include any coils and/or cotton.
Not that this bothers me one iota, as the stuff included in boxes is usually – in my experience – sub-par and not worth using anyhow.
Plus, if you're buying this, you're buying an RDA, so I'd assume you're stocked up with all the relevant stuff prior to receiving it.
DEAD Rabbit RDA Design

Pin
The DEAD Rabbit RDA comes in a range of color options: gold, black, stainless steel, red, blue, gunmetal, and rainbow. My review unit, which I bought myself FYI, is the gunmetal version and it looks positively stunning.
I am a HUGE fan of gunmetal; I like it on cars, phones, and my RDAs. I do quite like the red option too, however, though I would almost always go with a gunmetal or black option, as it suits my collection of mods better.

Pin
The design of the DEAD Rabbit RDA itself is rather eye-catching; you have the big Dead Rabbit logo on the side of the RDA's chamber and it really pops on the gun metal version.
If you want something less eye-catching, I'd go with the black version, as the logo is barely visible on that model.
The DEAD Rabbit RDA is a 24mm tank and it sits well on nearly all of my mods.
I'm testing it out on the SMOANT Cylon at the moment, as you've probably seen if you follow VapeBeat in Instagram, and the two fit together really well.
Exact measurements for the DEAD Rabbit RDA are as follows: 24 x 38 mm (and that includes the resin drip tip).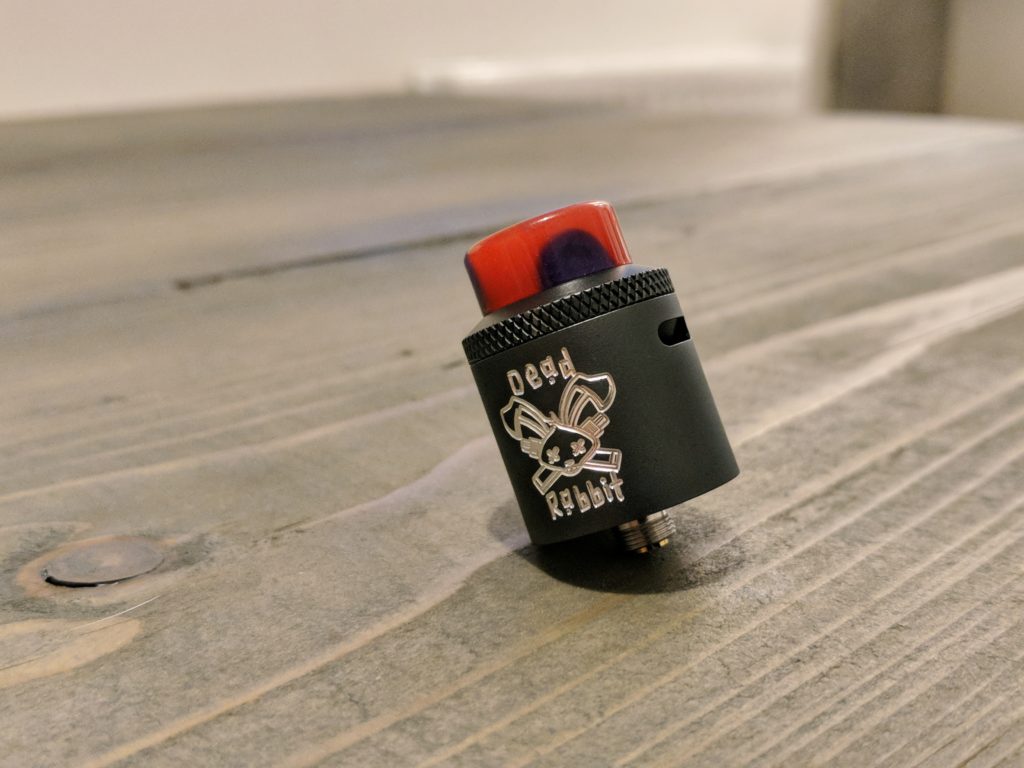 Pin
The machining is top notch. I've had a detailed look at all the components and parts that make up the DEAD Rabbit RDA and nothing is amiss – everything slots and slides into place in a buttery smooth manner.
I also love the way the knurled top cap clicks into place when you pop it back on after refilling with E Juice; it's like a VW Golf door, in that it makes a satisfying, tactile clicking sound.
Not a big deal, but I thought it was worthy of mention nonetheless.
I'm a really big fan of the way this tank looks. I also like the name and branding too, which is pulled from Gangs of New York.
It looks like it costs A LOT more than it does and everything about it feels exceedingly premium and well thought out.
Dead Rabbit RDA Specs:
24mm Diameter
Top Terminal Four Post Build Deck
Single Terminal Per Post
Single or Dual Coil Options
2.5mm Terminals Per Post
Side Mounted Hex Screws or Side Mounted Flathead Screws
Gold Plated Positive Posts
5mm Deep Juice Well
Double O-Ring Secured
PEEK Insulator
Top Side Diagonal Adjustable Airflow
10mm by 2.5mm Each Airslot
Single or Dual Coil Options
Focus on Flavor
Minimizes Leaking
Fully Closeable
Knurled Grip To Adjust Airflow With Ease
10mm Wide Bore 810 Resin Drip Tip
10mm Wide Bore 810 Delrin Drip Tip Included
510 Drip Tip Adapter Included
Gold Plated 510 Connection
Gold Plated Bottom Feed Pin
304 Stainless Steel Construction
DEAD Rabbit RDA Airflow
The composition of the deck (more on this in a bit) and the tank itself mean the coils are pretty high up towards the business end of the tank.
The airflow slots occupy two sides and feature a rather unique, slanted airflow system which helps cool the coils in a more efficient manner, as well as reduce spit back, as the air is forced in at an angle, rather than just being sucked in from the sides.

Pin
This gives the DEAD Rabbit RDA a pretty unique draw; it feels tighter than a lot of RDAs, even when wide open, but I actually don't mind it at all.
In fact, I'd probably go as far as saying that it has one of the best draws of any RDA I've used in the past 12 months.
It just has something about it that is hard to describe in words; it's not "tight" but there is an element of resistance at play that makes vaping on the Dead Rabbit very satisfying.
DEAD Rabbit RDA Deck
The DEAD Rabbit RDA uses a four post build deck and, as you've probably heard, it has been integrated in a pretty unique manner.
The posts are set in the middle and you have plenty of room for your builds and/or coils.
This RDA will fit anything. There is also some under hang as well, beneath the posts, so you can snip off any excess wire.

Pin
However – the way you're meant to install a coil is to do all your wire-cutting before you screw it in.
I was a bit unsure about this at first, but after doing it right the first time I tried, I was instantly converted.
Basically, you do the following: take your coil, snip the wire to the desire length, screw it in, and, repeat on the other side. Boom! You're done.
I eyeballed the length of my wire before snipping it and, while it was an approximation, I got it more or less right, and there was no excess wire sticking out the bottom.
If you overestimate and there is some wire sticking out the bottom, you can simply snip it off, as there is room beneath, thanks to the overhang of the posts.
Even for those brand new to RDAs, the DEAD Rabbit is super simple to work with.

Pin
Once you have your coils installed, you will notice that it is quite a drop down to the juice wells at the bottom – a good 10-12mm.
This means you will need to use a slightly longer than usual wicking method. Do this, make sure it's nice and fluffed up, prime it, and assemble the tank and you're done.
The upshot of the DEAD Rabbit RDA's design, with the airflow nice and high, is that you can LOAD it up with E Juice.
And I really do mean LOAD IT UP. This means less dripping time and more vaping.
Of course, if you go too full you will get spit back and leakage, so don't go overboard. I managed to get about 4ml in there without any issues, though I do think this was pretty close to the maximum load.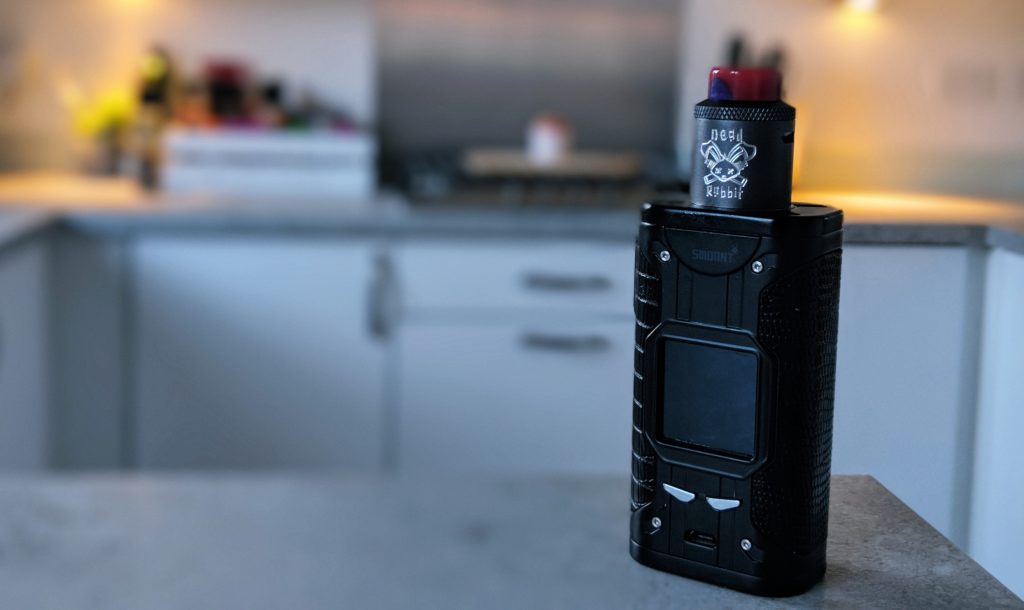 Pin
DEAD Rabbit RDA – How Does It Vape?
The coils, as I mentioned earlier, are set pretty high and this seems to make the flavor very intense and accurate.
Combine this with the DEAD Rabbit RDA's unique draw and you have yourself a very pleasant vaping experience. It also kicks out enormous clouds, making it an ideal choice for both flavor and cloud-chasers.
I was using my old Lush Plus RDA prior to testing the DEAD Rabbit RDA and that tank has excellent flavour, but the DEAD Rabbit RDA is better.
It also has nicer airflow, as well as the ability to customise it further if you so wish. I had high expectations before testing this RDA, but the reality of it is even better than I imagined.
I used a simple dual-clapton coil setup (0.20ohms), or thereabouts, and ran the DEAD Rabbit RDA at 80W and slowly built up to 130W using the SMOANT Cylon.
It ran beautifully, vaping nicely even at lower wattages, and the best thing of all is that even at higher wattages the chassis of the RDA seldom gets too hot.
In fact, it barely even gets warm, even when you're up around 130-150W.
And while this might not sound like a big deal, it is ALWAYS something I look for in an RDA; I'm so sick of burning my lips or fingers on tanks.
With the DEAD Rabbit RDA, however, it's like it has an internal cooling system or something.
Dual or Single? The Choice is Yours
You can run the DEAD Rabbit RDA in single coil mode too and, with the right airflow, more or less simulate a mouth-to-lung (MTL) style vape. It's not 100% MTL, but it's pretty close and nice for a change of pace.
Basically, the DEAD Rabbit RDA vapes like a champ. If you've read reviews before this one, it's all true – this RDA kicks a serious amount of ass.
It is now easily my favourite RDA in my rotation, besting everything from the Lush Plus RDA to even the Goon RDA – and that's a big statement, I know!
Dead Rabbit RDA Squonk Performance
How does the Dead Rabbit RDA squonk compared to, say, the Pulse 24 RDA? Plenty of reviewers have been waxing lyrical about the Dead Rabbit RDA's squonking ability, so I was keen to find out for myself just how well it squonked.
In my opinion, it is an exceptional squonk RDA.
Fitting the squonk pin is super simple and, once you've done it, the actual squonking performance is brilliant.
Juice is dispersed from below through the peek insulator block, where it's channelled out of both sides, which ensures an even soak for the wick.
AND because the juice well on the Dead Rabbit RDA is so deep, overfilling is next to impossible.
I like to run the Dead Rabbit RDA with as little E Juice as possible, though; with the right wicking, you can still get 30+ puffs (and no spit back, which is what happens if you overfill).
To date, I have had ZERO accidents with the Dead Rabbit RDA.
No leaks either.
Like NONE.
And for an RDA, this is rare. I always ensure it is the right way up, though, and this helps.
But even when it's fallen on its side, leaks have been non-existent anyway, proving just what a solid, reliable, AWESOME RDA this thing really is.
DEAD Rabbit RDA – Final Verdict
A lot of reviewers have been called the DEAD Rabbit RDA the perfect RDA. And while this is a rather bold statement, I am kind of inclined to agree with them.
The price is excellent, the design is superb, it vapes brilliantly, runs cool at high temps, and it kicks out some of the best flavour I have ever had from an RDA.
If you're thinking about picking up the DEAD Rabbit RDA, but you've been on the fence up to now, stop what you're doing, take out your credit card, and buy the DEAD Rabbit RDA right now.
You will 100% not regret it – it is a flavor and cloud chasers dream!
And it can also hold a monumental amount of E Juice.
I'm sold. Big time. Hats off to Hell Vape and Heathen Vapes, this one's a classic RDA in the making. I Picked Up My DEAD Rabbit RDA via DirectVapor (WITH FREE SHIPPING) For $35.95.
[letsreview]
Drake Equation
Co-founder and Editor of VapeBeat. I make the words.