It's hard to believe that Smok has been around for a whole decade now, but it has! Smok Really became popular about 5 years ago with their affordable kits for beginners. Smok is celebrating it's 10 years with a brand new hybrid pod system. Today we take a look at the Smok XPOZZ.
---
The New Smok XPOZZ
If you have been vaping for any amount of time, no doubt you have run into at least a few of Smok's products. Over the years Smok has gained a reputation as the "entry level" side of vape gear. Some people swear by their Smok devices while others may have had a problem with the spotty quality control a few years back.
Love it or hate it, Smok is here to stay. While Smok still makes plenty of dual battery mods and large TFV series subohm tanks, they have been catering to a new market over the past 2 years. These new products really started with the NOVO and the NORD. The focus was making small, affordable kits for beginners.
With the new XPOZZ it seems like they threw all of their designs together from the NORD and NOVO and added a screen and interface that is directly from the RPM Series. Personally, I have been a big fan of most RPM series products. But wat makes the XPOZZ special?
Smok XPOZZ Features and Design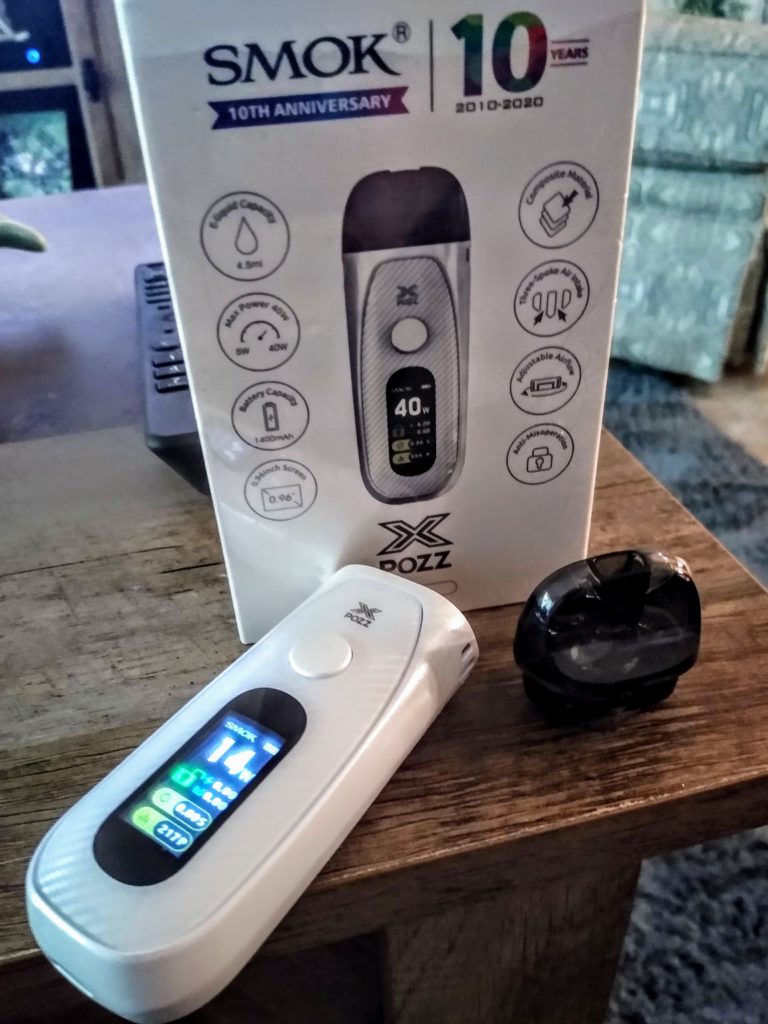 Upon first looks, the XPOZZ could easily be the newest NORD design. They are similar in shape and size, as well as the pod that holds the juice. There are quite a few differences though, and the XPOZZ looks to be a step up from the former products.
1400 mah battery life
40 watts of power
Adjustable airflow
Holds 4.5 ml of juice
Full color screen
Compatible with all RPM Series coils
9 color choices
Hard PMMA plastic coating
Zinc alloy body
Translucent Pod design
Micro USB Charging
Comes with 2 coils
The XPOZZ comes with everything you need to get started out of the box. It comes with two different coils for different styles of vaping. One coil is the 0.4 ohm mesh coil for regular e-juice and the other is the popular MTL 0.8 ohm coil. These are the same coils that come with any of the RPM series of starter kits and allows you to try out both styles of vaping.
The pod is very reminiscent of the NORD pod, with a "duck bill" style mouth piece. While the pod is tinted black, you can still definitely see how much juice you have left. The bottom of the pod has a new adjustable airflow feature that allows you to control just how much airflow comes in from the bigger side ports.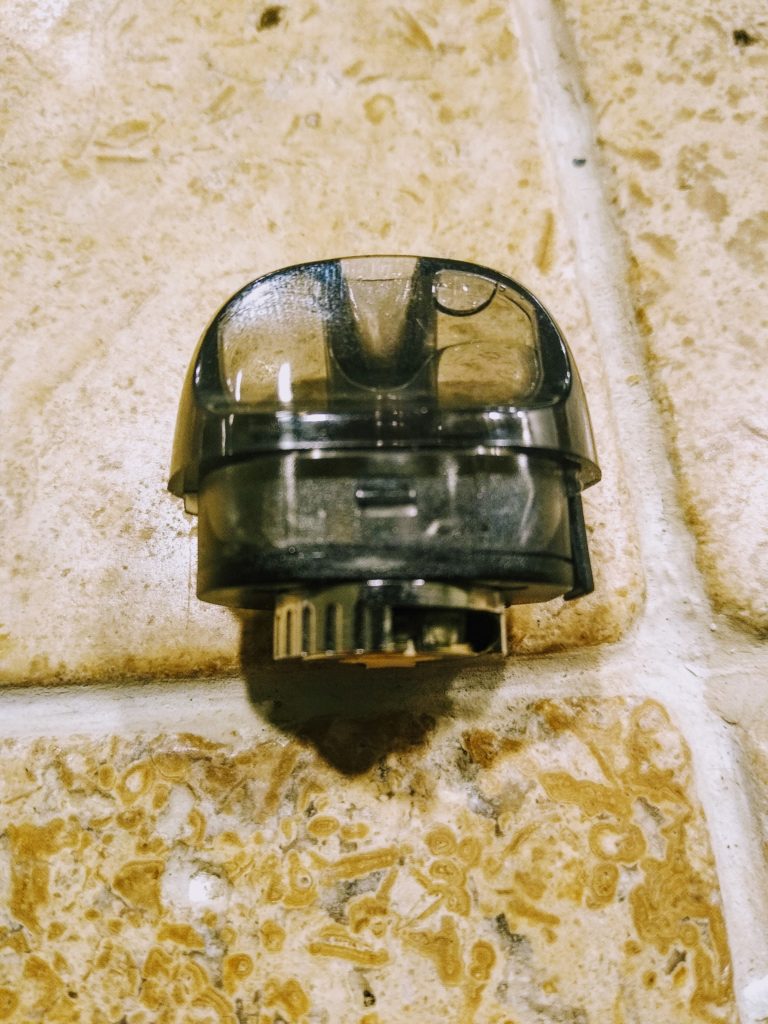 The body of the mod is made from a heavy Zinc Alloy metal and the face plate is a three-layer hard plastic. This doesn't make it water-proof or IP67 rated but it does feel very durable. Should you drop the device, you wouldn't have to worry about glass breaking or cracking.
The screen is colorful and displays your wattage, ohm load, hit count and locking status. It operates with a single button, much like the NORD 2, one button controls your wattage scrolling and locking features. Usually I am not a fan of this design but it is very easy to "set it and forget it" if you use the same coil all the time.
Smk XPOZZ: Testing And Performance
I have been using the Smok XPOZZ for about two weeks now. I am very familiar with the RPM series as I have been using them for almost a year now. I have had quite a good time with most of these devices and often use them when I am "on the go".
First, this thing is HEAVY. Between the metal frame of the device and the multi layer construction of the face plate, this is one hefty little device. But it is not bad when you put it in your pocket or anything. It is a little larger than the original NORD devices.
Setting the wattage is easy and is the same as the NORD 2 with the one button operation. The screen on mine is bright and shows all the info you need including a hit counter. I do seem to have a problem with my screen being hazy/blurry, like moisture has somehow got inside between the multiple layers. This doesn't effect the way the device works, and looks worse in pictures, but just something to note.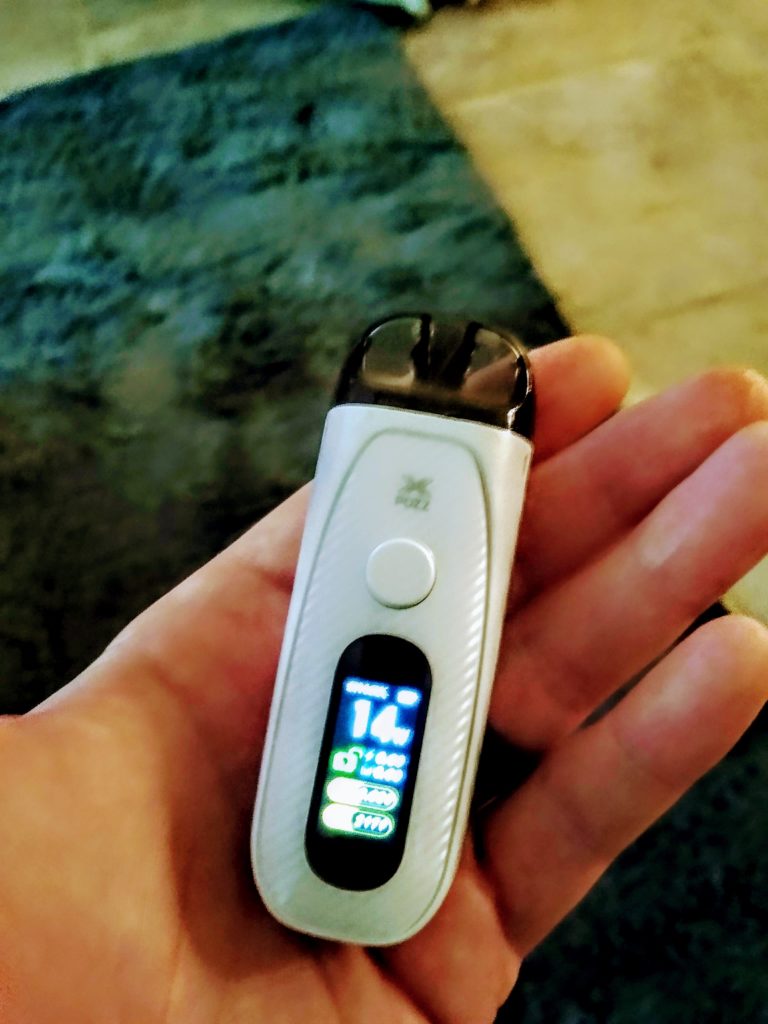 Battery life is going to depend on which coil you use and what wattage you set. I used the MTL coil for testing with salt nic and I set the wattage at 14 watts. This gives me easily a day and a half of vaping with a full charge. The device charges quickly as well. From 10% battery to full, it only took 45 minutes.
The adjustable airflow is by far my favorite feature. The problem with most of the RPM series is that there is no way to change the airflow beyond using different coils. The bottom airflow adjuster really allows you to dial in just how much air flow you're getting. This feature works great with the MTL coil. Much better than the regular RPM devices.
The Verdict
The XPOZZ is a great new addition to the RPM family. To be honest, it doesn't really add anything ground-breaking or new as far as features go. It isn't a "game changer" or anything revolutionary. What i can definitely see the XPOZZ being is the next step if you are already familiar with the more simple devices like the NORD 2. Look at it as an upgrade.
On the other hand, this would also be a great device for someone who is just getting started with vaping. The kit comes with everything you really need to get started and gives you different options with the two coils that it comes with. It works well with salt-nic and freebase juice like most other RPM devices and acts as a "jack of all trades".
So if youre familiar with the RPM series and enjoy using the coils then the XPOZZ is a great addition to your collection. Likewise, it makes a great first device as well.
Congrats to Smok on 10 years! Since they recently submitted a PMTA, hopefully we will continue to see more in the years to come!
Order Your Smok XPOZZ from Direct Vapor and Get Free Shipping Today!
Christopher Horton