The FDA's draconian PMTA laws are set to take effect on September 9th 2020. Before this past week, The United States was looking at a doomsday scenario when it came to all vaping products. Luckily, some companies are offering reassurance and vowing to gain legal status in The States.
---
PMTA: Some Good News
The PMTA deadline has been a huge curse lingering over everyone in The United States. The regulations involved in the PMTA process would essentially leave vaping dead in the water, not allowing any products to be sold. This includes everything whether it is a device, accessory or e-liquid. Everything must be approved down to the coils in your tank, or the screws of your RDA.
Thankfully, this week several parent company executives have insured us that they will be applying for their licence to sell vape products in The States. We are coming down to the wire considering the deadline is in September and was originally scheduled for May 11th 2020. There is however, a sort of loophole for these companies. If these companies apply now, they have a 1 year grace period where they can continue to sell their products while the FDA reviews their PMTA application. Let's see who is involved:
Juul Labs
So, I understand this is going to be a point of contention for a lot of folks. Yes, Juul is partly owned by big tobacco. Juul has also been partially blamed for the issue of "teen vaping". Believe me, I understand the frustration with Juul. I share it with you, wholeheartedly. As a long-time hobbyist vaper it is hard to get onboard with what Juul has to offer.
But when it comes to the path of legality, Juul has done their homework. The company has done extensive testing in the design of their device and more importantly, submitted evidence of harm reduction in the use of e-cigarettes. The process is documented on their own website and they released this statement yesterday:
"Juul Labs has committed all necessary resources to deliver the best possible PMTA based on rigorous scientific research and data-driven measures to address underage use," said Joe Murillo, Chief Regulatory Officer at Juul Labs. "We respect the PMTA process and believe it is the right forum to determine the role ENDS products can play in transitioning and completely switching adult smokers from combustible cigarettes to potentially less harmful alternative products while combating underage use."
So while I agree that Juul has been a constant thorn in our collective side with marketing to youth, banning flavors, and becoming a part of the youth zeitgeist…I also have to accept this is a great offering on the part of our "enemy". Juul has been off the radar with teens that vape for a while now, since the introduction of disposable vapes and Juul's decision to remove flavored cartridges.
We certainly can't forget the people that exclusively use Juul products and have quit smoking. These people are vapers just like you and I. Juul is probably the most expensive way to vape but it's also the easiest and can be purchased at any gas station. If our goal is to end smoking, then Juul has a place in that campaign.
Smoore/ Vaporesso
This came as a shock to me as I did not anticipate any of China's main companies to get involved with the PMTA. Vaporesso was created in 2015 by parent company SMOORE (founded in 2006, listed on the Hong Kong Stock Exchange). Through inheriting over 13 years of industry experience, SMOORE owns 1000+ patents, and the number is growing daily. They released a video, and a written statement yesterday.
"With a dream to lead the vaping market with creative, innovative breakthroughs, we are fully committed to the current PMTA process and are confident in the content and quality of the materials we submitted with our application by Sep 2020."
The research and development department at Vaporesso has compiled files ready to submit to the FDA. This includes all of their products recently released and all GT coils, accessories, and pods. Becoming the "first vaping IPO" worth billions of USD.
Joyetech/Wismec/Eleaf
Joyetech is the parent company of popular companies like Wismec and Eleaf. Most vapers have owned one of the many products Joyetech designed as they have been around now for almost 9 years. For the past year or so, Joyetech has been designing products that comply with UL8139 guidelines.
"With certification, UL identifies known lithium battery failures and design flaws. Manufacturers can rectify design flaws to prevent serious injury from lithium battery explosion and fires. Consumers in any market can look for the recognizable UL mark to verify that the e-cigarette complies with UL's stringent safety standards requirements."
UL 8139 testing procedures include:
Battery management system evaluation for normal use and foreseeable misuse
Mechanical stress testing
Accidental activation
Compatibility with interconnected systems
Environmental resilience
Joyetech has shown on their website the new regulations for their product compliance. While the have not released a statement regarding if they have submitted a PMTA, the website statements suggest that they will comply with the FDA's guidelines. The products that are listed on the website are the popular Ego AIO, and the EXceed line of pod systems.
So it seems that Joyetech has good intentions. But intentions are not the path to legality, so I hope we hear more from Joyetech on the PMTA submissions in the coming weeks.
Savage Enterprises
This popular juice company, founded in 2013, started working back in January to reach their goal of PMTA approval. Their aggressive strategy included reaching out for help and contracted the compliance firm, Vape Rescue alongside North Guide Solutions to meet the upcoming PMTA deadline.
"We have spent countless hours digging through the guidance set forth by the FDA and pouring through the studies from around the world. We are ready to tackle this head-on and fight for what we believe in."
There have been no recent updates on the process but considering they have law firms backing them, this is a very good sign. They have also reached out directly to the FDA.
"Savage Headquarters in Irvine Ca, will also host top officials from the Food and Drug Administration and Center for Tobacco Products. A team of regulatory policy writers, chemists and scientists will meet with the company on February 27th to learn exactly how a medium-sized manufacturer conducts business. This meeting will give both sides the opportunity to work together and help shape policy to further reduce the #1 preventable cause of death in the United States."
I hope we hear more from Savage as the deadline grows closer. This is by far the best attempt I have seen from an e-juice company. savage also sells CBD products that will also be subject to their own FDA guidelines soon.
---
Where Is Everyone Else?
With Vaporesso's grandiose announcement, I expect some of the other big names to follow suit. So far, there has been no word from probably the biggest player in the industry: Smok/Wotofo. This is concerning since we all know Smok, for better or worse.
There's a possibility that since Smok/Wotofo have so many different products, they may just be lagging behind with the resource and development departments. I mean, we are talking about a company that releases up to 3 different products a month. The PMTA process would need a separate filing for each and every one of those products.
Regarding this problem, I believe we will see a limited amount of products from other companies that incorporate the same parts and coils. This will streamline the process if they cherry-pick the best selling devices, and leave out the ones that are obvious re-skins of other devices. At least, this is what I conjure in my mind as good business practice. This is especially true for Smok, who have 30+ coils that they manufacture.
I have reached out to a few American companies (I won't name any names) that make hardware but I have yet to hear any response. This is concerning because I would imagine these companies and shops would be the first to try and get PMTA approval. Hopefully they have a good plan in place to continue making their products legally.
Many companies will not make it out of this. And while I am sure you will still be able to order directly from China, this could easily land you with a fine for importing illegal goods. China assumes no responsibility for shipping goods.
The review process is long and can take up to 3 years to fully complete. This is daunting to say the least for most companies so I can understand the hesitation. There is also a big risk that your application can be denied at any step in the process.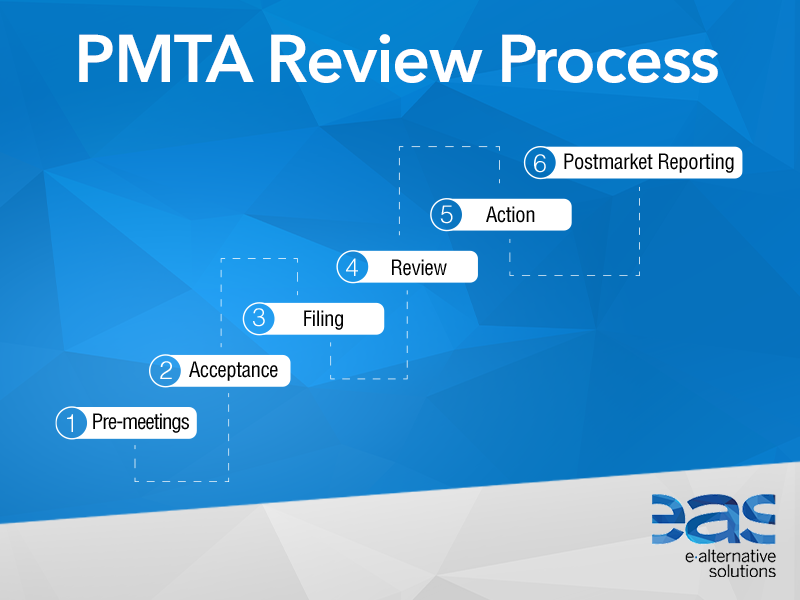 The Future
While all of this is definitely good news…I need to hear a lot more of it. Mainly from juice manufacturers. I fully expected a company like Naked/US Vape Labs to be the first to submit a PMTA. I reached out to them about the subject and have yet to receive an email response. If anyone can get approved I would think it would be them. Naked has been a staple of the vaping world for years and are still very popular today.
Having vape hardware approved, without the juice, is like a car without gasoline. I understand that hardware is probably easier to get approved since it is essentially just an electrical appliance. Juice companies need a separate approval for each flavor and nicotine strength. That can not only be a ton of paperwork but also mean a ton of money for companies that simply do not have the resources.
What does all of this mean for you as a vaper in the near future? I assume that vaping is going to see a massive amount of inflation after companies submit a PMTA. Either that, or I believe we will see just a few companies create almost a monopoly.
The future remains uncertain, but their is a glimmer of hope for The United States. Personally I am prepared for the worst, yet hoping for the best.