Does The Perfect RTA Exist? Yes… (And, NO… It Isn't A Kayfun!)
By Drake Equation • Updated: 10/30/18 • 5 min read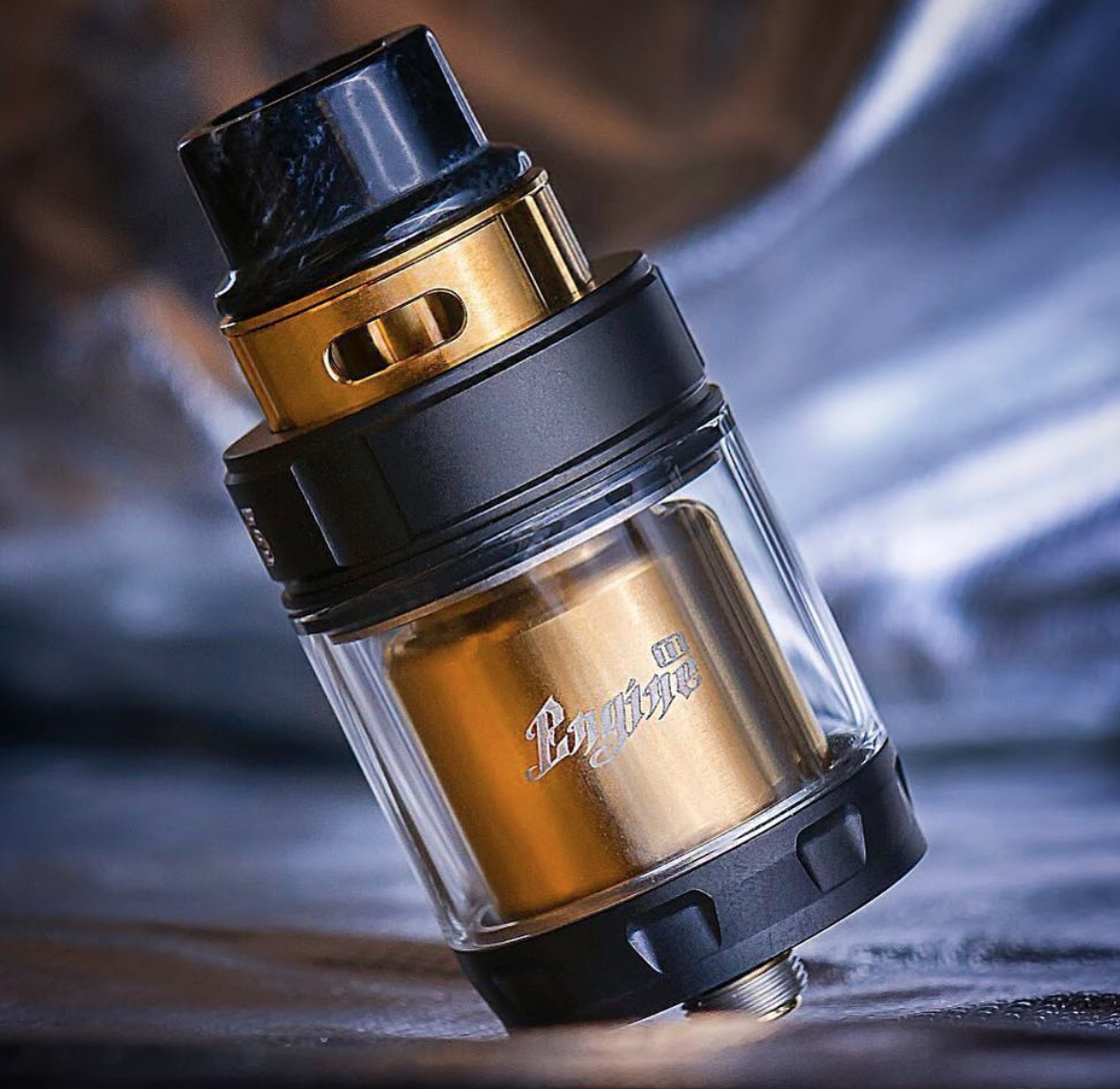 RTA tanks can be fiddly beasts, so getting one right takes A LOT of work, engineering know-how, and plenty of experience. You can't blag it, basically. You NEED to know what you're doing.
That is why the good RTAs, the ones that we recommend in our Best RTA Guide, are very few and far between. Even today.
But what if there was an RTA that was easy to wick, easy to build on, never leaked, and produced brilliant flavor? Would that be the perfect RTA? It'd be damn close…
The Perfect RTA
I've tested a TON of RTA tanks during the past 12 months; most were OK, some were utter rubbish, and a few were very good.
But there was one RTA that stood out ahead of ALL the other RTAs, whichever way I sliced it.
And that RTA is the OBS Engine 2.
Why The OBS Engine 2 Is Damn Near Perfect
It just works, basically. There is zero fuss with this tank. It doesn't leak, as the airflow is at the top and it is a breeze to wick.
The deck is kinda unusual, in that, you have to basically install the coils upside down, but once you've done that the install is fairly simple.
The flavor is where it's at though; it's HUGE and precise and you can pull out 100% of your E Juice's notes.
I like the Augvape INTAKE RTA for many of the same reasons listed above. It looks good, it vapes well, and it is 100% leak-proof.
But the OBS Engine 2 wipes the floor with it in the flavor department.
Like, totally, 100% wipes the floor with it.
---
OBS Engine 2 vs Augvape Intake RTA
The INTAKE RTA is easier to build on, I'll give Augvape that. But for flavor and airflow, the OBS Engine 2 is easily 2018's #1 RTA right now.
Especially if you're after a dual-coil RTA that can handle high-power vaping. If that sounds like you, the OBS Engine 2 is legit what you've been waiting for.
I honestly haven't used a better RTA in all my time vaping. And that's a LONG time filled with A LOT of tanks.
What OBS has achieved here is exceptional, so hats off to those guys for well and truly nailing the dual-coil RTA.
OBS Engine 2: Things I Like (And Some Things I Don't)
The thing I like most about the OBS Engine 2 is that it works; it doesn't screw up when you least expect it; it never leaks; it always gives brilliant, precise flavor; and it wicks consistently every time.
These are all massive USPs for an RTA, in my book. And there are too few RTAs around right now that actually get this right.
I love the INTAKE RTA, for instance, but I find its airflow a little too restrictive and this, in turn, affects the flavor.
It's still good, but it's only when you use an RTA like the OBS Engine 2 that you realize just how bigger difference things like coil positioning and airflow make to things like flavor performance.
For me, though, the big wins for the OBS Engine 2 are as follows:
⚡Flavor – It's Legit Off The Charts
⚡The Deck – Yeah, It's Weird But It's Easy Enough To Use
⚡Side-Fill Port – You Refill It Via An Access Port Below The Top Cap
⚡Top-Mounted Airflow – This Ensures NO Leaks
And then there's the price: it's less than $30 – and that is fantastic value for money, especially when you consider how much some RTAs retail for (hello, Vandy Vape Kylin Mini).
Things I Don't Like?
Pretty few and far between, really. But if I was having a nitpick, I'd highlight the following things:
⚡Side-Fill Port Isn't Great – Weird E Juice Bottles (Like M-Turk's) Don't Fit Well
⚡The Design Won't Please Everyone
And that's literally it; it took me ages to find even one fault with this RTA, and both definitely aren't deal breakers in any way, shape or form.
Bottomline? Perfect Don't Exist But This One's Damn Close
Obviously, perfection is unobtainable. That's kind of how it works. All we can do is aspire towards something near to it.
If you can do that and succeed, you're winning.
And this is exactly what OBS have done here. It's taken an already great tank, the original OBS Engine, ironed out the kinks, and made it truly spectacular.
The flavor, the deck, the vapor production… Oh my, it's all so good.
So while perfection does not exist, I think it is fairly safe to say that the OBS Engine 2 is just about as close as we'll get in 2018 when it comes to RTA tanks.
This is why it is currently ranked #1 on VapeBeat's Best RTA 2018 Guide.
And I reckon it'll be stuck up there for a good long while to come as well…
---
Drake Equation
Co-founder and Editor of VapeBeat. I make the words.