Taifun GTR RTA Preview: Variable Airflow AND Liquid Control!?
By Drake Equation • Updated: 04/20/23 • 5 min read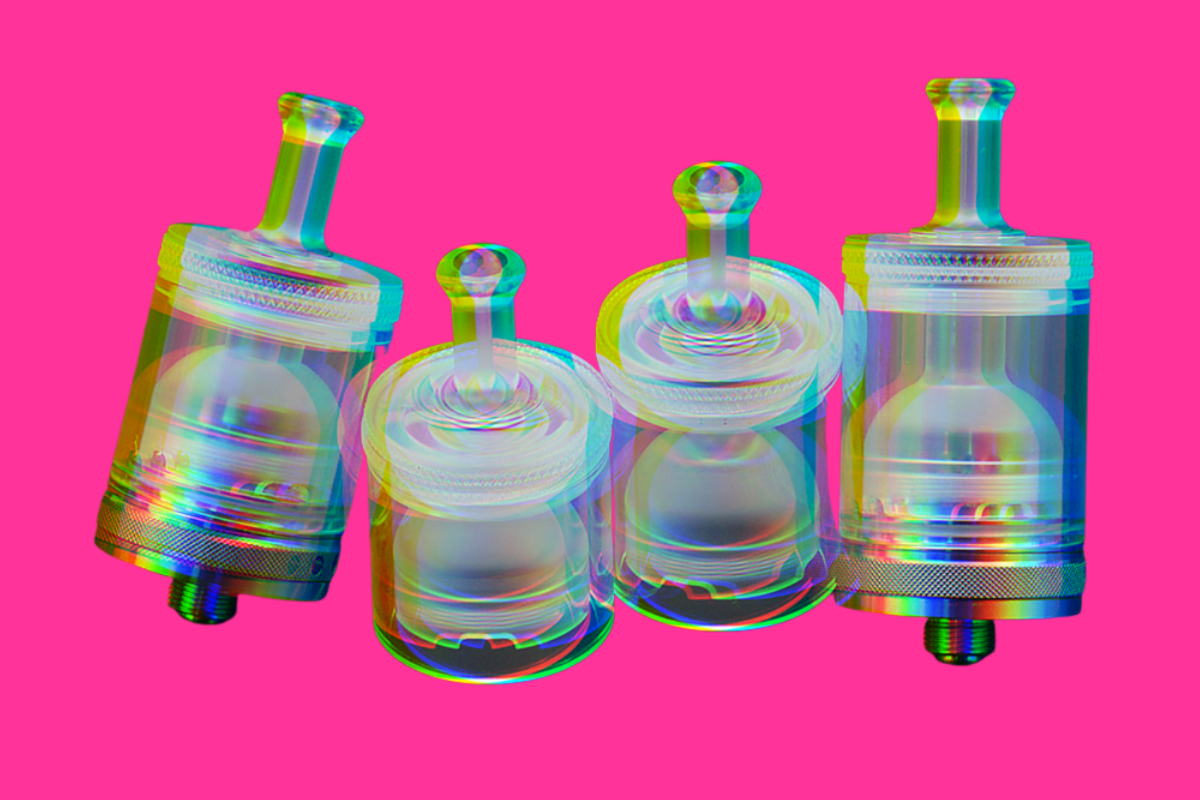 Here's a quick preview of the newly released Taifun GTR RTA, an innovative, new RTA tank built and designed in Germany. Here's everything you need to know…
---
If you're looking for a new RTA tank that combines proven concepts with innovative, new features and capabilities, the Taifun GTR RTA may be just what you've been looking for…
Made in Germany, this RTA atomizer boasts a range of stand-out features, including a top fill system, variable airflow control, and liquid control of the next generation.
In this article, we'll dive into the specs and capabilities of the Taifun GTR RTA and explore why it's a top choice for RTA fans in 2023 and beyond.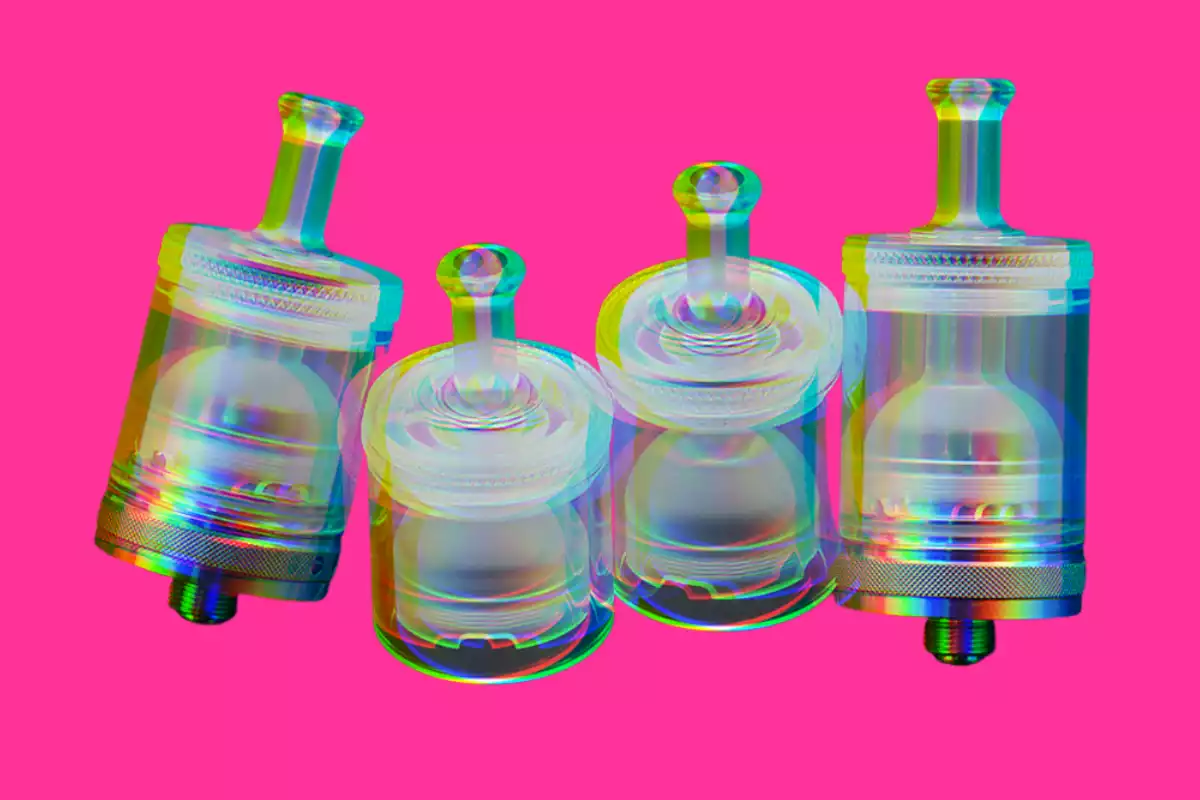 Taifun GTR RTA
The Taifun GTR RTA is a game-changer in the world of RTAs with its innovative airflow and liquid control systems. Built with premium materials, it's durable, chemically resistant, and easy to use. The deck design allows for hassle-free coil installation, providing optimal flavor and performance. And it'll do both MTL and restrictive DL vaping.
Pros:
Customizable Airflow & Liquid Control: The dual-channel AFC and next-gen Variable Liquid Control systems offer users a highly personalized vaping experience, catering to a wide range of preferences.

Premium Materials & Durability: The Taifun GTR RTA is constructed using high-quality materials, such as stainless steel, PEEK, and PSU, ensuring longevity and resistance to temperature fluctuations and chemical damage.

User-Friendly Design: The quick-release thread, easy-to-build deck, and simple Liquid Control adjustment make the Taifun GTR RTA a breeze to use, regardless of your vaping expertise.

Innovative Build Deck: The Taifun Deck's improved wire receptacles and two-sided ventilation make coil installation and cotton placement hassle-free, ensuring optimal performance and flavor.

Versatile Vaping Experience: The Taifun GTR RTA is designed to accommodate both strict MTL fans and those who prefer very restrictive DL steaming, making it a top choice for a wide range of vaping enthusiasts
VIEW LATEST PRICES
Specs of the Taifun GTR RTA
The Taifun GTR RTA has a diameter of 23mm and a height of 40mm (without DripTip with 510 connection). It comes with a 510 DripTip and is made of high-quality materials including stainless steel 1.4301, PEEK, and PSU.
The atomizer features adjustable AFC over 2 holes with 1.0mm and 1.2mm, allowing for a wider range in the restrictive steam area. The tank is made of polysulfone (PSU), a transparent plastic that is high-temperature resistant and has an extremely high chemical resistance.
Stand-out Taifun GTR RTA Features
Quick Release Thread
For the first time on a Taifun atomizer, the top cap of the Taifun GTR completely disconnects with a quick release thread. The new quick release fastener is user-friendly and extremely robust and allows fast access with a single twist.
Future-Proof Materials
Taifun has looked for an alternative to the well-known transparent plastic tanks and glass, with success. The Taifun GTR is delivered with a full plastic tank made of polysulfone (PSU).
This material is hard in a temperature range of -100 ° C to 190 ° C and has an ignition temperature of just under 500 ° C. In addition, it has an extremely high chemical resistance and has survived all previous tests with known "tank crackers" without any damage or stress cracks.
Innovative Airflow Control
The Taifun GTR has two separate air channels, each with a cross-section of 1.0mm and 1.2mm in the basic version. Both channels can be opened fully or half individually, or together fully or half via the snap-ball-supported AFC.
The AFC ring has a stop in both directions, and the intelligent arrangement of the air holes allows for a shorter adjustment path.
This means that the outer opening is only ever exposed, halved, or closed with a click to the right or left, depending on the selected air hole. The corrugated AFC ring also serves to assemble/disassemble the evaporator and saves overall height.
Variable Liquid Control
To meet the varying requirements of users, Taifun has designed the Taifun GTR with a new arrangement of the Liquidcontrol.
The left liquid channel is optimised for 50/50 liquids and Salt Nic with low performance and greater negative pressure in the chamber, while the right channel is suitable for 70/30+ liquids with increased performance due to its wider milling and lower rise height.
The Liquid Control is set by simply turning the tank and can be adapted to the individual requirements of users.
Easy to Build Deck
The wrapping deck of the Taifun GTR is the logical continuation of the "Taifun Deck" introduced with the GT IV. The wire receptacles correspond to those of the Taifun BTD with the improved lugs for easier wire reception.
The 2-sided ventilation introduced with the Taifun GT IV was also adapted to the requirements of a purebred restrictive evaporator. Both air ducts emerge slightly obliquely under the winding and allow the coil to be variably adjusted to the needs of the user in terms of taste and "flash".
Overall, the deck of the Taifun GTR is simple and easy to use, requiring no great wrapping skills or cotton laying techniques for an optimal vaping experience. Simply install the coil, pull the cotton wool through, and you're good to go.
Why the Taifun GTR RTA is a Top Choice for Vaping Enthusiasts
The Taifun GTR RTA offers a versatile vaping experience that can be customized to meet the individual preferences of users. With its innovative features like the quick release thread, future-proof materials, and variable liquid control, it stands out from the crowd of vaping devices.
The innovative airflow control allows you to run different types of juice – salt nic or higher PG – inside one tank by allowing you to switch between MTL-style vaping restrictive DL vaping.
The easy-to-build deck also makes it a great option for vapers of all skill levels.
Wrapping Up…
Overall, the Taifun GTR RTA is an innovative and versatile vaping device that offers a customizable and satisfying vaping experience. Its unique features and quality materials make it stand out from other atomizers in the market.
With its simple and user-friendly design, it's a great option for vapers of all skill levels looking for a reliable and customizable device. It is pricey, though, at $139 – but that's the cost of innovation.
Need something cheaper but doesn't scrimp on performance and flavor? Check out our guide to the best RTAs you can buy right now.
Drake Equation
Drake is the founder and editor of VapeBeat. He started the blog WAY back in 2015 when, upon quitting smoking, he struggled to find any useful information about vaping online. With a background in journalism and a newfound hobby on his hands, he set about creating VapeBeat – a blog all about making vaping simple to understand for new users.