Freemax Maxus 2 200W Specs & Prices: A Complete Breakdown
By Christopher Horton • Updated: 03/10/23 • 3 min read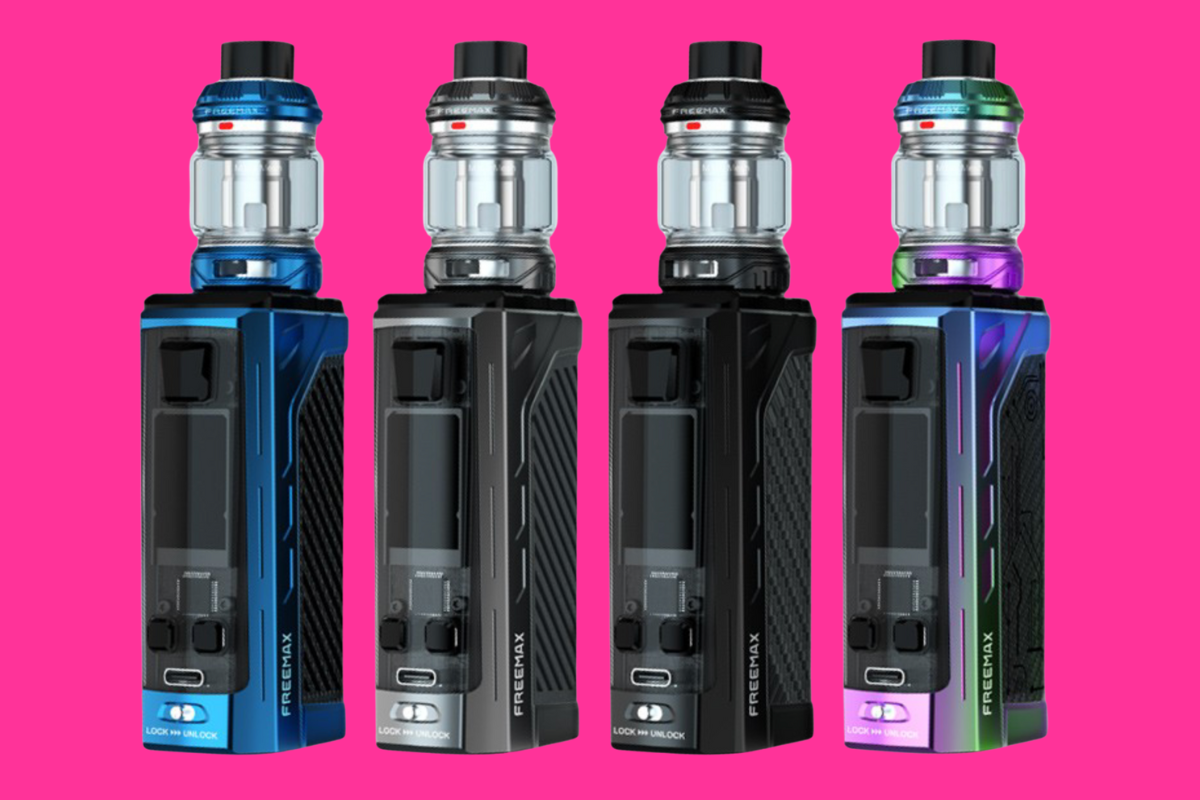 The Freemax Maxus 2 200W is a super-potent vape mod kit that comes with a brilliant tank. Here's everything you need to know about the Freemax Maxus 2 200W specs and pricing…
---
The Freemax Maxus 2 200W is the latest and greatest vape mod and tank kit from Freemax. It runs the company's thoroughly excellent M Pro 3 tank, so it delivers tons of performance and loads of flavor.
We scored it 4.5/5 in our review of the Freemax Maxus 2 200W, citing its unique and well engineered design, its seriously impressive performance, and the M Pro 3 tank as its standout features.
The Freemax Maxus 2 200W Vape Kit is a fantastic option for anyone looking for an easy-to-use, high-performance vape mod kit. It looks the business and it comes with one of the best sub ohm tanks you can buy right now.

This makes it an ideal for both beginners and experienced vapers alike, as you can get as fancy and nuanced with its settings as you like or, if you're more like me, just kick it into power mode and forget about everything else.

Bottom line? If you're looking for a beautifully designed, eye-catching, high-end vape mod kit, this little stunner comes highly recommended by yours truly.

VapeBeat's Freemax Maxus 2 200W Review
If you're thinking about picking up this vape kit – and you really should, it's bloody excellent – then you might be wondering about its specs and features?
Here's a complete breakdown of the Freemax Maxus 2 200W's specifications, features, and safety modes. After that, we'll discuss pricing and availability.
Freemax Maxus 2 200W Specs
Maxus 2 200W Mod:
Dimensions: 135mm x 52.4mm x 28mm
Battery Compatibility: 2 x 18650 batteries (not included)
Wattage Range: 5-200W
Temperature Range: 100°C-315°C / 200°F-600°F
Resistance Range: 0.1-3.0ohm
Power Output: 3 Power Levels (soft, normal, and hard)
Display Screen: 1.06″ TFT Screen
Chassis Material: Zinc-Alloy
Hinged Battery Door
Intuitive Firing Button
Two Adjustment Buttons
Locking Switch
Charging: Type-C Port
M Pro 3 Tank:
Diameter: 28mm
Height: 59.85mm
Capacity: 5mL
Fill System: Sliding Top Cap
Tank Material: Stainless Steel
Coils Series: Freemax Maxus Pro 904L M Coils
Coil Installation: Threaded
Included Coils: 0.15ohm M1-D Mesh Coil, 0.2ohm 904L M2 Mesh Coil
Safety Features:
Low Resistance Protection
Short Circuit Protection
Open Circuit Protection
10s Overtime Protection
High-Temp Protection
Low Voltage Protection
The Freemax Maxus 2 200W Vape Kit offers a powerful and customizable vaping experience with its high wattage output, temperature control mode, and wide resistance range. It also has safety features to ensure a safe vaping experience.
It also includes things like Bypass Mode, three power mode settings, and temperature control which, in 2023, is not something you see on very many vape mods anymore.
The M Pro 3 tank which literally BLEW ME AWAY during testing has a large capacity, convenient fill system, and easy coil installation. It's coils also last for weeks at a time and produce outstanding flavor across a range of wattages.
Freemax Maxus 2 200W Price
The Freemax Maxus 2 200W retails for $89.95 in the USA and is available with free shipping from DirectVapor. It's a great little setup with plenty of performance and features. If you like slightly higher-end vape mods with unique and engaging design, it is well worth a look.
Christopher Horton