Eight Vape is a USA-focussed retailer and has been around, serving US vapers for a good long while. In this post, we'll look at how Eight Vape works, what it sells, and whether you should be using it for your vape supplies…
---
Buying vape gear online is easy. You have hundreds of retailers to choose from. But as most of you will know: not all vape retailers are equal – some are a lot better than others. And most of the time, this is down to a couple of things: overall stock and selection and, of course, price.
If you have loads of products, covering a ton of brands, and you sell them at reasonable prices, chances are you'll do well. Vapers, like any other type of consumer, appreciate value for money and having plenty of choices. This is the #1 reason why I decided to start doing retailer reviews on VapeBeat – I wanted to highlight the best vape retailers in operation today.
And today, we're doing a deep-dive on Eight Vape, one of the oldest vape retailers in operation today.
Store Design & Layout
Eight Vape's online store has been through a few major design changes over the past few years. The current design is simple, colorful, and easy to navigate. Along the top, you have the main navigation menu, where you'll find links to all the different types of vape gear sold. It's clean, easy to follow, and makes finding exactly what you're looking for a cinch.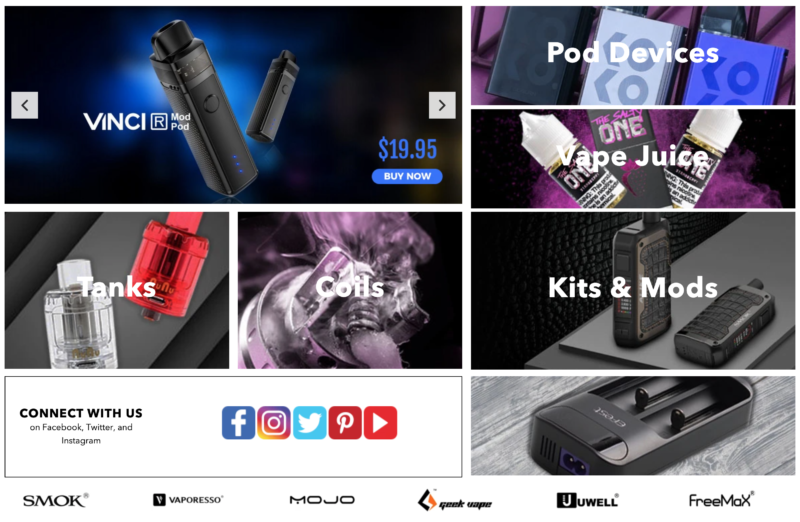 The homepage is made up of easy to navigate blocks to all the main sections on the site – kits and mods, pod devices, tanks, and coils. Below this, you have a list of Eight Vape's best sellers. And below that a list of brands that are sortable by brands, hardware, and vape juice.
Click on a section, say, vape mods, and on the left side, on desktop, you'll see a quick search function where you can Sort By Date, Types of Devices, Wattage, and Brand. This makes finding something specific to your requirements, say, a 200W vape mod, really easy while being brand agnostic at the same time. It's a novel feature that I really appreciate, as you'll find products from brands you might never have heard of otherwise.
Types of Vape Devices Sold
AIO Vapes
Mesh Tanks
RDAs
RTAs
RDTAs
Squonk Mods
Vape Juice
Nic Salts
Coils
Glass Replacement
Vape Kits
Eight Vape Delivery Times
The global COVID-19 pandemic has hit everybody, including vape retailers. That's why a lot of places are out of stock on popular items. Things are beginning to improve, slowly, but it'll still be a while before things get back to normal.
Eight Vape delivery times, prior to COVID-19, were 1-3 days, however, since the pandemic started, Eight Vape is asking its customers to be prepared to wait up to 7 days, though most orders will get through in under 4-5 days. And that's totally fine; all vape retailers are doing the exact same thing.
All Eight Vape packages are shipped from Las Vegas, NV. Eight Vape uses FedEx and UPS (and also USPS).
Pricing – Is Eight Vape Good Value?
Eight Vape makes a big deal about being cheaper than everybody else; it's part of the company's MO. In order to put these claims to the test, I searched for and compared the prices of a few popular vapes to find out if this was the case. The SMOK NOVO 2 costs $16.95 via Eight Vape, while at VaporDNA you'll pay $23.95.
Similarly, the Suorin Air Plus retails for $19.95 at Eight Vape, while over at VaporDNA you'll pay the exact same – $19.95. What about more expensive vape products, things like vape mods? The GeekVape AEGIS X costs $55.95 at Eight Vape, while over at VaporDNA it retails for $57.95.
There's not a massive discrepancy in prices, as you can see, but generally, Eight Vape is usually a couple of bucks cheaper than VaporDNA. I did look at more products, and the trend was more or less the same. In this context, Eight Vape is making less margin than VaporDNA and relying on the volume of sales to fill the void. This is good news for consumers; it's what Amazon does, after all, which is why Amazon stuff is usually cheaper than Best Buy.
Customer Reviews
Eight Vape has been doing business for years, and in that time it has amassed over 55,000 FIVE-STAR reviews from its customers.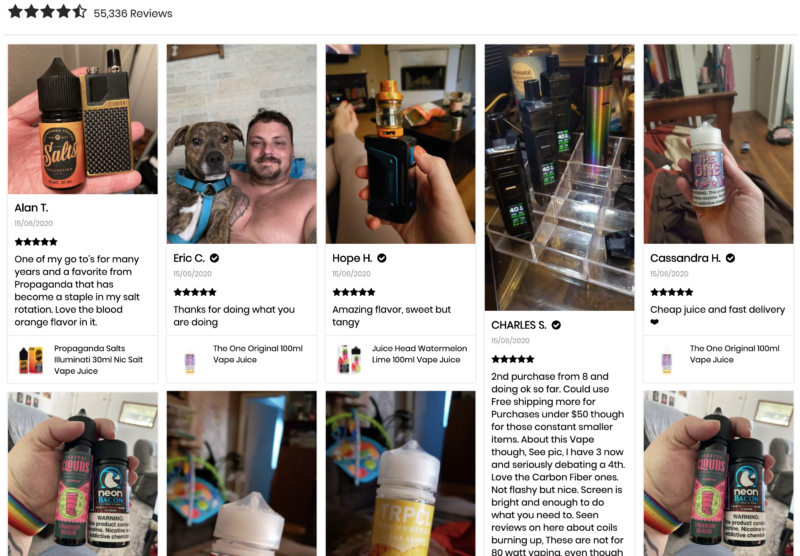 I've bought plenty of gear from Eight Vape over the years, everything from coils to vape juice and pod vapes, so I can tell you it is 100% worth a look if you're looking for a new vape supplier.
Eight Vape Prime – What Do You Get?
Eight Vape also runs a premium service called Eight Vape Prime, whereby you pay $9.99 a month and get priority shopping, access to exclusive deals, and discounts across all products on the site, as well as free shipping on all orders over $10. Here's a breakdown of Eight Vape Prime's benefits:
Eight Vape Prime Benefits
8% Off Vape Juice
8% Off Vape Tanks, Kits, Mods, Coils, Pods
Free Standard Shipping on US orders over $10 Under 1 lb
Discounted Priority Shipping Rates
Exclusive access to certain products
VIP customer service 
What Vape Juice Brands Does Eight Vape Sell?
If you're looking for a massive selection of vape juice, Eight Vape has you 100% covered. It sells literally hundreds of lines of vape juice, from high VG to Nic Salts – and everything else in between.
At the time of writing, I counted at least 100 vape juice brands. You have all the top name brands, as well as smaller, boutique brands under one roof. You can sort by reviews, by flavors, and by type of vape juice.
Basically, if you're after a new place to buy vape juice, Eight Vape is 100% worth a look – you could spend hours browsing vape juice on its site. I know this because that is exactly what I did over the weekend, and I ended up spending almost $200 on vape juice!
Verdict – Is Eight Vape Legit?
Eight Vape is one of the oldest, most well-known vape retailers operating in the USA. It sells a huge range of hardware, from pod vapes to mechanical mods and vape mods and accessories. On top of this, Eight Vape has one of the best selections of vape juice I have seen to date – and I've seen a lot of retailers of the years!
If you like value for money, want plenty of choices, and want to deal with a reliable, reputable company, you should definitely be adding Eight Vape to your roster of vape retailers that you regularly frequent. I've been using them for years and they never disappoint.
---
Drake Equation
Co-founder and Editor of VapeBeat. I make the words.