SKE Crystal Nic Salts Review: Or, How I Ditched Disposables For Good
By Drake Equation • Updated: 11/14/23 • 4 min read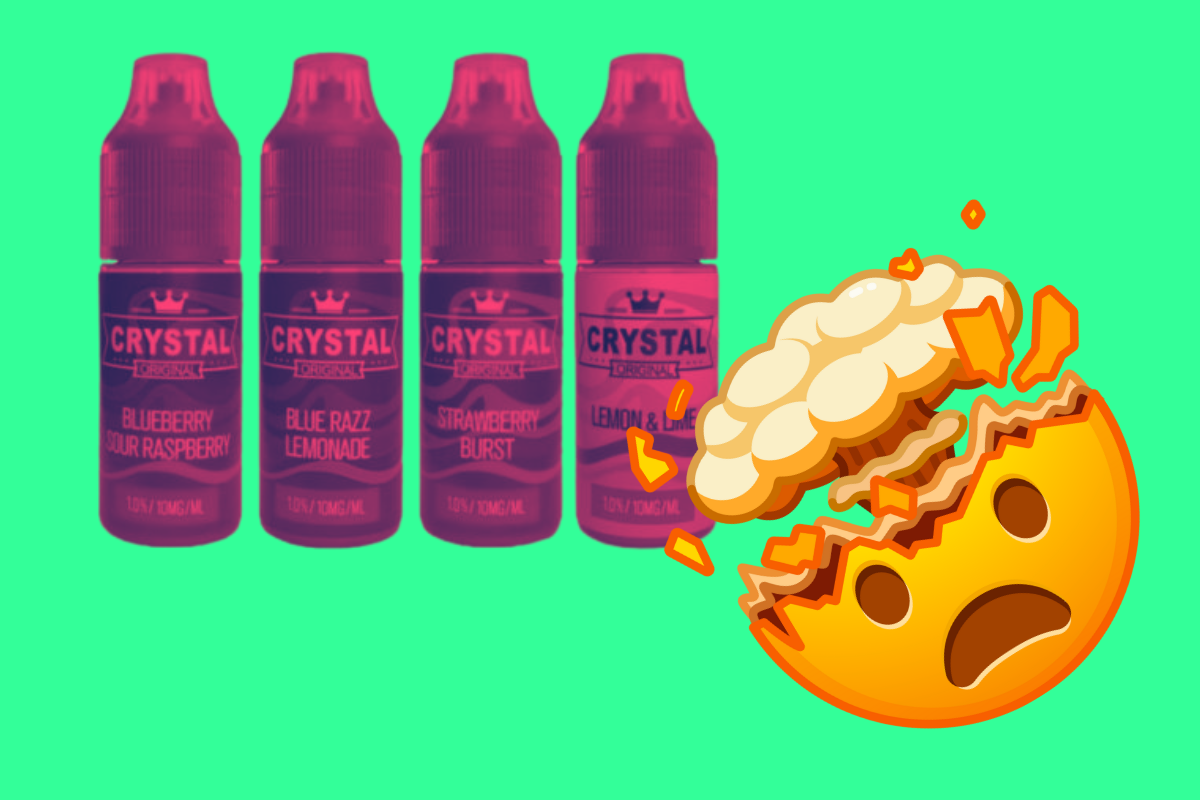 The new SKE Crystal Nic Salts range of vape juice brings the company's iconic flavors to refillable vapes, so you can now save £££ and ditch the disposables
---
Key Takeaways 🌟
Flavor Variety: A fantastic array of flavors that cater to all palates.
Nicotine Strengths: Choices of 10mg and 20mg – perfect for different needs.
Quality Experience: Smooth, satisfying throat hit with efficient nicotine absorption.
Value for Money: Prices start at just £3.99 a bottle, so you can finally ditch your disposable vape and start saving some money
---
Disposable vapes are a massive problem in the UK. So much so that King Charles used his first parliamentary address to comment on them.
In a few months, disposable vapes will be illegal in the UK, so the bigger brands – like Elf Bar and SKE Crystal – are scrambling to bring their iconic flavors to refillable vapes.
I've tried Elf Bar's vape juice and its alright, but SKE Crystal Nic Salts range is bloody fantastic; it tastes even better than its disposable vapes and it is a hell of a lot cheaper. 
How much cheaper? Let's crunch the numbers:
A 10mg bottle of SKE Candy Nic Salts retails for £3.99.
This will deliver a solid 2-4 days' worth of vaping, depending on your usage, or around 3000 puffs in total.
One of its disposables costs £4.99 – £5.99 and will do 600 puffs, so around 1 to 2 days of normal vaping. So, yeah: refillable vapes and nic salts juice is, of course, the way forward.
And right now, my current go-to juice is SKE Crystal Nic Salts. Here's why…
SKE Crystal Nic Salts Review
Flavor Variety: A Spectrum of Choices
SKE Crystal Nic Salts' flavor lineup is impressive. They've got everything from fresh fruity to indulgently sweet.
Here's a spotlight on some of the fan favorites:
Watermelon Ice: A refreshing blend of juicy watermelon with a cool menthol kick.
Blueberry Sour Raspberry: A harmonious mix of tangy and sweet notes.
Kiwi Passionfruit Guava: An exotic concoction for those who crave tropical vibes.
Nicotine Strengths: Tailored for Every User
Whether you're new to vaping or an experienced user, understanding the importance of choosing the right nicotine strength is crucial for a satisfying experience.
SKE Crystal caters to both light and heavy nicotine users with its 10mg and 20mg nicotine salt options.
Here's a detailed look at what these strengths mean and how they can benefit you.
10mg Nicotine Salt: Ideal for Light Users
Smoother Experience: Nicotine salts provide a smoother throat hit compared to freebase nicotine. This is particularly beneficial for those who are just starting or prefer a less intense experience.
Steady Nicotine Delivery: The 10mg option ensures a steady and consistent delivery of nicotine, making it suitable for those who vape occasionally or are transitioning from smoking fewer cigarettes.
Less Intense, More Enjoyable: With a lower nicotine concentration, the 10mg option allows you to enjoy the flavors more prominently, without the overpowering hit of nicotine.
20mg Nicotine Salt: Perfect for Heavy Users
Satisfies Cravings: If you're a heavy smoker or a frequent vaper, the 20mg nicotine salt option can provide the necessary nicotine hit to effectively satisfy your cravings.
Efficient Nicotine Absorption: Nicotine salts are absorbed faster into the bloodstream compared to traditional nicotine. This means you get a quicker and more satisfying nicotine rush, ideal for those who need a strong and immediate effect.
Balanced Throat Hit and Flavor: Despite its higher nicotine content, the 20mg option still offers a smooth throat hit, thanks to the nature of nicotine salts. This balance ensures you don't have to compromise on flavor enjoyment.
Value for Money: Affordable Quality
Priced at £3.99 per 10ml bottle, these e-liquids offer exceptional value, allowing you to sample plenty of its flavor profiles without breaking the bank.
My current go-to favorites are Strawberry Blast, a first for me, as I'm usually not a fan of Strawberry juices, and Blueberry Sour Raspberry.
Final Thoughts
If you're currently using disposable vapes and you're looking for a way to get off them for good. You can stop reading now. SKE Crystal's Nic Salts line is the answer. 
The flavors are all there, the taste is better (pod vapes and MTL tanks deliver better flavor than disposables), and using nic salts and a pod vape/tank + mod system is an infinitely cheaper way for you to vape in the short, medium, and long term.
SKE Crystal Nic Salts aren't just a good alternative to the companies disposable vapes, they're actually better, cheaper, and infinitely better for the environment too.
My advice? Do what I did and ditch the disposables and switch over to SKE Crystal's Nic Salts – they'll blow you away, I guarantee it!
Drake Equation
Drake is the founder and editor of VapeBeat. He started the blog WAY back in 2015 when, upon quitting smoking, he struggled to find any useful information about vaping online. With a background in journalism and a newfound hobby on his hands, he set about creating VapeBeat – a blog all about making vaping simple to understand for new users.