Best CBD Vapes Guide: Vape Pens, Juices and CBD-Hemp Flower
By Hanna Clark • Updated: 05/17/21 • 6 min read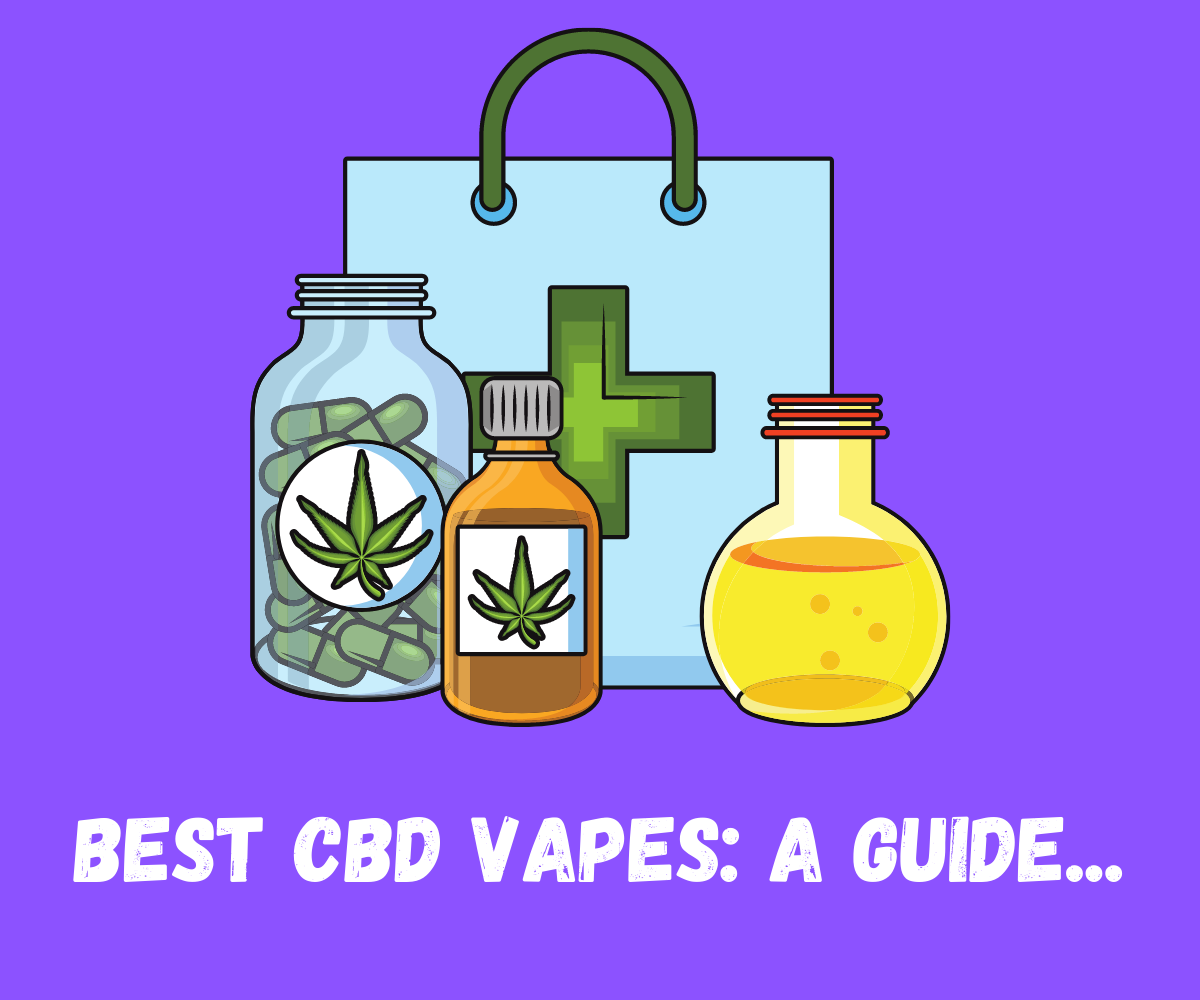 Vaping CBD is the fastest way to get an instant dose of CBD and the relief that comes with it. Here are your best options for CBD vapes – including disposable vape pens, juices, and CBD flower options
---
CBD has so many benefits!
Millions of people are taking CBD to take the edge off anxiety, to improve sleep, fight inflammation, and treat other conditions. The biggest reason for you to take CBD might be for your general health and well-being — because we now know we have an endocannabinoid system (ECS), and CBD can help us maintain a healthy balance.
Here's the problem though: When you ingest CBD gummies, capsules, or tinctures, you're going to have to wait, sometimes hours, for the medicine to work its way through your digestive system.
And here's the solution: As everyone who's ever picked up a vape pen or mod knows, the effects of vaping are immediate. So vaping CBD is a great way to get instant relief and to keep your ECS toned, day in and day out. In seconds you get the satisfaction that only comes with vaping — and you get a quick dose of CBD!
Whether you're a veteran vaper or newbie, it's useful to recap some CBD vaping basics, starting with the three methods of vaping CBD:
Vape pens: Simple and inexpensive, these pre-filled pens are probably the easiest way to get an instant dose of CBD.
Vape mods: Like box mods for general vaping, these include a tank, into which you're going to pour some vape juice. In this case, you want specialized CBD vape juice, as we identify below.
Vaporizers: You grind up CBD flower, place it in a dry vaporizer and inhale the resins and terpenes that come off the plant. It's the ultimate farm-to-lung method.
In this article we'll look at some of the leading suppliers in each of these categories. As always, we are first and foremost concerned with your safety, so we recommend only products that are transparent about their testing, and do not contain ingredients known to be harmful.
CBD Vape Pens
CBD Signature Cartridges From JustCBD
One great thing about vaping in general is the access you have to a whole universe of flavors. Whether you like fruity sweet or something more savory or bitter, you can usually find a vape that fits your specific taste. When it comes to CBD vapes, finding your favorite flavor can be a little more difficult, and that's why we like CBD Signature Cartridges from JustCBD.
JustCBD's range of flavors includes Pineapple Express, Sour Diesel, Vanilla Custard Cream, Lemon and Watermelon as well as your basic Strawberry and Grape. All of their vape products are full-spectrum, tested by third-party labs, and are formulated without vitamin E.
If you like the simplicity of a pen-style vaporizer, you need to give JustCBD a try.
Extract Tanks From Extract Labs
Speaking of flavor, if you prefer the earthiness of hemp in your vape, you'll appreciate Extract Tanks, from Colorado-based Extract Labs. With cannabis-inspired flavors including El Jefe, Blue Dream and Granddaddy Purp., Extract Labs delivers full-spectrum vaping, with a vaping solution that's full of terpenes, and without any fillers (no vitamin E acetate, guaranteed.)
In addition to CBD, Extract Labs formulations also include the so-called 'minor' cannabinoids CBT and CBG. Extract Labs also has several flavors of delta 8 Extract Tanks. As noted on their site: "Delta 8 is a form of THC that is much less psychoactive than delta 9 THC, but still produces a mild high in most people."
If you like the flavors of hemp, or would like to try other cannabinoids or delta 8, Extract Labs would be a good choice for you.
Vape Pens From CBDfx
Since 2014, CBDfx has been providing CBD vape solutions, so they know what they're doing. A respected industry leader, they have sold millions of vape pens. They start with organically grown hemp, from which they CO2-extract an ultra-pure CBD oil that's never mixed with cheap fillers or additives.
Their flavors range from fruity (Strawberry Lemonade, Blue Raspberry) to terpene-rich (Pineapple Express, OG Kush). You can even mix and match favors to build your own bundle.
Whether you're looking to grab a disposable CBD vape pen filled with the finest quality ingredients, or a new CBD vape kit (otherwise known as a CBD vaporizer, see below) CBDfx has you covered.
Vape Juice
Vape Juice from CBDfx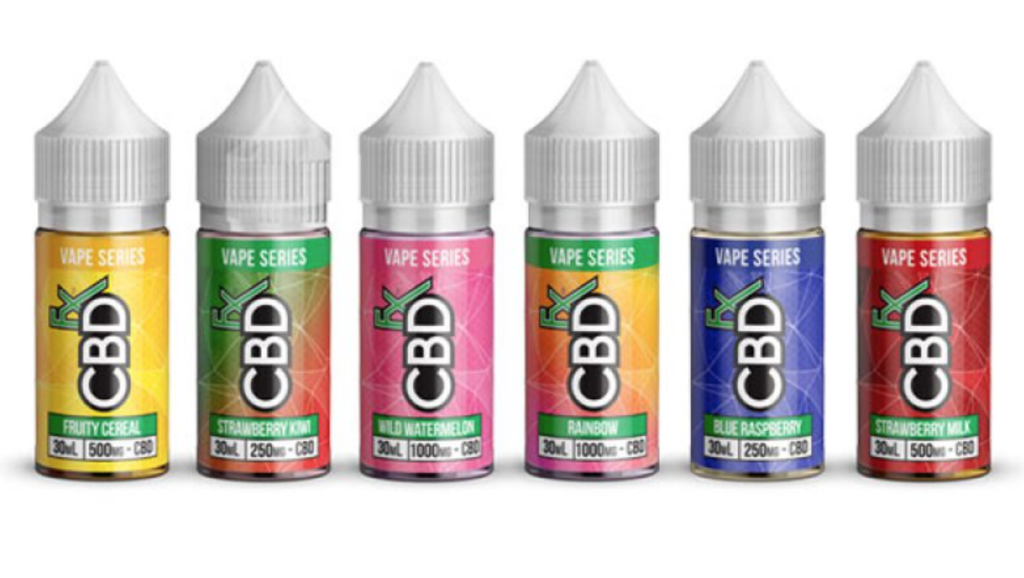 If you prefer to use a CBD vaporizer, or mod, CBDfx has CBD-infused vape juices in a range of flavors. As with their vape pens, CBDfx has something for every flavor preference, from Spearmint Gum and Wild Watermelon to OG Kush and Pineapple Express.
This CBD vape juice is derived from carefully grown, organic hemp plants. CBD is extracted and formulated with a 50/50 ratio of vegetable glycerin and propylene glycol. It's also tested by independent labs before for purity, so you know it's a safe and effective product.
If you like using a mod to vape CBD, you will like the vape juices offered by CBDfx.
CBD-rich Hemp Flower
Hemp Flower from American Shaman
Some prefer dry-herb vaping, which enables you to basically boil the terpenes of a hemp flower, and then inhale the resulting vapor. This requires a dry-herb vaporizer — such as this one from Quant — a bud of hemp flower that is high in CBD or other cannabinoids.
American Shaman offers Jack Snow and Moon Rocks strains of hemp flower. Both are minimally processed, which means you don't have to be concerned about added chemicals, as you're inhaling only the resins of the hemp plant. All of American Shaman's hemp is grown in the U.S. from non-GMO seeds, and contains less than 0.3% THC, in compliance with the 2018 Farm Bill.
If you have a dry vaporizer and prefer that method, American Shaman is a good place to get high-CBD hemp flower.
A Huge Selection of CBD Vape Pens, Vape Juice and Hemp Flower
If none of the above fits your specific needs, or you are searching for CBD vape that's a little harder to find, check out the huge selection of products at CBD.co. From CBD vape pens to vape juices and hemp flower, you'll find dozens of choices. It's a convenient way to get exactly the vaping products you want, delivered right to your door.
Hanna Clark