The Wotofo Serpent ELEVATE RTA just arrived in my office and, after using the original SMM Serpent RTA quite extensively, I was obviously super-keen on seeing how the new model compared.
The Wotofo Serpent ELEVATE RTA is, once again, the brainchild of Suck My Mod – a very good, very popular YouTube reviewer.
Once again, the Wotofo Serpent ELEVATE RTA is a single coil RTA with a deck that reminds me a lot of the Recurve RDA.
It has a top-mounted airflow and is larger than the Serpent SMM RTA.
I loved SMM's work on the Serpent SMM RTA. It kicked a lot of ass in the flavor department. But will lightning strike twice? Is the Wotofo Serpent ELEVATE RTA a legit new contender for best RTA of 2018?
This post is essentially an unboxing and setup. I literally set up it up as I wrote each section to give you a blow-by-blow account of how it works out the box…
Let's take a gander at what you get with this sweet little number…
Wotofo Serpent ELEVATE RTA | What You Get In The Box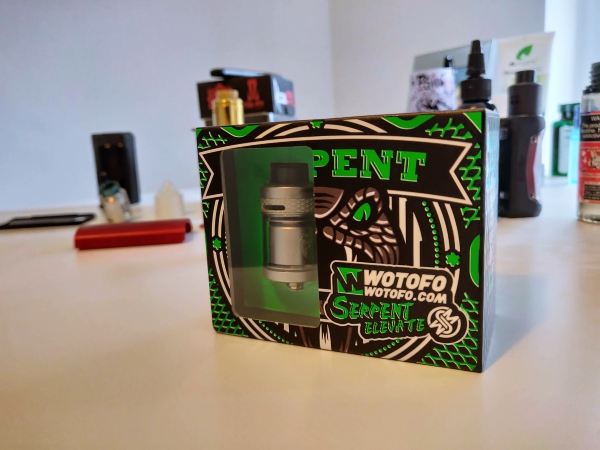 One thing I really dig about Wotofo is its packaging. It packs in loads of goodies and the box design is always very cool.
I love the green and black color scheme and the fact you get cotton and coils in the box. And not just any old cotton either; no, here you get shoe-lace style cotton for super-easy wicking.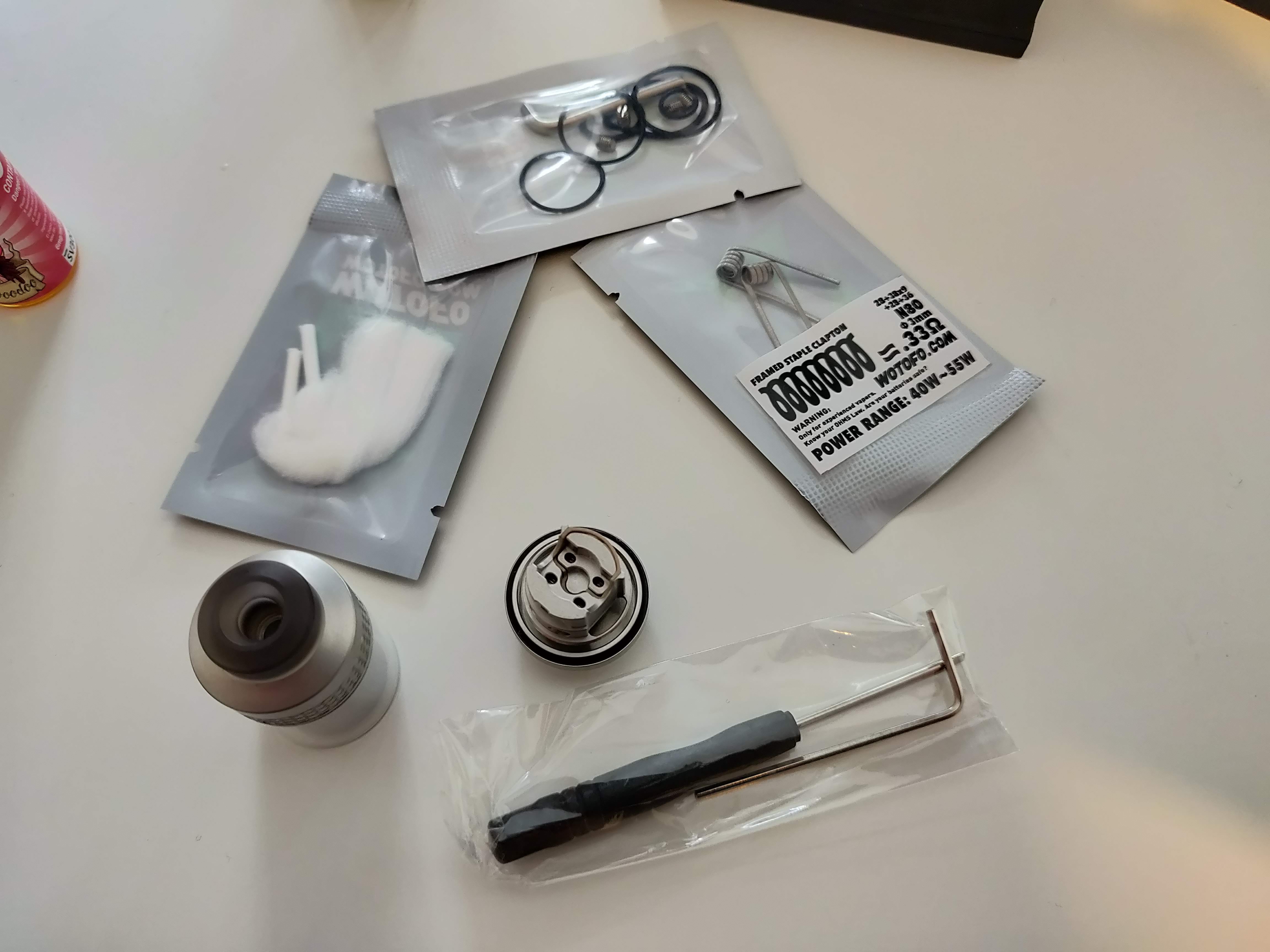 Wotofo also includes a spare drip tip, a 510 adapter, Clapton coils (2 of them), an extra tube, extra O-Rings, and extra screws. Bottomline? This is an epic haul of gear.
But then, I wouldn't expect anything less from Wotofo!
It always provides tons of accessories with its vape products, be they mods or tanks.
Wotofo Serpent ELEVATE RTA Deck
The deck is pretty straight-forward. It's very similar to the Recurve RDA's in that its housed inside a half-cylinder-style structure.
The airflow comes from the sides and you have to pre-clip your leads. Nothing out of the ordinary here, just another solid, easy to use Wotofo deck.

Once you're pre-clipped, installing the coil is a cinch; just place it, tighten the screws, position it correctly, and you're done.
Again, this is a very simple deck. There's no learning curve, save for the pre-clipping of the leads, and the install went smoothly for me on the first go. Just make sure you don't cut your leads too short.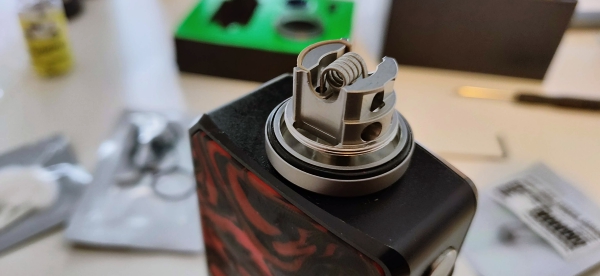 As you can see in the images, the deck is slightly elevated off of the bottom of the tank. This is because you need to wick your cotton downwards into the juice holes.
The deck is quite high up when you're complete and there is a sheer drop from it right down to where it meets with the E Juice. But because the airflow is at the top, there is ZERO leaking.
Wotofo Serpent ELEVATE RTA Wicking Tutorial
Because of the nature of the deck; the coil is located high-up and the cotton has to drop down to wick, I was kind of worried about how this would work in practice.
When distances are involved, wicking can be tricky, as the juice has got to meet the cotton, soak the cotton, and make its way up to the coil so as to ensure it stays nice and juicy.

My first attempt didn't go very well; I got a dry hit once the initial juice had burnt off the coil. I then proceeded to trim down the cotton, making it thinner and less bulbous over the juice ports.

This seems to have done the trick, but I still get that sneaking suspicion that I haven't got it quite right just yet. I think this one will take some finesse before I 100% nail it.
First Vape
The first vape was decent enough, but then I'd already primed the coil with E Juice, so that's to be expected.
I did get a dry hit after the seventh or eighth one, though, as mentioned above. This required me to go back and take a look at my wicking. I used too much, essentially, and once trimmed down it vaped better.
That was about two hours ago, and since then it's been vaping OK but I still haven't got the wicking down 100% – though I will figure it out!
Initial impressions? This isn't an RTA for newbie users; the wicking takes precision to get right. For this reason, I wouldn't recommend this to inexperienced RTA users right now.
Wicking is always tricky on RTAs, but some are better than ours – these RTAs are the easiest to wick, for instance.
I'd say I have the wicking about 75% right, and even with that discrepancy in mind the vapor is great and the flavor is very impressive. I can't wait until I get it right, as the flavor should be superb!
Will it make it onto our Best RTA Tanks 2018 Guide? Hard to say right now, I need to spend more time with it.
Once I've done this, I'll review it and update this post with a full verdict.
Until then, here are the key specs and details for the Wotofo Serpent ELEVATE RTA.Diameter: 24mm
Wotofo Serpent ELEVATE RTA Specs & Features
Threading: 510 thread
E-liquid Capacity: 3.5ml
Filling Method: Top filling
Airflow Type: Adjustable top airflow
Insulator Material: German PEEK
Extra Accessory: 4.5ml bubble tube, Coil trimming tool
Best Price: $34.99 via VaporDNA (Use Code: "DNA10" To Get 10% OFF)
---
Drake Equation
Co-founder and Editor of VapeBeat. I make the words.