The Wotofo Elder Dragon RDA is now available, following hot on the heels of the excellent Recurve RDA and Flux Kit.
And both of these have been mainstays on our Best RDA Guide, so that should tell you everything you need to know about Wotofo's caliber in this context.
The Wotofo Elder Dragon RDA is yet another single coil RDA from one of the vape market's best brands, Wotofo.
It's also another collaboration too; this time the company teamed up with Japanese YouTuber, Ryusei Sakaue.
So, does Wotofo have another classic on its hands? Let's take a look…
Deck & Atomizer Design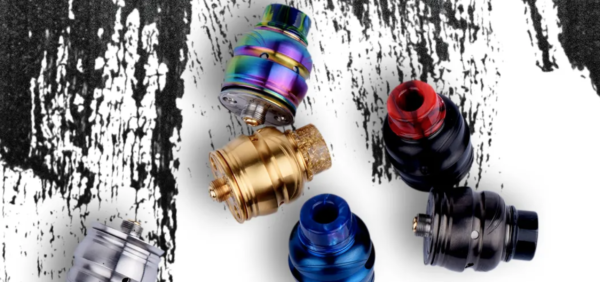 As noted above, the Wotofo Elder Dragon RDA is a single coil rebuildable atomizer. It features a postless deck with screws mounted on four sides. This means you can install coils in different ways. Handy.
The big idea here is flavor: the deck is squat, so the coils are closer to the drip tip which usually translates into more intense flavor delivery.
On top of this, you have a tube-based airflow system which, again, can be augmented to alter the performance of the tank.
These "tubes" can also be removed in order to make cleaning the tank easier.
You also have full squonk capabilities, support for standard dripping with a 510 pin, and a 510 drip tip adapter as well. As always, Wotofo includes plenty of gear in the box.
Wotofo Elder Dragon RDA Colors
You have the following options when it comes to color hues for the Dragon RDA:
Stainless Steel
Black
Blue
Gunmetal
Gold
Rainbow
What The Dragon RDA Kit Includes:
Wotofo Elder Dragon RDA
Coil trimming tool
Extra drip tip
510 drip tip adaptor
Tri-Core Clapton coils – 0.17ohm
3mm agleted cotton
Spare screws and O-rings
User manual
Wotofo Elder Dragon RDA Specs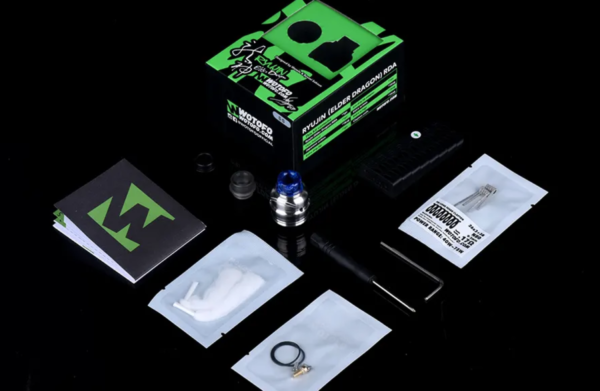 Here's a quick breakdown of the specs for the Wotofo Elder Dragon RDA:
Size: 22×34.5mm
Detachable air inlets for easy cleaning
Postless single coil build deck
Focused airflow supply
Deep juice well
Squonk and solid 510 pins included
Body material: stainless steel
Insulator: German PEEK
Adjustable airflow
As you can see, the Dragon is fully kitted out for squonking. But, thanks to its deep juice well, you can use it as a dripper too. And this is good because lately, I've been doing way more dripping.
I still squonk, so it's good to have the option, but I do like that Wotofo has thought of both squonkers and drippers when designing this tank.
Initial Thoughts (And Why I'm Buying One)
As most of you will well know, I am a huge fan of Wotofo. In the past couple of years, the vape company has consistently pumped out great hardware – especially rebuildable atomizers.
The Wotofo PROFILE and Recurve RDA were two of my favorite RDAs from the past 18 months, so I have high hopes and a lot of expectation for the Wotofo Elder Dragon RDA.
I really do like single coil RDAs for a couple of reasons. The biggest, however, is that they're kinder to your mod's battery life which means more uptime and less charging. All while still getting mega clouds and huge, intense flavor.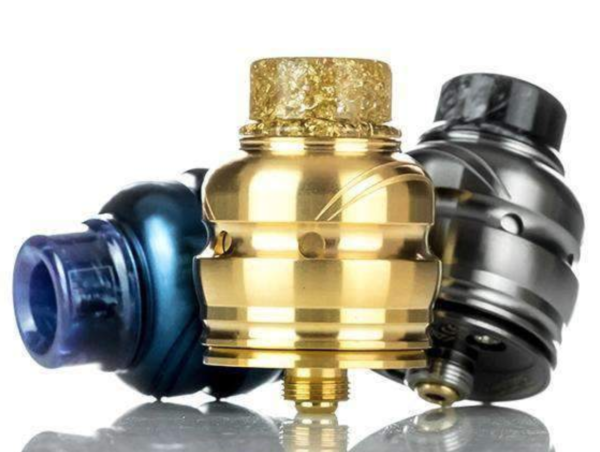 I like what Wotofo has done with the deck. The simple design, with postless installs, will make this RDA great for beginners and seasoned vapers alike. The augmentable airflow is also another nice touch, as it will let you seriously alter how the RDA hits.
Wotofo, as always, also includes a butt-load of gear in the box too. You get cotton, coils, spares, a squonk pin, and a 510 drip tip adapter. Chuck in all the latent performance and a great price tag – it retails for just $29.99 – and you're looking at a very compelling single coil RDA.
All told, the Dragon RDA has all the makings of picking up where the Wotofo Recurve RDA left off. Initial word on the street suggests it is very, very good indeed. Grimm Green loves it (always a good sign) and I cannot wait to get my hands on one!
Drake Equation
Co-founder and Editor of VapeBeat. I make the words.