The Havoc Tank by Vaping Outlaws costs a bunch, but does it have the chops to warrant such a high price tag? Rob investigates…
This marvellous looking sub-ohm tank is the brain child of a partnership between Vaping Outlaws and Vicious Ant. Viscous Ant are well known for their intricate and meticulously designed (and pricey) mods, and the Havoc Tank is by no means any exception to that.
It works incredibly well, having tried my fair share of tanks since ditching cigarettes for vaping, this one produces some truly immense flavours. It does however have a rather high price tag of £60 in the UK and this begs the question: is it actually worth twice the price of your average sub-ohm tank?
Let's get stuck into the details and find out whether or not the Havoc Tank has what it takes to command such a high price tag.
Vaping Outlaws Havoc Tank Review: Design, Performance & Packaging
It has to be said the packing is rather minimalistic; just a simple box really with the tank and drip tips. However, I must say this is one of those less is more scenarios – it's a sleek black box emblazoned with the extremely cool vaping outlaws coil'n'skull logo.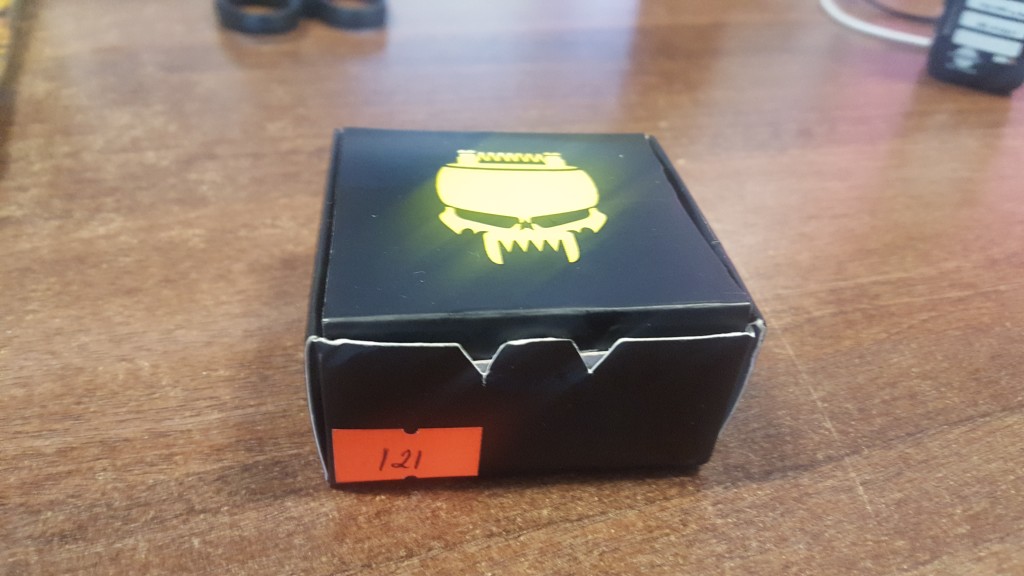 One issue, it doesn't come with a replacement glass chamber! Though that being said, the provided chamber is extremely thick and made from Pyrex so a breakage really isn't on the cards provided you aren't chucking it about.
Here's what comes in the box I received:
1 x Havoc Tank by Vaping Outlaws
1 x Stainless Steel Drip Tip
1 x Delrin Drip Tip
1 x 0.3ohm Vaping Outlaws Havoc Coils
Where the Havoc Tank really excels is in its performance and the design of the tank. Made from stainless steel with intricate Vaping Outlaw logos etched onto the tank it truly is a thing of beauty.
But it doesn't end there, the tank really pushes the envelope in cloud production and flavour with the assistance of its dual airflows which provide a great kick of flavour and vapour to satisfy your taste buds.
This tank really is a high end item and a lot of the cost has obviously gone into making it a premium and aesthetically pleasing build. The stainless steel finish on the is also something amazing to behold – it means you can expect your tank to whether all staining problems in its lifetime.
The capacity of the tank is really where I ran into issues, at 2ml you are going to be doing a lot of refilling. This combined with the effectiveness of the airflow means your juice does really does take a hit. However, this is all dependant on what kind of vaper you are.
For example, this would be great if you are wanting to switch between many e-juices or don't really want to commit to one flavour for too long, or if you have a range of new juices and you want to sample all of them then this would definitely be the tank for such as task.
I tested this setup on my Cuboid mod which has more than enough power to test this tank to its full potential. From what I have seen this would also work well with many setups.
Vaping Outlaws also sell a Mech Mod, the Enforcer, which this beast does go very nicely with! For my testing I used a Vaping Outlaws 0.3ohm (0.3Ω: 15W-100W) coil as I am more accustomed to high wattage Vaping and it also happens to be what my tank was shipped with (lucky for me!).
Starting at 50w I got some nice flavour right of the bat, which I was rather surprised by, as in my experience normally you would have to take this a lot higher to get the kind of flavour, particularly out of a high VG mix like the one I was using.
Taking the tank up in increments of 10w, which each step the flavour got a step up and the clouds were very noticeably thicker. At around 90w the vape becomes slightly hotter but I was still able to take this to 100w (the max for this coil) with no issues. The sweet spot for me was definitely 80w, this produced the best flavour combined with large thick clouds.
While using this tank I also noticed that I had no leaking what so ever and the top fill system, now widely used across the board made refilling extremely simple. The hole size is perfect and just the right size to top up with no issues.
Vaping Outlaws Havoc Tank Specs
The build quality of this tank us ridiculously good, you can really see that extra care has been taken when putting this together. Everything has been machined with precision and made from stainless steel. The top is very easy to remove for refilling and the tank is designed so it's nice and easy to disassemble, there are also rubber rings throughout each area of the tank keeping it leak proof!
Tank technical specs:
Adjustable air flow with 4 air inlets 
Compatible for use with Aspire Atlantis V1 Coils
2ml Tank Chamber
Top Filling (e-liquid refilling from top)
Stainless Steel Construction
Two stylish drip tips available
Height w/Drip Tip: 55mm
Height w/o Drip Tip: 50mm
Width: 22mm
510 Threaded
Vaping Outlaws Havoc Tank Review: Coils
The Vaping outlaw coils also do not fail to disappoint. I was really surprised by how long the supplied coil lasted, it went strong for a good 2 weeks without burning out which I find is rather rare these days! this combined with the fact its compatible with Aspire Atlantis V1 Coils – something that is rarely done amongst vaping vendors – makes these coils really stand out amongst the rest. My Havoc Tank came with the 0.3Ω coil installed but it also can be bought in a 0.5Ω coil.
Replaceable coils come in packs of five and consist of: 100% Organic Cotton
 0.3Ω: 15W-100W; 
0.5Ω: 15W-50W 
Compatible with Havoc Tank and Atlantis V1
Vaping Outlaws Havoc Tank Review: Conclusions
On the whole I was extremely impressed by the Havoc tank, it really can't be faulted in many areas and truly is a high end sub-ohm tank. It does have few pitfalls though, one being the price!
At a cost of £60 this tank certainly does not come cheap. That being said you can really see where that cost has gone when you vape with it, you're paying for the performance this thing provides which is phenomenal.
For me the capacity was also an issue- 2ml really just is not enough for me for my normal vaping habits but that being said if you are changing juices and flavours a lot this is really good for sampling them and provides a nice quick change over.
---
Keep an eye on our social feeds — Facebook, Twitter and Instagram — for updates. Also, why you're here why don't you subscribe to our AWESOME newsletter and be in with a chance to win a DNA 200 Mod, Tons of eJuice and a New TANK!
Do it, DO IT NOW!
UP NEXT: 
Rob