I have always enjoyed Joyetech's products and have never had one fail on me yet. For this reason, I was very excited by the prospect of testing out the Joyetech Cuboid Mini.
I tested its bigger brother, the Joyetech Cuboid, a few months back and was mightily impressed by it — it was a brilliant mod in almost every regard. And, as is the way with phones, vape manufacturers like to release smaller, but equally potent versions of their flagships.
The Joyetech Cuboid Mini, then, is aimed at the type of user that doesn't need ALL the bells and whistles that come as standard with the larger, standard Cuboid mod. The Joyetech Cuboid Mini is smaller, but is designed to pack the same level of performance, but does it live up to the reputation established by its larger counterpart?
Let's find out!
Joyetech Cuboid mini Review: Packaging
The packaging is decent enough, containing all the information you need to know about the mod and what's contained inside. Our review unit was the stainless steel version and, goddamn, does it it look SHARP!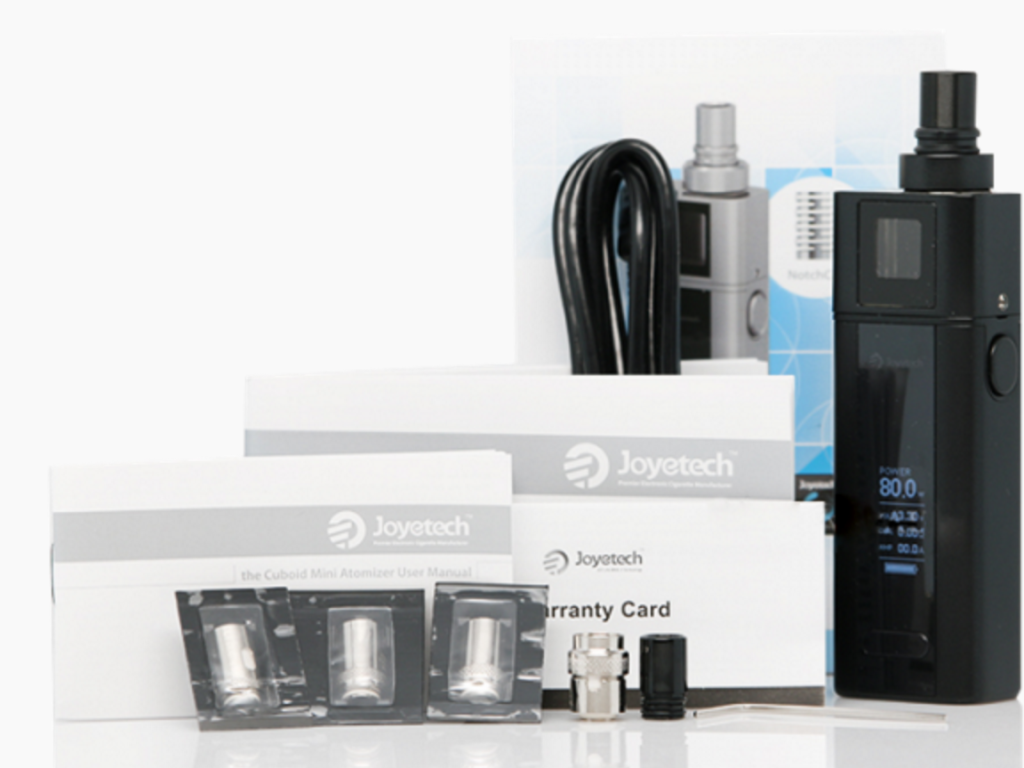 It practically screams, VAPE ME, no sooner have you slid open the box. Inside, obviously, is where everything else is contained. Pop out the mod itself and you're looking at the rest of what you get in the kit, which includes:
One Cuboid Mini 80W TC Device
One Cuboid Mini TFTA Rectangular Tank
One NotchCoil 0.25 ohm Head
One BF SS316 0.5 ohm Head
One BF RBA Vertical Head
Two Drip Tips
One Micro USB Cable
One User Manual
Warranty Card
Joyetech Cuboid mini Review: Appearance
Holding the same form as the bigger Cuboid, the Cuboid mini has simply been shrunk down a tad. The battery is built in and the overall dimensions of the mod are vastly slighter than its predecessor. This mod is designed to be portable, to be taken everywhere. The fact that it looks this good is just a bonus.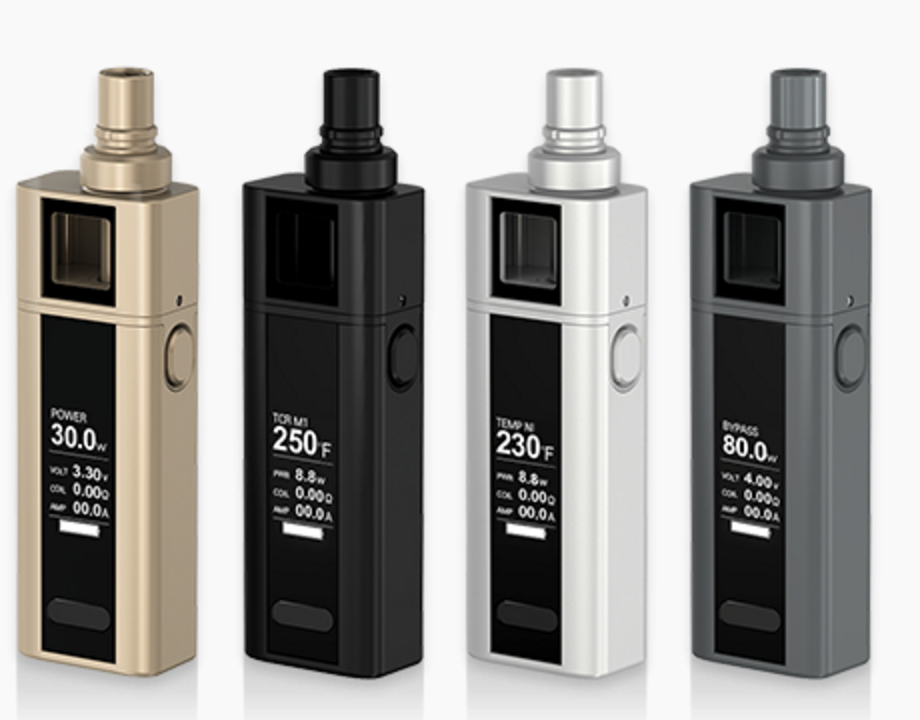 Battery venting holes are located at the bottom of the Cuboid mini. The USB charge/firmware upgrade port is up on the top, left-hand side of the mod, which is a great place to have it as it is easier to access versus the usual spot most mod-makers' prefer towards the bottom of the device.
The fire button is located on the right side towards the top, same as it's big brother. The adjustment buttons are right under the 0.96" OLED display. It's nicer and tactile and protrudes just enough so you don't have to feel around for it.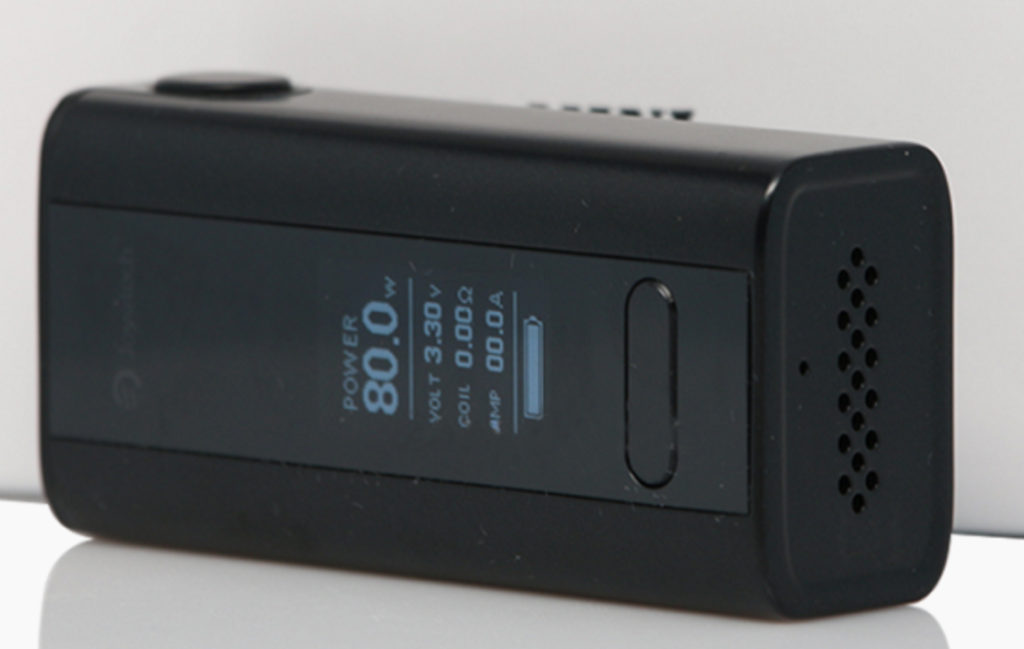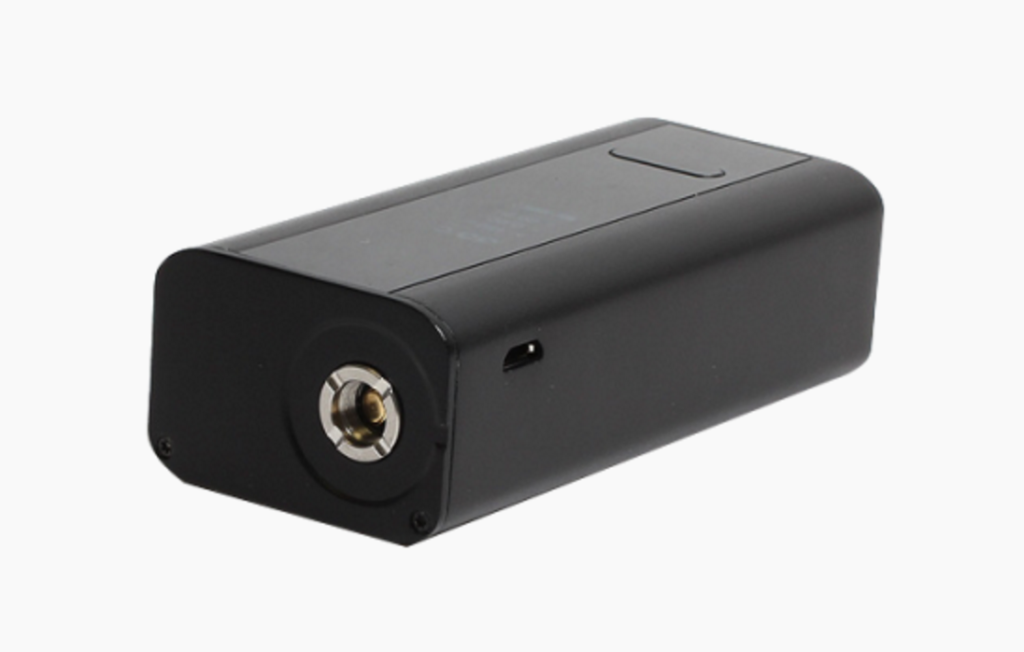 The Cuboid mini Tank sits so perfectly atop the mini that it appears as one solid unit. In fact, the Cuboid mini tank can be removed and you can use any 510 threaded tank without a hitch. Nevertheless, if you're looking for a fully-functional, ready-to-vape kit the tank it comes with is certainly decent enough for novice vapers. I had no problems with it, although after prolonged use I did switch to my Herakles Plus.
Joyetech Cuboid mini Review: Performance
After taking out the NotchCoil that I was so very eager to try, I juiced up the tank and began to set about my day. OK, so you're probably wondering what a NotchCoil is. Well, allow me to explain.
Created by Joyetech and Jay-Bo, the NotchCoil is, essentially, a new type of coil that features the surface area of a Clapton coil but ramps up as quick as a single coil. It's also made from stainless steel and, when vaped, provides a super clean taste over Kanthal — or, at least, that's the idea.
Interestingly, the NotchCoil has a resistance of 0.23 ohms and an inner diameter of 5.5mm, which will be slightly odd for those used to working with a more traditional 2.5 or 3.0mm coil diameter.
During my first day, I hit the Cuboid Mini HARD. I started at 30W and quickly moved up to 40W. The Cuboid Mini handled it like a champ. From fully-charged to dead, I got two solid days of moderate to heavy vaping under my belt — not bad for a smaller mod.
The charge time is about 3 hours for the Cuboid Mini and it does have pass-through, which means you can vape on it while its charging. Nevertheless, I really do wish some firms would implement a fast-charge on these mods, especially for those that don't support removable batteries. Android phones have had this feature for years, so it'd be good to see vape manufacturers try something similar.
On my next run, I whacked the power up to 50W and went for some chain-vaping in order to see what the Cuboid Mini was really made. This time around I didn't pull any punches, but the Cuboid Mini still performed admirably delivering just shy of a full day's use before crapping out.
The NotchCoil is excellent as well, easily a high-point of this test. I will definitely be securing more for the future, as the flavour and performance really are very impressive. The ramp-up time is INSANE for a coil of this size as well, so hats off to Jay Bo, once again, for this marvel!
The Cuboid mini Tank never got too hot during testing, and I did take the NotchCoil all the way up to the full 80W without issue. The NotchCoil wicks like a dream too. I didn't have one dry-hit during the entire testing period. And now, two weeks later, I still haven't tried out the other coils that came with the mod because the NotchCoil is still going strong!
The flavour is outstanding no matter the wattage (30-80W). Clouds are decent, but nothing to write home about. They're no match for what you can do with the Crown or Herakles Plus but I'd say it is on a par with the Amor mini tank.
All in, this is A LOT of technology and performance for not much money. The Cuboid Mini, once again, shows why Joyetech is one of the most reliable, innovative brands in the vaping space. I loved testing this mod out, it has everything you could want from power to battery performance. Chuck in the awesome NotchCoil tech as a bonus, and you're onto a serious winner!
Joyetech Cuboid mini Review: Conclusion
After having the Cuboid mini Full Kit and running it through some tough tests I really am surprised by the overall, suburb quality of the device as a whole.
On a rating scale, as a complete kit setup, the Cuboid mini gets a 9.5/10 and that's saying quite a bit — that's almost full marks!
The Cuboid Mini really is a great little setup that's portable, fits easily in the hand and pocket, and will not break the bank. It also delivers some of the best performance around with excellent battery life and plenty of power at its disposal.
Bottomline: if you're looking for a cost-effective mod that is BIG on value and LOW on price, then you NEED to check the Cuboid Mini out. It is a stunning example of why you definitely do not need to pay big bucks for big performance in 2016's vaping space.
[go_pricing id="cubiodmini"]
---
Keep an eye on our social feeds — Facebook, Twitter andInstagram — for updates. Also, why you're here why don't you subscribe to our AWESOME newsletter and be in with a chance to win a DNA 200 Mod, Tons of eJuice and a New TANK!
Do it, DO IT NOW!
UP NEXT: 
Nick Jennings
Reviews & Tutorials Guy. If You Can Build It & Vape It, I'm Your Man!