The Vapefly Wormhole RDA has to be one of the most overly complicated RDA tanks I have ever used. And not in a good way, either!
---
[letsreview]
---
A wormhole is a theoretical gap in space, a point between A and B, where thousands of light years can be traversed in the blink of an eye.
I don't know what this has to do with an RDA, however…
Unless it is to do with just how complicated this thing is to set up and use.
The Vapefly Wormhole RDA has more airflow holes and settings than, well… any other RDA or vape tank I have tested.
And the bad news? It kinda doesn't work in its favour.
Call me a traditionalist, but I prefer my RDA tanks stripped back and simple to use.
This is the entire point of RDA tanks.
They're simple.
They're easy to set up, and they vape like monsters.
I really struggled with the Vapefly Wormhole RDA.
And while it isn't a bad RDA, it's just not my cup of tea – it certainly isn't one of 2018's best RDAs, though.
Read my full review, and see what you think. You never know, you might quite like the sound of it.
Vapefly Wormhole RDA Design
OK, this is going to be the most detailed section, as there is just A LOT to cover off – as I said: this thing is BUSY.
First, let's talk about the Wormhole RDA's airflow because, well… there's a butt-load of it.
The first airflow is located on the side of the top cap (this is the bottom airflow) and the base of the atty. Air enters and comes up through the posts and then hits your coils.
The second airflow is the more traditional side airflow, and there are a few options drilled into the side of the tank.
Line these up with your coils, once they're installed, and the air hits them just like your normal, standard RDA airflow system.
And on top of this, you have an AFC system, whereby you can move the Delrin top cap around to expose three of the five AFC holes at any one time.
It's all pretty complicated, to be honest. And, as I said earlier: not in a good way.
The Vapefly Wormhole RDA is tall as well, way taller than most RDA tanks of its ilk, and it is put together pretty well.
With respect to industrial design and quality of craftsmanship, I don't really have too many complaints. It's well put together but it kinda reminds me of an over-designed car.
There's just too much going on and most of it doesn't really add anything to the party.
Vapefly Wormhole RDA Deck
The deck itself is pretty simple to set up. It uses clamps to secure the leads and there is a removable airflow plug that sits in the center that you can use to switch it from dual to single coil mode.
Single coil mode is OK. But if you want optimal performance, you'll 100% need to run it in dual coil mode, as the flavor drops off pretty noticeably.
The deck itself isn't anything special or new, so most seasoned RDA users will be fine finding their way around it.
Again, though, the bottom-line here is pretty simple: this tank is overly complicated. You have three or four things to consider when setting it up, but only two of them ACTUALLY make any difference.
Vapefly Wormhole RDA Performance
My personal preference at the moment is to completely switch off the bottom airflow and just use the more traditional AFC system. I find this gives me the best flavor and overall vape.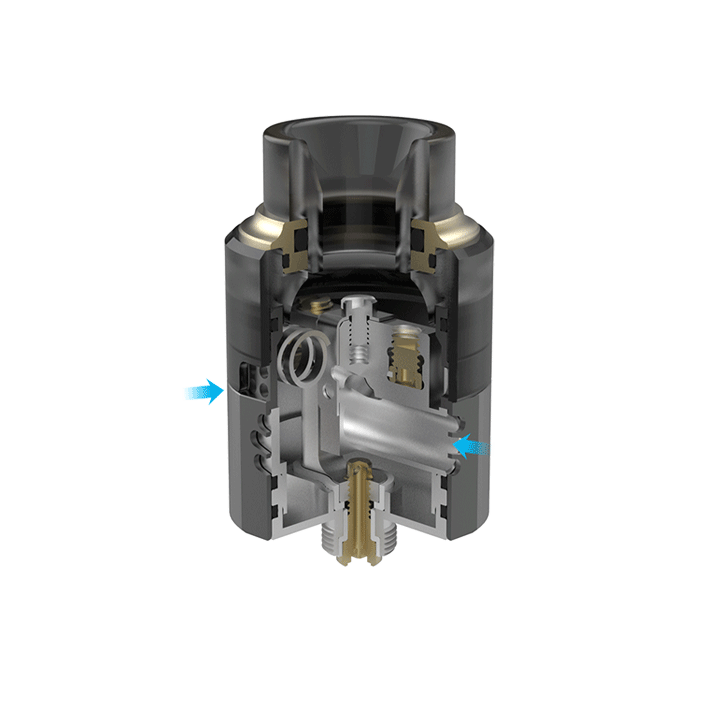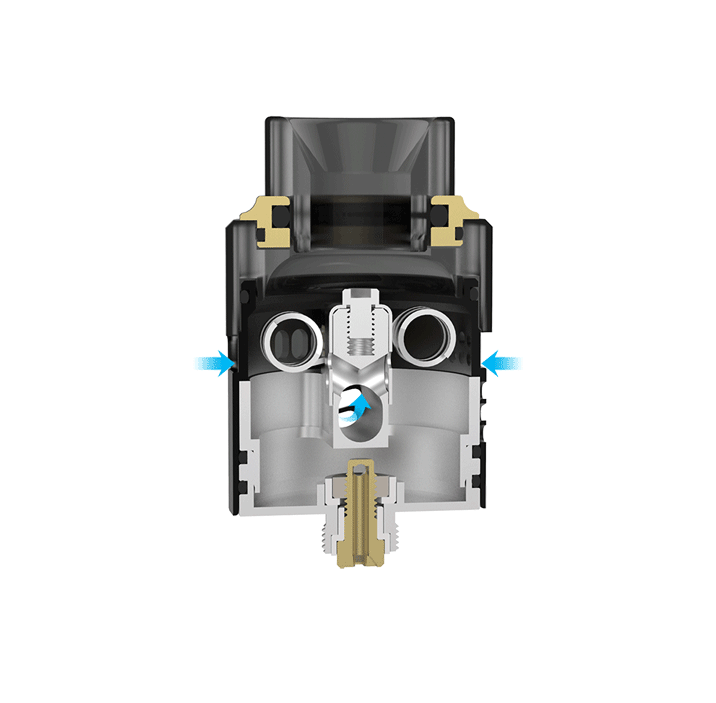 To my tastes, the bottom airflow doesn't really add anything into the mix. In fact, I'd say in some ways it detracts from the flavor. I think this is to do with the turbulence it creates inside the deck when it's running.
The flavor with the bottom airflow switched off is decent. It's not Pulse or Recurve RDA-grade flavor. But it's adequate enough, though I don't see myself using this RDA again once I've finished testing it.
Vapefly Wormhole RDA – Overall Verdict?
I don't HATE this RDA. But I really don't love it, either. Like, not even a little a bit.
The design is too busy, there's just way too much going on, and it doesn't really make any difference to the overall vaping experience.
The Vapefly Wormhole RDA performs best when you run it like a traditional RDA – meaning: just the side airflow open.
The bottom airflow, while novel, brings nothing to the party. I've tinkered with it, tried different builds, and nothing worked to remedy this fact.
And this has made me conclude that it is nothing more than a gimmick, a means of standing out from the crowd. On paper, it works – the Vapefly Wormhole RDA looks and sounds pretty tantalizing.
In reality? It just doesn't cut the mustard.
The flavor is average, the design is too busy, and the complicated nature of its airflow is just WAY TOO convoluted.
RDA's are ALL about simplicity, power, and flavor. Get these right and not much else matters. Just ask Wotofo! It makes simple, effective RDAs that kick out immense flavor.
And my advice to you, if you're reading this in search of a new RDA to add to your collection, would be to get the Wotofo Recurve RDA.
In my book, nothing else really comes close to it right now (for the price).
Want more options? Check out VapeBeat's Guide to The Best RDA Tanks for 2018 — they're all the best units we've tested so far.
[letsreview]
Drake Equation
Co-founder and Editor of VapeBeat. I make the words.