Vandy Vape TRIPLE RTA Review: Three Coil MADNESS
By Drake Equation • Updated: 03/19/18 • 5 min read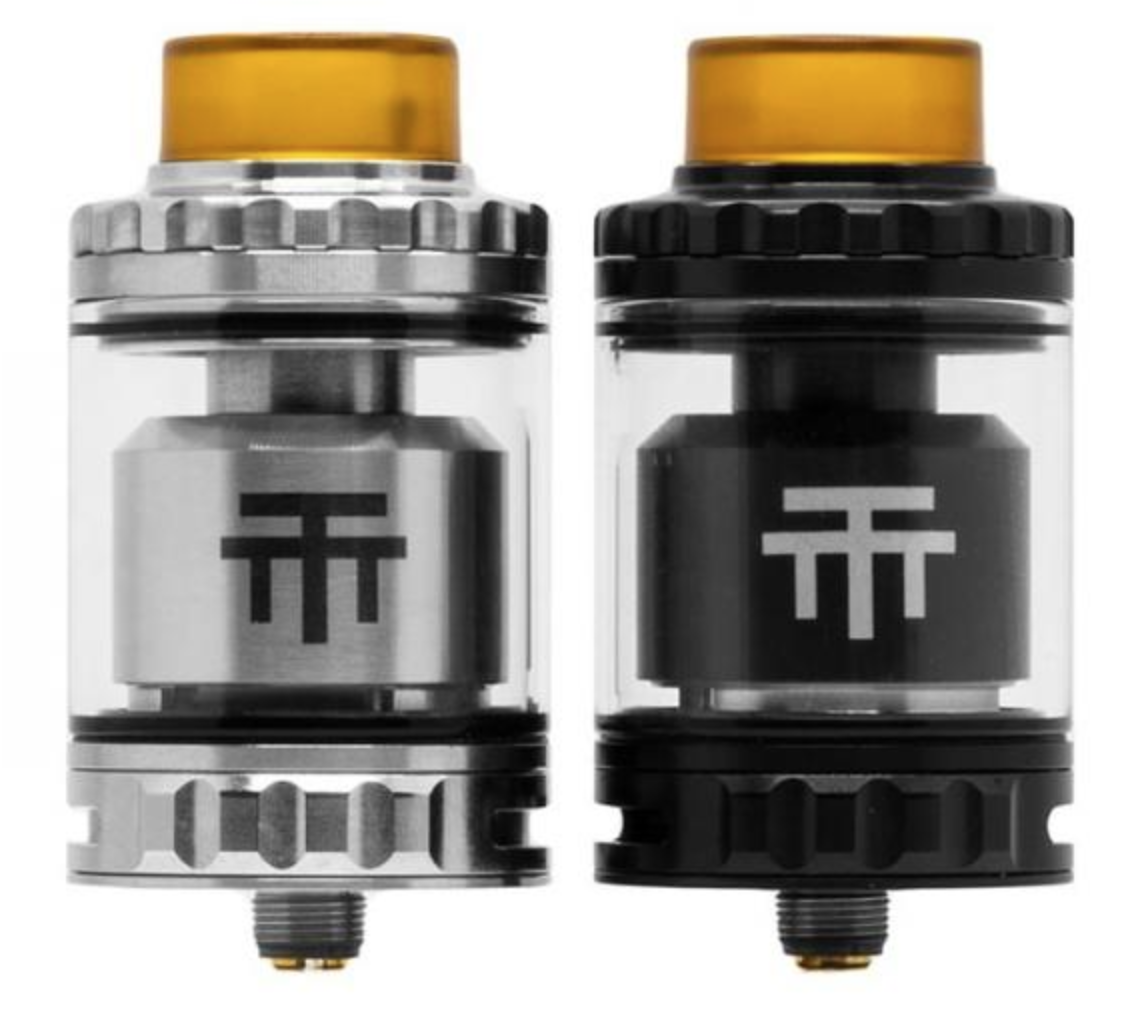 The Vandy Vape Triple RTA allows for three GIANT coils to provide maximum cloud production and flavor, and I must say I dig it!
---
[letsreview]
---
Alright, ladies and gentlemen, it's time we take a look at this, well, er… slightly ridiculous RTA. The Vandy Vape Triple RTA allows for three GIANT coils to provide maximum cloud production and flavor, and I must say I dig it!
Like a lot of vapers, I've always been kind of sceptical about RTA tanks. I like the idea of them, but the reality is often very different. Lots of leaking, lots of fiddling around, and plenty of anger.
But of late – say, in the last six months or so – things have started to change. You can now pick up a variety of excellent, easy to live with RTA tanks. Is the Vandy Vape Triple RTA one of these? Prior to testing, I really got my hopes up about this one because, on paper, it looked and sounded almost too good to be true.
Read on to find out how I got along with this bad boy!
Vandy Vape TRIPLE RTA Review: Design

Pin
I've been running caterpillar tracks in there, and DAMN does this baby rip!! The flavor and vapor production on this has been top notch, and the airflow is so smooth.
In addition to the functionality of the design, the tank is beautifully proportional, though it is VERY large (28mm). For me, an atomizer that's too tall relative to its diameter or too wide relative to its height just looks funky, but the Triple RTA nails both and is very aesthetically pleasing to look at.
I got the black version of the RTA, which looks really sweet. The coolest thing to me is the black section that covers the coils, it makes the juice look extremely dark and gives the entire setup a kind of gothic feel – you could see Batman vaping on this. It also fits your goon style drip tips, so the customisation options are pretty much endless when it comes to drip tips.
Vandy Vape TRIPLE RTA Review: Performance

Pin
The time I've spent using this tank has been simply fantastic. First of all, it is SUPER easy to build on; the postless design makes installing coils almost too easy! On top of that, the design of the wicking slots is the perfect size for three coils' worth of cotton, so you just pull the cotton down and through before clipping off the excess.
I also like that you can run it as a dual-coil too; it's good to have a choice because, while three coils sounds like fun, it can be pretty destructive to your E Juice supplies and battery life!
The look and feel of the whole deck and RTA, however, is simply superb. Vandy Vape is killing it at the moment, and the TRIPLE RTA is no exception to this rule.
The top fill design has a cap that threads on and two GIANT fill holes that can accommodate any dripper or unicorn bottle. Kudos to you Vandy Vape, this can be a big headache if what you're dripping doesn't quite fit into the fill slot.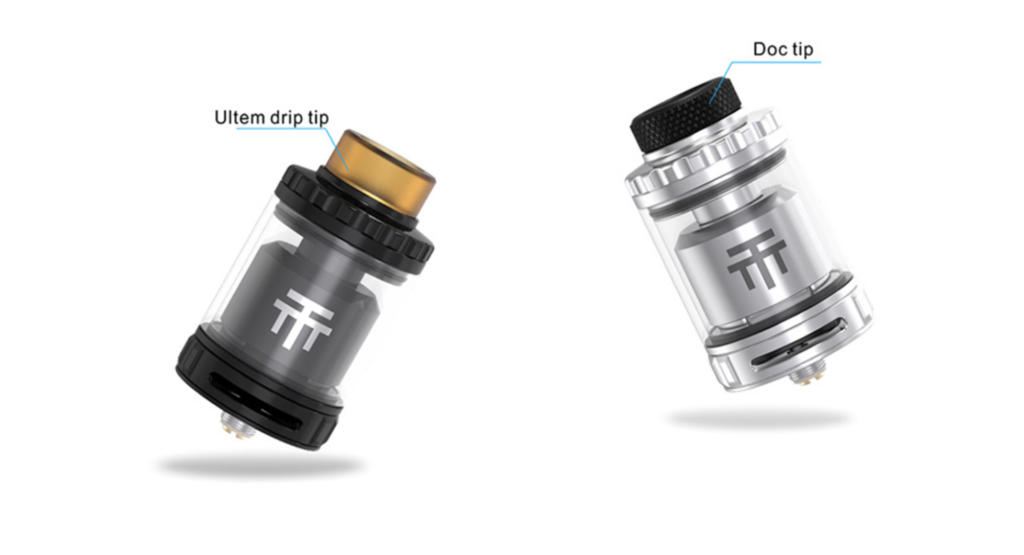 Pin
The machining quality is some of the best I've seen on a tank, even down to the way the threads meet. You can get a nice tight seal without over tightening to the point where disassembling the tank requires two pairs of Channellock pliers!
The only issue I had with this guy was an initial hiccup; the o-ring which seals the bottom part of the glass on the bottom got stuck in the threads and I ended up having to break the glass in order to take apart the tank. Not the biggest deal as it does come with the standard extra glass, but now if I drop my setup and it cracks, I'm out of luck until I go order new replacements.
On that note, here's what you get in the package:
Vandy Vape Triple 28 RTA
ULTEM Wide Bore Drip Tip
Delrin Doc Drip Tip
Replacement Glass
510 Drip Tip Adapter
Set of Spare O-Rings and Screws
Screwdriver
Here are the specs and some features for the Triple RTA:
Designed by Vaping with Twisted 420
Dimensions: 2-1/16″ x 1-1/16″ (Including Drip Tip and Threads)
28mm Diameter
Gold Plated 510 Contact Pin
4.0ml Capacity
Unique Postless Build Deck with Six Holes
Designed for Dual and Triple Coil Configurations
Top Fill Design with Twist Off Cap
Dual Airflow Slots
Bottom Adjustable Airflow Control Ring
Glass Tank
ULTEM Wide Bore Drip Tip
Delrin Doc Drip Tip
Includes 510 Drip Tip Adapter
Vandy Vape TRIPLE RTA Review: Verdict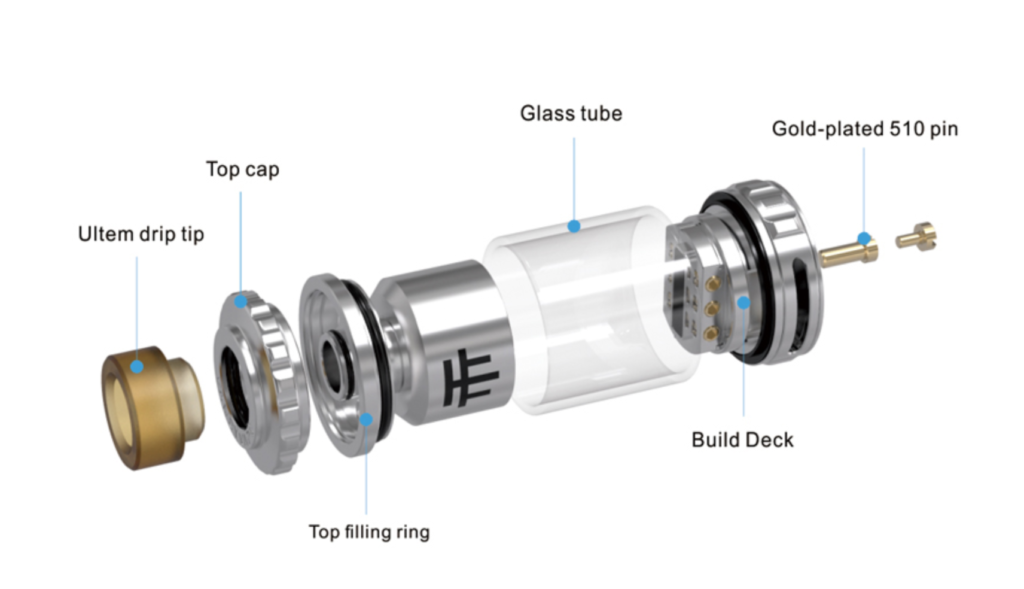 Pin
This tank, simply put, is KILLER. Every aspect of design has been taken into consideration and executed perfectly. The build space, the wicking slots, the threads, the overall tolerances of the design, and the appearance. Everything is just superb.
[letsreview]
Drake Equation
Drake is the founder and editor of VapeBeat. He started the blog WAY back in 2015 when, upon quitting smoking, he struggled to find any useful information about vaping online. With a background in journalism and a newfound hobby on his hands, he set about creating VapeBeat – a blog all about making vaping simple to understand for new users.