UWELL Caliburn G Review: Return of The KING…
By Drake Equation • Updated: 02/10/21 • 7 min read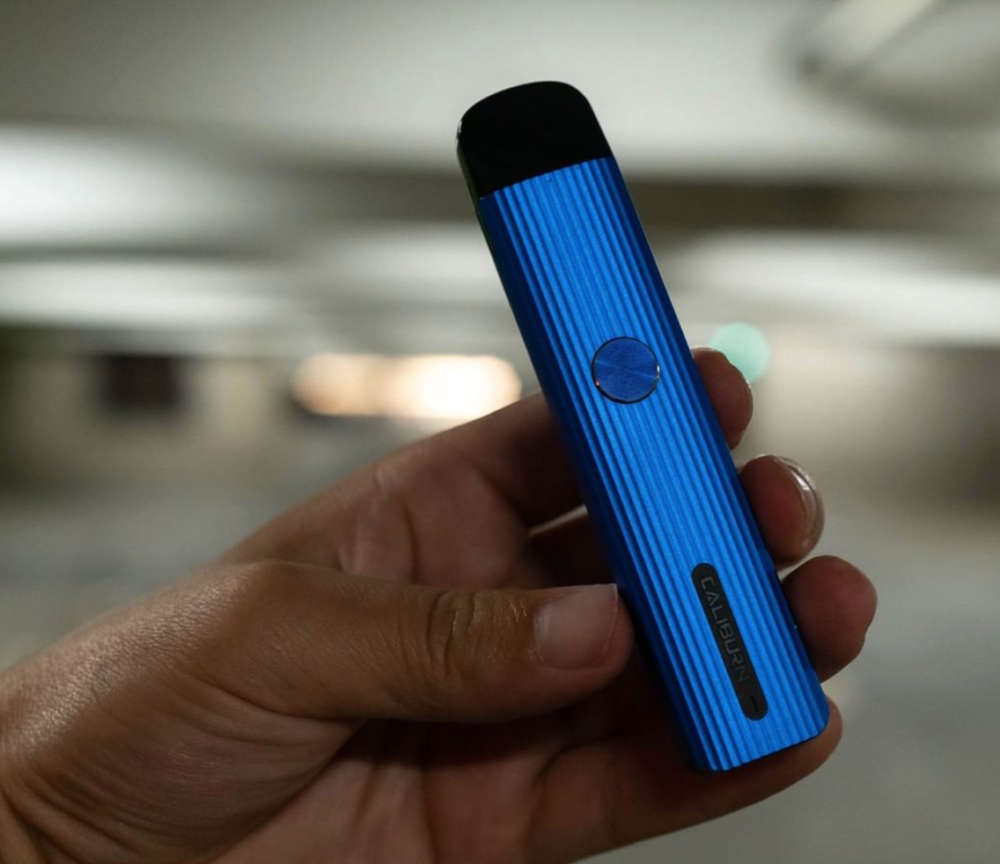 The UWELL Caliburn was immense. But that vape is now DEAD. In its place is a new master. Ladies and gentlemen, meet the UWELL Caliburn G…
---
[letsreview]
---
The FDA killed the UWELL Caliburn in the US. You can still buy the original Caliburn in the UK. But for those of us in the USA, you now have a new option from UWELL: the revamped UWELL Caliburn G.
But is it any good? Is it as good as the original UWELL Caliburn? And, most importantly, should you buy one? Let's investigate. As always, we'll start off with a TL;DR version of the review which covers all the basics for those that can't or don't have the time to read the entire review.
The UWELL Caliburn was always going to be a tough act to follow, but the UWELL Caliburn G more than lives up to the hype. The coils are superb, lasting just as long as its predecessor's, and the flavor is, once again, off the charts.
Just make sure you choose the best quality vape juice for your UWELL Caliburn in order to unlock its full potential.
The design of the UWELL Caliburn G has been improved massively too; it now looks and feels more premium (and comes in some new colors too). You also have two airflow options (tight MTL and loose MTL).
It also has better battery life than the OG UWELL Caliburn; the UWELL Caliburn G runs a 690mAh internal battery (that's around 2X the size of the original Caliburn and slightly more than the newer Voopoo Vinci POD). And that wasn't enough to convince you, the UWELL Caliburn G has fast-charge, so you can top it up in record time.
Is this the perfect MTL pod vape? Pretty much. It's cheap, it has great coils, it has better battery life than the original Caliburn, and it now looks even better. And that for me is all you need from a pod vape, so, yeah, the UWELL Caliburn G is my new #1 recommendation for those looking for a simple to use, pen-style pod vape.
---
Full UWELL Caliburn G Review – Design, Specs, Features & More…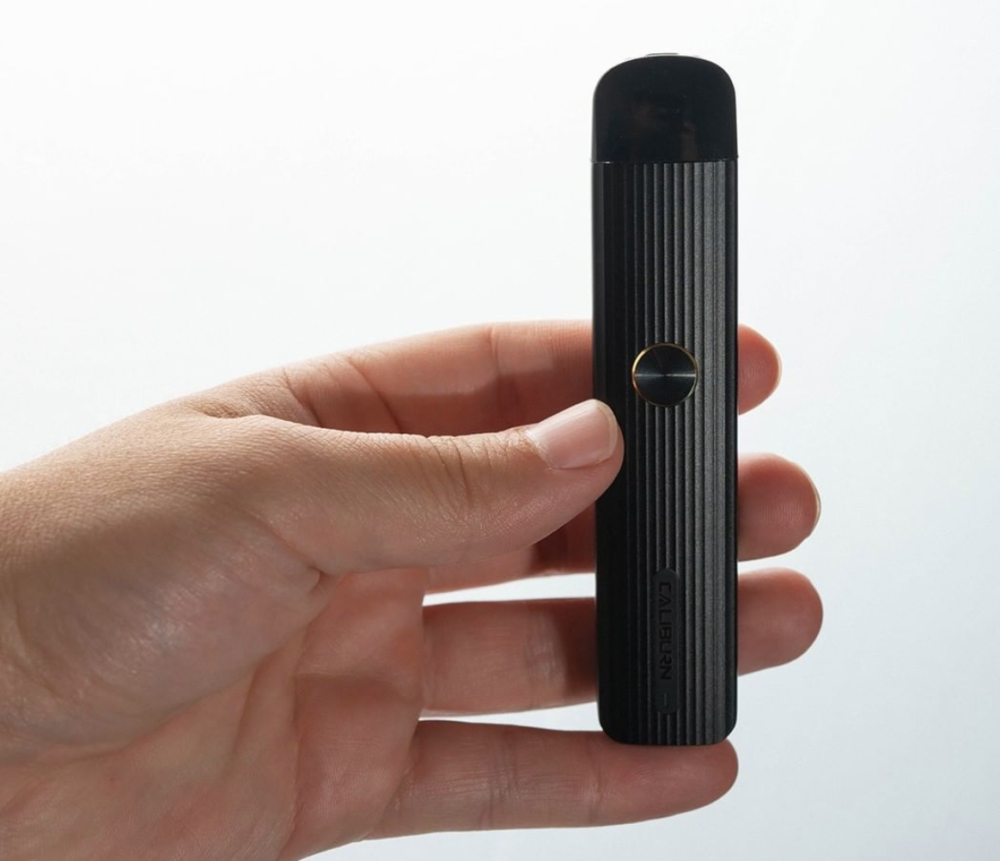 UWELL Caliburn G Review – Design
I really liked the design of the original UWELL Caliburn. It was small, smart-looking, and it worked great. This is why it was the #1 pod system on the market for so long. And when you have a winning formula, you don't mess with it.
This is why I am pleased to report that UWELL has not messed with its original design too much. UWELL has made plenty of welcome changes, however, like revamping the design, it now looks a lot more premium, and its ability to support two types of draw: tight MTL and loose MTL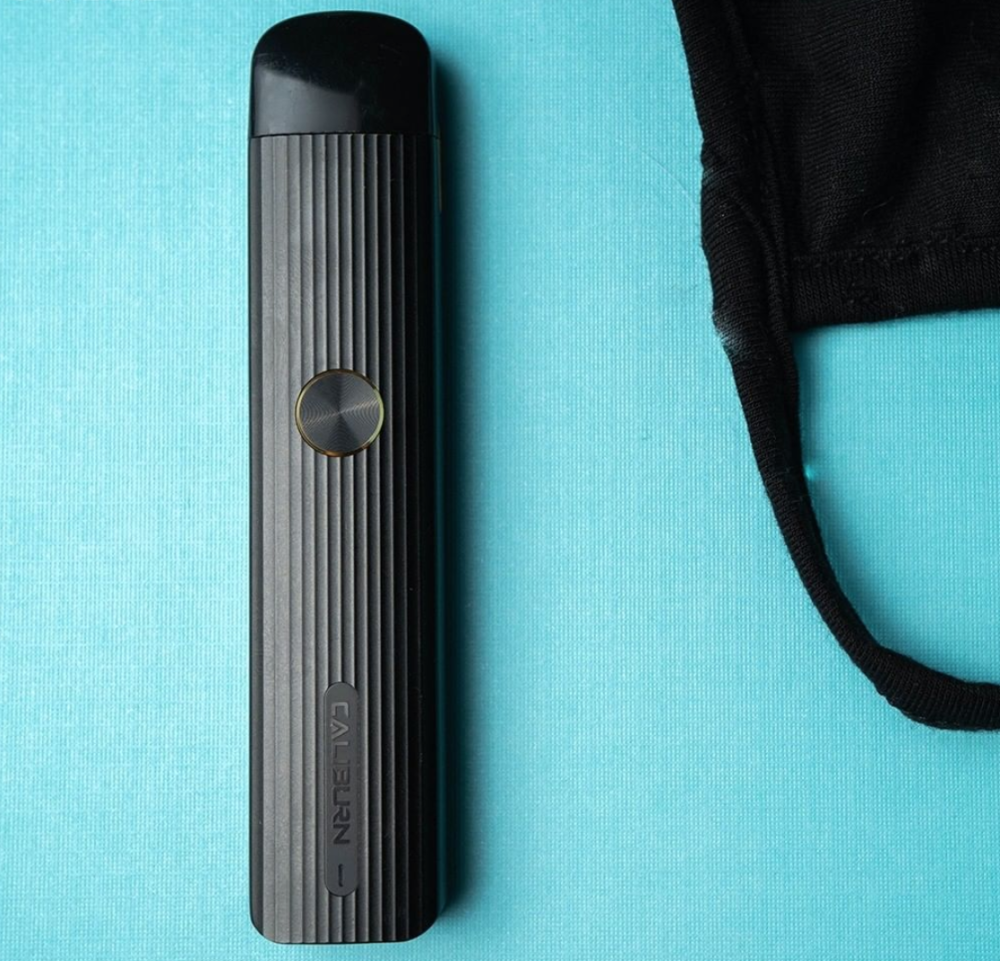 The battery life is massively improved too. The OG Caliburn's battery was small and this did affect its performance. The UWELL Caliburn G has a significantly larger battery and, in my experience, this means the device lasts around 2X or 3X longer than its predecessor.
Like the original, the UWELL Caliburn G is super-simple to use which makes it an ideal choice for new vapers. The pods slip off easily enough and will hold 2ml of vape juice. The new Caliburn G pods run on a press-to-fill system which is great because it means less mess.
The UWELL Caliburn G is a draw-activated device but, like its predecessor, the device also has a fire button. Me personally, I prefer to use the fire button. I find draw-activated vapes a bit hit and miss, and the UWELL Caliburn G is no exception.
UWELL Caliburn G Color Options
The UWELL Caliburn G is available in the following color options:
Grey
Rose Brown
Green
Red
Black
Blue
UWELL Caliburn G Specs 

Dimensions: 108.3 mm x 22.5 mm x 12.6 mm
Materials: aluminum alloy
Battery capacity: 690 mAh
E-liquid capacity: 2 mL
Maximum wattage: 18 watts
Net weight: 60 grams
Mesh coil resistance: 0.8 ohm
Performance
The UWELL Caliburn G is stunning. It's that simple. The coils last weeks at a time (and are refillable). The flavor is off the charts and it is so simple to use a five-year-old could work it out without instructions (not that you should test that).
The performance is better than the UWELL Caliburn. And the UWELL Caliburn G has better battery life. And that's really all you need to know: the UWELL Caliburn was the best pod and now its successor, the UWELL Caliburn G, has taken over, thanks to a few choice design and feature updates.
The pod market is now the most competitive space in the vape market. You have myriad options to choose from – from high power pods to rebuildable pods and everything else in between.
Me? I like my pod vapes simple. I want MTL on them. I don't need masses of power. And I want to be able to use Nic Salts or 50/50 vape juice in them. I cannot be bothered with anything else.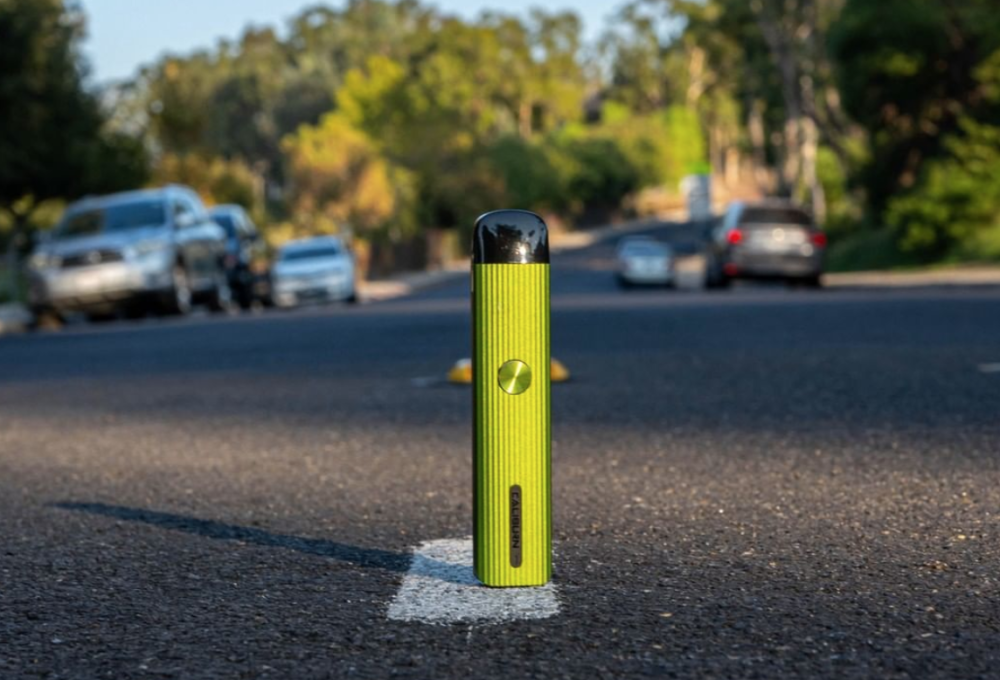 Pods are meant to be simple, but recently they've kind of lost their way – simplicity has given away to complexity and "features" which is why I am so glad that UWELL didn't mess with the formula on the UWELL Caliburn G.
It doesn't have any fancy bells and whistles. It doesn't have loads of vaping modes. It doesn't have a UX and a menu system. It's an MTL pod vape. And that's it. Period. Designed to be simple and convenient. And that, for the most part, is what everybody wants.
Add in the fact that the UWELL Caliburn G now supports TWO types of MTL (loose and tight) and, well… I'm in heaven. As someone that is predominantly an MTL vaper, this kind of thing is the EXACT thing pod makers should be doing, instead of trying to out-feature a vape mod.
Give the people what they want: great MTL vaping with decent battery life. SMOK can take care of all the gimmicks and nonsense with its products. Me, I'd take a UWELL Caliburn G over anything else on the market right now every day of the week and twice on a Sunday.
UWELL Caliburn G Battery Life
As anyone that reads VapeBeat knows, back in 2019 I was ALL ABOUT the UWELL Caliburn. I loved that goddamn vape. For me, it was simple and perfect. It worked great, the coils were consistent, and the flavor was stunning.
The only problem? The battery life – it kind of sucked.
But now you don't need to worry about that because the UWELL Caliburn G, thanks to its newer design, can accommodate a larger battery. The UWELL Caliburn G runs a 690mAh battery and it provides a solid 2X or 3X performance uplift on the OG Caliburn's battery life.
UWELL Caliburn G Review: Wrapping Up…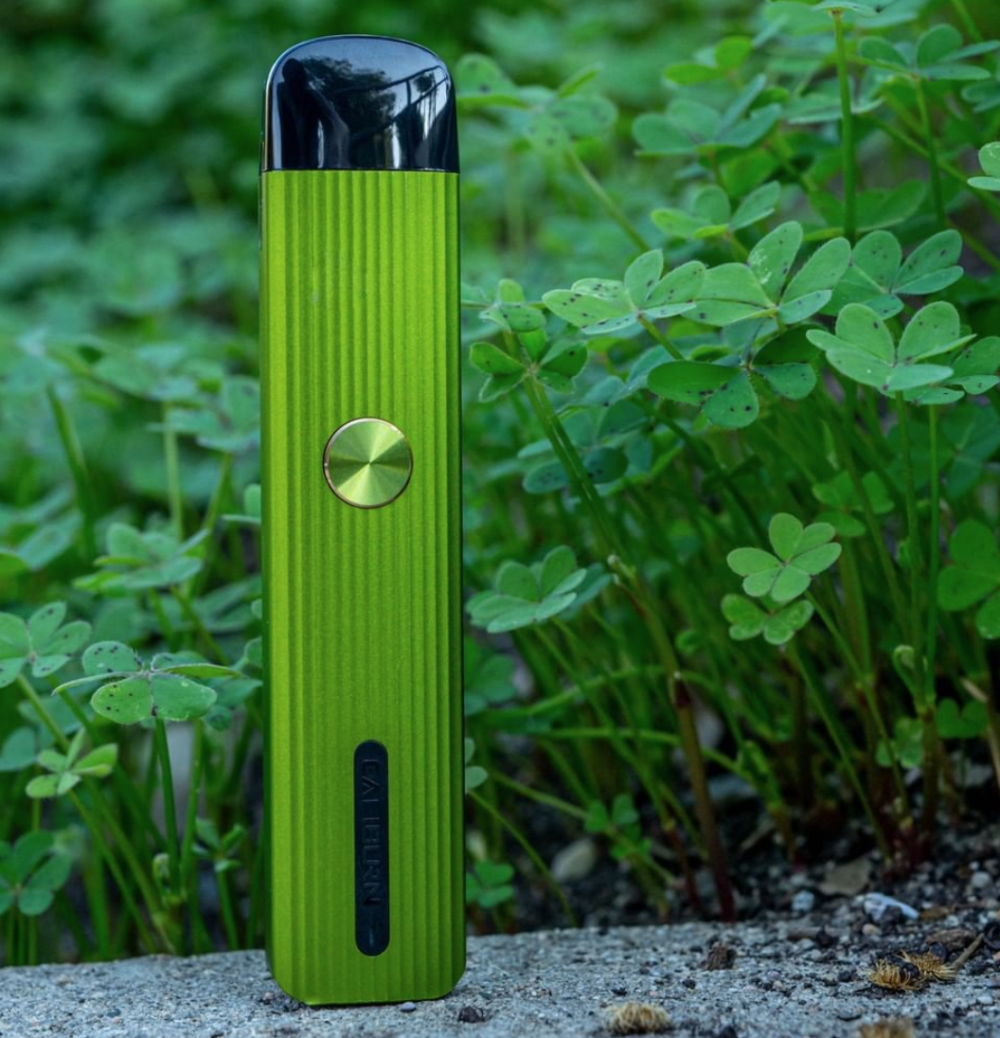 I'm always a little worried about "successor devices" – I always worry they'll fail to live up to the hype of the device they follow. But here, UWELL has outdone itself: the UWELL Caliburn G takes all the elements that made the original UWELL Caliburn great and simply improved them, adding in more performance, better looks and design, and longer battery life.
The flavor, the pods, the overall vaping experience is utterly brilliant. For this reason, I'm calling this one early: the UWELL Caliburn G is the best vape pen-style pod vape money can buy right now – and this will likely be the case well into 2021 and beyond.
Drake Equation
Co-founder and Editor of VapeBeat. I make the words.