Today we're taking a look at the STUNNING Yihi SX Mini G-Class LUXURY EDITION – a super-premium box mod that is designed for vapers that DEMAND the best of everything. 
---
[wp-review id="5116″]
---
Hey guys, Drew here with another AMAZING high-end mod for you – the SX Mini G-Class LUXURY EDITION.
If you visit our site regularly, you'll recall that I reviewed the SX Mini G-Class not terribly long ago.
This mod was beautifully designed, however, the hardware left a little to be desired, as the device bricked itself about 3 weeks into my use.
For this reason, it DID NOT make it into our Best Vape Mods Guide.
And when I say bricked, I mean this device wouldn't turn on and would only display "Update Device" or something similar when plugged in through the USB-C cable.
Just rendered itself completely useless.
Needless to say, I was willing to give the company another shot, and here we are with a review on the Yihi SX Mini G-Class LUXURY EDITION.
SX Mini G-Class LUXURY EDITION Review
Design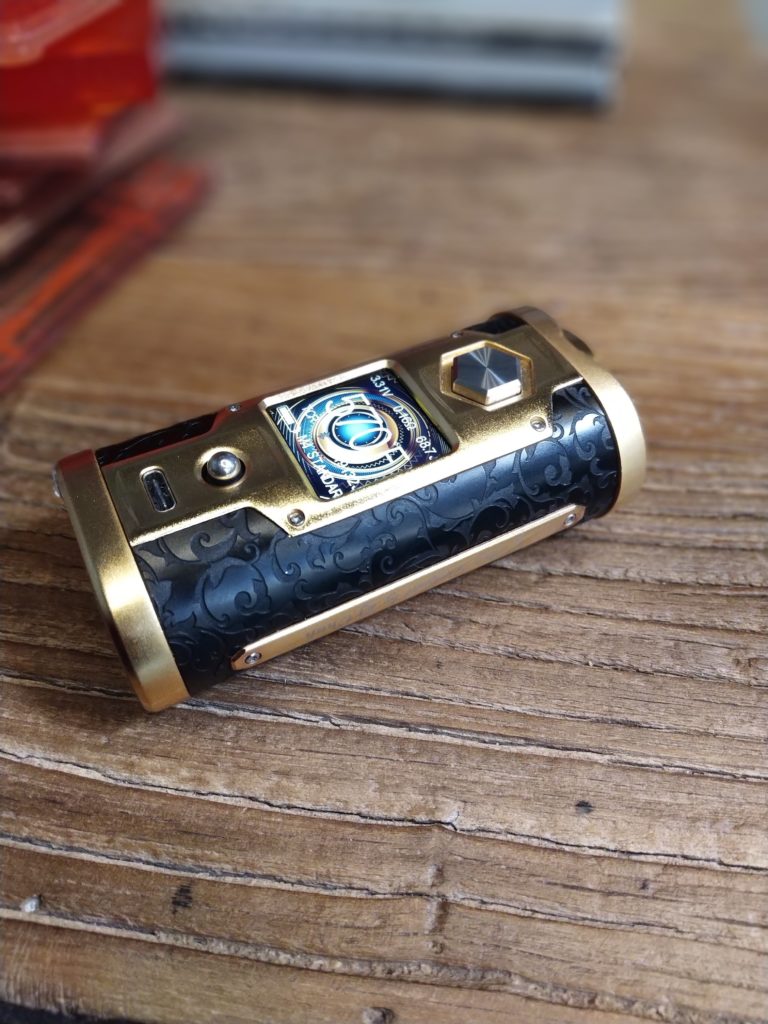 [social_warfare]
Now, the normal G-Class device is indeed gorgeous, but Yihi decided to step things up a notch and release a 24-karat gold plated version with chemically etched designs on the sides.
These two features almost make the SX Mini G-Class LUXURY EDITION seem like a different device, and DAMN is it SEXY!
In my completely honest opinion, this is the most beautiful mod I have owned to date.
And while it is very expensive compared to cheaper mods like SMOANT mods, you do feel like you're getting your money's worth.
The things which make the original G-Class stand out from its peers, i.e. the hexagonal fire button, the nice LCD screen, and the menu joystick remain the same on the SX Mini G-Class LUXURY EDITION.
The size of the device does not change either, nor the centred 510 (amazing!) so it's literally the same device, just gold where there was gunmetal and the black etched pattern where the carbon fibre was.
Oh, and here's a HUUUUGE bonus they threw in different from the regular G-Class: clear stickers for the bottom parts and one for the top where the atty screws on!
This is amazing. They're very thick and sturdy, so they will prevent scratching when setting the device down.
SX Mini G-Class LUXURY EDITION Performance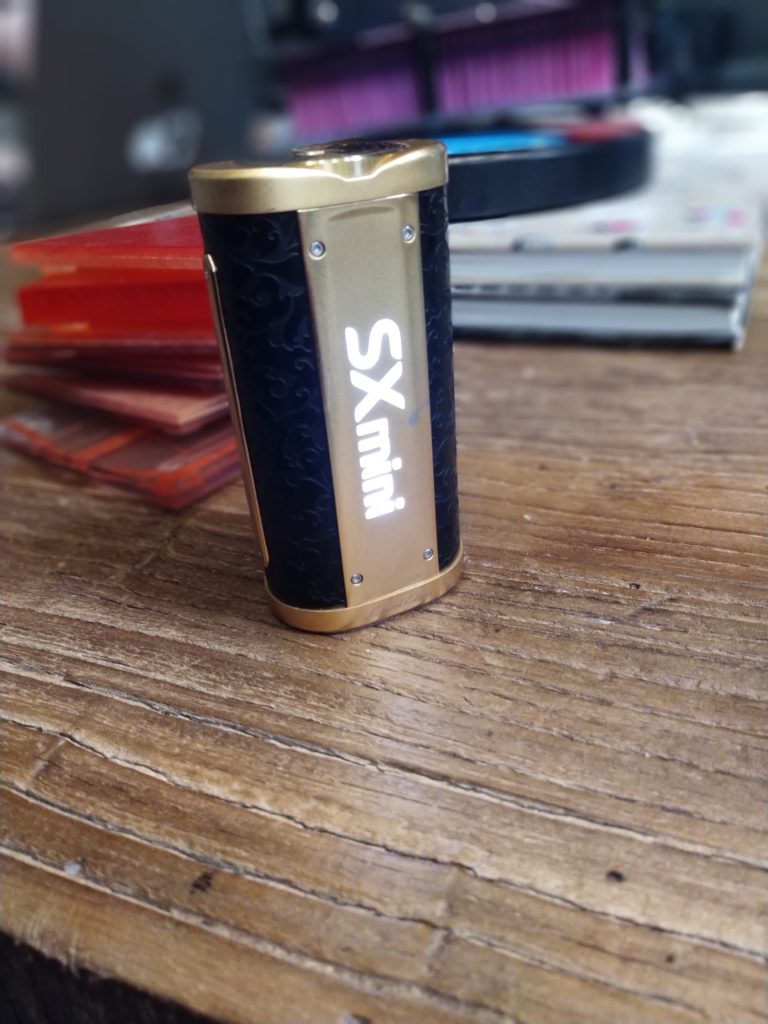 [social_warfare]
The hardware on this one is identical except for the chip, which is just a different production run (SX550J-L) of the same SX550 chip that was in the normal G-Class.
And after a month, I can say with confidence that this chip isn't going to brick itself. I have had ZERO problems with the SX Mini G-Class LUXURY EDITION, and it performs exactly as a high-end, expensive mod like this should.
I don't really have much to say in the performance section here that hasn't already been said in my review of the standard G-Class mod.
It performs like a beast, but the battery life isn't the greatest (I'm suspecting the big OLED screen has something to do with this….) so as long as you've got a few sets of batteries around, you're in the clear.
SX Mini G-Class LUXURY EDITION Specs & Key Features:
Chipset: YiHi SX550J-L
Dimensions: 92.4mm x 47.3mm x 32.3mm
Output Wattage Range: 5W to 200W
Atomizer Resistance Range: 0.5ohm to 3.0ohm
Atomizer Resistance Range: 0.5ohm to 3.0ohm
SXi-Q Intelligent Taste Curve
Set Output Curve with 5 Memory Mods
Temperature Control Support: Joule Mods, Ni200 Nickel, Titanium, SS 304, SS316 & SS317
TCR Functionality
Temperature Range: 212 F to 572 F (100 C to 300 C)
Bluetooth Compatible
Requires 2 x 18650 High Amp Batteries (Batteries Sold Separately)
Multi-Format Color OLED Display
SX Mini G-Class LUXURY EDITION – Final Thoughts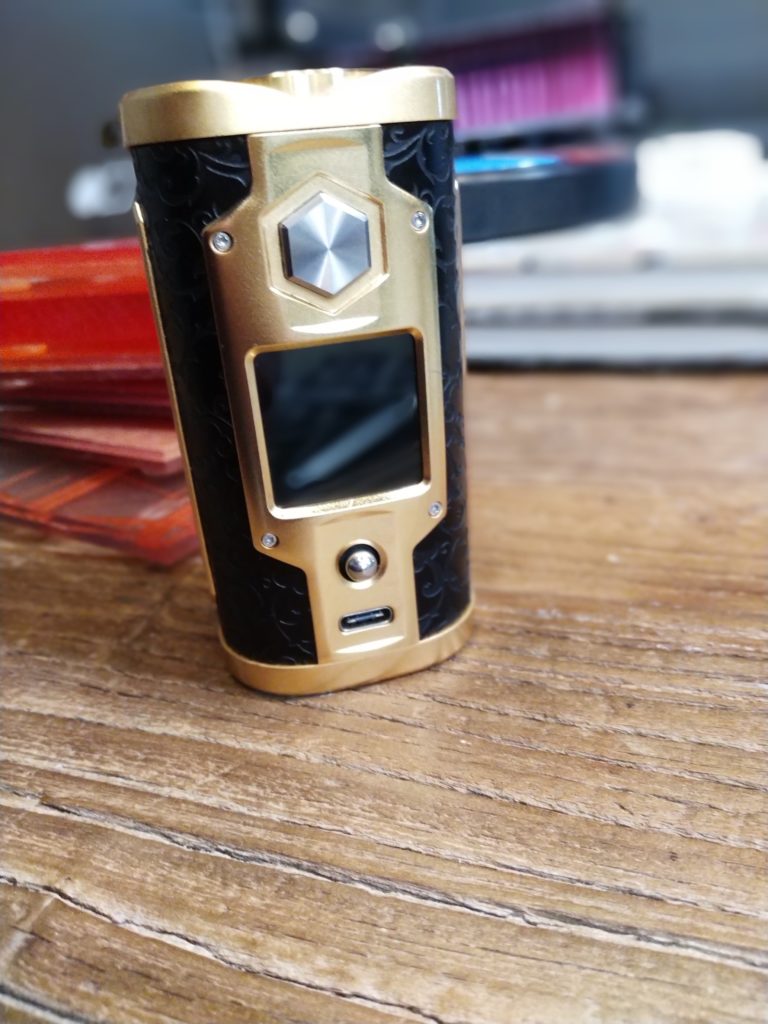 [social_warfare]
First off, if you like gold as well as a "luxury" feel to your belongings, the SX Mini G-Class LUXURY EDITION is most likely something you'd be all over.
This thing is just so damn beautiful, I have barely stopped using it.
It's honestly really going to be a shame to put 'er aside for a while when I get the next device in for review… but that just goes to show how well made this mod is!
I give the SX Mini G-Class LUXURY EDITION a ten out of ten in every area except battery life.
But again the big screen and intense chipset aren't expected to really do much better than this device, so it might as well be a ten with the others.
So if you got the cash to shell out, I say do it, no questions asked. You won't be disappointed relative to the amount you spent!
You can pick up the SX Mini G-Class LUXURY EDITION for $299.95 over at DirectVapor (With FREE SHIPPING).
Dueces, 
Drew
[social_warfare]
Drake Equation
Co-founder and Editor of VapeBeat. I make the words.