SMOANT makes some very impressive mods. But what are the best SMOANT mods right now? Here are my picks
---
Like a lot of vape brands, SMOANT is all about delivering excellent value for money alongside great features.
The company's mods are priced in line with releases from SMOK, Innokin, and Wismec.
And this makes them very competitive.
It also regularly scores them places inside our highly competitive Best Vape Mods Guide.
They're also built to a very high standard, in my opinion, featuring high-end build quality, great ergonomic design, and plenty of features.
SMOANT has its own chipset as well; it's called the Ant chip, with the latest iteration going by the name of Ant218 V2.
It's a decent vape chip that provides accurate, reliable power delivery and decent support for TC vaping.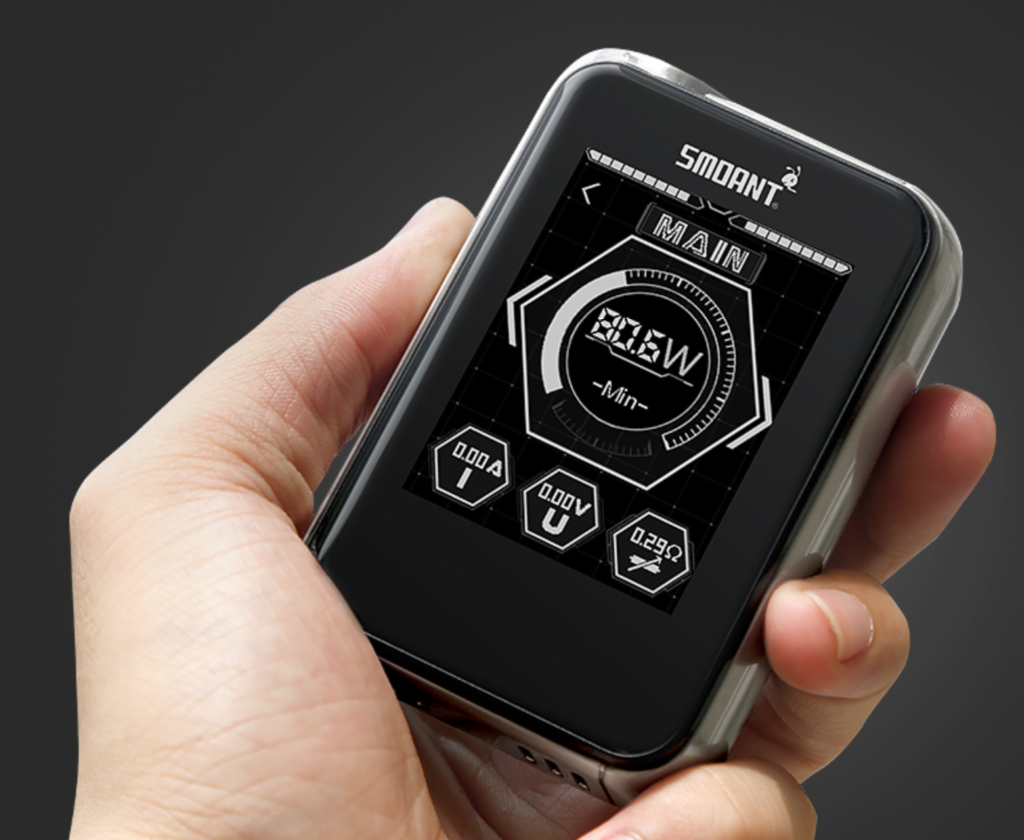 Like Vaporesso's OMNI Board, you have full support for things like wattage/temperature curve modes, whereby you can set the wattage/temperature in intervals for the first 10 seconds to customise the way your mod vapes to your exact tastes.
It's all very fancy.
But for me the best thing about SMOANT mods is the price – they're priced around the same price (or lower) as SMOK mods.
Also, like Snow Wolf Mods, they're all very good looking too.
But, importantly, they don't have any of the issues that SMOK's mods suffer from.
And like many of the vape space's bigger players, SMOANT also produces a variety of mods – it even does a very good touchscreen mod which you can read more about below in the review box-outs.
SMOANT isn't as big as SMOK, nor is it as well known, but I think that will gradually change as we move through 2018/19.
You can't ignore quality for too long, it just finds a way of making itself known on a macro scale.
This is what happened with VooPoo during 2017/18.
And Vandy Vape – a brand that is positively KILLING IT at the moment.
Both companies made excellent products at reasonable prices and vapers en masse LOVED them.
SMOANT is making all the right moves and, as you can see from the review box-outs below, the selection and styles of mods available right now is very impressive.
---
1
SMOANT Cylon Review: This Mod Means BUSINESS!
The SMOANT Cylon is a fantastic-looking mod that packs in a TON of performance alongside an array of useful features and settings. The design, for me, is the main event here; it's robust, stylish, and it feels great in the hand. But as good as the design is, it's only the tip of the iceberg. Dig a little deeper and what you'll discover is an immensely potent mod packed with tons of useful features that really do make vaping a joy. I had a blast testing this mod and I will 100% be keeping it as my daily driver from here on out.
Read full review
Excellent Design; Outstanding In Every Regard
Beautiful, Color Display With Great UX (Based on Lexus LS Sport)
It'll Fit ANY Tank/RBA No Matter How Fat
Brilliant Performance & Reliability Across The Board
Best Place To Buy Online?
---
1
SMOANT Ranker 218W Review – Final VERDICT
The SMOANT Ranker is an extremely capable mod. It's big, oddly shaped and completely unique. This aspect might divide opinion, but I am a fan of its styling – it just looks bad ass! The power delivery of the Ant218 V2 chip is brilliant; like all SMOANT mods, it hits like a freight train and has plenty of additional features (curve mode) for customising your vape. The finish, performance, and overall reliability of this mod is exceptional. The only thing some might dislike is its shape and size. But that's a purely subjective thing. Objectively, this mod is a KILLER in almost every regard.
Read full review
Things To Keep In Mind
Design & Size Might Not Be To Everyone's Tastes
PROS
Excellent Vape Chip (Ant218 V2)
Masses of Power; Tons of Features
Quality Build Materials; Leather & Metal = Premium Feel
Will Run Tanks of ALL Sizes – Even 30mm
Best Place To Buy Online?
---
1
SMOANT Charon TS 218 Mod – VERDICT
SMOANT is fast-becoming one of my favorite vape brands on the planet right now. The company constantly pushes what's possible with design and features, and this attention to detail and overall performance is palpable when you use its products. The SMOANT Charon TS 218, I would argue, is easily one of the best value mods on the planet right now. The fact that it has a brilliant touchscreen that seems to be holding up extremely well is just another very tasty cherry on an already seriously impressive cake. If you're bored of SMOK mods and want something different, make sure you check out SMOANT's collection of mods – you will not be disappointed.
Read full review
Things To Keep In Mind
If Touchscreen Breaks You're In A World of Pain
It's A Thirsty Mod, Battery-Wise
PROS
Great Looking Mod
Excellent Build Quality & Solid Touchscreen
TONS of Features & Vaping Modes
Upgradable Firmware
Best Place To Buy Online?