The SMOK Morph 219W Kit comes with SMOK's new TF tank and mesh coils as well as a very competent vape mod. Is it time for me to stop hating on SMOK?
---
SMOK Morph 219W Kit Quick Verdict (95%)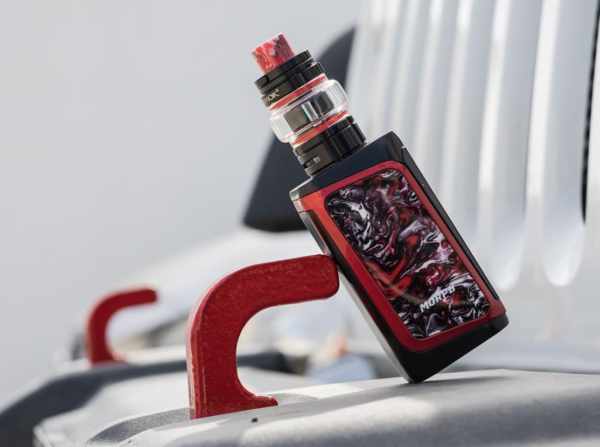 SMOK Morph 219W Kit Pros:
Solid, Robust Design + Premium Build Materials
TC & Power Modes Impress
Lovely Ergonomic Design
SMOK TF Tank Provides Very Good Flavor
TF Mesh Coils Are WAY Better Than SMOK's Old Coil Heads
As regular readers will know all too well: I'm not a fan of SMOK. I like the SMOK Nord rather a lot but its vape mod and tanks, well… I've never really been much of fan – not for the past few years anyway.
But the SMOK Morph 219W Kit is a shining example of how a company can turn its ass around in the blink of an eye. The Morph is a well put together, perfectly competent vape mod that does everything you will ever need (and a bunch more besides).
It looks badass, is fairly lightweight for its size, and it performs really well in all vape modes – including temperature control. The touchscreen display is the best I have ever used on a vape mod; it responds to touches almost instantly with zero delay or lag.
And then you have the SMOK TF tank. I positively hated nearly all of SMOK's recent slew of mesh coil tanks, so I didn't expect much from the TF tank. However, SMOK appears to have listened to critique and fixed the #1 issue with its tanks – the coil heads.
The new TF Mesh coil heads pack in a ton of flavor, prime quickly, and, in my experience, last a solid 12-14 days before requiring a change. For a SMOK tank, that is incredible. And I am happy to see that the company has finally sorted this issue out.
And the price ain't bad either; you're looking at $64.95 with FREE shipping for this bad boy!
---
Full SMOK Morph 219W Kit Review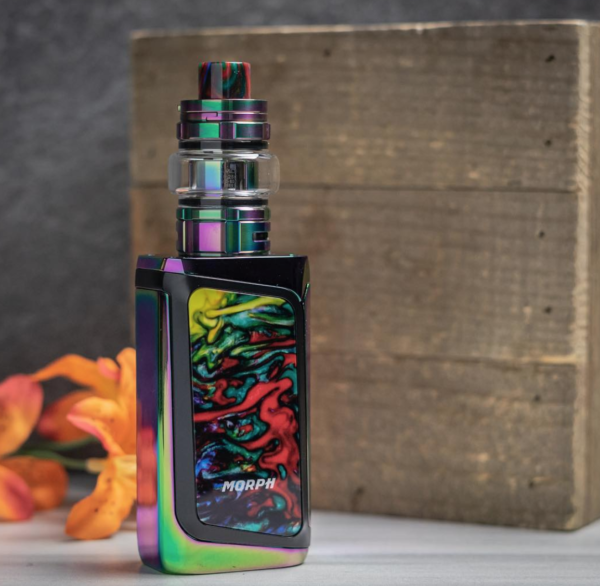 Design
The SMOK Morph 219W Kit is a handsome bastard. There's no getting around it; the mod itself and the tank sit together seamlessly, looking both premium and refined. My review unit was the rainbow hue, which I'm not massively keen on, but the physical design language is all good.
Given the choice, I'd take the SMOK Morph 219W Kit in a solid color – most likely black or silver. But that's just me; you might really dig the psychedelic rainbow styling. Either way, I have zero complaints about how this mod and tank combo looks.
The chassis is solid and robust, it has a nice heft and weight to it in the hand. Measuring in at 84.5mm by 44.8mm by 30.2mm and weighing 158g, the Morph is certainly substantial – especially if you're used to pod mod vapes.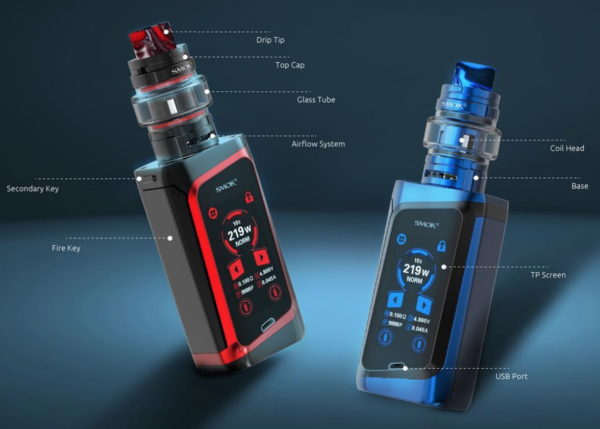 The zinc alloy body of the mod looks and feels premium. On the back panel you have a nice resin inlay and on the front a gorgeous 1.9in touchscreen OLED panel that displays everything you need to know about what's going on with your mod at any given time.
The 510 connector is centrally mounted at the very top of the device and on the bottom, you have a battery door that is accessed via a well-executed switch button which pops the cover to reveal the batteries. This hatch has never once opened by accident either. Always good.
The entire left side of the SMOK Morph is a fire bar, a feature that is now very much a SMOK trademark. And just above the fire bar, you have a small button that, when depressed for a second or two, locks the screen so it won't change any settings from inside your pocket.
In addition to this, you can lock the fire bar as well; three quick clicks is all it takes to completely lock the fire bar's firing abilities. This will stop the mod firing in your pocket and is an excellent feature to have at your disposal. No one wants a mod firing for prolonged periods of time in their pocket. Ever.
Specs & Features
Dimensions – 84.5mm by 44.8mm by 30.2mm
Weight – 158g
Dual High-Amp 18650 Battery – Not Included
New IQ-S Intelligent Chipset
Wattage Output Range: 1-219W
Voltage Output Range: 0.5-8.2V
Min Atomizer Resistance: 0.06ohm
Temperature Range: 200-600F
Supports Ni200 Nickel, Titanium, and Stainless-Steel Heating Elements
On top of all that, SMOK has also included its brand new IQ-S vape chipset which brings some of the fastest fire times in the business – 0.001 seconds.
It also adds in plenty of safety features and brings with it full support for temperature control vaping, overheating protection, over discharge protection, and intelligent atomizer recognition technology.
Basically, it's about as advanced as a vape mod can be in 2019.
If you're after features-galore, the Morph has them in spades! In fact, most vapers won't even touch half of what this mod is capable of; there's just so much going on under the hood.
SMOK Morph 219W Kit Performance
You can have ALL the latest gizmos and bells and whistles installed inside a mod, but what separates the wheat from the chaff, so to speak, is how the device performs. Fortunately, the SMOK Morph is a very, very solid performer. In all modes too.
The fire time is insanely quick; you hit the fire key and the atomizer is firing before you've barely even depressed it. Fast would be an understatement. I also really liked that temperature control mode worked really well too; I don't really bother with TC vaping. But it is nice to have a fully functioning suite that actually works on this mod.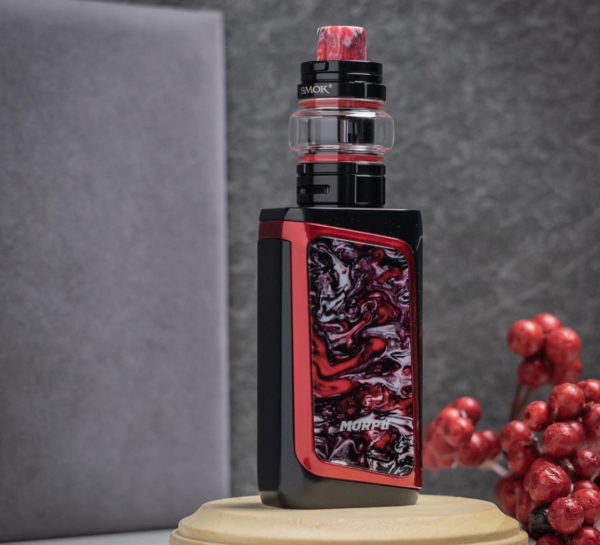 Another cool feature is to do with Profiles; basically, you can set up four vaping profiles – so, one for your RDA, one for your MTL tank, one for your sub-ohm tank, and one for your RTA. Each profile saves your settings, so when you switch tanks you don't have to adjust the wattage.
This feature is really cool, especially if you have a lot of tanks, or, like me, like to switch between RDAs and Sub Ohm Tanks about six times a day. You don't need to use it, of course, but like a lot of things on this mod, it's there just in case you need it.
Overall, I have ZERO complaints with how this mod performs. It has more than enough power for all forms of tanks, it's packed with safety features, and it is even pretty good at TC vaping. For a non-DNA/YiHi mod, that's basically all you can realistically ask for…
SMOK TF Mesh Coil Tank Review
The SMOK TF Sub Ohm tank is a lot better than SMOK's previous releases and this is mostly down to its new mesh coil heads which come in two distinct flavors:
Mesh
Ceramic
Both are incredible flavor chuggers and the clouds they produce are massive.

I'd still take a Falcon King over it any day of the week and twice on a Sunday, but for a "kit tank" it is very good – much better than SMOK's usual fare, anyways.
The real star of the show here is the mod itself; the tank is decent and the mesh coils seem to last a good long while. My first install lasted around 11 days, while the ceramic did slightly better (13 days). As I said: it's not the best mesh coil tank around right now. But it is perfectly acceptable for a kit tank.
Should You Buy The SMOK Morph 219W Kit?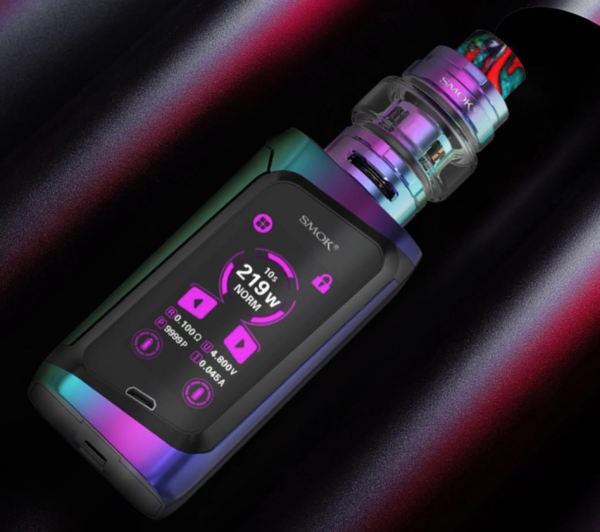 I really like what SMOK has done with this kit. It's made a solid, robust, perfectly ergonomic vape mod that looks and feels beautiful. It comes with a range of useful and handy features that make vaping with it a real pleasure.
I genuinely love the vaping modes feature, I use it most days, and I really appreciate all the safety features SMOK has built into this vape mod – it literally has everything you could ever possibly need. In addition to this, the touchscreen is fantastic too; easily the best I have come across.
Chuck in a decent mesh coil tank, masses of power, and impressive temperature control performance and you're looking at one hell of a competitive setup. I think this kit is ideal for anyone that is looking for a good, reliable mod that they can use for a year or so.
The tank is OK, a solid 7/10, but the mod is where it's at; for looks, performance, and overall usability it is really very impressive. And that's no mean feat given just how good the competition is right now.
And for $69.95 with FREE Shipping, the SMOK Morph Kit also serves up some very impressive value for money too!
Drake Equation
Co-founder and Editor of VapeBeat. I make the words.