SMOK IPX80 Kit Review: The Amazing Pod System For An Apocalypse!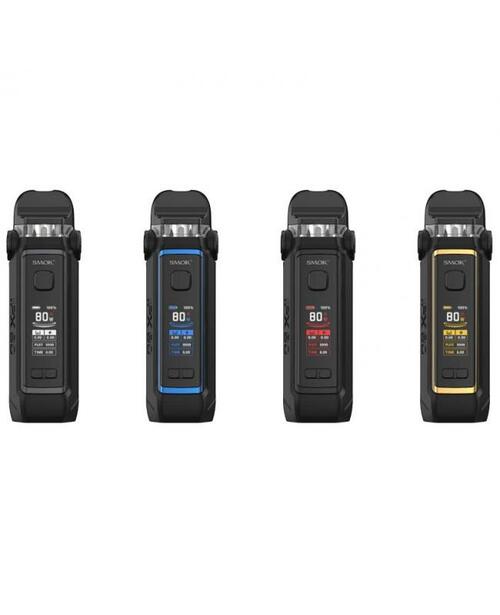 Are you the type of person that is a little rough with their vape? Then the SMOK IPX80 is the solution to all of your woes! Today we check out the invincible new pod mod, and all of it's features.
---
SMOK IPX80: A Compact, Indestructible Pod Mod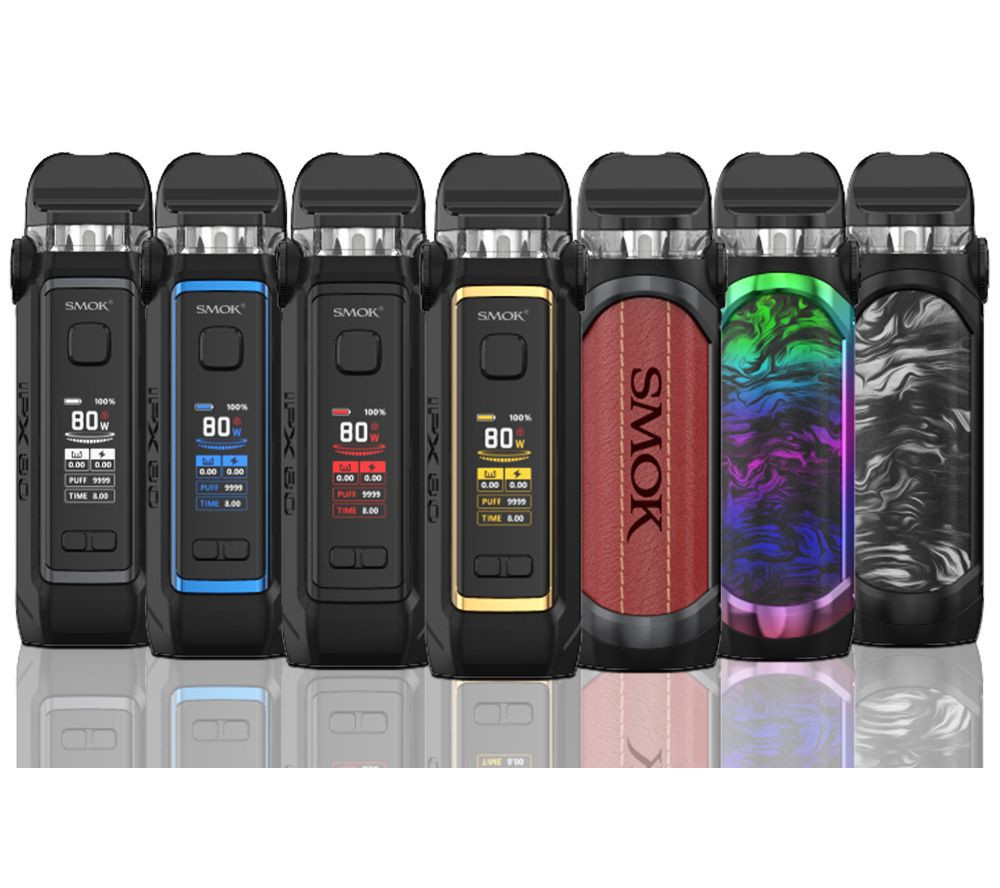 Looking back, it's not hard at all to see where the whole "indestructible/water proof" vape idea came from. The first one to my knowledge, was several years ago. The Geekvape Aegis series seems to be the inception of this idea. It was a single battery mod back in 2017, and it was strangely NOT very popular to begin with.
But once Geekvape fine-tuned the Aegis, they released the Legend series. This was a huge turning point for Geekvape, and the Aegis lineup is one of the most popular mods ever made. This is largely due to how hard it is to break them, and the fact that they are IP67 rated for waterproof functions. Geekvape became very popular with people that worked outdoors, or in construction.
This IP67 trend became so popular, every vape manufacturer I can think of has made it's own iteration of it at this point.
Which brings us to the SMOK IPX80. This seems to be the perfect marriage of the modern pod system, with all of the features of the IP67 style mods. So how does it hold up against it's peers? Today we take a look at the SMOK IPX80.
SMOK IPX80: Features, Specs, and Design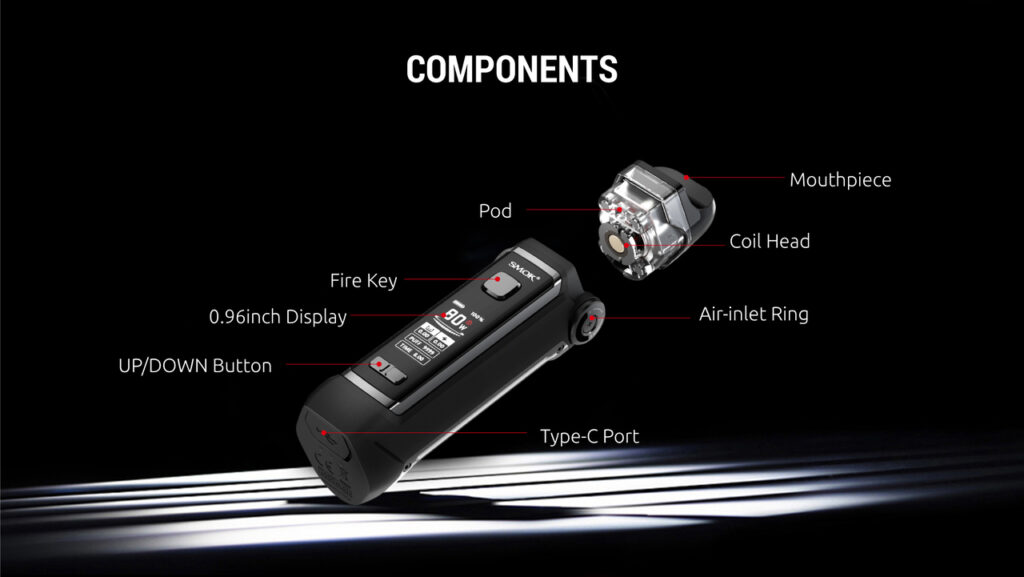 BEST DEAL: $43.95 With FREE Shipping From Direct Vapor!
SMOK has had a few excursions into the super-durable, waterproof mod market. Most recently this technology was used with the SMOK Arcfox, which we absolutely loved! It was a great kit, and used the same technology as the new IPX80.
The bisggest difference, is the SMOK IPX80 is almost like a blend of two SMOK products. You have the durability of the new Arcfox, with rubber lining and waterproof features. But you also have the portability of my personal favorite...the RPM Series.
I am a huge fan of the RPM series and I even use one as my daily driver lately. It has the power I need, while still being a convenient size to carry around. I'm not very rough with my vapes usually, but the IPX80 looks like the more durable version of my RPM80. Lets take a closer look at all of the features:
What's In the Box?
1 x IPX80 Device
1 x IPX80 RPM 2 Pod
1 x 0.16ohm RPM 2 Meshed Coil
1 x 0.6ohm RPM 2 DC Coil
1 x Type-C Cable
1 x User Manual
Standout Features:
Integrated 3000mAh Battery Capacity
Wattage Output Range: 1-80W
Voltage Output Range: 0.5-4.0V
Resistance Range: 0.15-3.0ohm
Firing Speed – 0.001s
IP67 Rating – Water, Dust, Shock Proof
Zinc-Alloy Chassis Construction
Intuitive Firing Button
0.96″ TFT Display Screen
Two Adjustment Buttons
Adjustable Airflow Control Ring
5.5mL Refillable Pod
Bottom Fill System – Silicone Stoppered
SMOK RPM 2 Coil Series
0.6ohm DC MTL Coil – rated for 12-25W
0.16ohm Mesh Coil – rated for 25-50W
Press Fit Coil Installation
Magnetic Pod Connection
MicroUSB Type-C Port
Let's start by talking about the battery capacity. The built-in 3000mah battery is the equivalent of a high powered 18650, and should last you all day! I usually like mods with removable batteries, but this is a lot of power! Especially if you are using the DC MTL coils. You can easily get all day out of this battery.
SMOK also took the idea of the RPM pod, and beefed it up to 5.5ML. This is a LOT of juice! For comparison, the original Baby Beast Tank held about the same amount of liquid. You will not have to deal with refills throughout the day with the SMOK IPX80.
The airflow is really cool on this also, and takes a few points from the Geekvape Aegis line. It is in the shape of a ring, that you spin to control how much airflow you get. This can be seen on the original Geekvape Mods as well, and it works really well. Considering there are so many different coil options, you made need different airflow depending on the coil. Speaking of…
I love that SMOK has kept with the tradition of putting two different types of coils in the box for you to try out. Personally, I like the DC MTL coil. But if you like higher wattage, sub-ohm vaping, then the Mesh coil is definitely for you. You would be surprised at how powerful this little mod can be!
The flavor on all of the RPM series coils is really great, and it seems like SMOK has upped the game when it comes to quality control. I have not had any issues with the RPM coils. They generally last a good week or so, and I think that is par for the course when it comes to most pre-built coils.
The TFT display screen is simple, and easy to read. It has everything you need without any sub-menus or settings. It's just basic wattage, ohms, and how many puffs you have taken. The circular design looks just like the larger Smok mods like the G-Priv, without the added flair.
Aesthetically, the SMOK IPX80 really works for me. It had the same rugged design as other IP67 rated devices, with rubber binding that helps should you ever drop it. You also have a choice of accents that include leather, carbon fiber, and colors.
Important Note* While the actual SMOK IPX80 itself is definitely waterproof, the PODS are not. If you drop your kit into water, make sure you dump the pod, clean it, and replace the coil immediately.
The Smok IPX80: Final Thoughts…
Who knew just how big the market would get for super-durable, waterproof style mods? But I definitely see the appeal. When I worked for a Vape Shop, we constantly had customers coming in that broke their mods and tanks. Sometimes it was just an accident, but others were because the person worked in construction or landscaping.
To me, this is exactly the type of person that the SMOK IPX80 is made for. If you are outside all day, stuff can easily get dropped. These IP67 rated mods can save you from having to replace your mod every time you drop it or get it wet. The size is also very portable, and fits in the pocket easily.
So if you like durable pod mods, but you need a little more power than most of these pod mods offer…SMOK has you covered with the IPX80! Get yours today, with the best price and Free Shipping!
Christopher Horton